The global smart advertising services market size accounted for USD 513.2 billion in 2022 and it is projected to reach around USD 3,432.63 billion by 2032, expanding at a CAGR of 20.93% during the forecast period 2023 to 2032.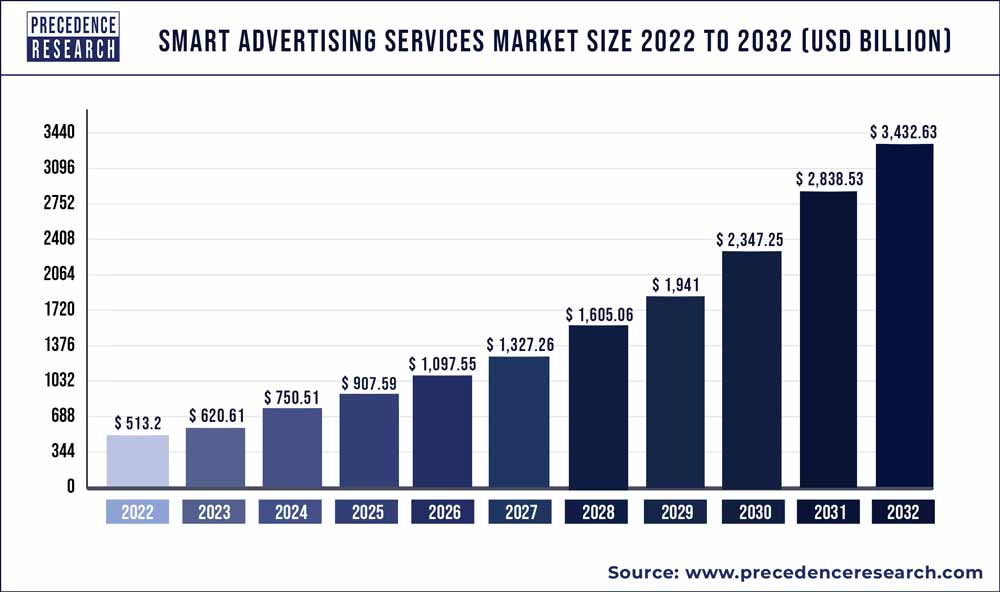 Access our Premium Real Time Data Intelligence Tool, Visit: Precedence Statistics
Key Takeaways:
North America contributed more than 38% of revenue share in 2022.
Asia Pacific region is expected to expand at the fastest CAGR of 22.68% between 2023 and 2032.
By Service Type, the search engine advertising segment led the market with a revenue share of 28% in 2022 and is predicted to grow at a CAGR of over 21.40% from 2023 to 2032.
By Service Type, the social media advertising segment is expected to expand at the fastest CAGR of 22.54% from 2023 to 2032.
By Platform Type, the mobile segment contributed more than 60% of revenue share in 2022 and is expected to grow at a remarkable CAGR of 21.40% from 2023 to 2032.
By Enterprise Size, the large enterprise segment led the market with the largest market share of 68% in 2022 and is anticipated to grow at a CAGR of over 19.38% during the projected period.
By Enterprise Size, The SMEs segment is projected to grow quickly, at a CAGR of 22% over the forecast period.
By End-user, the retail & consumer goods segment generated more than 30% of revenue share in 2022 and is anticipated to grow at a CAGR of over 19.32% during the projected years.
By End-user, the media & entertainment segment is expected to expand at the quickest CAGR of 23% from 2023 to 2032.
Market Overview:
The use of cutting-edge and contemporary systems to automate advertising operations carried out by businesses is referred to as the smart advertising services market. Big data, artificial intelligence, and machine learning are just a few of the technologies that are currently being employed in the market to ensure successful brand recognition. Market participants now have more opportunities to more effectively target their consumer base, which has a positive impact on the effectiveness of their advertising operations.
Growth Factors:
Growing digitalization has produced new platforms like social platforms for marketing any company's products. Similar to this, shifting data consumption patterns, the availability of several ad channels, and increasing internet penetration have driven advertising companies to create creative advertising campaigns and draw in larger audiences.
Report Scope of the Smart Advertising Services Market:
| | |
| --- | --- |
| Report Coverage | Details |
| Market Size in 2023 | USD 620.61 Billion |
| Market Size by 2032 | USD 3,432.63 Billion |
| Growth Rate from 2023 to 2032 | CAGR of 20.93% |
| Largest Market | North America |
| Base Year | 2022 |
| Forecast Period | 2023 To 2032 |
| Segments Covered | By Service Type, By Platform Type, By Enterprise Size, and By End-user |
| Regions Covered | North America, Europe, Asia-Pacific, Latin America, and Middle East & Africa |

Market Dynamics:
Driver:
Increasing mobile usage
The market for smart advertising services has been significantly impacted by the spread of mobile devices and the rise in smartphone usage. Due to the growing use of smartphones and evolving customer behavior, mobile advertising has become an essential part of digital marketing strategy. As they enable constant connectivity and give users access to a multitude of information and services, mobile devices have become an essential aspect of consumers' lives. People use their cell phones to access social media sites, shop online, explore the internet, and consume media. Substantial potential for advertisers to successfully reach their target demographic is presented by the rise in mobile usage.
Smart advertising services capitalize on the mobile trend by delivering targeted advertisements directly to users' mobile devices. They leverage technologies like location-based targeting and mobile app advertising to serve ads that are highly relevant to users' interests and context. By understanding users' mobile behavior patterns and preferences, advertisers can create personalized and compelling mobile ad experiences.
Mobile advertising formats include display ads, in-app ads, video ads, native ads, and interactive ads. These formats are designed to seamlessly integrate with mobile apps and websites, providing a non-intrusive user experience. Additionally, mobile advertising platforms offer advanced tracking and measurement capabilities, allowing advertisers to monitor ad performance, optimize campaigns, and achieve higher return on investment (ROI).
Restraint:
Ad blockers
Ad-blocking software and browser extensions have gained popularity among internet users seeking to improve their browsing experience by eliminating intrusive ads. Ad blockers prevent the display of advertisements, which directly affects the revenue potential of smart advertising services. As the usage of ad blockers continues to rise, advertisers and platforms face reduced visibility and reach for their ads.
Ad blockers have a big impact, especially in the digital advertising environment where pop-ups and online display ads are common. Advertising companies spend a lot of money developing efficient advertising campaigns, but if the intended audience does not see the commercials, their efficacy and return on investment suffer.
Opportunity:
Automation and optimization
Automation and optimization are key opportunities in the smart advertising services market. Through the use of advanced algorithms and real-time data analysis, advertisers can automate various aspects of the ad creation and delivery process. Advertisers may streamline their processes and save time and money by using automation. Businesses can concentrate on other important areas of their operations by automating tasks like ad placement, bidding methods, and creative testing. Advertisers can increase productivity and lower human mistake rates by automating monotonous operations.
Another important component of smart advertising services is optimization. Advertisers may continuously evaluate and optimize their ads for greater performance with the use of machine learning algorithms. Real-time data analysis allows advertisers to make data-driven decisions and adjust their strategies based on the performance of the ads. This includes optimizing ad placements, adjusting bidding strategies to maximize return on investment (ROI), and testing different creative elements to identify the most effective combinations.
Impact of COVID-19:
The COVID-19 pandemic has had a significant impact on the smart advertising services market. With restrictions on movement, lockdowns, and social distancing measures, businesses faced unprecedented challenges in reaching and engaging with their target audience.
The pandemic accelerated the adoption of digital advertising platforms as businesses sought alternative ways to connect with consumers. Smart advertising services, such as programmatic advertising and targeted marketing campaigns, became vital in reaching audiences spending more time online. Advertisers also shifted their budgets towards digital channels, favoring platforms that offered advanced targeting capabilities and real-time optimization.
However, the pandemic also brought negative implications for the smart advertising services market. Many industries, especially travel, hospitality, and retail, experienced severe downturns, leading to reduced advertising budgets. This resulted in decreased ad spending and a slowdown in overall advertising activity, impacting the revenue of smart advertising service providers.
Segments Insight:
Service Type Insights:
With a revenue share of 28% in 2022, the search engine advertising category led the market overall and is anticipated to grow at a CAGR of over 21.40% during the projected years. Ads are placed on search engine result pages in search engine marketing. When consumers search for particular goods or services on search engines like Bing and Google, advertisers pay for the keywords that users type. This makes it possible for their ads to show up alongside the search results for certain queries.
Search engine optimization refers to website improvements intended to improve the website's design and increase the exposure of services or items. Websites with high search engine rankings have a better chance of attracting more visitors and generating more revenue. It is frequently used to assess a website's visibility to look at where it ranks or places on search engine results pages (SERPs). The front page, where they are most likely to receive the most attention, is something that businesses are continuously vying for.
Throughout the projected period, the segment for social media advertising is expected to experience the quickest CAGR of 22.54%. Social media advertising uses platforms like Facebook, Twitter, and Instagram, among others, to disseminate sponsored advertisements to the desired audience. A simple and effective way to engage customers and promote marketing goals is through social media advertising. Utilizing a variety of data sources, marketers may hyper-target consumers with individualized information based on their demographics and online behavior.
Platform Type Insights:
With a market share of 60% in 2022 and the greatest CAGR of 21.40% throughout the projection period, the mobile segment dominated the total market. Mobile marketing is any type of advertising that makes use of smartphones and other portable technologies. Since many mobile device users carry their gadgets with them everywhere they go, mobile marketing takes advantage of this characteristic. Mobile marketing that is integrated with location-based services is known as location-based marketing.
Mobile marketers can send messages on mobile devices about a particular area using information about a person's location. Mobile marketing aims to interact with a mobile user population using techniques including mobile-optimized adverts, push notifications, and mobile applications. Mobile search ads, location-based marketing, social media marketing, and app-based marketing are a few examples. A range of advertisements, including banners, movies, and ever-evolving app demos, may be seen in mobile apps. Mobile social feeds can serve as powerful traffic generators for both free and paid social media advertising.
Over the course of the forecast period, it is expected that the other segment will expand at a CAGR of 20%. Video game advertisements are more common, whether they are annoying pop-ups or deliberate product placement. For instance, NHL and EA Sports have a collaboration. With this collaboration, EA Sports takes into account both the NHL and its clubs, highlighting some of the league's best players and well-known equipment manufacturers. Hockey fans love playing EA's games with their favorite teams and well-known hockey players; thus, the partnerships are mutually beneficial. Younger players may grow interested in the game and subsequently turn into NHL or other sports fanatics.
Enterprise Size Insights:
With a market share of 68% in 2022, the large enterprise segment led the market and is anticipated to grow at a CAGR of over 19.38% during the projected period. Large businesses can spend more money on advertising because they have more resources at their disposal. It is anticipated that a small number of very large corporations, such as Meta, Microsoft, Amaxon.Com Inc., etc., will have an impact on revenue generation. This means that these businesses are anticipated to rule the smart advertising sector.
The SMEs market is projected to grow quickly, at a CAGR of 22% over the forecast period. Small businesses can use a variety of marketing strategies. Due to low entry hurdles, marketing automation and social media platforms are accessible to smaller firms; yet, this fact adds complexity and increases the number of channels that need to be monitored. The marketing platforms to which SMEs allocate the majority of their budgets are their websites and social media.
End-user Insights:
With a revenue share of 30% in 2022, the retail & consumer goods category led the market as a whole and is anticipated to grow at a CAGR of over 19.32% during the projected years. Retailers can use online shop advertising to generate sales from their target audience by increasing interest and awareness in their products due to retail and consumer goods smart advertising. To persuade their audience to do a particular action, retailers utilize clever advertising. A retail marketing strategy is a method that businesses employ to attract new clients and convince them to make in-person purchases or place online orders. The majority of shops are currently concentrating on luring in new clients. Regular evaluations are necessary to ensure the retail marketing strategy performs at its best.
Throughout the projection period, the media & entertainment industry is anticipated to experience the quickest CAGR of 23%. Businesses now have more inventive alternatives to sell their services to different consumer categories because to the digital wave and the rising consumption of entertainment material. To promote their new projects, media and entertainment organizations might build captivating invitations and post them on various social media platforms. When it comes to making last-minute reservations and visiting venues, these digital invitations help potential viewers make decisions more quickly and attract more attendees. Customer involvement can also be increased by using online surveys and quizzes. Newsletters are a helpful tool for updating clients about the latest products and services offered by the business.
Regional Insights:
With a 38% revenue share in 2022, North America held the market's overall top spot. Because of its propensity to accept new technology, the region is seeing strong penetration of smart advertising services. Regional expansion is anticipated to be fueled by the growing number of software developers, hardware components and electronic display product makers in the U.S. and Canada.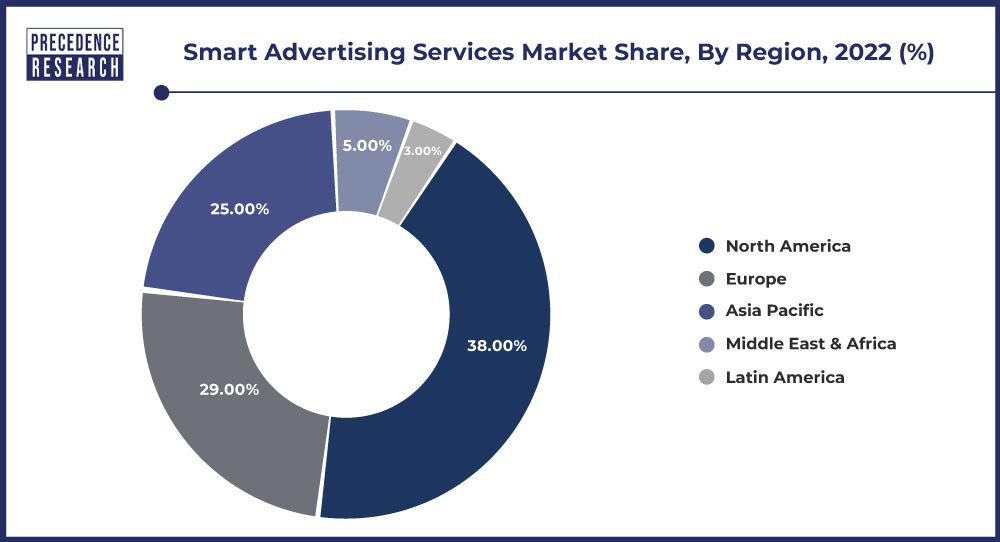 During the projection period, the Asia Pacific region is anticipated to see the quickest CAGR of 22.68%. The region is expanding at the quickest rate as a result of extensive advertising in the retail and hospitality sectors. Countries with dense populations, like China and India, put a lot of effort into creating screens that give timely and relevant advertising content.
Advertisers in this area target customers to deliver granular insights by using virtual screens, motion graphics, and video material. Due to the accelerating use of cutting-edge technology, the emergence of digital advertising platforms, and the region's fast urbanization, smart advertising is becoming more and more popular in the Asia Pacific after the pandemic.
Recent Development:
In December 2022, the National Football League (NFL) declared that beginning with the upcoming season, YouTube TV would offer its Sunday Ticket subscription package. This was the NFL's second deal with a streaming service for media rights. YouTube was eager to use the alliance to strengthen its position in the cutthroat streaming business.
Key Market Players:
YouTube
Meta
Google LLC
VaynerMedia
Omnicom Group Inc.
ibex Limited
Interpublic Group of Companies, Inc.
Twitter, Inc.
TikTok
Hulu LLC
Segments Covered in the Report:
(Note*: We offer reports based on sub-segments as well. Kindly, let us know if you are interested)
By Service Type
Search Engine Advertising
Social Media Advertising
Online Display Advertising
Email Advertising
Video Advertising
Mobile Advertising
Others
By Platform Type
Mobile
Laptops, Desktops & Tablets
By Enterprise Size
By End-user
Healthcare
BFSI
Education
Media & Entertainment
Retail & Consumer Goods
IT & Telecom
Others
By Geography
North America
Europe
Asia-Pacific
Latin America
Middle East and Africa