The global smart electric drive market size was valued at USD 1.24 billion by 2022 and is expected to reach around USD 27.82 billion by 2032, poised to grow at a compound annual growth rate (CAGR) of 36.5% over the forecast period 2023 to 2032.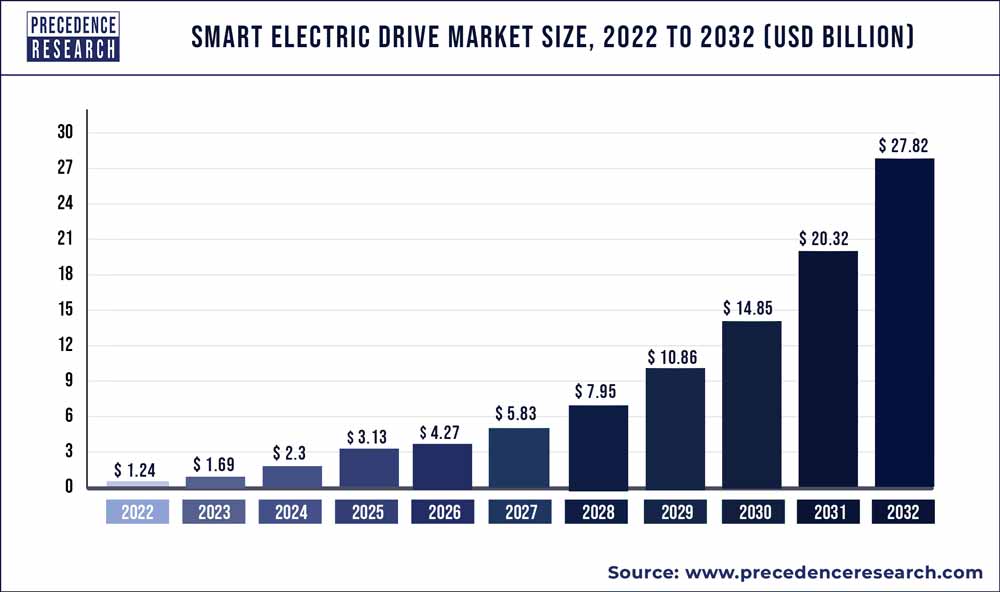 Access our Premium Real Time Data Intelligence Tool, Visit: Precedence Statistics
Key Takeaways:
Asia Pacific region accounted market share of over 35% in 2022.
The all-wheel drive segment is growing at a CAGR of 40% from 2023 to 2032.
The E-axle application segment generated 59% revenue share in 2022.
The lithium-ion segment has garnered a 33% revenue share in 2022.
The need again for an intelligent fully electric industry would increase as a result of reasons thus the trend to electrical vehicles, the use of cutting-edge techniques in electric cars, govt regulations encouraging the use of electric cars, and falling Electric Vehicle Battery prices. The increased interest in adopting EVs during longer commutes would also help the industry. Automobile EV participants are now extremely concerned about the COVID-19 epidemic.
The automobile electric vehicle sector has come to a standstill due to the stoppage of car manufacturing and supply interruptions. For the upcoming several months, declining auto sales following the epidemic will cause serious importance to automobile EV OEMs. Furthermore, the use of advanced integrated elements in an automobile is predicted to lead to a large growth in the smart zero emission industry in 2022. Before that, this epidemic would cause slower-than-expected growth of such a sophisticated electrically powered industry because of decreased EV auto sales and just a sudden halt inside the new technology development.
Growth Factors
The demand for smart drive systems is expanding as a result of worldwide electrical vehicles. Smart electric motors, that are using batteries as their source of electricity and withstand adequate transfer in vehicles, are indeed an improved or release phase of traditional power drive systems. Compared to traditional electrical machines, smart power drives are faster and improve driving dynamics. As a result, there are growing global necessity for sophisticated drive systems due to rising highway security and comfort standards. Furthermore, such motors guarantee optimized power use, leading to lower operating action costs than traditional e-drives, by utilizing cutting-edge elements like electrical machines, e-breaks boosters, and others. Moreover, the market for the best feature was projected to increase in the coming years because of the increased use of powered mobility owing to stricter environmental standards as well as a governmental drive to embrace EVs through offering subsidies & discounts for EV purchasing. Good integration is lighter and smaller than traditional motors, which improves a driver's effectiveness.
The marketplace is growing as a result of increased Electric vehicle sales and accelerating vehicle digitalization.
The adoption of the best feature by manufacturers in their forthcoming upgraded EVs is anticipated to promote new markets.
Governmental prohibitions on traditional automobiles and incentives for the acquisition of new electric cars are expected to encourage industry expansion in the upcoming decades.
Within the coming years, the growing demand might well be constrained by the severe shortage of microelectronic devices.
Report Scope of the Smart Electric Drive Market
| | |
| --- | --- |
| Report Coverage | Details |
| Market Size in 2023 | USD 1.69 Billion |
| Market Size by 2032 | USD 27.82 Billion |
| Growth Rate from 2023 to 2032 | CAGR of 36.5% |
| Base Year | 2022 |
| Forecast Period | 2023 to 2032 |
| Segments Covered | Vehicle Type, EV Type, Application, Component, Drive Type, Commercial Vehicle Type, 2-Wheeler Type and Geography |
| Companies Mentioned | ABB, Aisin Corporation, Allison Transmission, Borgwarner, Bosch, Continental Ag, Dana, Denso, GKN (Melrose), Hexagon AB, Hitachi, Huayu Automotive Electric System, Hyundai Mobis, Infineon Technologies, Jatco, Jing-Jin Electric Technologies, LG Electronics, Magna International, Mahle, Meidensha Corporation, Meritor, Nidec Corporation, Shanghai Automotive Smart Electric Drive, Siemens AG, Smesh E-Axle, ZF Group |

Key Market Drivers:
EVs with smart electrically powered innovation has reduced operational expenses:

Compared to gasoline and certain other fuel sources, the electric car drivetrain is less expensive to operate. This is a significant contributing reason to the expanding market need for EVs, together with environmental preservation. Within upcoming years, this one will fuel the industry for best feature. According to EDF power, the price of running an EV may be as low as $0.4–$0.6 a kWh. When compared with the typical gasoline prices for the exact range, this is significant savings. For road vehicle usage, this generates sizable savings for EV drivers. Once the pricing for EVs drops to be equivalent to Automobiles, it will lead to the need for commercial vehicles will rise more quickly.

Utilization of recent technology in electric vehicles:

The world utilized millions of barrels of petroleum daily in 2019, according to the United States Energy Information Agency (EIA). Forbes claims that the cost of gasoline is already increasing overtime on the global market. Being non-renewable commodities that might run over in the upcoming years, gasoline and diesel are highly popular worldwide. The price of gasoline has been rising over decades, even though the fact that numerous agreements were formed to restrict its cost in that worldwide industry. Because the fact that most nations buy gasoline, using it reduces the economic growth and trade balance. Auto manufacturers are now considering alternative fuel options for commercial automobiles due to the depletion of oil supplies and also the increasing cost of fuel.

The government's initiatives are accelerating the market's expansion:

The worldwide Smart e-Drive Industry is primarily being driven by the adoption of strict regulatory rules and guidelines as well as the increasing demands for hybrids and electric cars. Additionally, the growing demand is being fueled by the introduction of environmentally friendly automobiles and the adoption of tax advantages and incentives in different regions. To assist cities in getting ready with charging points or connector electric cars, and Department of Energy is engaged in 16 electric car initiatives around the district court and state. Government programs of this like are accelerating the industry's expansion.
Key Market Challenges:
Inadequate electric vehicle charging infrastructure in emerging nations will limit the market potential for advanced electric drives:

As a result, the growth prospects of electric drives also the systems and parts they need in developing nations have been greatly impeded. It will cause the global market for intelligent e-drives to develop less quickly. Once the recharging network has indeed been put in place, the demand for electric vehicle technology would expand quickly among several fully Electric manufacturers in addition to a few existing players that have been around in the market for a while.

High costs of the equipment:

The high costs of the equipment and cutting-edge technology may provide difficulties for the worldwide industry for Smart e-Drive.

The unexpected COVID-19 epidemic:

The extraordinary COVID-19 epidemic, which has stunted future growth by interrupting key purchases, is an additional significant challenge for such businesses.
Key Market Opportunities
Increasing EV adoption will boost growth for the industry for advanced electric drives:

Major EV nations including the US, China, and German were spending heavily on EVs, and EV charger facilities, as well as development and testing for quicker and more effective charge techniques, relatively long EVs, and more affordable battery. Additionally, companies have been spending money on the advancement of electrical powertrain technologies. Auto manufacturers are anticipated to invest considerable investments to meet the growing demand for EVs. Several Asian nations, as well as those in the United States and Europe, enacted policies to cut emissions over the next few years and substitute existing vehicle fleets with low pollution models before 2035.

Growing Demand for electric vehicles:

Growing emphasis on electrical vehicles, improved fuel mileage, and general improvements in automotive effectiveness in passenger automobiles are significant elements that will create profitable prospects for such a company's major participants.

Government initiatives to encourage the purchase of autonomous cars:

The government's introduction of various policies and guidelines to minimize diesel emissions so over a recent decade has created numerous chances again for global the Smart e-Drive Industry. Coaster and Connected Transportation Systems Will Boost The market for Intelligent Electrical Motors.
Segmental Insights
Vehicle Type Insights
According to the OICA, a customer automobile is a motorized vehicle with a minimum of 4 sides and no and over 8 passengers. The Windows category, which encompasses hatchbacks, sedans, station wagons, sport utility vehicles (SUVs), cross vehicles, or other automobile types, seems to be the biggest in the automotive industry. Personal autonomous motors were automobiles that are powered by electricity rather than hydrocarbons like diesel, gasoline, or other types of gasoline. In addition to other powertrain elements, it utilizes Battery packs and steam turbines to drive the driver's rocket engine.
The clever electrically powered industry's electrical passenger vehicle category, which now commands the highest value, is anticipated to expand significantly over the next years. Owing to the growing popularity of powered mobility, there is a more need for transport vehicles. Electrical PCs are highly sought after in nations like China, whereas in H1 2021, Evs accounted for over 12% of total car sales. European nations intend to reduce their automobile pollution by 2035 as just a result of the tightening environmental standards. The main factors influencing the market are indeed the accessibility of a broad selection of devices, technological improvements, growing consumer knowledge, as well as the possibility of tax credits and subsidies.
Application Insights
E-wheel driving seems to be a seamlessly engaged electrically powered system that's also mounted in a driver's rear tires. It incorporates every element required for safe accelerating and braking. An air conditioning system, controller, electrical generator, brake, and charge controller are among the parts built into the drivetrain. As numerous elements are shifted towards the wheeler, among the main advantages of electric-wheel driving is increasing car capacity (up to 50%, as per Silver Car Conference).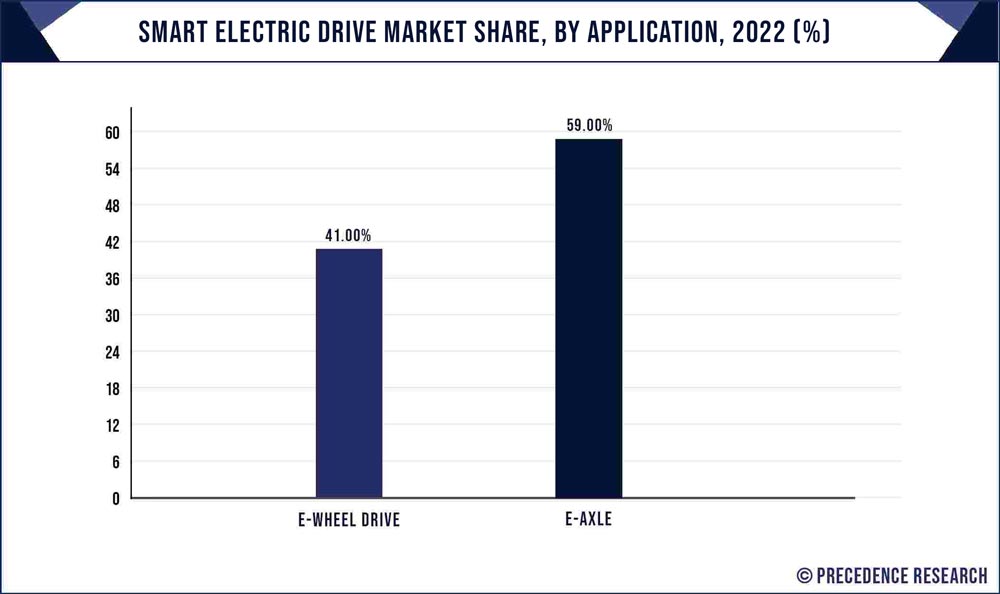 In particular, Gem Technologies' e-wheel driving package incorporates an EV powertrain technology that is 20% higher efficiency than typical EV powertrains. Nidec Company, Elaphe, Diverse, and Schafer are among further leading suppliers of e-wheel motors. An automobile that was designed for 2 individuals before may now accommodate four passengers thanks to the use of e-wheel power.
Additionally, because e-wheel power is integrated into the wheels, inputs to the system are delivered, allowing riding quick & secure. For example, the dual e-wheel motor from Design is placed inside the back wheel ring of a Ford Focus electrical. E-wheel power allows for agile and combustion travel. An e-wheel driving business is predicted to increase quickly as that of the automobile sector transitions to negligible automobiles and expands the capacity inside automobiles for those other uses.
Component Insights
The EV battery industry is forecasted to be among the highest in price because of the fact because EV batteries make up a sizeable amount of such price of both the EV motor. Organizations that have produced packs for inclusion in hybrid cars over decades include LG Chem, Samsung SDI, CATL, BYD, SK Innovation, and Panasonic. As a result, these currently supply a sizeable percentage of the economy's requirement for Energy storage technologies. Some EV battery companies, including BYD and Tesla, employ their Battery packs.
Asia - pacific region will see the greatest necessity for Battery cells since China is the most important EV market on the globe and since South Korea, Japan, and India were increasing significantly its EV demand. The need for Battery systems would increase as more people embrace better-integrated integrated technology for smarter hybrid vehicles. Among all of the target markets, its batteries sector is expected to develop at a rapid speed and provide the highest Addressable Market over the projected timeframe.
Drive Type Insights
FWD cars also have transmission, single-piece engines, final drive gearing, and joint. In general, FWD cars are shorter compared to any of their competitors. Because the fact that FWD vehicles are often smaller and distribute the majority of their load over the rear tires, many current sedans, especially in the moderate and lower market segments, get this attribute. This offers a solid grip with superb balancing. Additionally, it aids in stopping. They also consume gasoline less effectively, irrespective of engine capacity, thanks to better grip.
FWD additionally offers more room for both freight and passengers. This FWD sector does have the largest market in comparison to the other two because of the benefits described previously, which will eventually increase a front-wheeled intelligent electrically powered industry for hybrid cars.
Smart Electric Drive Market Share, By Region, 2022 (%)
| | |
| --- | --- |
| Regions | Revenue Share in 2022 (%) |
| North America | 30% |
| Asia Pacific | 35% |
| Europe | 22% |
| Latin America | 8.5% |
| MEA | 4.5% |

Regional Insights
Another of the markets with the speediest demand for advanced drive systems will be the United States. Because of significant need in a number of its regions, the United States and Canada's best-selling EVs would dominate the region's automotive market. Because of its powered mobility, leading OEMs like GM and Ford are collaborating with companies including Hitachi, ZF, BorgWarner, LG, Magna, and others. As a result, in the upcoming years, the need for the industry for sophisticated drive systems would gradually rise. According to projections, its European regional industry will dominate the worldwide industry and account for just a strong competitive position during the projected timeframe.
The rapid development of battery packs, the implementation of stringent discharge controls by the govt, the rise in consumption for electrically charged battery packs, as well as the popularity of connector combinations as well as hybrid cars throughout the European region is just a slew of factors that contributed towards this country's increased growth. Additionally, the area is expected to prosper due to the forecasted market expansion in Europe thanks in large part to the electric car makers.
Recent developments:
During the German IAA 2021 exhibition in Sept 2021, ZF announced the announcement of all its e-Drive packages. It includes all of the industry's e-drivetrain knowledge in such a powertrain kit designed for simple installation in the majority of traditional automobiles.

Magna debuted its innovative PHEV drivetrain & BEV in Mar 2021. Throughout northern Sweden, vehicles underwent practice runs. The carbon reduction from its PHEV counterpart was 38%. Internet connection, power steering, and environmental are available for both variants.

Nidec released a new version of two additional electric axles in early Feb 2020, designed for powertrains with 200KW & 50KW of power. The e-axle module includes an entirely combined electric engine, reducing gearing, and inverters motor drive technology. Designed in D & E category vehicles, the Ni200Ex version has a significantly higher performance than the Ni150Ex type that was previously offered.

A seamlessly engaged electronic powertrain with an electrical generator, electricity network and converter was introduced by Continent AG in Aug 2019. The system is constructed to be less than 80 kg overall, which would be 20 percent smaller than that of the electric powertrain of the competition.

Through the release of its innovative iDM e-axle in early Jan 2019, BorgWarner introduced a brand-new line of electronic drivetrains. This is designed for usage in various EV models.

Bosch introduced their latest autonomous car powertrain intended for usage in small truck battery technology in Aug 2018. This is made up of several different parts, including electrical speed and torque circuits.

Aisin began creating e-axles for EVs manufactured by Toyota, including the C-HR, Mirai, IZOA, and others. Its cutting-edge e-drivetrain items were combined to create the e-axle In July 2018.
Key market players:
ABB
Aisin Corporation
Allison Transmission
Borgwarner
Bosch
Continental Ag
Dana
Denso
GKN (Melrose)
Hexagon AB
Hitachi
Huayu Automotive Electric System
Hyundai Mobis
Infineon Technologies
Jatco
Jing-Jin Electric Technologies
LG Electronics
Magna International
Mahle
Meidensha Corporation
Meritor
Nidec Corporation
Shanghai Automotive Smart Electric Drive
Siemens AG
Smesh E-Axle
ZF Group
Segments covered in the report
(Note*: We offer report based on sub segments as well. Kindly, let us know if you are interested)
By Vehicle Type
Passenger Cars
Commercial Vehicles
2-Wheelers
By EV Type
By Application
By Component
EV Battery
Inverter System
E-Brake Booster
Power Electronics
By Drive Type
Front Wheel Drive
Rear Wheel Drive
All-Wheel Drive
By Commercial Vehicle Type
Electric Buses
Electric Trucks
By 2-Wheeler Type
Electric Cycles
Electric Motorcycles
By Geography
North America
Europe
Asia-Pacific

China
India
Japan
South Korea
Malaysia
Philippines

Latin America

Brazil
Rest of Latin America

Middle East & Africa (MEA)