The global solar EPC market size was estimated at USD 221.49 billion in 2022 and it is projected to hit around USD 398.74 billion by 2032, poised to grow at a CAGR of 6.06% from 2023 to 2032.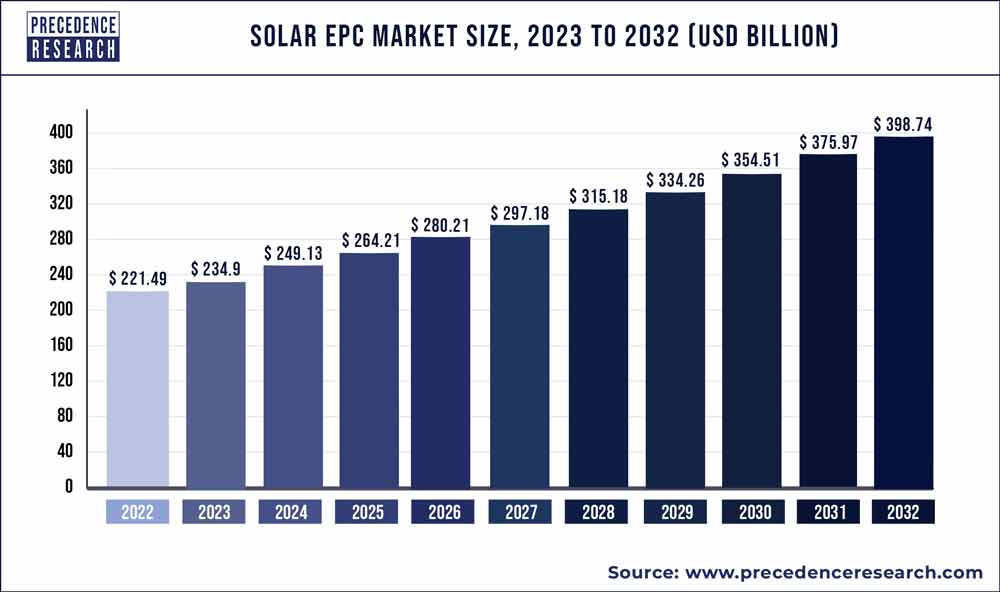 Access our Premium Real Time Data Intelligence Tool, Visit: Precedence Statistics
Key Takeaways:
North America is predicted to be an important region for the global market between 2023 and 2032.
Asia Pacific is expected to expand at the fastest-growing region from 2023 to 2032.
By type, the rooftop segment is predicted to grow at the highest CAGR from 2023 to 2032.
By type, the ground-mounted segment is expected to grow at the fastest CAGR from 2023 to 2032.
By technology, the photovoltaic segment held the largest market share in 2022.
By technology, the concentrated solar power segment is expected to expand at the fastest CAGR from 2023 to 2032.
By end-user, the residential segment is expected to expand at a remarkable CAGR from 2023 to 2032.
By end-user, the commercial segment is predicted to grow at a significant rate from 2023 to 2032.
Market Overview:
Growing environmental concerns, as well as stringent regulatory mandates to reduce GHG emissions, are fueling the development of the Solar EPC Market. EPC is used to provide end-to-end solar services such as system design, component procurement, as well as project installation. Engineering design involves customer requirement analysis, site survey, weather monitoring, structural design, determining power generation capability, equipment selection, engineering design, and 3D modeling of the proposed solar power plant.
The growth factor, such as favorable government plans, which include investment tax credits, tax rebates, and FiT, along with the rising environmental concerns to limit GHG emissions, are projected to propel the Solar EPC industry. Furthermore, rising demand from end-user industries such as commercial, residential, industrial, utility, and institutional is also projected to propel the Solar EPC Market.
Report Scope of the Solar EPC Market
| | |
| --- | --- |
| Report Coverage | Details |
| Market Size in 2023 | USD 234.9 Billion |
| Market Size by 2032 | USD 398.74 Billion |
| Growth Rate from 2023 to 2032 | CAGR of 6.06% |
| Largest Market | North America |
| Fastest Growing Market | Asia Pacific |
| Base Year | 2022 |
| Forecast Period | 2023 to 2032 |
| Segments Covered | By Type, By End-User and By Technology |
| Regions Covered | North America, Europe, Asia-Pacific, Latin America and Middle East & Africa |

Market Dynamics:
Driver
Concerns regarding fuel demand are growing
Due to the ongoing debate over the degradation of the environment, the worldwide solar EPC industry has gained significant traction. Significant increases in consumer environmental issues, as well as the adoption of different stringent rules to lower greenhouse gas (GHG) emissions, forced organizations to implement impactful energy-saving methods such as solar EPC. Considerable improvements and modifications, as well as enhanced cost, are expected to benefit the market in the coming years.
Rising electricity demand
Global power consumption increased considerably as a result of growth in population and economic activity. The rising standard of living and infrastructure development is driving the requirement for power generation. To meet rising demand, most countries are constructing new solar power plants or widening the capacity of currently operational ones. This is expected to encourage the growth of the solar power sector, generating potential for key players in the solar EPC market over the forecast period.
Restraints
Investment, as well as a lack of facilities, continue to pose a risk to market expansion
The overall expenditure for solar PV is greater than the expense of installing routine solar panels, which may limit its approval in residential houses with low energy demands. For instance, 15 ground-mounted 300-watt solar panels would cost USD 14,625. With each solar panel costing an additional USD 500 due to the solar structure, the solar power generation structure is used less frequently. Furthermore, a shortage of facilities is a barrier to investment in this market. Lack of knowledge regarding the advantages of solar PV over primary grid electricity in countries like Asia-Pacific and Europe may hinder market expansion.
Opportunities:
As solar tariff barriers fall, large IPPs and incorporated utilities are likely to invest in internal EPC capabilities in order to improve the project economy, boosting the percentage of industries with in-house EPC features. This changing industry trend may result in the consolidation of the Solar EPC market. As a result, stand-alone EPC companies are anticipated to merge with larger players or incorporate into full project developers and power producers. Furthermore, the rise of automation technology has resulted in leaner operations, resulting in higher initial capital costs but larger savings over the project's lifetime. Due to the growing usage of information technology in the solar energy sector, automation is going to have to be included as a key component.
Impact of COVID-19:
The worldwide medical crisis resulting from the unexpected eruption of COVID-19 had a significant impact on a variety of industries. The energy sector required repeated lockdowns in 2020, slowing economic activity, transportation, and trade around the world and reducing energy consumption by 4%. Finally, the green power transition must be prioritized by improving the economy and stimulus programs that have emphasized renewable energy, resulting in constant growth and installation.
Moreover, transportation and logistics disruptions were caused due to strict federal regulations. Global lockdowns delayed product delivery, resulting in higher shipping costs, increases in fuel, tax, and labor prices, and disruption in delivery facilities.
The solar energy Industries Association reported that the total amount of solar permits issued in the U. S. in March 2020 was 32% lesser than in the initial week of February, denoting the significance of solar activity caused by shelter-in-place limitations and lowered company and customer confidence. Around 70% of the world's solar panels are produced in China. Due to lockdowns across several key regions, solar PV manufacturers in China paused or lowered production in February.
Segments Insight:
Type Insights:
The rooftop segment is anticipated to grow at the highest CAGR from 2023 to 2032. The rooftop sector is projected to be in high demand since it receives a greater quantity of solar power than ground mounted. Solar EPC rooftop segment involves several steps, including site assessment, system design, equipment procurement, installation, and commissioning. Rooftop solar installations have become increasingly popular in recent years due to the declining cost of solar panels, government incentives, and increasing environmental awareness. These installations provide numerous benefits, including lower electricity bills, reduced carbon emissions, and increased energy independence.
The ground-mounted sector is expected to expand at the fastest CAGR from 2023 to 2032. A ground-mounted solar energy system is installed on the ground rather than on a rooftop. Ground-mounted solar systems offer several advantages over rooftop systems, including the ability to install larger systems, improved energy production due to optimal panel orientation and tilt, and easier maintenance and cleaning. Ground-mounted solar systems are typically larger in size and capacity than rooftop systems and are often used for utility-scale or commercial projects.
Technology Insights:
The photovoltaic sector held a maximum market share in 2022, and this trend is expected to continue during the projected period due to ongoing initiatives and growth in the energy sector. Photovoltaic technology converts sunlight into electricity by using a semiconductor material, such as silicon, to create an electric field. When sunlight hits the semiconductor material, it releases electrons, which are captured and used to generate electricity. Solar EPC (Engineering, Procurement, and Construction) refers to the process of designing, procuring, and building solar power plants or solar energy systems. These are widely used due to their adoption in various industrial sectors.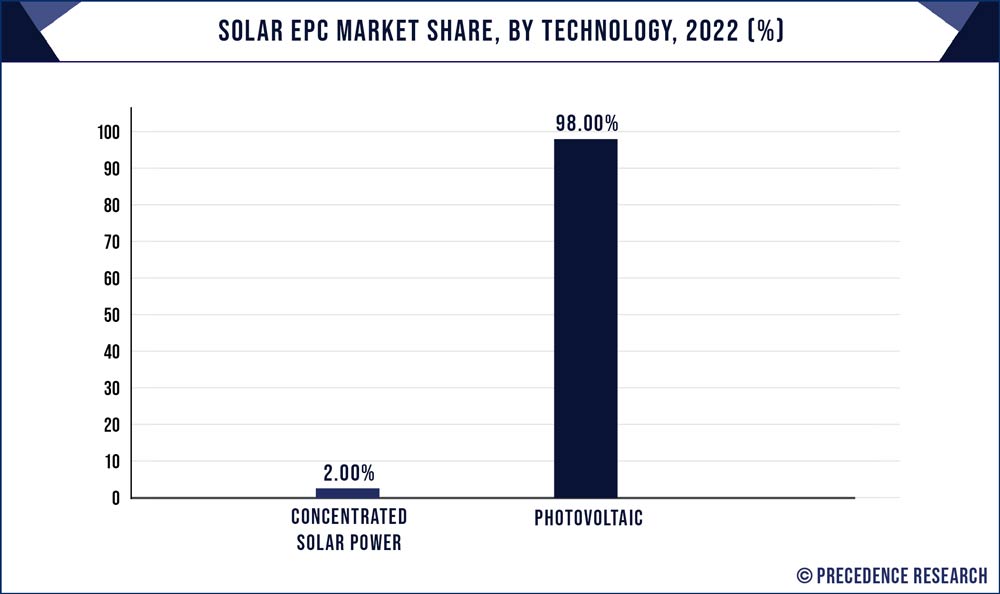 The concentrated solar power sector is anticipated to expand at the fastest CAGR from 2023 to 2032. CSP installation is expected to increase in the solar EPC industry because of greater efficiency, lower operating expenses, installation simplicity, and lower carbon emissions. Furthermore, a significant decrease in the price of plant components due to tax and duty revisions or improvements has impacted technological deployment. Ongoing manufacturing trends have encouraged solar deployments around the world, which is expected to boost product demand even further.
End-User Insights:
Due to the favorable regulatory scheme as well as rapid technological advancement, the residential sector is projected to expand rapidly in this industry from 2023 to 2032. The residential segment of solar EPC involves installing solar energy systems in residential buildings, such as single-family homes, townhouses, and apartments. The residential segment of solar EPC is gaining popularity as more homeowners are looking to reduce their energy bills and carbon footprint. The solar energy systems installed in residential buildings typically include solar panels, inverters, and a monitoring system.
The solar panels are installed on the roof of the building or in a location with optimal sunlight exposure. The inverters convert the direct current (DC) power generated by the solar panels into alternating current (AC) power that is used in the home or fed back into the grid. The monitoring system allows homeowners to track the performance of their solar energy system.
The commercial sector is anticipated to grow at a remarkable pace from 2023 to 2032. Solar EPC for a commercial project involves several steps, including site assessment, design and engineering, procurement, installation, commissioning and testing, and ongoing monitoring and maintenance. Working with an experienced solar EPC contractor is crucial to ensure the successful installation and long-term performance of a commercial solar power system.
Regional Insights:
North America is expected to be an important region for the Solar EPC Market during the projected period. As one of the industrialized regions, the energy and power sectors are critical to the operations of many companies in this region. This is one of the key elements driving the Solar Engineering, Procurement, and Construction (EPC) Market in these areas. The solar EPC segment in North America is highly competitive, with many companies vying for a share of the growing market. Some of the top solar EPC companies in North America include First Solar, SunPower, Swinerton Renewable Energy, and Mortenson. These companies provide turnkey solar solutions, from design and engineering to procurement and construction.
During the projected period, Asia Pacific is expected to be one of the fastest-growing regions for the Solar Engineering, Procurement, and Construction (EPC) Market. The demand in this region is anticipated to be driven by several of the fastest emerging markets and the rising need for power and energy to support a large population and numerous industries. India and China are expected to have significant demand during the projected period.
Recent Developments:
In January 2023, Canadian Solar came in partnership with Gardant SGR.
In February 2021, Indian solar EPC company Sterling and Wilson Solar announced that it had commissioned a 200 MW solar project in Australia. This is one of the largest solar projects in Australia and highlights the global reach of Solar EPC companies.
Key Market Players:
Canadian Solar
Bechtel Corp.
BELECTRIC Solar & Battery Holding GmbH
Alas Solar System LLC
Adani Group
Xylem
ENERPARC AG
Blattner Energy
Q Cells
Sterling and Wilson Pvt. Ltd.
Juwi AG
Renewable Energy System Ltd.
Black and Veatch Holding Co
DEPCOM Power
Greenspark Solar
First Solar
STRATA SOLAR
Hild Energy Pvt. Ltd.
Swinerton Renewable Energy
Segments Covered in the Report:
(Note*: We offer report based on sub segments as well. Kindly, let us know if you are interested)
By Type
By End-User
Commercial
Residential
Industrial
Others
By Technology
Photovoltaic
Concentrated Solar Power
By Geography
North America
Europe
Asia-Pacific
Latin America
The Middle East and Africa