The global surgical staplers market size was estimated at USD 5.04 billion in 2022 and is expected to hit around USD 9.50 billion by 2032, registering a notable CAGR of 6.60% from 2023 to 2032.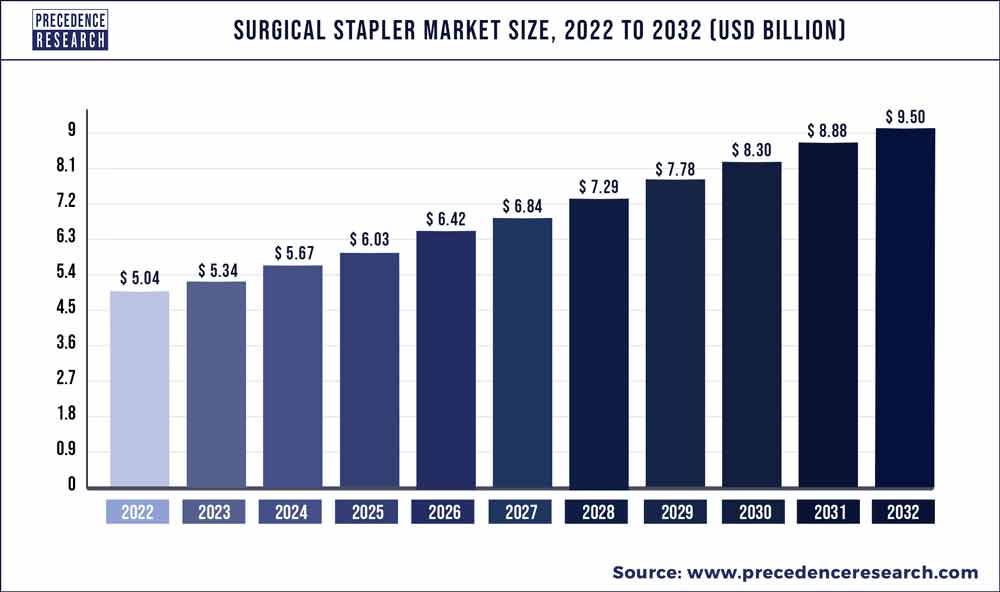 Access our Premium Real Time Data Intelligence Tool, Visit: Precedence Statistics
Key Takeaways:
By technology, the manual segment has contributed the highest revenue share of over 59% in 2022.
By type, the reusable segment has generated 62% revenue share in 2022.
By end user, the hospital segment has reached a maximum revenue share of 68% in 2022.
North America region has made up the highest revenue share 41% in 2022.
One of the main key indicators driving the market's expansion is the increase in overall surgical procedures as well as the use of medical staplers in complicated chronic surgeries like heart surgery. The market is expanding due to the increasing use of surgical staplers, particularly in developed economies, as well as the accessibility of technologically enhanced product lines as a result of effective research and development initiatives by key industry players. The expansion of the market is also being aided by the rising incidence of cardiovascular illnesses and the global geriatric population.
Other aspects that contribute to the growth of such a market include the advancement of new technologies, prominent player health care infrastructures in industrialized nations, and increased demand for motorized surgical equipment in emerging markets. The market's expansion is constrained by the increasing demand for improved endovascular materials like glues and fibrinogen sealants, pricing rivalry within the sector, and the potential for allergy or unpleasant responses to elements like titanium or steel.
Growth Factors:
The market for surgical stapling instruments is expected to rise as more surgical operations are performed, their use in bariatric surgeries is rising, and minimally invasive treatments are becoming more popular. Additionally, there has been a rise in the need for surgical stapler tools in a variety of surgeries, including bariatric, laparoscopic, endoscopic, etc. Stapling gadgets were used in most cases because of the increasing prevalence of chronic illnesses like overweight or even in surgeries for injuries sustained during sports or arthritis.
Additionally, the increase in laparoscopy operations that patients choose is anticipated to fuel the international market for surgery stapler instruments throughout the projected timeframe. Laparoscopic surgery is becoming more popular since it requires a smaller incision, is less expensive, and requires shorter hospital stays. Furthermore, to develop, design, and launch technologically innovative goods as well as enhance their present product portfolios, makers of surgical stapler instruments are investing significantly in development and research operations.
One of the main factors driving the market's rise has been people's increased rate of staples over sutures. Several market competitors are looking to promote staplers used during endoscopic operations because of technical improvements. These devices are used in a variety of medical specialties, including gynaecological, pulmonary, digestive, and tissue & wound treatment operations. Due to the increase in bariatric treatments and the adoption of cutting-edge technology for endoscopic operations, the need for surgical stapler devices is expected to expand. Additionally, the development of powered surgical tools and the rising demand for tissue & wound treatment is predicted further to propel the market.
Report Scope of the Surgical Staplers Market
| | |
| --- | --- |
| Report Coverage | Details |
| Market Size in 2023 | USD 5.34 Billion |
| Market Size by 2032 | USD 9.50 Billion |
| Growth Rate from 2023 to 2032 | CAGR of 6.60% |
| Base Year | 2022 |
| Forecast Period | 2023 to 2032 |
| Segments Covered | Technology, Type, Product, Application, End User, and Geography |
| Companies Mentioned | 3M Company, Becton, AesDex, LLC, B. Braun Melsungen AG (Germany), Becton Dickinson, CareFusion Corporation, Codman & Shurtleff (Codman), Conmed Corporation, Covidien plc, CryoLife Inc., Dextera Surgical Inc. (U.S.), Dickinson and Company (U.S.), Ethicon Endo-Surgery, Inc., Frankenman International Limited (Honk Kong), Grena Ltd. (U.K.), Integra LifeSciences Corporationm, Intuitive Surgical Inc. (U.S.), Johnson & Johnson Services, Inc., Medtronic (Ireland), Meril Life Science Pvt. Ltd., Purple Surgical Holdings Limited, Reach Surgical Inc. (China), Smith & Nephew (U.K.), Stryker Corporation, Surkon Medical, Touchstone International Medical Science Co. Ltd., Victor Medical Instruments, Welfare Medical Ltd. (UK), Zimmer Holdings, Inc. |
Key Market Drivers:
Increase in surgical operations: One of the key reasons propelling the expansion of the surgical contraction market is the spike in the targeted population of patients and the accompanying increase in the number of medical procedures. The market for surgical staplers is expanding as a result of an increase in surgical operations, the development of technologically sophisticated products, and the rising popularity of gastric as well as other weight reduction surgeries. Other factors boosting the market's expansion include rising chronic illness incidence, increasing desire for microsurgical surgical procedures, and popularity among teenagers for paperclips over conventional sutures.
Favouritism for minimally invasive procedures: Because of benefits like fast recovery and reduced discomfort, minimally invasive procedures are becoming more and more popular, which spurs market expansion.
Preference for surgical staples: Because they are quicker, more reliable, simpler to be using, and more accurate than sutures, surgery surgical instruments are increasingly preferred, which has a positive impact on the market.
Less time is needed to complete the wound closure process: A surgical stapler enhances dexterity and enhances the surgical proficiency of a gynaecologist or surgeon. The devices are therefore rapidly being used in a variety of endoscopic operations, including general surgery, colorectal surgery, and others. One aspect that sets stapling devices apart is how quickly the procedure of wound closure may be completed. Therefore, in industrialized nations, surgical stapling tools are the surgeon's primary choice. This is anticipated to encourage the growth of the market for surgical stapling tools.
Key Market Challenges:
The accessibility of alternate wound care methods: The market expansion will be hampered by several obstacles and restraints. The market growth is being hampered by issues including these gadgets' high price when compared to their conventional counterparts. Additionally, the availability of non-stapler wound care methods including surgical sealants, fibrin sealants, and other options that minimize inflammation and scarring without the need for staple removal are possible barriers to the overall development of the worldwide surgical stapler industry.
The device's high price and the accessibility of alternate wound treatment methods: The high cost of the devices and the accessibility of alternate wound care methods are predicted to restrain market expansion. During the projected timeframe of 2022–2030, issues related to the usage of surgical staplers and a shortage of qualified experts are also anticipated to provide challenges to the market for surgical staplers.
Key Market Opportunities:
A rise in the acceptance of cosmetic procedures and medical travel in emerging markets
Additionally, the market players would have lucrative opportunities during the projected timeframe of 2022 to 2030 due to the rise in the popularity of beauty treatments. Additionally, the industry will grow due to medical tourism in emerging nations. The market for surgery staplers has potential for participants due to the expanding popularity of aesthetic procedures, increased medical tourism, and improved health outcomes in emerging nations. These items are utilized for such operations to hold tissue together, and the majority of beauty treatments involve surgeries including such treatments for the body, face and head, breast, and extremities. These treatments are becoming more popular as a result of rising awareness of cosmetic procedures and rising body consciousness, offering market participants plenty of room for expansion.
Segments Insight:
Technology Insights
Due to rising demand for advanced technology, the power surgical stapler device sector is predicted to grow at a quick rate during the forecast period and hold the largest share in 2022. The growth of this market is being driven by the many advantages powered staplers have over manual staplers, including ease of use, low risk of problems like blood loss or spillages, shorter operating times, and lower hospital costs.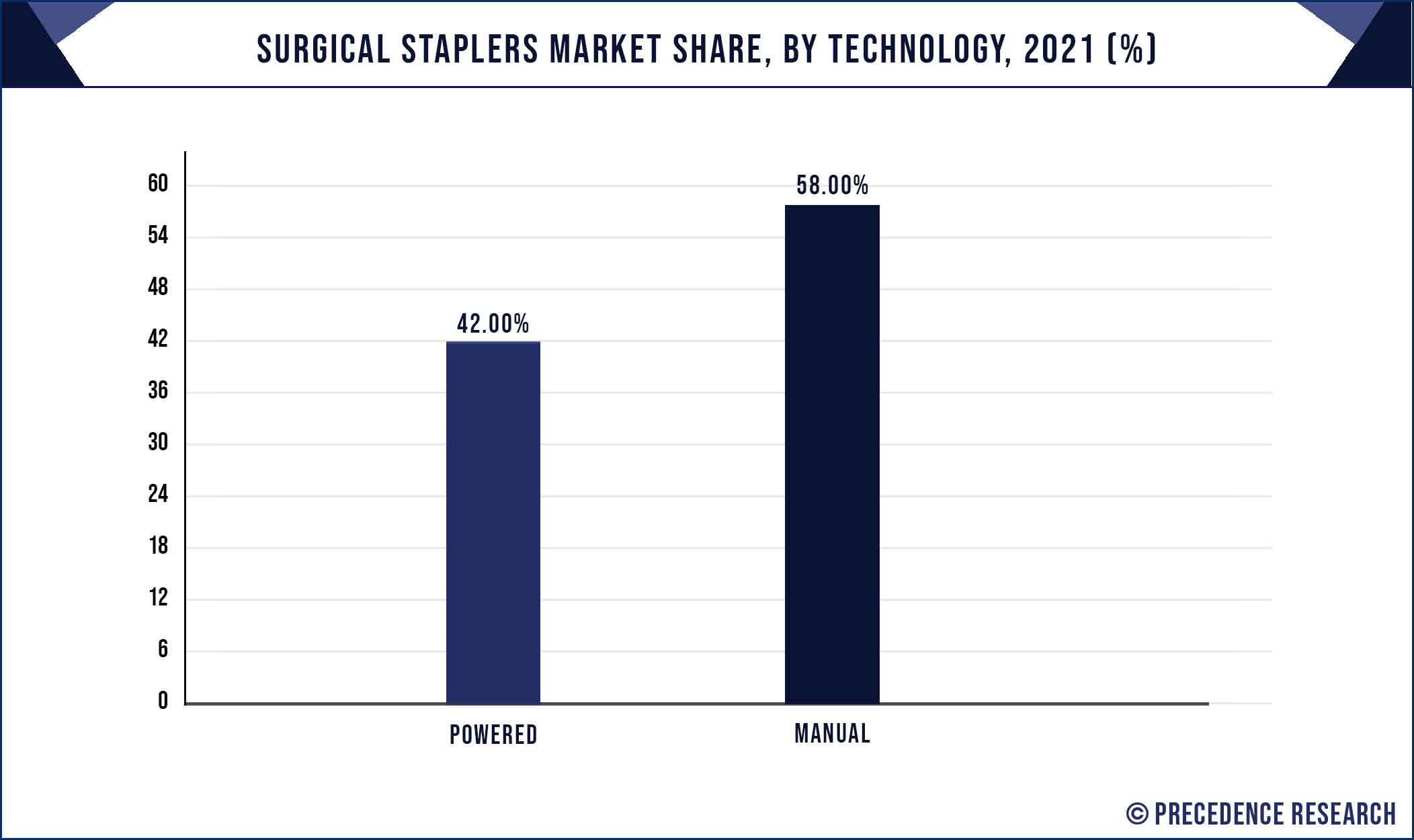 The powered section of the surgery staple market is driven by the several advantages that these staplers provide, such as precise wound closure, stability, fewer leaks, and lower compressive force. The expanded research and development efforts to enhance the functionality of motorized surgical staplers will create new opportunities for the development of the sector. Additionally, ease of usage and lower hospitalization costs compared to traditional staplers will boost market expansion.
Type Insights
Due to growing worries about communicable diseases, the disposable category is expected to experience impressive growth during the projection years. Biodegradable staplers are commonplace because they reduce surgical procedure-related infections, which ultimately improves technical quality. Disposing of surgical staplers also helps to prevent the spread of the infection from patient to medical staff. Additionally, the benefits of disposable staplers include a lower risk of infection and better product offers are anticipated to fuel demand for the sector.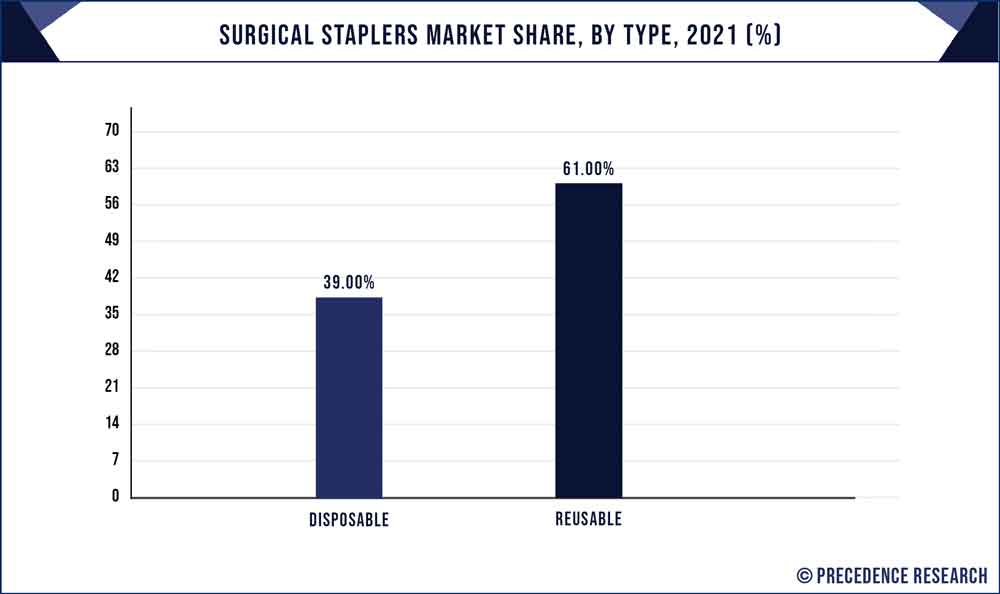 Due to the growing use of detachable staplers in complex and chronic procedures, especially heart surgery, the disposable segment will generate more revenue in 2020. For minor injuries and post-operative wound closure, biodegradable staplers are generally regarded as the best option. All of these elements will raise product demand, raising the sector's value.
Application Insights
The stapling instruments are employed in a variety of surgical operations, but they are most frequently utilized on the skin to close wounds during procedures like bariatric and laparoscopic surgery, among others. Additionally, it is anticipated that an increase in the frequency of sports-related injuries and auto accidents will increase the supply for wound contraction, in turn driving up prices in the sector.
End-User Insights
Due to the increased use of surgical instruments in hospitals, the healthcare segment is anticipated to dominate. Hospital beds are in short supply, especially in developing and undeveloped nations, which might be linked to the steady rise of the outpatient center market. The segment is also projected to be driven by trends including the expanding use of automation systems in surgery, which enhances the outcomes of minimally invasive procedures. Favorable bariatric surgery reimbursement regulations will also aid hospitals in maintaining their supremacy.
Surgical Staplers Market Share, By Region, 2022 (%)
| | |
| --- | --- |
| Regions | Revenue Share in 2022 (%) |
| North America | 41% |
| Asia Pacific | 24% |
| Europe | 27% |
| Latin America | 5% |
| MEA | 3% |
Regional Insights
Because more procedures were conducted overall thanks to the adoption of cutting-edge technologies and non-invasive techniques, North America held the highest proportion of the market. The greatest obesity rate in the world, the localized presence of international companies, and Regulatory approval for minimally invasive surgeries are additional factors contributing to the significant market share. Special devices are created for laparoscopy and thoracoscopy procedures, which utilize surgical stapler devices, thanks to recent advancements in minimally invasive surgery. The prerequisite understanding of stapling instruments must now be acquired by surgeons.
Asia Pacific is predicted to have the greatest CAGR during the projection period since countries like China, India, and Japan have huge patient populations. Due to rising desire and use, surgery staplers were classified as "drugs" in 2011 and subject to regulation under the Cosmetics and Drugs Act in India. As a result of this act's application, surgical stapler production and distribution are now subject to tight controls. The market for stapling is predicted to expand profitably as surgical procedures are carried out more frequently, healthcare costs are on the rise, and public awareness of their use is growing. Important market companies are spending in this area to increase their footprint. The market in the region is expected to grow as a result of initiatives like those done by Johnson & Johnson Healthcare, India, to educate 8,000 doctors in sophisticated surgical devices, including non-invasive surgery staples.
Recent Developments:
The ECHELON 3000 surgical Stapler, a technology-driven tool that gives surgeons easy, one-handed controlled flexibility to help meet the specific demands of their patients, was introduced by Ethicon, a division of Johnson & Johnson, in June 2022.
Following the release of the Titan SGS surgical stapling in Feb 2022, Standard Baroatric Inc. achieved Final match B financing of almost USD 35 million ahead of plan.
In October 2021, Medtronic Plc reported that the HugoTM robotic-assisted surgical system has been awarded the CE (Conformité Européenne) Mark, allowing for its commercialization in Europe. About half of all robotics tests performed today are urologic and gynecologist, which are CE Mark approved.
In Oct 2020, 3M announced the launch of the PREVENT RESTOR AXIO•FORMTM Incision Management Platform, which is intended to control post-operative incisions and the soft tissue envelope around them after orthopedic surgery to treat lower extremity fractures.
In February 2020, Baxter International Inc. introduced the Veritas Collagen Fibers, a new version of their Peri-Strips Dry. The item, also called PSDV, has a reliable staple line strengthening for surgical procedures and a solid grip.
Segments Covered in the Report:
(Note*: We offer report based on sub segments as well. Kindly, let us know if you are interested)
By Technology
By Type
By Product
Linear staplers
Circular staplers
Skin staplers
Endoscopic staplers
Others
By Application
Abdominal & Pelvic Surgery
General Surgery
Cardiac and Thoracic Surgery
Orthopaedic Surgery
Other Surgical Application
By End User
By Geography
North America
Europe
Asia-Pacific
Latin America
Middle East & Africa (MEA)