The global sustainable electronics manufacturing market is surging, with an overall revenue growth expectation of hundreds of millions dollars from 2023 to 2032.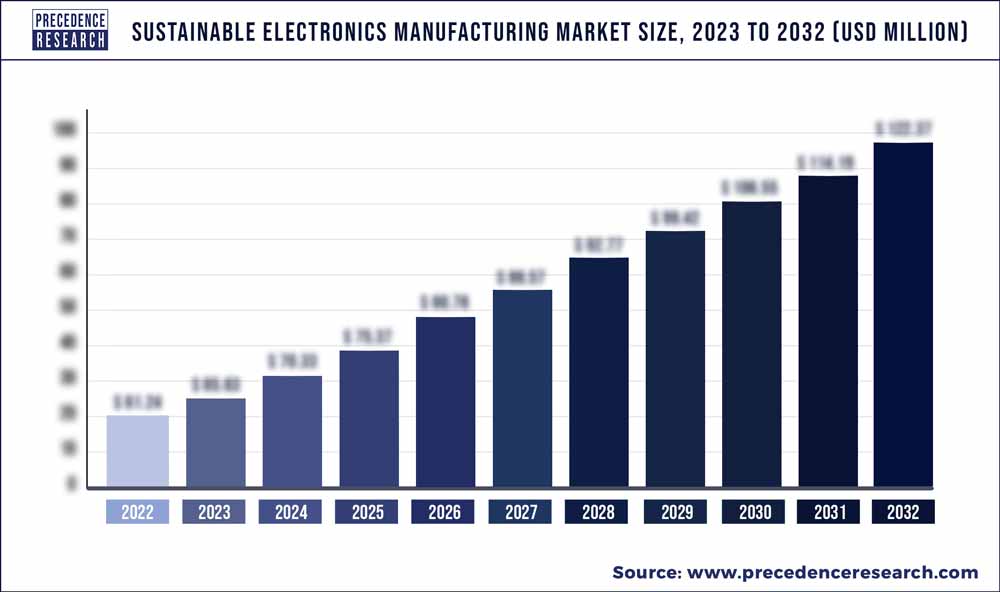 Businesses that develop, test, distribute, and provide return/repair services for electronic parts and assemblies for original equipment manufacturers are referred to as "EMS" (OEMs). EMS refers to both the overall industry as well as a specific class of subcontractor or company. In conclusion, original equipment manufacturers (OEMs) can boost operational efficiencies and focus on important activities like research and development thanks to the value-added engineering and manufacturing outsourcing services provided by EMS enterprises (R&D).
The notion is also known as "electronics contract manufacturing" (ECM). Many electronics for consumers are made in China due to the country's lower maintenance costs, greater access to materials, and faster production processes compared to other countries like the United States. Cities like Penang and Shenzhen have grown to be important industrial hubs for the industry, luring many manufacturers of consumer electronics, including Apple Inc. There are certain companies that provide both original design manufacturing and electronic manufacturing services, such as Wistron and Flex.
Key Insights:
By geography, the Asia-Pacific region is projected to grow quickly from 2023 to 2032.
By Product, the electronic devices segment is expected to expand market share through 2032.
By application, the automotive segment is increasing the electrification of automobiles and increased 15% of the market share in 2022.
Market Growth
The global and national economies have been greatly impacted by the COVID-19 pandemic. The end-user industries that produce electronics are among those that have been impacted. According to data from the IPC study conducted in March 2020, 40% of the global electronics manufacturers and suppliers questioned thought the COVID-19 outbreak will have the greatest impact on the consumer electronics sector. In addition, 24% of respondents said they anticipated industrial electronics to be most affected, while 19% said the automotive electronics market would be severely damaged.
As part of their manufacturing operations, businesses are attempting to reduce their inventories, buildings, and equipment. They are also refocusing their capital investments on sales and marketing and R&D, which has boosted the demand for outsourcing to third-party manufacturing service providers.
The design and assembly of electronic components have undergone a revolution with the introduction of downsizing, the adoption of cutting-edge technologies in the Industrial Internet of Things (IoT), and the improved connection provided by 5G. A better antenna technology, like MIMO, was developed for the 5G communication base stations, for example, which increased the quantity and effectiveness of radiating elements.
Report Scope of the Sustainable Electronics Manufacturing Market
| | |
| --- | --- |
| Report Coverage | Details |
| Base Year | 2022 |
| Forecast Period | 2023 to 2032 |
| Application Market Share in 2022 | 15% |
| Fastest Growing Market | Asia-Pacific |
| Segments Covered | By Product and By Application |
| Regions Covered | North America, Europe, Asia-Pacific, Latin America and Middle East & Africa |

Market Dynamics:
Market Drivers
The constant need for newer and faster electronic devices and applications is being fueled by the lightning-fast rate of advancements in electronic technology. Technology advancement is necessary for luring corporate users and customers to upgrade or replace dated products with newer models. Innovative electronic devices are anticipated to benefit from digital technologies like the internet of things (IoT) and the newest communication technologies like 5G.
During the projection period, this is anticipated to lead to an increase in demand for electronic goods, which would ultimately drive the market for those goods. The market for electrical devices will expand as a result of the growing use of next-generation mobile networks, such as 4G and 5G, which will raise demand for integrated circuits. The development of new infrastructure is necessary for the use of next-generation mobile networks.
The construction of 5G infrastructure mostly uses chipsets such as system on chips, radio frequency integrated circuits, cellular integrated circuits, application-specific integrated circuits, and millimeter-wave integrated circuits, which increases demand for integrated circuits.
Market Restraints
Numerous companies, particularly those in the electronics and technology industries, have been impacted by the COVID-19 pandemic epidemic. Government restrictions on import and export caused the market's supply chain to be disrupted. These factors and rules placed limitations on the production and supply of commodities to customers. The companies experienced a decline in production and sales during the outbreak.
Market Opportunities
The Business Research Company advises producers of electronic goods to focus on creating cutting-edge audio and video technologies through research and development, aims at enhancing their product offerings through innovation and acquisition of new businesses, expand their foothold in the US by developing new projects, bolster their business of semiconductors through strategic acquisition and investments, and increases semiconductor production.
The need of consumers for greater viewing is what is driving the increase in demand for curved TVs. A curved screen makes for a more immersive experience since it gives the viewer a larger field of view and allows them to fill more of it.
Segments Insight
Product Insights
The market is divided into Engineering services, Electronic manufacturing, Logistics services, Test & development implementation services, and others based on the kind of product. The market share leader in terms of the production of electronic devices is expected to continue to expand through 2032. The rise is mostly owing to the developed economies' increasing adoption of smart home technology, with the U.S. grabbing the lion's share of the market.
The companies' electronic manufacturing services range from the creation of radiofrequency and wireless devices for current smart home trends to optoelectronics services and microelectronics devices. Industry leaders are aiming to produce interconnected gadgets for smart homes by integrating artificial intelligence (AI), cloud computing, 3D printing, and big data analysis into their engineering and factories. Players in the electronics manufacturing services market are expanding their manufacturing facilities to incorporate new technologies and meet the industry's rising demand for smart home services.
Application Insights
The computer, aerospace & defense, consumer electronics, medical & healthcare, automotive, and other segments of the market are separated based on application. In 2022, the market share for the automotive application category increased to over 15% as a result of the increasing electrification of automobiles. The development of the electronics manufacturing services (EMS) sector is being fueled by businesses' efforts to offer comprehensive solutions and assist automakers with service realization.
Automakers will be encouraged to use EMS as electric car adoption rises as a result of increased government attempts to reduce CO2 emissions. Additionally, governments from a number of countries intend to introduce programs and laws to promote the use of electric vehicles. To provide high-volume manufacturing facilities to OEMs, the automotive EMS manufacturing competence covers PCB assembly services, box build assembly, and module assembly.
Regional Insights
The global market for electronics manufacturing services is segmented into North America, Europe, Asia Pacific, and the Rest of the World based on geography. It is projected that the Asia-Pacific region would grow quickly during the projection period. China is one of the world's major EMS markets as a result of its supremacy in the production of consumer electronics, semiconductors, and other telecommunications devices and equipment.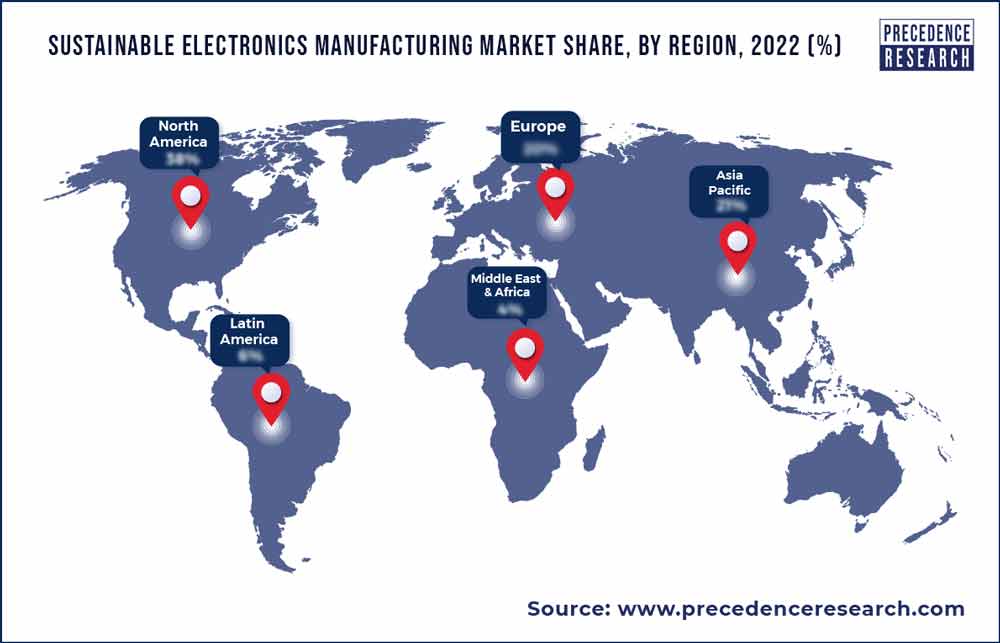 Major European automakers are collaborating with EMS suppliers on PCBA production, prototyping, engineering, and designing in order to effectively develop connected car technologies. These automakers include BMW, Ford, Hyundai, and Renault. The European Union has taken a number of steps to speed up the manufacturing of electronic safety equipment, electronic lighting, and electric cars, which are the key factors driving the growth of EMS in the region.
Recent Development
November 2020 - Providing manufacturing services and electronics design to both domestic and international OEMs, In a cash and equity deal, Gurgaon-based SGS Tekniks and SyrmaTechnology have announced their merger. For the automotive, industrial, computing, medical, power, and telecom industries, Syrma principally designs and manufactures power electronics, RFID technology, and turnkey production services, along with specialized magnetics.
March 2021 - An innovative new additive material with a patent pending that provides the high strength and stiffness necessary for demanding aerospace, automotive, and industrial manufacturing applications have been made available, according to Jabil Inc. The Jabil Engineered Materials Innovation Center in Minnesota developed, formulated, and produced this development for use in both additive and traditional production.
March 2020 - The expansion of Sanmina Corporation's factory in Thailand was announced. Superior optical, high-speed, and radio frequency (RF) microelectronic assemblies and products are likely to be produced at the facility using its advanced custom packaging and assembly capabilities. This expansion helps the fast-growing markets for networking, 5G, data centers, automotive/LIDAR, aerospace, and defense technologies even more.
Key Market Players
Flex Ltd.
Foxconn
Celestica
Kimball International, Inc.
Benchmark Electronics
Actia Group
Key Tronic EMS
Segments Covered in the Report
(Note*: We offer report based on sub segments as well. Kindly, let us know if you are interested)
By Product
Electronic Manufacturing
Engineering Services
Test & Development Implementation Services
Logistics Services
Others
By Application
Computer
Consumer Electronics
Aerospace & Defense
Medical & Healthcare
Automotive
Others
By Geography
North America
Europe
Asia-Pacific
Latin America
The Middle East and Africa