The global tendonitis treatment market size was estimated at USD 210.02 billion in 2022 and is expected to hit around USD 298.12 billion by 2032, poised to grow at a CAGR of 3.57% during the forecast period from 2023 to 2032.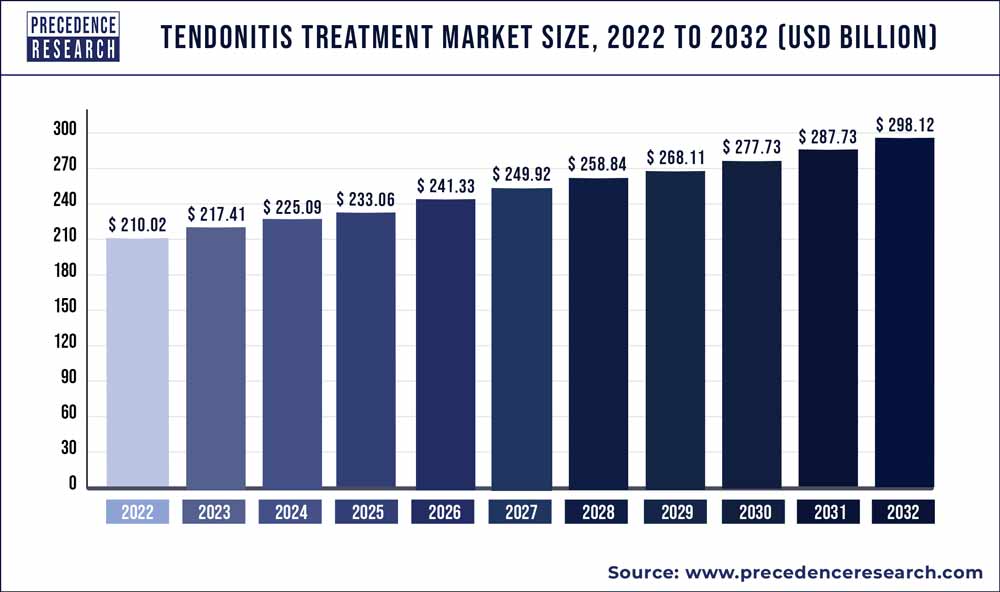 Access our Premium Real Time Data Intelligence Tool, Visit: Precedence Statistics
Key Takeaways
North America led the global market with the biggest market share of 40% in 2022.
Asia-Pacific is estimated to expand at the fastest CAGR from 2023 to 2032.
By Treatment, the therapy segment has held the largest revenue share in 2022.
By Condition, the achilles tendonitis segment held the major market share in 2022.
Tendonitis Treatment Market Overview
Tendonitis is a common condition affects the musculoskeletal system and can result in pain, swelling, and limited movement for various joints of the shoulder, elbow, wrist, knee, and ankle. There are several options available for the tendonitis therapy in the market. These approaches include different products and services that aim to reduce symptoms and promote healing. For non-surgical interventions in this domain, physical therapy regimens alongside practices like rest, cold compress application, and anti-inflammatory medication utilization prevail as commonly adopted solutions.
Furthermore, when necessary or desired by patients affected by tendonitis, more advanced techniques such as corticosteroid injections along with platelet-rich plasma therapy can be pursued. Additionally available within this landscape are minimally invasive surgical procedures aimed at addressing specific cases. Complementing these interventions are an assortment of medical devices alongside braces that have been designed to facilitate recuperation and support individuals managing tendonitis. There are various factors in the field of tendonitis treatment which require research and development.
The rising geriatric population has resulted in an increase in musculoskeletal problems, which resulted in rising awareness of such conditions. Simultaneously, advancements in medical technology have emerged. These advancements enable patients to access expert advice and rehabilitation programs remotely.
As the field of regenerative medicine continues to advance, new therapies such as stem cell-based treatments are being introduced. These novel approaches hold great potential in revolutionizing the management and recovery from tendonitis. In summary, the Tendonitis Treatment Market plays a crucial role in enhancing the quality of life for individuals dealing with tendonitis-related issues through a wide range of therapeutic modalities and innovative solutions.
Tendonitis Treatment Market in the U.S. 2023-2032
The U.S. tendonitis treatment market size was valued at USD 49.56 billion in 2022 and is estimated to reach around USD 70.36 billion by 2032, growing at a CAGR of 3.57% from 2023 to 2032.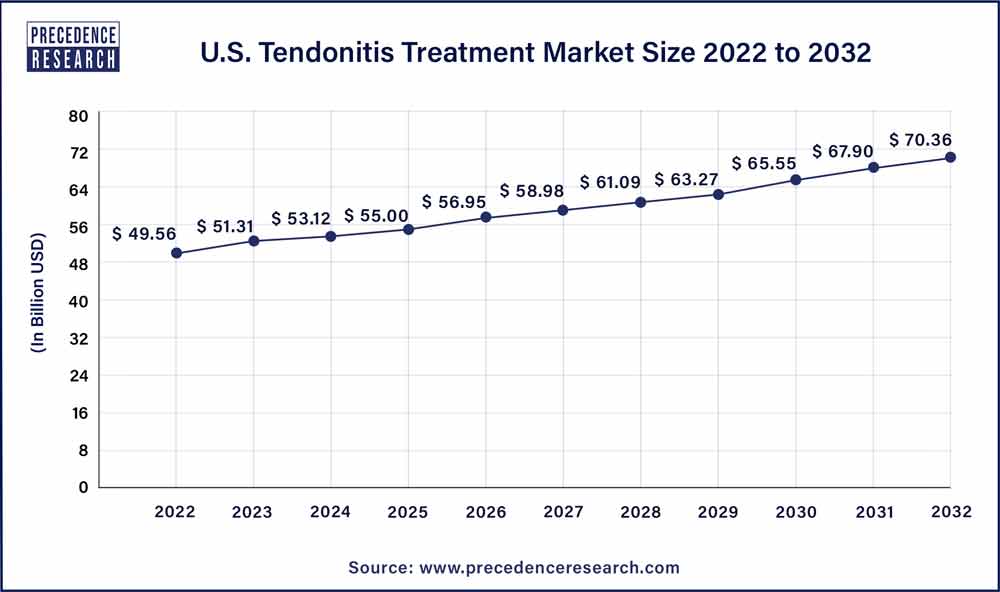 North America has held the largest revenue share in 2022. The tendonitis treatment market in North America is a dynamic and rapidly evolving sector within the healthcare industry of the region. With its sophisticated healthcare infrastructure and substantial expenditure on healthcare, North America takes the lead in advanced treatments, cutting-edge therapies, and research initiatives dedicated to tendonitis. This market is primarily driven by the prevalence of tendonitis cases, particularly among an aging population with active lifestyles who seek effective treatment options.
Furthermore, extensive research and development activities carried out by pharmaceutical companies, medical device manufacturers, and academic institutions contribute to the creation of innovative therapies and medical advancements. The presence of key market players, technological progressions, and a high level of healthcare awareness among the population further accelerate growth in the tendonitis treatment market across North America.
Furthermore, the region has embraced telemedicine and digital healthcare solutions, leading to improved accessibility for specialized consultations and treatments. This has significantly contributed to the expansion of the market, positioning North America as a prominent center for tendonitis research, diagnosis, and treatment. Patients in this region benefit from a wide range of options available to them, making substantial contributions to global musculoskeletal healthcare initiatives.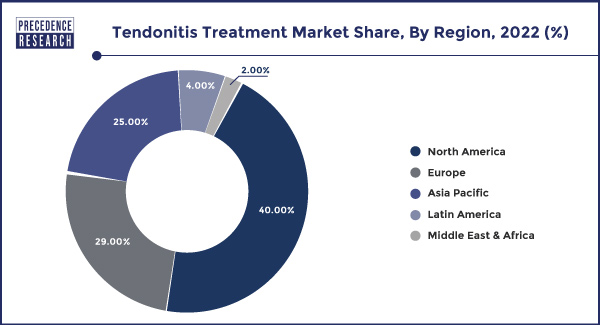 The Asia-Pacific region's healthcare sector has accelerated progressive growth, particularly in the area of tendonitis treatment. There are various factors that contribute to tendonitis treatment market growth like the rising prevalence of tendonitis cases owing to busy lifestyles, sports-related injuries, and the rising geriatric population.
Additionally, noteworthy advancements in health infrastructure within the region have led to improved accessibility to specialized medical care and treatments. Increased expenditure on healthcare, rising awareness of musculoskeletal disorders, and focus on prevention from disease are expected to boost the growth of the market. Countries like China, Japan, South Korea and India are involved in significant developments in research & development. This progress has paved the way for innovative approaches like regeneration techniques and miniaturized surgery when combating tendonitis.
In addition, accessibility of tendonitis treatment has been improved as a result of its adoption in modern healthcare technologies such as telemedicine and the emergence of medical tourism, enabling patients to have different options and contributing to market expansion. The Asia-Pacific tendonitis treatment market is expected to grow at a considerable rate as the region remains invested in medical infrastructure and research, giving priority to the healthcare needs of its rapidly growing population.
Growth Factors
The aging global population is increasingly susceptible to musculoskeletal conditions, including tendonitis. Such conditions often arise from age-related wear and tear on the joints. It is expected that there will be a rise in the prevalence of tendonitis cases, which will lead to huge number of patients requiring treatments. Furthermore, there has been a rise in the awareness about tendonitis among both public and healthcare professionals. Recognizing this condition early on and providing timely intervention is crucial for managing it effectively. This heightened recognition translates into a higher demand for treatments and therapies.
In addition, innovations in medicine and research have led to the development of innovative treatments for tendonitis. This treatment may include low-intrusive techniques such as ultrasound-guided injections and regeneration treatments like platelet-rich plasma or stem cell therapy. Such treatment options offer patients more effective and less invasive solutions for managing their condition. As a result, not only do these advancements significantly improve patient outcomes, but they also contribute to the expansion of the market as more individuals seek these cutting-edge treatments.
Additionally, the trend towards personalized medicine is shaping the tendonitis treatment market. Tailoring treatments to individual patients based on their genetics, lifestyle, and specific condition allows for more precise and effective therapies. This approach enhances the overall patient experience and leads to improved outcomes. Furthermore, the incorporation of telehealth services allows patients to conveniently connect with healthcare professionals from a distance. This facilitates prompt consultations, follow-ups, and personalized rehabilitation plans. Consequently, it boosts the overall demand for tendonitis-related services and treatments.
Tendonitis Treatment Market Scope
| | |
| --- | --- |
| Report Coverage | Details |
| Market Size in 2023 | USD 217.41 Billion |
| Market Size by 2032 | USD 298.12 Billion |
| Growth Rate from 2023 to 2032 | CAGR of 3.57% |
| Largest Market | North America |
| Base Year | 2022 |
| Forecast Period | 2023 to 2032 |
| Segments Covered | By Treatment and By Condition |
| Regions Covered | North America, Europe, Asia-Pacific, Latin America, and Middle East & Africa |

Tendonitis Treatment Market Dynamics
Driver
Rising aging population
There has been a surge in the geriatric population which resulted in rise in age-related health problems. Tendonitis is a kind of problem that is quite common with increasing age. Old age people have higher chances of this disease owing to the accumulated wear and tear on their joints. This makes them more prone to experiencing inflammation and irritation in their tendons. Additionally, reduced physical activity among older individuals leads to muscle imbalances and places extra stress on joints, elevating the risk of developing tendonitis. This demographic trend has resulted in a substantial and expanding patient base requiring treatments for tendonitis.
The impact of tendonitis on the elderly extends beyond discomfort. It can restrict the movement of people suffering from it which can affect the quality of life, and can even led to disability if not treated. There has been a rise in the demand for effective treatments and therapies to cure tendonitis among old age population. These include physical rehabilitation programs, pain management techniques, anti-inflammatory medications, and in severe cases, surgical interventions.
Moreover, as the elderly strive to maintain an active lifestyle and independence during their later years, they increasingly turn to medical solutions to manage tendonitis symptoms. This trend further drives the market for innovative treatments and technologies tailored specifically for older adults with tendonitis. Ultrasound-guided injections, regenerative therapies like platelet-rich plasma and stem cell treatments are included in these innovations. Additionally, the development of assistive devices such as braces and orthotics that help in controlling tendonitis and maintain movement in older people has taken place in the market.
Restraints
Healthcare access disparities
Healthcare access disparities significantly impede the growth of the tendonitis treatment market. Across the globe, there are significant discrepancies in healthcare accessibility, particularly between developed and developing countries, as well as among different socioeconomic groups. Limited access to healthcare facilities, specialized medical professionals, and advanced treatments can hinder timely diagnosis and effective management of tendonitis.
In regions with scarce healthcare resources, patients often lack essential diagnostic tools like imaging technologies or access to specialists who can accurately diagnose and treat tendonitis. Additionally, financial constraints in economically disadvantaged communities frequently prevent individuals from seeking necessary medical care, resulting in undiagnosed or untreated cases of tendonitis. Moreover, in rural areas, limited access to well-equipped healthcare facilities and scarcity of trained healthcare professionals result in inadequate tendonitis treatments.
These disparities contribute to the perpetuation of healthcare inequality while hindering market growth due to the restricted availability of essential tendonitis therapies for patients. Addressing these access discrepancies becomes pivotal in ensuring equal opportunities for individuals from all socioeconomic backgrounds and geographic locations to receive prompt and comprehensive tendonitis care, ultimately fostering market expansion for improved public health outcomes.
Opportunities
Telemedicine and remote monitoring
Telemedicine and remote monitoring technologies offer a transformative opportunity for the growth of the tendonitis market. As the healthcare landscape embraces digital innovation, telemedicine acts as a bridge connecting patients suffering from tendonitis with specialized healthcare providers, regardless of geographical barriers. Through virtual consultations, patients can discuss symptoms, receive diagnoses, and explore treatment options remotely. This not only enhances accessibility to expert medical advice but also fosters patient engagement and reassurance.
Additionally, remote monitoring devices enable real-time tracking of mobility, pain levels, and recovery progress for tendonitis patients. Healthcare providers can promptly adjust treatment plans based on this continuous monitoring approach. With timely interventions and personalized care, patients experience improved outcomes while feeling supported throughout their journey.
In tendonitis, telemedicine plays a pivotal role in facilitating regular follow-ups, demonstrating exercises, and providing pain management consultations. This empowers patients to actively engage in their treatment journey. Moreover, telemedicine helps individuals residing in remote or underserved areas by granting them access to specialized healthcare services that may not be locally available. Such expansion of reach allows expert tendonitis treatments to benefit a wider population, while also streamlining healthcare delivery and enhancing accessibility.
As telemedicine continues to advance, incorporating features such as virtual physical therapy sessions and wearable devices for remote monitoring, it brings forth increased patient engagement, timely interventions, and an even broader reach. Ultimately, these developments are expected to offer lucrative opportunities within the tendonitis market during the digital age.
Impact of COVID-19
During the pandemic, numerous non-essential medical services, such as elective procedures and non-urgent consultations, had to be postponed or canceled. The main focus shifted towards prioritizing COVID-19 patients and mitigating the risk of virus transmission. Consequently, this delayed essential treatments for tendonitis-related surgeries and interventions, resulting in a backlog of cases.
Moreover, disruptions in the supply chain of medical devices and medications ensued due to the intensive management of the pandemic, adversely impacting the availability of necessary products for tendonitis treatment. However, amid these challenges, there emerged a silver lining. The pandemic expedited the adoption of telemedicine and remote monitoring technologies. As in-person consultations were limited or restricted altogether, virtual healthcare became commonplace. This allowed patients with tendonitis concerns to seek professional guidance remotely from healthcare providers.
Telemedicine enabled patients to maintain continuous care during the pandemic. Through virtual consultations, patients could discuss symptoms, receive guidance, and renew prescriptions without the need for in-person visits. This digital shift also allowed healthcare professionals to remotely monitor patients' progress and adjust treatment plans for tendonitis cases effectively. Not only did this provide convenience and safety amid the pandemic, but it also opened new opportunities to reach a broader range of patients, expanding the potential market reach in the long run.
Treatment Insights
According to the treatment, the therapy sector has held the major revenue share in 2022. The segment of therapy in the tendonitis treatment market comprises various interventions. These interventions aim to reduce pain, inflammation, and improve the overall functionality of affected tendons and joints. Physical therapy plays a crucial role by involving customized exercise programs and manual techniques that strengthen muscles, enhance flexibility, and restore mobility. Additionally, occupational therapy focuses on adapting daily activities to alleviate strain on affected tendons while promoting independence and improving patients' quality of life.
Non-Steroidal anti-inflammatory drugs is another important therapeutic approach. The therapy reduces inflammation and relieves pain, thus providing localized relief. In addition, in recent times the popularity of regenerative therapies such as platelet-rich plasma (PRP) injection and stem cell therapy has been growing due to their ability to take advantage of body's natural healing mechanisms for repairing damaged tendons showing promising results.
Condition Insights
Based on the condition, Achilles tendonitis segment held the largest market share in the market in 2022. The achilles tendonitis segment constitutes a critical area within the broader tendonitis treatment market, focusing specifically on the inflammation and irritation of the Achilles tendon, the largest tendon in the human body. This condition often arises due to overuse, improper footwear, or sudden increase in physical activity, making it common among athletes and individuals with active lifestyles.
The achilles tendonitis segment embodies a spectrum of treatments, ranging from conservative methods to advanced interventions. Physical therapy, a fundamental component, aims to strengthen the calf muscles and improve flexibility, easing strain on the Achilles tendon. Orthotic devices and supportive footwear play a crucial role in alleviating pressure on the tendon, promoting proper alignment, and reducing discomfort. Non-steroidal anti-inflammatory drugs (NSAIDs) and pain-relieving creams are often employed for temporary relief, while corticosteroid injections offer localized anti-inflammatory effects.
Recent Developments
Camber Pharmaceuticals launched Naproxen Oral Suspension, which is indicated to treat the symptoms and signs of tendonitis, for the expansion of the product portfolio of the company.
Tendonitis Treatment Market Players
Teva Pharmaceuticals Industries
Almatica Pharma, Inc.
GlaxoSmithKline PLC
Abbott
Boehringer Ingelheim Pharmaceuticals, Inc.
Pfizer
AstraZeneca
Bayer AG
Merck and Co., Inc.
Segments Covered in the Report
By Treatment
By Condition
Achilles Tendonitis
Swimmer's Shoulder
Jumper's Knee
Pitcher's Elbow
Golfer's Elbow
Tennis Elbow
By Geography
North America
Europe
Asia-Pacific
Latin America
Middle East and Africa