The global thermoplastic elastomer market size was exhibited at USD 22 billion in 2022 and is projected to hit around USD 36.7 billion by 2032, growing at a CAGR of 5.3% during the forecast period from 2023 to 2032.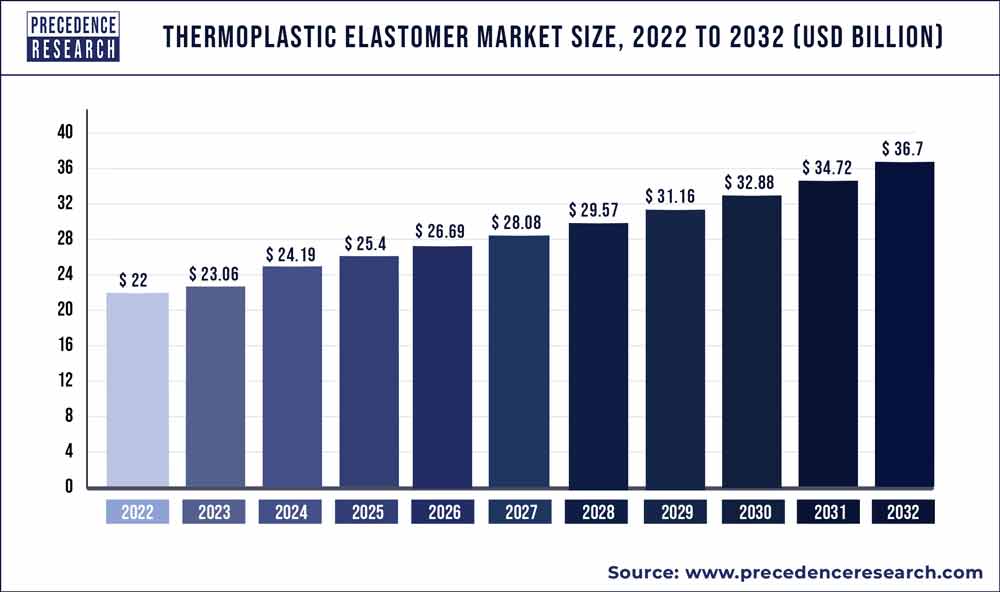 Access our Premium Real Time Data Intelligence Tool, Visit: Precedence Statistics
Key Insights:
In 2022, By type, the thermoplastic vulcanizates segment is projected to have the largest market share.
In 2022, By application, the automotive segment is expected to have the biggest revenue share.
In 2022, By geography, the North America region has captured the highest revenue share.
In 2022, The Asia Pacific region held the second-largest revenue share.
Thermoplastic elastomers also referred to as plastic wrap, saran wrap, food wrap, and stretch film, are thin transparent plastic films that adhere to each other and to surfaces, and are commonly used to wrap food in containers. High-quality food wrap films made of thermoplastic elastomers keep food fresh, shield it from bugs and microbial contamination, and lengthen its shelf life to lower the risk of food waste. Combining thermoplastic and elastomeric polymers results in thermoplastic elastomers. Many different industries, including the automotive, medical, construction, and packaging sectors, use thermoplastic elastomers. It can be stretched two or three times its original size due to its elastomeric properties, which make it flexible and soft. The most common place that thermoplastic elastomers are used in consumer goods is in headphones as a thin, translucent, flexible material. TPE can also be used to create sealing rings and bottle cap liners.
The thermoplastic elastomer helps improve fuel efficiency in automotive applications by reducing vehicle weight and density by swapping out traditional parts inside and outside the car. Regulating bodies in many different countries have enacted a number of strict regulations in an effort to lessen the negative effects of carbon emissions and greenhouse gases (GHG) on the environment and human health. The need for TPE in the external, interior, sealing systems, and under-the-hood components are also anticipated to increase as a result of the rapidly expanding vehicle markets. Demand for safe, affordable, lightweight MUV/SUV models with excellent fuel efficiency and a focus on comfort and aesthetics is driving the growth of applications in the automobile industry.
Growth Factors
According to estimates, the market will increase as more end-user industries, including those in the automotive, building and construction, home appliances, electrical and electronics, medical, adhesives, sealants and coatings, HVAC, footwear, and others, embrace thermoplastic elastomers. Thermoplastic elastomers are widely used in the healthcare sector to produce, among other things, surgical tool grips, catheters, drug delivery tubes, and other implants.
The growing demand from the automotive industry
Increasing disposable income
Report Scope of the Thermoplastic Elastomer Market
Report Coverage
Details
Market Size in 2023
USD 23.06 Billion
Market Size by 2032
USD 36.7 Billion
Growth Rate from 2023 to 2032
CAGR of 5.3%
Largest Market
North America
Second Largest Market
Asia Pacific
Base Year
2022
Forecast Period
2023 to 2032
Segments Covered

By Type
By Application
By Material

Regions Covered

North America
Europe
Asia-Pacific
Latin America
Middle East & Africa

Key Market Drivers
Increasing demand for thermoplastic elastomers made from biomaterials - Thermoplastic elastomers created from sustainable bio-based materials, such as starches, microbiota, and plant oils, are frequently used as an alternative to traditional polymers made from petroleum-based resources. Polymers, plasticizers, fillers, or additives are examples of renewable upstream raw materials that can be used to produce bio-based elastomer content. The market for thermoplastic elastomers made from bio-based materials is anticipated to grow rapidly over the forecast period. The business for thermoplastic elastomers made from bio-based materials is being driven by the rise in their use across a variety of end-user industries. The market for bio-based thermoplastic elastomers is also being driven by strict emission regulations. The market prognosis for bio-based thermoplastic elastomers is expected to be significantly influenced by a potential COVID-19 rebound as well as the growing acceptance of electric vehicles. Furthermore, the business of bio-based thermoplastic elastomers is anticipated to advance due to strict emission rules and standards in industrialized nations. Additionally, the growth of the bio-based TPE market is anticipated to be supported by the growing demand for medicinal elastomers as a result of advancements in the thermoplastic elastomer sector globally.
Growing knowledge of their benefits - The market will continue to rise as more people become aware of the benefits of thermoplastic elastomers, such as their excellent performance characteristics like cleanliness, flexibility, shock absorption, chemical, weather, and thermal resistance, easy sterilization, and dimensional stability. The market will rise as thermoplastic elastomers gain popularity due to their eco-friendliness, low production energy costs, and simplicity in processing, recycling, and molding. The market for thermoplastic elastomers will continue to expand at a rapid clip due to the increase in building and infrastructure development activities. The market value will increase due to the explosive use of thermoplastic elastomers in electric vehicles.
Key Market Challenges
Replacement of the intra-thermoplastic elastomer - The market offers numerous thermoplastic elastomers that are differentiated based on cost and performance standards. A certain type of thermoplastic elastomer is utilized depending on the profit margins of the applications. The increasing trend of simplifying the challenging selection process when choosing a particular type due to the growing emphasis on specific kinds and their capacity to serve a variety of functions is posing a threat to the market for alternative thermoplastic elastomers. This situation has reduced the cost and boosted the adaptability of one type of thermoplastic elastomer. The main offender in this situation is the automotive sector, which is substituting less expensive and less significant thermoplastic vulcanizates with thermoplastic elastomers. Over the projection, PVC and thermoplastic polyurethane films are expected to overtake thermoplastic polyolefin in automotive applications.
Key Market Opportunities
The need for bio-based thermoplastic elastomers is increasing - Biobased thermoplastic elastomers are made from renewable resources like vegetable oils and fatty acids. It offers properties that are comparable to or even better than those of traditional thermoplastic elastomers for sectors like footwear, sporting goods, and electronics. The development of biobased thermoplastic elastomers reduces the use of non-renewable resources and improves the material's biodegradability. The development and commercialization of biobased thermoplastic elastomers are providing new opportunities for thermoplastic elastomer manufacturers. Additionally, many manufacturers of synthetic thermoplastic elastomers have shifted their focus to the development of durable, ecologically friendly products.
Segments Insight
Type Insights
On the basis of type, the thermoplastic vulcanizates segment is expected to have the largest market share in 2022. The market share is projected to belong to the Thermoplastic Vulcanizates category. They are able to reuse and recycle production refuse and waste, which explains the causes. Ethylene propylene diene monomer (EPDM)/polypropylene thermoplastic vulcanizate is the most used form of thermoplastic vulcanizates (TPV).
Application Insights
On the basis of application, the automotive segment is expected to have the highest revenue share in 2022. In the foreseeable time, the Automotive segment is expected to have the greatest CAGR. Exterior filler panels, wipers, rocker panels, body seals, automotive gaskets, door & window handles, and vibration-damping pads are all made of thermoplastic elastomers.
Thermoplastic Elastomer Market Share, By Region, 2022 (%)
| | |
| --- | --- |
| Regions | Revenue Share in 2022 (%) |
| North America | 35.4% |
| Asia Pacific | 26.5% |
| Europe | 21.6% |
| Latin America | 11.5% |
| MEA | 5% |

Regional Insights
On the basis of geography, the North America region has accounted highest revenue share in the last year. North America is one of the world's top users of plastics as a result of the substantial demand in the automobile, electronics and electronics, packaging, and construction industries. Additionally, thermoplastic elastomers polymers have a wide range of applications in every industry due to their adaptability, simplicity in molding, and ability to generate desired shapes. In addition, the US and Canada are seeing an increase in the market for new electric vehicles with lightweight passenger cars. In order to attain cheap production costs and increase their bottom line, many auto manufacturers choose plastic vehicle parts. The growth of the thermoplastic elastomer market in North America is influenced by these variables.
The second-largest revenue share in 2022 was held by Asia Pacific. The major markets for growth in Asia Pacific are anticipated to be China, India, and Southeast Asia. The need for TPE compounds in the automotive, industrial machinery, packaging, and electrical and electronics industries will be driven by the expanding manufacturing sector. This region has the largest number of customers, and the market is growing at the fastest rate over the projection period.
Recent Developments
In January 2020 – BASF purchased the non-European PA6.6 business of Solvay, which included Butachimie's 50% ownership of the manufacturing of adiponitrile (ADN). The deal cost $1.53 billion in US dollars. By integrating cutting-edge and well-known products like Technyl, the acquisition will bolster BASF's polyamide capabilities.
Key Market Players
Advanced Elastomer Systems L.P.
Arkema S.A.
BASF SE
LyondellBasell Industries
TSRC Corporation
Yantai Wanhua Polyurethane Co. Ltd.
Bayer MaterialScience LLC
China Petroleum & Chemical Corporation
Dynasol Elastomers LLC
Nippon Polyurethane Industry Company Ltd.
Avient Corporation
Teknor APEX Company
Huntsman Corporation
Kraton Polymers LLC
LG Chemicals
Segments Covered in the Report
(Note*: We offer reports based on sub-segments as well. Kindly, let us know if you are interested)
By Type
Thermoplastic Polyurethane (TPU)
Styrenic Block Copolymer (TPE-S)
Thermoplastic Vulcanizates
Thermoplastic Copolyester
Elastomeric Alloys (TPE-V or TPV)
Others
By Application
Automotive
Footwear
Wires & Cables
Building & Construction
Others
By Material
Poly Styrenes
Poly Olefins
Poly Ether Imides
Poly Urethanes
Poly Esters
Poly Amides
By Geography
North America
Europe
Asia-Pacific
Latin America
Middle East & Africa (MEA)