The global thermoplastic composites market size accounted for USD 29.27 billion in 2022 and it is expected to hit around USD 64.07 billion by 2032, expanding at a CAGR of 8.2% during the forecast period from 2023 to 2032.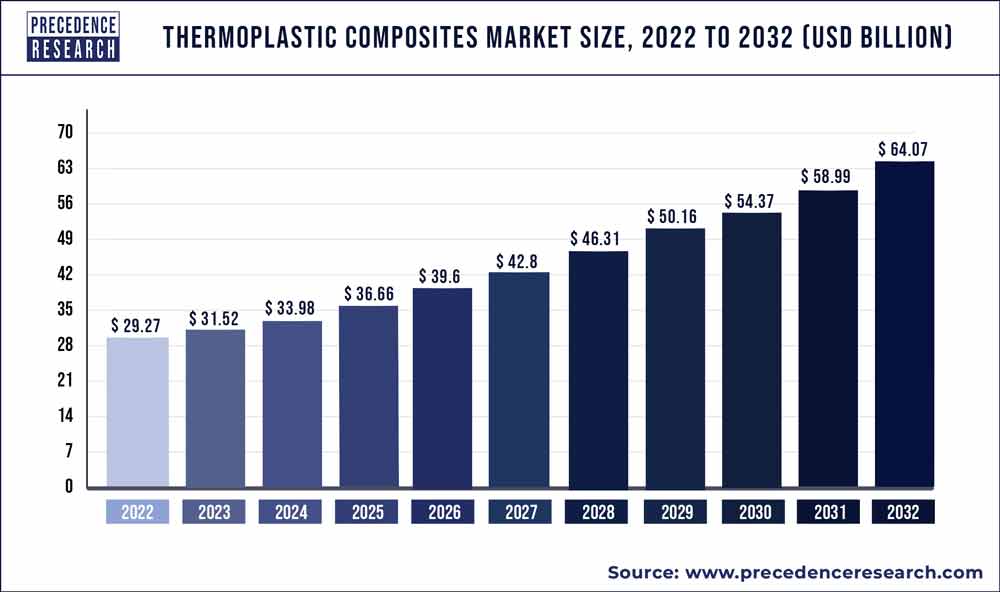 Key Takeaways:
North America generated more than 30% of revenue share in 2022.
Asia Pacific region is expected to expand at the highest CAGR between 2023 and 2032.
By Resin, the polyamide (PA) segment captured more than 57% of revenue share in 2022.
By Resin, the polypropylene segment is expected to expand at the fastest CAGR between 2023 and 2032.
By Fiber, the glass fibres segment recorded 69% of revenue share in 2022.
Combining a thermoplastic polymer with reinforcing fibers or other additives, thermoplastic composites are composite materials. Thermoplastics are a class of polymers which, when subjected to heat, become soft and flexible allowing them to be moulded or created in various shapes. These properties allow them to be used in a variety of materials, making them very flexible and desirable for use in composites. There is a wide variety of materials, such as carbon fiber, glass fiber, and aramid fibers, that are able to produce reinforced fibers for thermoplastic composites. These fibers are of superior strength and stiffness to the composite, which is able to withstand high pressures and deformations. To improve its properties, it is possible to introduce additional additives such as filler, reinforcement or flame retardants into the thermoset composite.
The use of thermoplastic composite materials in a variety of sectors such as aircraft, automobiles, construction, sports and consumer products is widespread. They're used for the production of components like structural parts, interiors, exteriors and vehicle panels in the car industry. Because of their large strength to weight ratio and ability to survive extreme temperatures, they are used in the aeronautics sector for structural parts, interior components as well as electrical components. In the construction industry, they are used for building facades, roofing, and flooring.
Growth Factors:
The global thermoplastic composites market is presently experiencing significant growth, driven primarily by the automotive, construction, and aerospace industries. In the aerospace and defense industry, the adoption of thermoplastic composites is predominantly aimed at minimizing the overall weight and corrosion in the aircraft structure. Moreover, the maintenance costs associated with aircraft produced using composites have been substantially reduced compared to those produced using conventional materials. The desired characteristics associated with these thermoplastic composites are their light weight, excellent strength, resistant to the weather finish, and range of surface textures. As a result, it is projected that the need for thermoplastic composites in aerospace manufacturing would expand at a rapid annualised growth rate (CAGR).
To meet the carbon emissions limit of 95 grams per kilometer imposed by the European Union for new cars by 2020, automobile manufacturers are designing the lighter vehicles by replacing the metals with composites. This shift in demand in the automotive sector for the high-quality composite materials is also expected to direct investments in the development of new manufacturing of technologies. Proprietary composite manufacturing technologies are employed by leading companies such as Hexcel Corporation, Toray, Teijin Limited also SGL Group. The production and testing of thermoplastic composites are facilitated by SGL Group's collaborations with the various research centers and also the academic institutions.
The increase in fuel prices has prompted the need for fuel-efficient vehicles, and thermoplastic composites are increasingly being utilized to replace aluminum, wood, and steel due to their higher strength-to-weight ratio. The introduction of stringent environmental legislation in Europe has compelled automakers to use composites in the production of cars. As a result, OEMs worldwide, particularly in Europe, are being forced to significantly reduce the carbon dioxide (CO2) emissions from vehicles. To meet these proposed regulations, countries must increase their market demand for the products from this sector. The global thermoplastic composites market has been experiencing steady growth in recent years, driven by several growth factors.
Some of the key growth factors of the thermoplastic composites market:
The usage of thermoplastic composites in the aerospace and automotive industries is suitable since they are lightweight and have excellent strength-to-weight ratios. The market for thermoplastic composites is expected to increase significantly as a result of the increasing demand for lightweight materials in these sectors, which is being fueled by the desire to improve fuel economy and reduce emissions.
The creation of thermoplastic composites has become simpler and more cost-effective because to the advancement of innovative production techniques and technologies including automated fiber insertion (AFP). This has boosted the use of these materials across a number of sectors.
Due to its strength, resistance to corrosion, and capacity for complicated shaping, thermoplastic composites are also widely used in the construction sector. The market for thermoplastic composites in this industry is expanding as a result of the rising demand for environmentally friendly and sustainable building materials.
Report Scope of the Thermoplastic Composites Market:
| | |
| --- | --- |
| Report Coverage | Details |
| Market Size in 2023 | USD 31.52 Billion |
| Market Size by 2032 | USD 64.07 Billion |
| Growth Rate from 2023 to 2032 | CAGR of 8.2% |
| Largest Market | North America |
| Base Year | 2022 |
| Forecast Period | 2023 to 2032 |
| Segments Covered | By Resin and By Fiber |
| Regions Covered | North America, Europe, Asia-Pacific, Latin America and Middle East & Africa |

Key Market Drivers:
Rising investment in research and the development
Investments in the study and creation of novel and sophisticated thermoplastic composite substances are on the rise, which is creating new market prospects and applications.
Government policy
To encourage the use of lightweight materials in many industries, governments all over the globe are putting standards and laws into place. For instance, laws like Corporate Average Fuel Economy (CAFE) requirements in the US and Euro 7 criteria in Europe are encouraging the use of lightweight materials like thermoplastic composites in the car sector.
Growing demands from the emerging economies
Due to their increased industrialisation and rising disposable incomes, emerging nations like India, Brazil, and China are also experiencing an increase in demand for thermoplastic composites. The market in these areas has excellent development prospects as a result of this.
Key Market Challenges:
High cost of the production
The use of specialised tools and labor-intensive procedures is necessary for the manufacture of thermoplastic composites. It is challenging for companies to compete with alternative materials since this expense is passed on to the finished product.
Inadequate processing capability
Compared to thermoset composites, thermoplastic composites are more challenging to produce and call for specialized machinery and procedures. This may reduce the market's capacity for output and flexibility.
Complexity in recycling
Due to their intricate molecular structure, thermoplastic composites are more difficult to recycle than thermoset composites. This may raise concerns about the environment and reduce the likelihood of reuse.
Key Market Opportunities:
In order to minimise fuel consumption and emissions, lightweight materials are becoming more and more in demand across a variety of industries, including automotive and aerospace. Manufacturers choose thermoplastic composites because they are lightweight and have good strength-to-weight ratios. Thermoplastic composites provide excellent durability and fatigue and impact resistance. This qualifies them for uses that call for great performance and dependability, such as in athletic apparel, medical technology, and building materials. Thermoplastic composites are an environmentally beneficial alternative to conventional composites, which can be challenging to recycle. Companies looking to increase sustainability and lower their carbon footprint will find this option very appealing.
Compared to conventional materials like metal and wood, thermoplastic composites provide more design freedom. They are perfect for use in the aerospace, automotive, and consumer goods sectors because they can be easily customized and moulded into intricate forms to fulfill certain design needs.
Segments Insight:
Resin Insights:
With a revenue share of over 57% in 2022, the polyamide resin segment has been the dominant contributor to the market and is anticipated to maintain a substantial compound annual growth rate (CAGR) over the forecast period. The growing use of polyamide in thermoplastic composite products can be attributed to its exceptional mechanical performance, resistance to corrosion, chemical inertness, abrasion performance, and thermal properties, which have bolstered its demand. Additionally, polyamide has proven to be an economical solution that delivers high performance at a reasonable cost, further driving its adoption.
Another promising segment that is expected to register a significant CAGR over the forecast period is polypropylene. Polypropylene is deemed an economic material that has diverse commercial and industrial applications, including the automotive, industrial, medical, textile, and consumer goods sectors. One of its unique advantages is its insensitivity to moisture, making it an ideal choice for applications where moisture is a significant concern.
Fiber Insights:
The glass fibres category, which generated over 69% of the total revenue, continued to rule the international market in 2022. Aerospace & military, windmill blades, sports goods, and automotive are just a few of the end-use industries where glass fiber-based thermoplastic composites have found widespread acceptance. Glass fiber thermoplastic composites are produced using plunger and screw-type injection molding procedures. Depending on the needs of the applications, those composites can be found in a variety of forms, including chopped fibers, woven mat fiber, and random mat fiber.
Glass fibers are renowned for their exceptional strength, strong thermal insulation, excellent heat resistance, lightweight, reduced stiffness, and fragility. They are also noted for their stability in dimensions, chemical resistance, and chemical resistance. These properties, coupled with their lower cost in comparison to carbon fiber, are driving their demand. Carbon-based fiber thermoplastic composites, on the other hand, have been receiving much attention due to their ease of processability and recyclability. They have also found applications in various end-use industries, like sporting goods, wind energy, automotive, marine, aerospace, infrastructure, building & construction.
Regional Insights:
With established economies like the U.S. and Canada supporting the expansion of the regional market, North America had the greatest revenue share of 30% of the worldwide revenue in 2022. High research and development efforts in the more sustainable and recyclable composite materials are also anticipated to propel this expansion throughout the projection period. Also, the region's transportation, aerospace & military, wind energy, and construction sectors have all witnessed an increase in demand for the commodity. The ongoing R&D initiatives by regional industry players to investigate the possible uses of the product in various end-use sectors are also anticipated to contribute to the region's growth.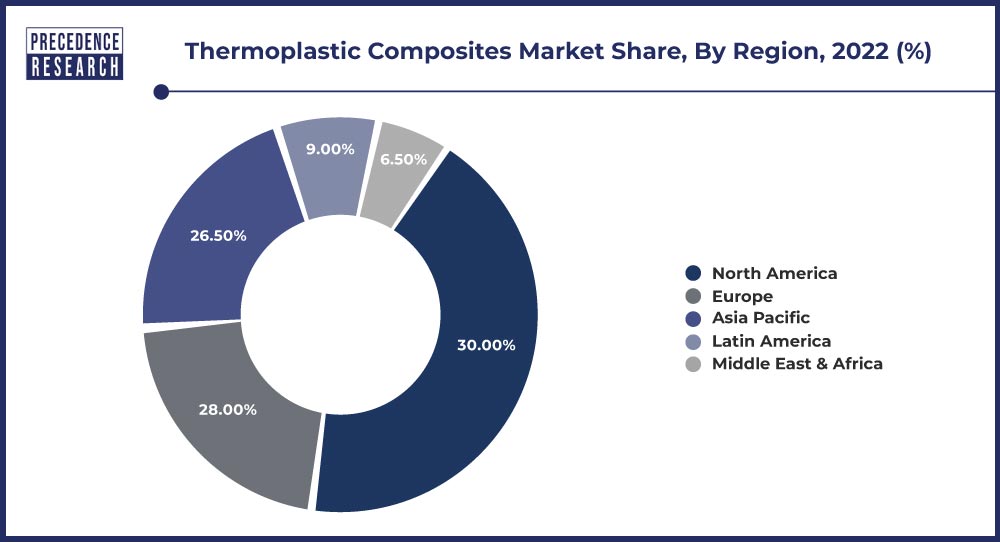 On the other hand, the Asia Pacific area is anticipated to have the strongest growth between 2023 and 2032 due to the region's well-established sectors of the automotive, aerospace & military, and building trades. These sectors are particularly strong in China, India, and Japan. Likewise, the demand for electric vehicles (EVs) is rising in China, with the Chinese Association of Automobile Manufacturers (CAAM) forecasting that by 2025, sales of these new energy vehicles would account for 35% of all new vehicle sales in the nation. In the upcoming years, it is anticipated that the region's increased need for EVs would increase product demand.
Recent Developments:
A collaborative research laboratory focused on the advancement of innovative composite materials and manufacturing procedures crucial to the aviation sector's future was introduced by Solvay and Leonardo in February 2021.
Key Market Players:
Toray Industries Inc.
Owens Corning
SGL Carbon
Mitsubishi Chemical Holdings Corporation
Solvay S.A.
BASF SE
Hexcel Corporation
Teijin Limited
Huntsman Corporation
Koninklijke Ten Cate bv
Cytec Solvay Group
Gurit Holding AG
Plasan Carbon Composites Inc.
Cristex Composite Materials
TPI Composites Inc.
Segments Covered in the Report:
(Note*: We offer report based on sub segments as well. Kindly, let us know if you are interested)
By Resin
Polyamide (PA)
Polypropylene (PP)
Polyetheretherketone (PEEK)
Others
By Fiber
Glass Fiber
Carbon Fiber
Others
By Geography
North America
Europe
Asia-Pacific
Latin America
Middle East and Africa