The global aramid fiber market size was reached at USD 3.8 billion in 2022 and it is predicted to hit around USD 8.55 billion by 2032, growing at a CAGR of 8.5% during the forecast period 2023 to 2032.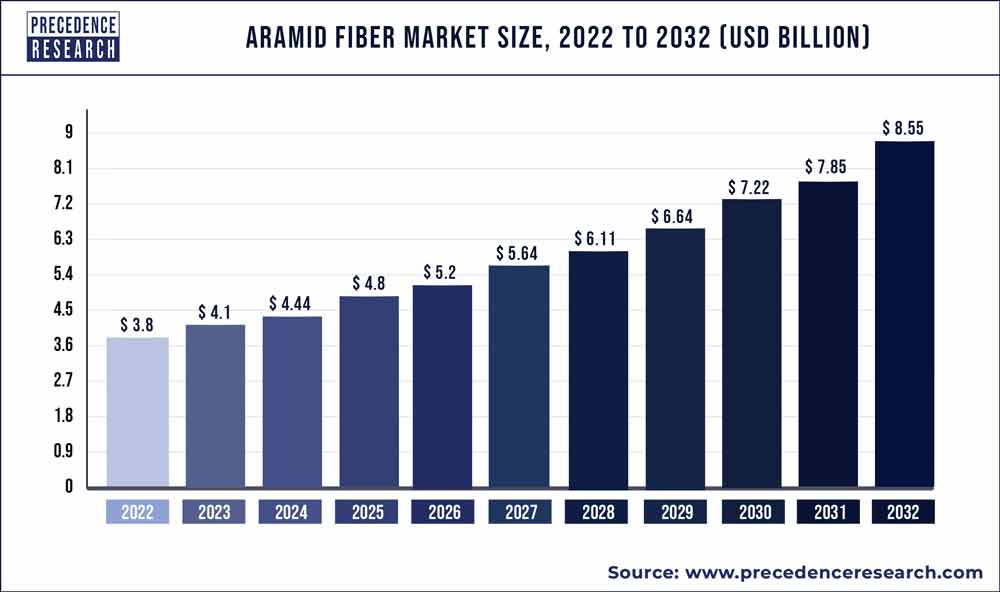 Access our Premium Real Time Data Intelligence Tool, Visit: Precedence Statistics
Key Takeaways:
By Product, the para-aramid segment held a significant market share of over 76% in 2022. Additionally, the meta-aramid segment is expected to have significant growth in the forecast period.
By Application, the security and protection segment has generated more than 36% of revenue share in 2022 and is expected to dominate the global aramid fiber market during the forecast period. The frictional Material segment accounted for a significant market share in 2022.
By Region, Europe holds the largest market share of about 35% in 2022, North America is expected to show a significant increase during the forecast period. Whereas Asia Pacific is expected to witness a noticeable growth during the forecast period.
Market Overview:
Aramid fiber is an organic component that has high tensile strength and modulus. Compared to steel and glass fibers of comparable weight, they offer substantially better mechanical characteristics. Due to their innate resistance to heat and flame, aramid fibers maintain these qualities even at high temperatures. The market is anticipated to increase throughout the forecast period as a result of rising demand for the product from a variety of industries, including oil & gas, healthcare, manufacturing, and others, as a result of severe government regulations on worker safety.
The six main aramid compositions that are transformed into industrial fiber products are listed below. Few aramid compositions are made on a commercial basis, despite the fact that many of them are known. Both technology and business are to blame. Technologically speaking, the degree of fiber properties which are influenced by the polymer composition, material selection, polymer molecular weight, and fiber production process is the most crucial aspect.
Market Growth:
Aramid fibers are the first-ever organic component that is used for advanced composites with high tensile modules and strengths. It has way better mechanical properties than steel and iron and glass fiber so it has more resistance power than others. Aramid fibers are highly temperature and fire and heat-resistive. Aramid fibers are highly resistant to organic solvents, superior resistance to heat and flame. The increasing demand for safety products like arm forces and the increasing requirement for bulletproof jackets, safety helmets, etc. results in an increase in the demand for the aramid fibers market.
The aramid fibers are sensitive to acids, ultraviolet lights, and certain salts. Due to the highly tensile module and incredible strength, it is useful for making body armor suits, fireproof suits for firefighters, bulletproof suits, military helmets, etc. the growing industrialization such as oil and gas, pharmaceuticals automation, technology, and manufacturing there is the increasing cases of accidents of labors in the workplace to avoid these accidents there is the greater demand for the safety measures and products. This is attributed to the rising demand for the aramid fibers market.
Across the world there is increasing industrialization demand for the growth of aramid fibers. Due to its tensile properties, it can be used for various machines in the industries for operating the workflow efficiently and effectively. The aramid fiber can be useful in industrial types of equipment like conveyor belts system, bucket elevators, wagon tipplers, etc.
Report Scope of the Aramid Fiber Market:
| | |
| --- | --- |
| Report Coverage | Details |
| Market Size in 2023 | USD 4.1 Billion |
| Market Size by 2032 | USD 8.55 Billion |
| Growth Rate from 2023 to 2032 | CAGR of 8.5% |
| Largest Market | Europe |
| Base Year | 2022 |
| Forecast Period | 2023 to 2032 |
| Segments Covered | By Product and By Application |
| Regions Covered | North America, Europe, Asia-Pacific, Latin America and Middle East & Africa |

Market Dynamics:
Drivers:
The rising demand of aramid fibers for automobile applications
Aramid fibers are used in various commercial industries like oil and gas, chemicals, pharmaceuticals, automobiles, etc. The automobile sector is one of the major end-users of aramid fibers due to their high heat and fire resistance. Aramid fiber has high-temperature resistance and is lower in weight as compared to the other component. In the automobile industry, aramid fiber is used in the manufacturing of racing cars. Aramid fibers are replacing fiberglass-reinforced plastics in racing cars. Recently automobile manufacturers shifted towards lighter vehicles by making leaner cars by replacing metal with aramid fiber-based components. It is stronger than other composites, lighter and recyclable. An increase in the demand for electric and hybrid cars in the consumers will benefit the aramid fiber market.
Restraints:
High in moisture absorbency and difficulties in processing
The aramid fiber is highly moisture absorbing so it needs to be properly coated. Usually, the top of the product made from aramid fiber should be coated properly. For resistance from moisture, the topcoat must be coated from glass fiber that creates adhesive bonds to topcoats and improves the life cycle of the product made from aramid fiber.
The product made from aramid fiber is difficult to cut and has difficulties in processing on it. All these factors could hamper the aramid fiber market. Such difficulties make it complicated for manufacturers during the manufacturing processes as compared to other conventional fibers. Manufacturers may require specialized equipment and techniques to effectively utilize aramid fibers, such requirements deter small-scale manufacturers from entering the market.
The cutting process and other manufacturing processes associated with aramid fibers are quite time-consuming and labor-intensive. These factors affect the overall efficiency and cost-effectiveness of using aramid fibers, making them less attractive for certain applications.
Opportunities:
Rising geopolitical conflicts around the world
One of the most common uses for aramid fibers is security and protection. Due to the growing number of internal and international conflicts, military personnel and geopolitical concerns now require more safety precautions. This will lead to a rise in the requirement for cutting-edge weapons and personal protective equipment (PPE), which will in turn drive demand for aramid fiber. Security and protection applications make up the majority of uses for para-aramid fiber. Due to its extremely high strength and highly orientated, rigid molecular structure, it is utilized in protective clothing such as bulletproof vests, helmets, and vehicle armor. These factors collectively increase the worldwide market prospects for aramid fiber.
Segments Insight:
Product Insights:
The para-aramid segment had the largest market share in 2022. The para-aramid fibers are used in industries like ballistics protection and cut-resistant protective materials have been able to use fabric systems to replace steel or other metal components since the fabric is several times stronger than steel. The product's low elongation to break, outstanding ballistic qualities, and superior chemical, heat, and flame resistance are likely to support demand.
The Meta-aramid fibers segment is expected to carry a significant market share in the analyzed period. There has been a lot of interest in meta-aramid fibrils (MAF). Due to the chemical inertness of its surface, this high mechanical performance fiber finds it challenging to generate enough interface adhesion between the MAF and polyurethane (PU) matrix. Therefore, it is necessary to increase MAF's surface activity in order to create a high-performance MAF/PU composite. Increasing use of the product in electrical insulation, motor racing, protective apparel for military personnel, and protective
Application Insights:
The protection and security segments held the largest market in 2022, the segment will sustain its position during the forecast period. The growth of the segment is attributed to the increase in global disputes over nations and the increasing demand for the security gadgets like bulletproof suits, protection gloves, protecting helmets, fireproof suits, etc. the rising demand for these products may increase the demand for the segment in aramid fiber market.
The product's properties include its high resistance power of heat and fire, temperature resistance, superior strength, and lower weight so can be easily transferred from one place to another. Other segments include applications such as rope & cables, recreational groups, filtration, and others.
Regional Insights:
Europe dominated the aramid market in terms of market share in 2022. The growth of the region is attributed to the increasing demand for security and protection types of equipment in the military and other sectors. The rising requirement for industrialization and rising economies in these regions are expected to grow in the demand for aramid fibers in the region.
In addition, increasing consumer awareness regarding the benefits of aramid fibers, especially in automobiles, will boost the market's development. The European aramid fibers market is competitive, with multiple key players in the market. Key players present in the European market are investing in research and development activities and are significantly focused on enhancing the performance of product applications. Such applications are observed to boost the region's growth in the region.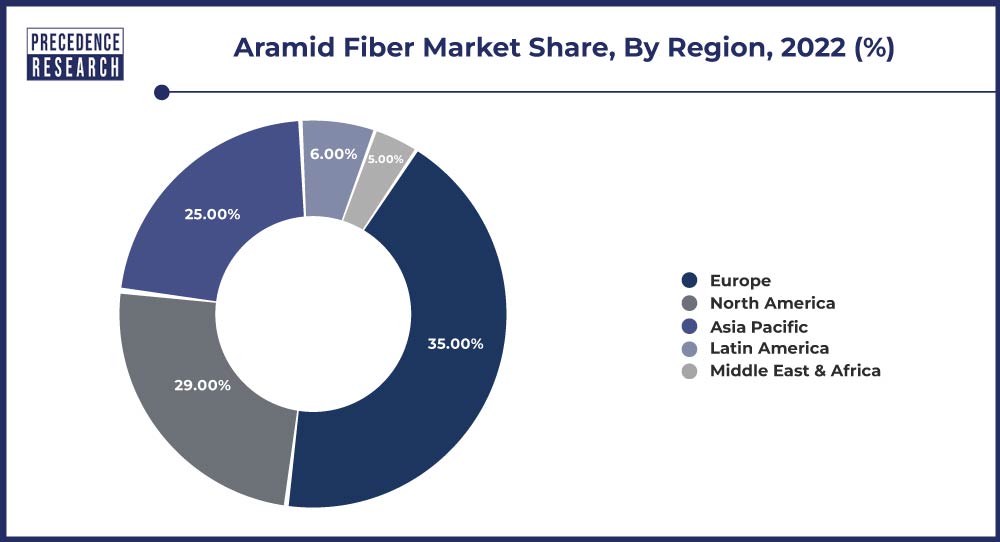 North America is expected to witness significant growth in the market over the forecast period. The increasing use of the aramid fiber market due to the increasing automobile sector in this region, the requirement of lightweight components for automobiles is attributed to the higher demand of the market in the region. The aramid fibers are recyclable components so they will be used as a sustainable component for various manufacturing uses. Additionally, the increasing conflicts between the nations would expect a higher demand for aramid fibers for manufacturing protection products like helmets, bulletproof jackets, fireproof suits, etc.
Multiple countries in North America have stringent regulations and standards associated with environmental protection and workplace safety. Aramid fibers are subject to these regulations and manufacturers must ensure compliance with relevant norms. The demand for sustainable and environmentally friendly aramid fibers is increasing, this leads to the development of bio-based options in the region in the upcoming period. Moreover, the ongoing research and development will support the market's growth in North America.
Recent Development:
In Sep 2022, Mussel Polymers a specialty material and costing company announced the multifunctional aramid fiber coating for strong and lighter reinforced composites. The reinforced material is mostly used in products from golf clubs to the most advanced aircraft.
In Sep 2023, PIKATA, a technology accessory company pioneering a sustainable and smarter product ecosystem launched the sustainable made aerospace-grade aramid fiber cases for iPhone 14 series. Made with 100% biodegradable and sustainable products.
In April 2023, a new ultra-high-performance all-season tire made for SUVs has been added to the extensive Ventus product line by Hankook Tire, a leading worldwide tire manufacturer. For premium SUVs, the Ventus S1 evo Z AS X offers unmatched comfort, the best handling at high speeds, and exceptional traction in all-weather situations.
Kay Market Players:
Teijin Ltd.
Yantai Tayho Advanced Materials Co
E. I. du Pont de Nemours and Company (DowDuPont)
Hyosung Corp.
Toray Chemicals South Korea, Inc.
Kermel S.A
Kolon Industries, Inc.
Huvis Corp.
China National Bluestar (Group) Co., Ltd.
SRO Aramid (Jiangzu) Co., Ltd.
Segments Covered in the Report:
(Note*: We offer report based on sub segments as well. Kindly, let us know if you are interested)
By Product
By Application
Security & Protection
Frictional Materials
Rubber Reinforcement
Optical Fibers
Tire Reinforcement
Electrical Insulation
Aerospace
Others
By Geography
North America
Europe
Asia-Pacific
Latin America
Middle East and Africa