The US home healthcare market size was evaluated at USD 143.19 billion in 2022 and is projected to attain around USD 278.83 billion by 2032, growing at a CAGR of 6.89% during the forecast period from 2023 to 2032.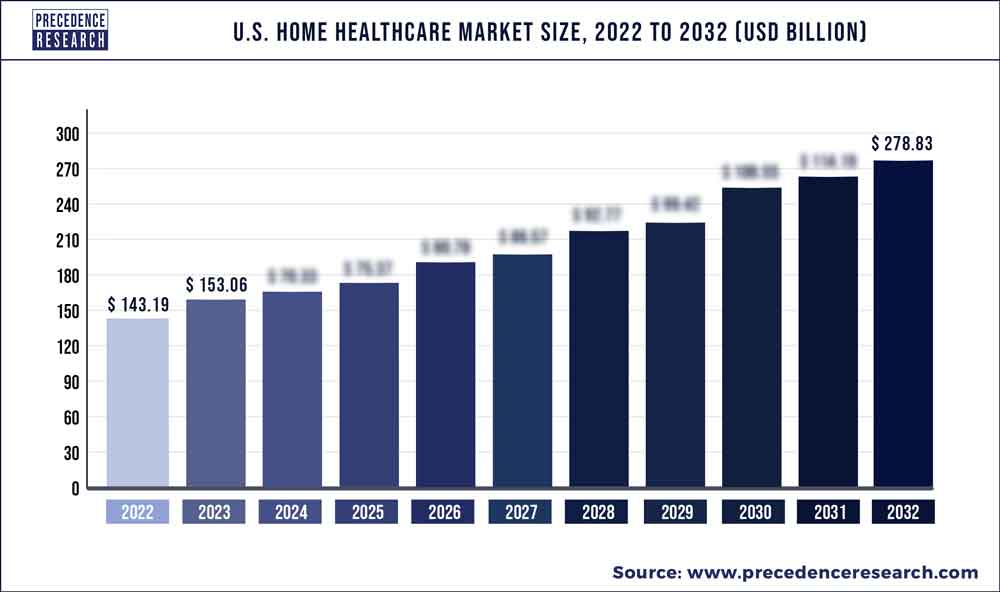 Key Insights:
On the basis of components, the service segment held the largest market share in 2022.
On the basis of types, the nursing care segments hold a significant market share from 2023 to 2032.
On the basis of the payor, public health insurance accounted for the maximum portion in 2022.
Market Overview
A various range of medical services is provided at home for injury and illness by home healthcare. Home healthcare's main advantage is that it is less expensive, more convenient, and as effective as hospital-based or nursing care. There is significant growth in the geriatric population in the U.S. As the geriatric population increases there is an increase in age-related disorders, such as diabetes, osteoarthritis, and dementia. Sedentary lifestyles and excessive alcohol intake are factors contributing to the rise in the incidence of lifestyle illnesses. During the projected period, the market is likely to be driven by the rising prevalence of target illnesses. For instance, according to the American Heart Association, around 83.6 million individuals in the United States suffer from one or more forms of cardiovascular illnesses, with approximately 42.2 million persons over 60.
COVID-19 Impact
The COVID-19 pandemic had a favorable effect on the development of the U.S. home healthcare market. During the COVID-19 pandemic, the majority of nursing facilities were severely hit, however in-home services assisted the majority of healthcare practitioners in delivering their care in a safe atmosphere. The current COVID-19 pandemic is predicted to boost demand for home care services in the near future. These services are both safer and less expensive than hospital treatments. External alternatives, such as hospitals, informal care, and other healthcare facilities, pose a limited threat, owing mostly to their high prices. As a result, the market threat of substitutes is predicted to be moderate throughout the projection period. Healthcare institutions are offering care programs such as hospital-at-home and SNF-at-home, which reduce stress on facilities while saving patients money on healthcare. The US government is launching programs to increase access to home healthcare.
Report Scope of the US Home Healthcare Market
| | |
| --- | --- |
| Report Coverage | Details |
| Market Size in 2022 | USD 143.19 Billion |
| Market Size by 2032 | USD 278.83 Billion |
| Growth Rate from 2023 to 2032 | CAGR of 6.89% |
| Base Year | 2022 |
| Forecast Period | 2023 to 2032 |
| Segments Covered | By Component, By Type, By Payor |

Market Dynamics
Drivers
Rapid growth in the elderly population
As the aging population is more prone to chronic diseases, this increases the demand for healthcare as well as the burden on the government and health systems. For instance, according to the United Nations Department of Economic and Social Affairs, there were 703 million individuals aged 65 and over in the world in 2019; by 2050, this amount is predicted to rise to 1.5 billion. Furthermore, the number of individuals aged 80 and up is expected to increase by 2050, from 143 million in 2019 to 426 million. T the unnecessary hospital admission and readmissions and the time and cost involved in traveling to meet healthcare professionals are reduced due to home healthcare.
Rising incidence of chronic diseases
Chronic illness is a long-term illness that can be managed but not cured. Chronic illness treatment and management have become a serious problem. Approximately half of all home healthcare patients have at least one chronic condition, and this figure is anticipated to rise in the coming years. Chronic illnesses, which disproportionately impact older persons, lead to disability, lower quality of life, and raise long-term care expenditures, creating an array of potential for various home healthcare organizations.
As healthcare expenses rise, there is a greater demand for cost-effective healthcare delivery
The key factor driving the adoption of services for homecare settings during the forecast period is the increasing healthcare expenditure in the U.S. For instance, according to an article published in 2021, by the American Journal of Managed Care (AJMC), the cost reduction in home healthcare management in a recent randomized trial was 19%. Further, the market will be boosted by the growing demand for respiratory therapy services and infusion services at home.
Restraints
Concerns regarding patient safety
The nurse-physician relationship in-home care entails less face-to-face interaction, and the nurse is responsible for performing evaluations and conveying results. This aspect influences patient safety and outcomes. Another distinguishing feature of home healthcare is that professionals provide medical treatment to each patient in his or her own location. However, there may be external aspects that pose dangers to patients that are difficult to exclude. To handle such incidents, hospitals have well-equipped environmental safety departments.
Opportunities
Telehealth's rising popularity and unexplored developing regions
The fast increase in the global elderly population, the growing incidence of chronic illnesses (including COPD and asthma), and the cost benefits of home care equipment and services (in comparison to hospital visits) are the primary factors driving the growth of the home healthcare industry. COVID-19 has resulted in a significant increase in the usage of telehealth. Consumer usage has skyrocketed, with 11 percent of US consumers adopting telehealth in 2019 and 46 percent currently using telehealth to replace canceled healthcare appointments.
Challenges
Shortage of home care workers
Home healthcare is a booming industry, with a high need for home care providers/workers. According to the US Bureau of Labor Statistics' employment predictions for 2014-2024, home healthcare occupations such as personal care aides and home health aides are among the top ten. As the demand for home healthcare increases the demand for workers also increases.
Segments Insight
Component Insights
Based on component, the U.S. home healthcare market is segmented into equipment, and services. In terms of revenue, the services sector held the biggest market share in 2022 and is expected to increase at a faster compound annual growth rate (CAGR) of around 7.6% during the forecast period. Increasing the number of home healthcare agencies, expanding demand for home healthcare services, and favorable health reimbursement regulations are all major factors driving the segment growth. Patients prefer to recover at home rather than in an inpatient institution owing to increased comfort and lower healthcare expenditures, which has resulted in an increase in market demand for skilled medical care services.
Type Insights
Based on type, the U.S. home healthcare Market is segmented into physician care, nursing care, physical, occupational & speech therapy, medical social services, and others. The nursing care segment holds a significant market share during the forecast period. The factor responsible for the dominance of the segment is the increasing demand for skilled nursing care at home. The physical, occupational & speech therapy segment is going to witness significant growth during the forecast period. The enhanced access to therapies at home is the main attribute of the segment's growth. For instance, the Medical Home Health Flexibility Act was introduced in 2019 which allowed occupational therapists to register home health therapy cases under Medicare.
Payor Insights
Based on the payor, the maximum portion of the market share was accounted for by public health insurance in 2022. In the U.S., the growth is due to the increasing government spending on homecare services. For Instance, most European countries spend between 1% to 5% of their healthcare budget on these services according to the Kaiser Family Foundation. While in the US, home healthcare accounts for 3% of the total healthcare expenditure. During the projected period, private health insurance is expected to develop at a rapid pace.
Recent Developments
In March 2022, UnitedHealth, the largest health insurance firm in the U.S., signs the Acquisition Agreement for Home Health Biz LHC, home healthcare agencies in the U.S.
In December 2021, Aveanna Healthcare, LLC acquired Comfort Care, a top senior home health and hospice service, with the goal of expanding its national footprint by opening operations in Tennessee and Alabama.
In January 2021, Encompass Home Health and Hospice Home Health collaborated to offer alternative payment models to Accountable Care Organizations (ACOs) in various areas.
In June 2020, Teladoc Health, the global leader in virtual care, completed the acquisition of InTouch Health, resulting in a single virtual care delivery leader from hospital to home.
Key Market Players
American Well
Best Buy
CarePredict
CVS Health
Emerald, Epic Geisinger
GreatCall
InTouch Health
Johns Hopkins Medicine
Medically Home
NewYork-Presbyterian Hospital
Philips
SnapMD
Teladoc
University of Pittsburgh Medical Center
Segments Covered in the Report
(Note*: We offer reports based on sub-segments as well. Kindly, let us know if you are interested)
By Component
Equipment

Diagnostic & Monitoring Devices
Therapeutic Devices
Home Mobility Assist Devices

Service

Rehabilitation
Telehealth
Respiratory Therapy
Infusion Therapy
Unskilled Homecare
By Type
Physician care
Nursing care
Physical
Occupational and Speech therapy
Medical Social Services
Others
By Payor
Public Health Insurance
Private Health Insurance