The global warehouse automation market size was reached at USD 16.23 billion in 2022 and it is expected to hit around USD 71.03 billion by 2032, poised to grow at a CAGR of 15.91% during the forecast period from 2023 to 2032.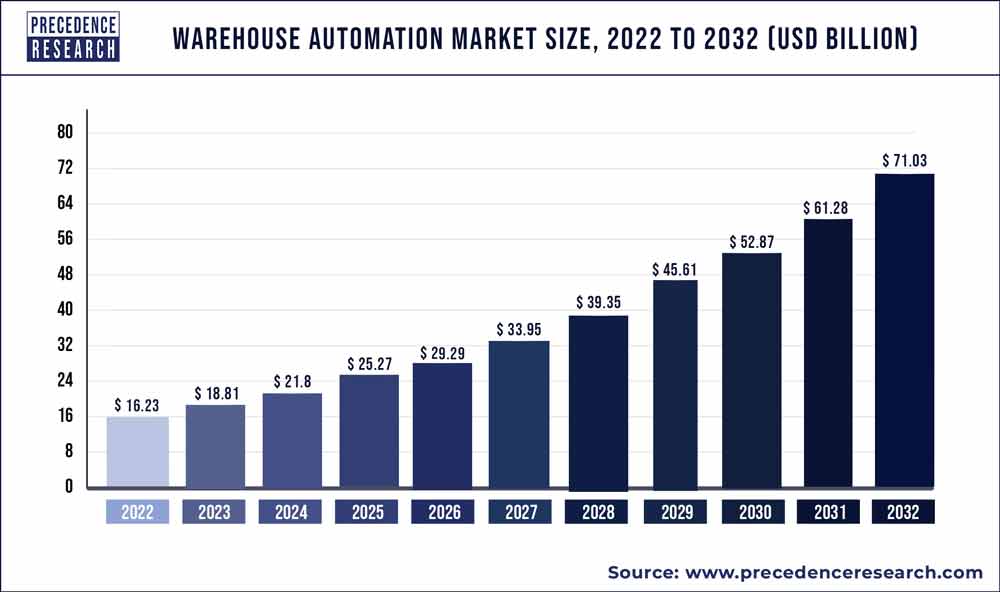 Key Takeaways:
North America is expected to maintain its dominance in the warehouse automation market during the forecast period.
By type, the warehouse system segment shows notable growth in the warehouse automation market.
By component, the hardware segment dominated the global market with 80% of revenue share in 2022.
By technology, the automated storage and retrieval system segment dominated the global market.
By application, the e-commerce segment shows significant growth.
By end-user, the manufacturers segment shares the maximum CAGR during the projection period.
Market Overview:
Warehouse automation is a process of integrating robotics or other advanced mechanisms in warehouse operations, it involves the implementation of advanced technologies such as robotics, artificial intelligence (AI), machine learning, sensors, and software systems to streamline and improve efficiency in inventory management.
The demand for speedy delivery times and instantaneous stock control has emphasized the requirement for more efficient warehouse management practices in the rapidly evolving fashion industry. Warehouse automation systems are capable of inventory management, order fulfillment, material movement, storage, picking, packing and shipping processes for firms and businesses.
Production, manufacturing and investment data:
In April 2022, Amazon launched a $1 billion fund to invest in warehouse technologies that will raise delivery speed and further enhance the experience of the warehouse and logistics workforce.
According to Kardex, up to 50,000 robotic warehouses will be produced by 2025.
In 2022, Indian government launched National Logistics Policy to support the development of entire logistic system, the policy will work on enabling the nation's logistics system by making it technologically advanced.
Growth Factors:
Automation technologies, such as robotic systems, conveyors, and automated storage and retrieval systems, can significantly increase the speed and accuracy of order fulfillment, inventory management, and material handling processes. This enhanced efficiency and productivity enable faster turnaround times, improved customer satisfaction, and the ability to handle larger order volumes. The rising demand for faster yet more efficient services at warehouses is propelling the growth of the market. Also, barcode scanning, RFID tagging, and computer vision enhance inventory accuracy and real-time tracking capabilities, reducing errors, minimizing stockouts, improving inventory visibility, and enabling efficient inventory management.
The growth of e-commerce has created a significant demand for efficient and streamlined warehouse operations. Warehouse automation enables faster order processing, accurate picking and sorting, and seamless integration with various sales channels, meeting the requirements of online retailers and improving customer satisfaction.
Report Scope of the Warehouse Automation Market:
| | |
| --- | --- |
| Report Coverage | Details |
| Market Size in 2023 | USD 18.81 Billion |
| Market Size by 2032 | USD 71.03 Billion |
| Growth Rate from 2023 to 2032 | CAGR of 15.91% |
| Largest Market | North America |
| Base Year | 2022 |
| Forecast Period | 2023 to 2032 |
| Segments Covered | By Type, By Component, By Technology, By Application, and By End-Users |
| Regions Covered | North America, Europe, Asia-Pacific, Latin America and Middle East & Africa |

Driver:
Surging application of IoT
The Internet of Things has a wide-ranging impact on human life and work; it allows machines to do more heavy lifting, take over monotonous tasks and make life more healthy, practical, and comfortable. The increasing application of IoT in everyday life has promoted the expansion of the market. IoT accelerates innovation by uncovering new opportunities and increases security by continuously monitoring digital and physical infrastructure, which enhances performance, improves efficacy, and reduces safety risks. IoT technologies can be deployed in a customer to increase satisfaction by restocking trending products promptly to avoid shortages. Adopting IoT technologies also reduces warehouse operational and labor costs as they can automate storage solutions, leading to better delivery of customer supply chain experiences.
Restraint:
Mechanical challenges involved in warehouse automation
Automated systems require regular maintenance to ensure smooth operations and mechanical challenges include developing maintenance schedules, establishing preventive maintenance protocols, and training staff to perform routine checks and repairs. Maximizing uptime and minimizing downtime is critical for achieving optimal efficiency in warehouse automation. Ensuring the safety of workers and equipment is of utmost importance in warehouse automation.
Mechanical challenges arise in designing and implementing safety measures such as emergency stop systems, safety gates, protective barriers, and collision detection systems. Safeguarding against potential hazards and integrating safety protocols with automated systems require careful engineering and adherence to industry standards. Warehouse automation can significantly cause energy consumption. Overcoming mechanical challenges in reducing energy usage involves designing energy-efficient equipment, optimizing control systems, and implementing energy management strategies. Features like regenerative braking, motion sensors, and efficient power distribution systems can minimize energy consumption. Such elements turn into a hampering factor for the market.
Opportunities:
Technological advancements
Big data and AI technologies enable the collection and analysis of vast amounts of data from various sources within the warehouse. This data can generate valuable insights and predictions about inventory levels, demand patterns, and operational efficiencies. By leveraging predictive analytics, warehouse managers can optimize inventory management, reduce stockouts, and improve overall warehouse performance.
Big data analytics combined with AI techniques enable intelligent inventory management in warehouses. AI algorithms can optimize inventory levels, reduce carrying costs, and minimize stockouts by analyzing historical data, demand patterns, and external factors like market trends. ML models can also help predict demand spikes or identify slow-moving items, enabling proactive decision-making and avoiding excess inventory.
AI and ML techniques can optimize warehouse operations, such as route planning, resource allocation, and order fulfillment. Advanced algorithms can calculate the most efficient routes for order picking, considering factors like item location, order priority, and traffic patterns within the warehouse, reducing travel time, improving order accuracy, and increasing productivity. The deployment of such advanced technologies for warehouse automation systems is observed to open a plethora of opportunities for market growth.
Segments Insight:
Type Insights:
The warehouse system segment shows a significant growth in the warehouse automation market. A warehouse system is a software application that controls and manages various warehouse operations. It provides functionalities such as inventory management, order fulfillment, picking optimization, and tracking of goods within the warehouse. The warehouse system is the central hub for integrating and coordinating different automation technologies and processes.
Component Insights:
The hardware segment is commonly prescribed and dominates the warehouse automation market. Automation hardware enables faster, and more accurate execution of tasks compared to manual labor. Robots and conveyors can work continuously without fatigue, leading to increased throughput and reduced processing time.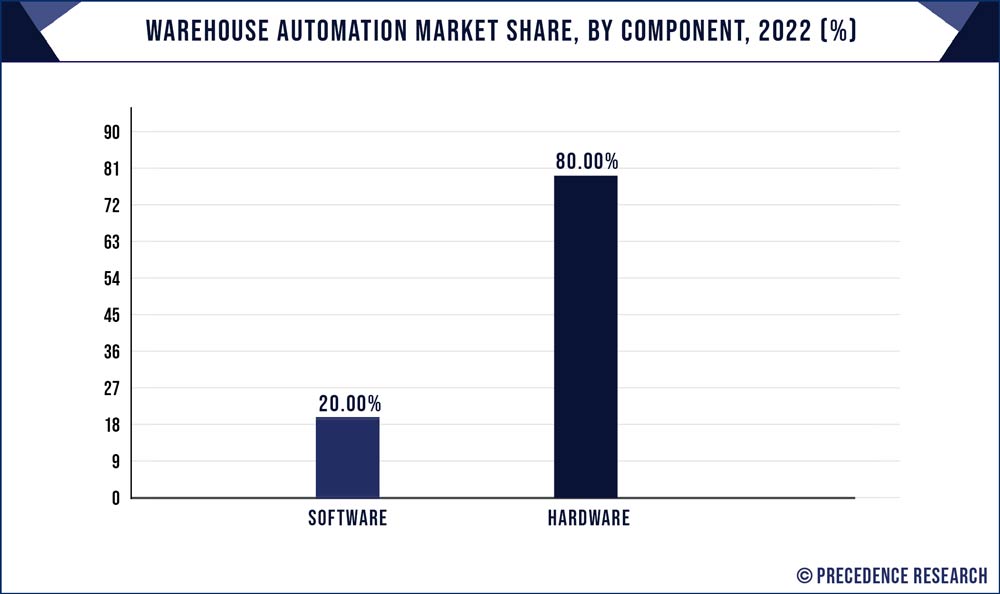 The software segment shows attractive growth in the forecast period. Cloud computing offers scalability, flexibility, and accessibility to warehouse automation solutions. Cloud-based platforms allow real-time data sharing, remote monitoring, and integration with other business systems. Material handling equipment includes a wide range of automated machinery and devices for moving, storing, and managing inventory within a warehouse.
Technology Insights:
The automated storage and retrieval systems segment dominates the application segment in the warehouse automation market during the predicted period. Automated storage and retrieval systems utilize advanced technologies such as robotics, conveyors, sensors, and software to automate various tasks involved in inventory management. For instance, Falcon Autotech, a global leader in intralogistics automation solutions, has launched NEO - an automated storage and retrieval system (ASRS). NEO is leveraging robotics, artificial intelligence, and advanced sensors to automate goods' storage and retrieval processes.
Autonomous mobile robots is the fastest-growing segment in the warehouse automation market throughout the forecast period. Autonomous mobile robots and automated guided vehicles are used in warehouses to pack, pick, sort, and route packages, optimize the picking process, and improve overall order fulfillment speed.
For instance, OTTO Motors, a leading provider of autonomous mobile robots (AMRs), announced their formal expansion into the European market at LogiMAT 2023. With over fourteen years of robotics experience and over 4 million production hours in mission-critical environments, OTTO Motors aims to solve labor and safety challenges with its established AMR fleet at manufacturing facilities and warehouses globally.
Application Insights :
The e-commerce segment is commonly prescribed and dominates the warehouse automation market. E-commerce has led to a higher demand for efficient and fast order fulfillment. The growth of e-commerce is due to artificial intelligence (AI), machine learning (ML), software solutions, etc. The AI and ML algorithms are employed to analyze large volumes of data e-commerce operations generate. This data-driven approach helps optimize inventory forecasting, demand planning, and supply chain management.
The grocery segment shows attractive growth in the forecast period. The grocery and warehouse automation market are highly competitive, with numerous companies offering a range of solutions. The rise of e-commerce and online grocery shopping has increased the demand for efficient order fulfillment and delivery systems. The need to optimize inventory management and reduce waste has also driven the adoption of automation in the grocery and warehouse industry.
End-users Insights:
The manufacturing segment is the fastest-growing segment in the warehouse automation market throughout the forecast period. Integration of various software systems, such as enterprise resource planning (ERP) and manufacturing execution systems (MES), enables seamless data flow and coordination across different stages of the manufacturing and warehouse processes. Automated conveyor systems allow the movement of goods and materials within manufacturing facilities and warehouses, improving efficiency and reducing manual labor.
The retailer's segment shows significant growth in the warehouse automation market during the projected period. The rise of online shopping has created a higher demand for efficient order fulfillment and delivery processes. Retailers are turning to automation warehouses to handle the increased volume of orders and improve order accuracy and speed. Many regions are facing labor shortages in the retail and warehousing sectors. Automation helps mitigate these challenges by reducing the reliance on manual labor, particularly for repetitive and physically demanding tasks.
Regional Insights:
North America is dominating and expected to remain a significant marketplace throughout the predicted timeframe. This is attributed to advancements in technology such as artificial intelligence and machine learning, the requirement for improved efficiency & productivity, and the rise in the availability and affordability of automated systems across this region. The market's growth in North America, especially in the United States and Canada is driven by the adoption of warehouse automation and significant players in the market, such as the United States. E-commerce, automotive and manufacturing plants are major end-user industries in the region that have rapidly adopted the application of advanced warehouse management devices/tools. The growing robotics market along with substantial research and development activities is observed to promote the market's growth in North America.
Asia- Pacific shows lucrative growth in the warehouse automation market during the forecasted timeframe. Asia-Pacific is experiencing significant growth in e-commerce and retail sectors, leading to increased demand for efficient and cost-effective warehousing solutions. The rapid growth of e-commerce in countries such as China, Japan, and India stimulates the need for warehouse automation to handle the expanding volume of online orders. Several regional governments are promoting the adoption of advanced technologies in industries, including warehouse automation, through favorable policies and incentives.
For instance, Greater Noida- premised Falcon Autotech is among the pioneers in transforming the modern warehouse as one of the leading Indian warehouse automation firms with a global presence across sectors.
Recent Developments:
In April 2023, SVT Robotics declared a new SOFTBOT Platform Connector for Tecsys Inc. SVT, and Tecsys worked to develop and initiate the pre-built connector between the SVT's SOFTBOT Platform and Tecsys WMS, which will provide Tecsys Elite clients faster deployment and lower complexity without requiring custom code establishment often engaged in robotics deployments and multi-system automation.
In January 2023, AutoStore proclaimed the North American release of Pio, a plug-and-play version of hailed AutoStore cube storage technology monitored for small and medium-sized businesses. Pio provides SMBs, such as sporting goods, crafts, cosmetics retailers, and apparel, to locate robotic automation for a relatively low investment, stimulating more businesses to access the world's best automation technology.
In August 2022, Smart Robotics officially released its recent cobot - the Smart Fashion Picker. The cobot's ability to run and reliability constantly instructs a quicker return on investment – while answering the logistics labor chaos and enhancing warehouse employees' mental and physical health.
In May 2022, Honeywell declared the Spring 2022 launch of new offerings and improvements to Honeywell Forge, the principal enterprise performance management software solution calculated to assist clients in accelerating the digital transformation of their operations, which covers Honeywell Forge Connected Warehouse, will assist organizations in simplifying processes and lower prices by allowing increased visibility to data and real-time insights, tailoring, and automation.
Key Market Players:
Honeywell Intelligrated
Aeologic Technologies
Kiva Systems
GreyOrange
Swisslog
Geek+
Jizhong Energy Storage
Viastore Systems
Kardex Remstar
Interroll
Segments Covered in the Report:
(Note*: We offer reports based on sub segments as well. Kindly, let us know if you are interested)
By Type
Basic Warehouse
Warehouse System
Mechanized Warehouse
Advanced Warehouse
By Component
By Technology
Automated Storage and Retrieval Systems (AS/RS)
Automatic Guided Vehicles (AGVs)
Autonomous Mobile Robots (AMRs)
Voice Picking and Tasking
Automated Sortation Systems
By Application
E-commerce
Grocery
Apparel
Food & beverage
Pharmaceutical
Automotive
By End-Users
Retailers
Manufacturers
Distributors
By Geography
North America
Europe
Asia-Pacific
Latin America
Middle East and Africa