The global 3D food printing market size accounted for USD 621.1 million in 2022 and is projected to hit around USD 1,238.99 million by 2032, expanding at a CAGR of 7.2% during the forecast period from 2023 to 2032.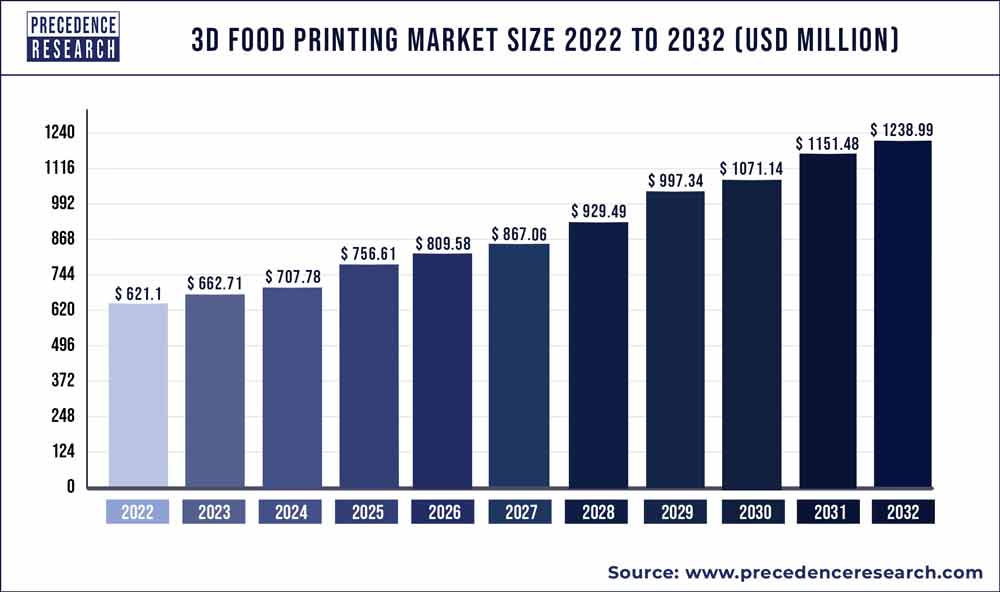 Access our Premium Real Time Data Intelligence Tool, Visit: Precedence Statistics
Key Takeaways
By region, North America contributed more than 41% of revenue share in 2022. On the other hand, Europe is estimated to expand the fastest CAGR between 2023 and 2032.
By ingredient, the carbohydrates segment has held the largest market share of 38% in 2022. On the other hand, the proteins segment is anticipated to grow at a remarkable CAGR of 12.7% between 2023 and 2032.
By end user, the commercial segment generated over 59% of revenue share in 2022. Whereas the residential segment is expected to expand at the fastest CAGR over the projected period.
By technology, the extrusion-based printing segment had the largest market share of 51.2% in 2022. Whereas the inkjet printing segment is expected to expand at the fastest CAGR over the projected period.
3D Food Printing Market Overview
The 3D food printing market encompasses the use of advanced additive manufacturing techniques to create three-dimensional edible structures and designs with various ingredients. This innovative technology is revolutionizing the food industry by enabling the customization of food products for nutrition, flavor, and dietary needs.
By using food-grade materials, 3D food printers can produce intricate and personalized dishes, snacks, and confections. The market's growth is driven by the rising demand for personalized nutrition, the exploration of sustainable food production methods, and the increasing adoption of technology in the culinary world, opening new possibilities for creating unique and visually appealing food items.
3D Food Printing Market in the U.S. 2023 To 2032
The U.S. 3D food printing market size was valued at USD 152.79 million in 2022 and is expected to grow to USD 304.79 million by 2032, growing at a CAGR of 7.2% from 2023 to 2032.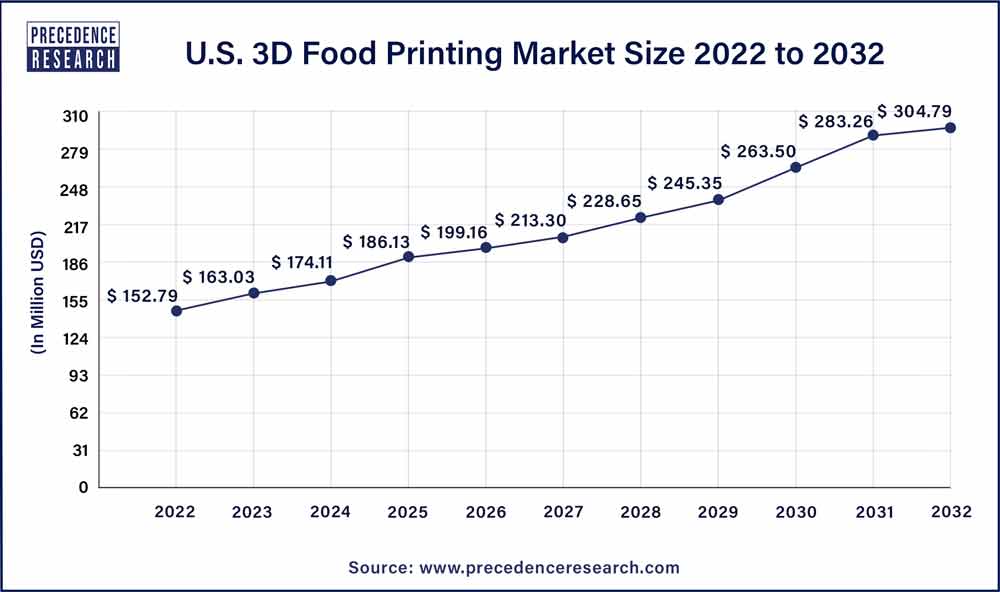 North America has held the largest revenue share 41% in 2022. North America has been a prominent region for the 3D food printing market, with robust growth driven by technological innovation and a rising focus on personalized nutrition. The United States, in particular, has witnessed a surge in startups and research initiatives exploring 3D food printing applications, especially in healthcare settings. The market has also been supported by the increasing popularity of gourmet and artisanal food products that benefit from the unique designs and shapes enabled by 3D printing technology.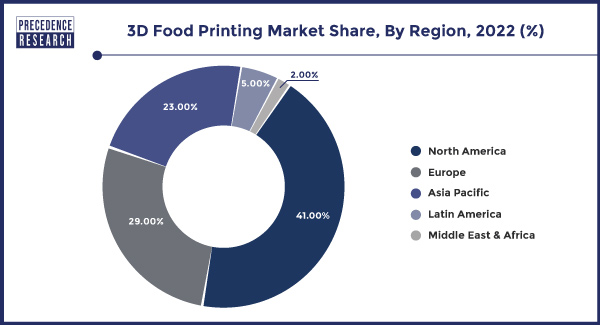 Europe is estimated to witness the fastest expansion. In Europe, 3D food printing has seen adoption in both consumer and commercial settings. European countries have been at the forefront of experimenting with printed confections and intricate dessert designs. Furthermore, sustainability and reducing food waste are key trends, with the technology being employed to create appealing food presentations while minimizing leftovers. As environmental concerns continue to grow, Europe's 3D food printing market is poised for further expansion in the coming years.
Growth Factors
3D printing enables the creation of intricate food structures and designs that were previously challenging to achieve with traditional methods, expanding culinary creativity. The demand for complex food structures is observed to propel the growth of the industry.
Restaurants and food service providers can use 3D printing to offer unique dining experiences by crafting customized dishes that cater to customers' tastes and dietary restrictions.
Collaborations between technology companies, food manufacturers, and culinary experts are on the rise, driving innovation and the development of new applications.
3D food printing is ushering in a new era of culinary creativity, with chefs and food designers experimenting with artistic and visually appealing food presentations.
The market is expanding beyond high-end restaurants to include food retailers, home consumers, and institutional settings, presenting a range of opportunities for growth.
Sustainability and environmentally friendly practices are integral to the growth of the 3D food printing market, aligning with consumer demand for eco-conscious food options.
Research is ongoing into using alternative and novel ingredients, such as plant-based materials, to create healthier and more sustainable 3D-printed food products.
While currently more prominent in certain regions, the market is seeing global adoption, offering significant potential in various culinary traditions and dietary requirements.
Raising awareness and educating consumers about the benefits and possibilities of 3D-printed food will be essential to drive acceptance and growth in the market.
The technology presents an opportunity to reduce food waste and promote sustainability by utilizing ingredients efficiently and minimizing the environmental impact of food production.
3D Food Printing Market Scope
| | |
| --- | --- |
| Report Coverage | Details |
| Growth Rate from 2023 to 2032 | CAGR of 7.2% |
| Market Size in 2023 | USD 662.71 Million |
| Market Size by 2032 | USD 1,238.99 Million |
| Largest Market | North America |
| Base Year | 2022 |
| Forecast Period | 2023 to 2032 |
| Segments Covered | By Ingredient, By End User, and By Technology |
| Regions Covered | North America, Europe, Asia-Pacific, Latin America, and Middle East & Africa |

3D Food Printing Market Dynamics
Driver
Personalized nutrition and customization in food service
Personalized nutrition has become a focal point in the health and wellness sector. Consumers are increasingly seeking diets tailored to their unique health needs and dietary preferences. 3D food printing plays a pivotal role in this trend by allowing the creation of highly customized food products. 3D food printing facilitates precise personalization in various aspects of nutrition. Such fine-grained personalization not only caters to unique dietary requirements but also contributes to the overall health and well-being of consumers.
Moreover, customization in food service has revolutionized the restaurant and catering industries. 3D food printing empowers chefs and food service providers to offer exclusive and bespoke dining experiences to their patrons. From crafting intricate edible decorations to producing dishes tailored to customers' tastes, dietary restrictions, and cultural preferences, 3D food printing adds a unique dimension to culinary innovation. This enhanced level of customization boosts customer satisfaction and loyalty, driving the demand for 3D food printing solutions in the food service sector.
Restraint
Limited ingredient compatibility and design complexity
The 3D food printing market faces certain constraints, including limited ingredient compatibility and design complexity. Firstly, the technology's compatibility with ingredients can be restrictive, as not all food materials are suitable for 3D printing. Some ingredients may not have the necessary texture, consistency, or binding properties required for the printing process. This limits the range of foods that can be effectively printed, excluding certain traditional or culturally significant dishes from 3D printing. Additionally, ingredients often need to be modified or processed to meet the requirements of 3D printing, which can lead to added costs and alterations to the original recipes.
Moreover, the complexity of designing printable food products is another challenge. Creating 3D food designs necessitates expertise in both culinary arts and digital modeling. Chefs and food technologists must collaborate with engineers and designers to ensure that the final products not only look appealing but also taste good. The intricate nature of design, especially for complex shapes and structures, demands specialized skills and can be time-consuming. This challenge may hinder the widespread adoption of 3D food printing, particularly in small-scale culinary operations.
Opportunity
Food production in event catering and hospitality
The 3D food printing market is experiencing increased demand due to its adoption in diverse sectors, including food production in space, event catering, and hospitality. In space exploration, 3D food printing addresses the challenges of providing astronauts with nutritious and safe meals. The technology allows for the creation of custom meals that cater to individual dietary needs, ensuring that astronauts receive proper nutrition while reducing food waste. This innovation is vital for long-duration space missions and lunar or Mars colonization plans.
In the hospitality and event catering industry, 3D food printing is gaining popularity as a tool to create unique and visually appealing dishes. Caterers and chefs can use this technology to craft intricate food designs, enhancing the overall dining experience. Whether it's personalized wedding cakes or branded corporate event catering, 3D food printing adds a touch of sophistication and originality. As these industries increasingly embrace cutting-edge culinary technologies, the 3D food printing market is set to thrive further, driven by the desire for culinary innovation and customer satisfaction.
Impacts of COVID-19
The COVID-19 pandemic significantly impacted the 3D food printing market. During the initial stages of the pandemic, many hospitality and event catering businesses were temporarily shut down or severely limited in their operations.
This led to a reduced demand for 3D food printing services, particularly for catering and large gatherings. The uncertainty and fear surrounding the virus also made consumers more cautious about dining out, further affecting the market.
On the positive side, the pandemic highlighted the potential benefits of 3D food printing in terms of hygiene and customization. The touchless preparation of food and personalized meal options became more appealing in a post-pandemic world. As a result, the market saw increased interest in 3D food printing technologies that could cater to these changing consumer preferences. Innovations like food-safe materials and more user-friendly equipment further contributed to the market's resilience during the pandemic.
Ingredient Insights
The carbohydrates segment held 38% revenue share in 2022. Carbohydrates, often sourced from various flours, are utilized to create the base or dough for printed food items. The trend in carbohydrate-based 3D food printing revolves around optimizing these materials for texture, taste, and nutritional content. Innovations include gluten-free flours, alternative starch sources, and personalized flour blends to cater to various dietary requirements and preferences.
The proteins segment is anticipated to expand at a significant CAGR of 12.7% during the projected period. Proteins are another crucial ingredient in 3D food printing, providing structure and nutrition to printed food. Emerging trends involve incorporating plant-based proteins and experimenting with alternative protein sources like algae and fungi. The drive for sustainable and personalized protein options has prompted the exploration of these novel ingredients in 3D food printing applications, offering consumers a broader range of choices for healthier and eco-friendly food products.
End User Insights
The commercial is anticipated to hold the largest market share of 59% in 2022. The commercial segment of the 3D food printing market is primarily focused on the food service industry, including restaurants, hotels, and catering services. These businesses employ 3D food printers to create visually appealing and customized dishes. Trend-wise, there's growing interest in using 3D food printing for event catering and fine dining, where intricate and artistic food presentations can captivate customers. Additionally, the pandemic accelerated the adoption of touchless food preparation, making 3D food printing an appealing technology for the hospitality sector.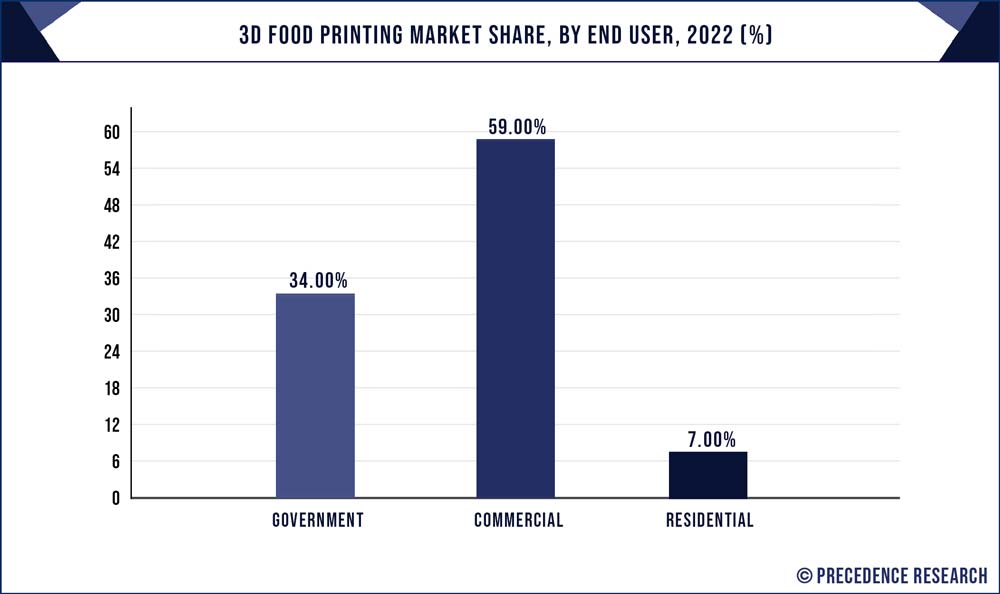 On the other hand, the residential segment is projected to grow at the fastest rate over the projected period. In the residential sector, 3D food printing is still in the early stages, with limited adoption. However, it's steadily gaining interest among tech-savvy consumers who want to explore culinary creativity at home. The trend here is toward more accessible and user-friendly 3D food printers designed for home kitchens. Companies are developing smaller, more affordable, and easy-to-operate devices, which are expected to drive increased adoption for personalized and artistic food creations at home.
Technology Insights
In 2022, the extrusion-based printing segment had the highest market share of 51.2% on the basis of the technology. Extrusion-based 3D food printing is a technique where food materials are pushed through a nozzle, similar to how a pastry bag dispenses frosting. It's a widely used technology known for its ability to create intricate shapes and structures. In this method, food is extruded layer by layer to form the desired 3D shape.
On the other hand, the inkjet printing segment is anticipated to expand at the fastest rate over the projected period. In contrast, inkjet 3D food printing is akin to traditional inkjet printing but uses edible inks to create intricate food designs. It's gaining traction due to its precision and ability to add fine details to dishes. The trend in 3D food printing leans towards a combination of these technologies to offer a wider range of food creations, from complex structures to intricately decorated desserts.
Recent Developments
In 2022, SavorEat, an Israeli startup, introduced its 3D-printed plant-based burgers in the United States. These products are kosher, vegan, and gluten-free, offering a unique and inclusive alternative in the plant-based food market.
In 2021, NASA collaborated with Systems and Materials Research Corporation (SMRC) to create 3D printers and nutritious food to sustain astronauts physically and mentally in space. SMRC has devised a pizza printing system using nutrient-rich powdered foods, enabling automated meal production in space.
In 2020, Meat-Tech 3D Ltd. unveiled its acquisition of Peace of Meat PV, a pioneering Belgian cultured avian product producer, for EUR 15 million. The deal is structured with a combination of cash and Meat-Tech ordinary shares and is headquartered in Ness Ziona, Israel.
3D Food Printing Market Players
Dovetailed, Aniwaa Pte. Ltd
3D Systems, Inc.
TNO, byFlow B.V.
Print4taste GmbH
Natural Machines
Shiyin Technology Co., Ltd.
Systems and Materials Research Corporation
Barilla G. e R. Fratelli S.p.A
Redefine Meat Ltd.
3Desserts Graphiques
BeeHex, NOVAMEAT
Modern Meadow
Natural Machines
ByFlow B.V.
BeeHex, Inc.
Segments Covered in the Report
By Ingredient
Dough
Fruits and Vegetables
Proteins
Sauces
Dairy Products
Carbohydrates
Others
By End User
Government
Commercial
Residential
By Technology
Extrusion-based Printing
Binder Jetting
Selective Laser Sintering
Inkjet Printing
Others
By Geography
North America
Europe
Asia-Pacific
Latin America
Middle East and Africa