The global A2 milk market size was estimated USD 9.38 billion in 2021 and is projected to hit over USD 31.51 billion by 2030, expanding immensive CAGR of 18.6% during the forecast period 2022 to 2030.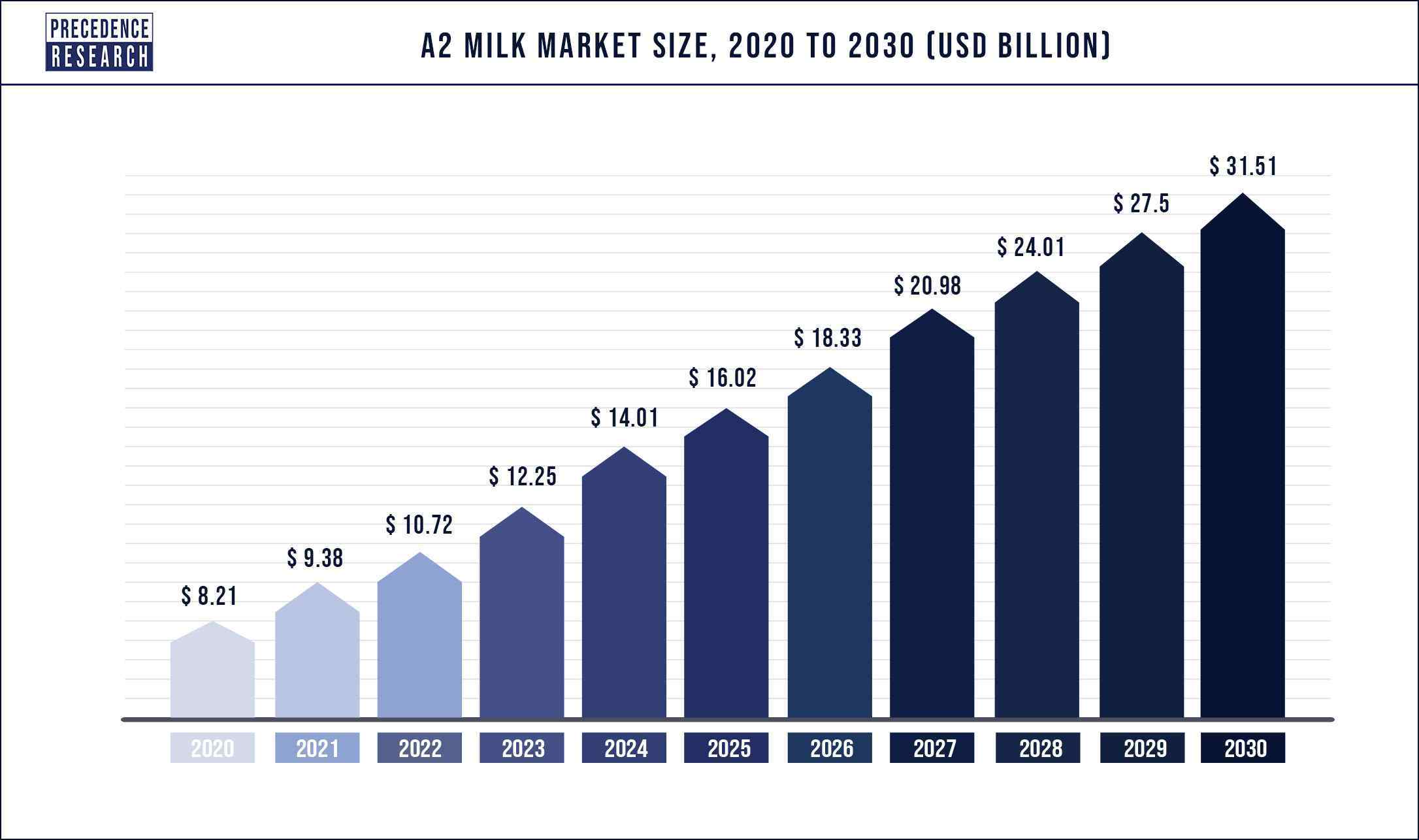 Access our Premium Real Time Data Intelligence Tool, Visit: Precedence Statistics
Global A2 Milk Market at a Glance:
Milk that contains only A2 beta casein polypeptide is called as a2 milk. A2 milk is a type of cows' milk that generally lacks a type of β-casein polypeptide called A1, and has majorly the A2 form. A2 milk has 12% more protein, 25% more vitamin A, 15% more calcium, 33% more vitamin D and 30% more cream. Also, research on A2 milk consumption have shown that regular consumption of A2 milk can assist in slowing down of muscle catabolism, thus improving muscle recovery. Milks from Guernsey, Jersey, Asian herds etc. comprise majorly A2 beta casein. A2 milk consists of beta casein protein that varies by one amino acid at 67th place in chains of amino acids. When we compare A1 milk with A2 milk, A2 is better digested as compared to A1. Digestion of A1 occurs in intestine and peptide named beta-casomorphin-7 (BCM-7) is produced enzymatically from the A1 β-casein variant. Beta-casomorphin (BCM) protein belongs to opioid peptide group and has been reported that presence of BCM-7 causes stomach discomfort, lactose intolerance, and other gastrointestinal problems and is assumed to be associated with increased risk of type 1 diabetes and heart diseases. A2 β-casein variant do not cause such discomfort and therefore is more preferable as compared to A1.
A2 milk has high nutritional content which is essential for the growth of an infant. A2 milk has health benefits because of high protein content, easily digestible properties, good source of calcium, important vitamins and minerals etc. and is similarly free of antibiotics and hormones. A2 milk has 12% additional protein, 25% extra vitamin A, 15% more calcium, 33% more vitamin D and 30% more good fat content. Thus, it is being widely used to manufacture the infant formula helping drive the market growth of A2 milk. Milk is an important dietary staple and integral part of baby food. Milk with A1 beta casein has shown to release increased levels of BCM-7 in infants which are linked with various stomach related disorders. Whereas, A2 milk digestion releases lower levels of BCM-7. Thus, A2 milk is widely preferred in infant formulas by baby food manufacturers, which has led to increase in demand for A2 milk which will boost market the market growth in the coming years.
Crucial factors accountable for market growth are:
Increasing preference for A2 milk
Growing use of A2 milk in infant formula
Increasing health consciousness
Rapid spread of knowledge related to health and well-being
Increase in consumer spending in developing regions
Rise in disposable income
Increasing preference for sustainable and organic products
Launch of new products by multinationals
Scope of the A2 Milk Market
| | |
| --- | --- |
| Report Highlights | Details |
| Market Size | USD 31.51 Billion by 2030 |
| Growth Rate | CAGR of 18.6% from 2022 to 2030 |
| Base Year | 2021 |
| Historic Data | 2017 to 2021 |
| Forecast Period | 2022 to 2030 |
| Segments Covered | Form, Application, Packaging, Distribution Channel |
| Regional Scope | North America, Europe, Asia Pacific, Latin America, Middle East & Africa (MEA) |
| Companies Mentioned | Fonterra Co-operative Group, Amul (GCMMF), Provilac, The a2 Milk Company Limited, Freedom Foods Group Limited, Vinamilk, Nestlé S.A. |
Significant Market Trends:
Liquid Form Reported Foremost Market Stake in 2020
The liquid form of A2 milk displayed the major share in the worldwide market in 2020. High consumption volume, easy availability and storage are the key reason for highest market stake of liquid form of A2 milk. The factors such as launch of new products are expected to retain the dominance of liquid form in the near future.
The powder form of A2 milk is anticipated grow at the maximum CAGR through the forecast time-frame mainly due to strong product pipeline.
Milk-based Beverages Application Dominated the Market Revenue
The A2 milk is consumed on a large scale in its original form. A2 milk is also sold as a packaged product with added flavors. Moreover, processed milk such as no fat, full cream, low fat, light varieties of milk are also very popular. These factors contribute to the high market share of the milk-based beverages segment.
Infant Formula application will expand at highest CAGR during the forecast time-frame. Due to multiple health benefits of A2 milk such as high protein and vitamin content, easy digestibility, absence of antibiotics the A2 milk is widely being used in infant formulas.
Carton Packaging Will Dominate the A2 Milk Market Revenue by Packaging Type
High use of carton packaging for A2 milk is majorly due to low cost and ease of transportation. Moreover, use of environment-friendly raw materials is contributing to the growth of carton packaging segment.
Cans are expected to expand at highest CAGR during the forecast time-frame majorly due to longer shelf life and reusability.
Asia Pacific is Estimated to be the Largest Market for A2 Milk
The detailed research report covers significant prospects and inclinations of A2 milk products throughout different regions including Europe, North America, Asia-Pacific, Africa, Middle East, and Latin America. By region, A2 milk market is led by Asia Pacific due to high milk production and demand, and presence of A2 milk producing cow breeds. Europe reported the second maximum share predominantly due to presence of state-of-the-art dairy infrastructure. North America is also anticipated to witness the rapid growth rate, on account of higher spending on premium food products, high awareness regarding healthy food options, and increasing cases of lactose intolerance.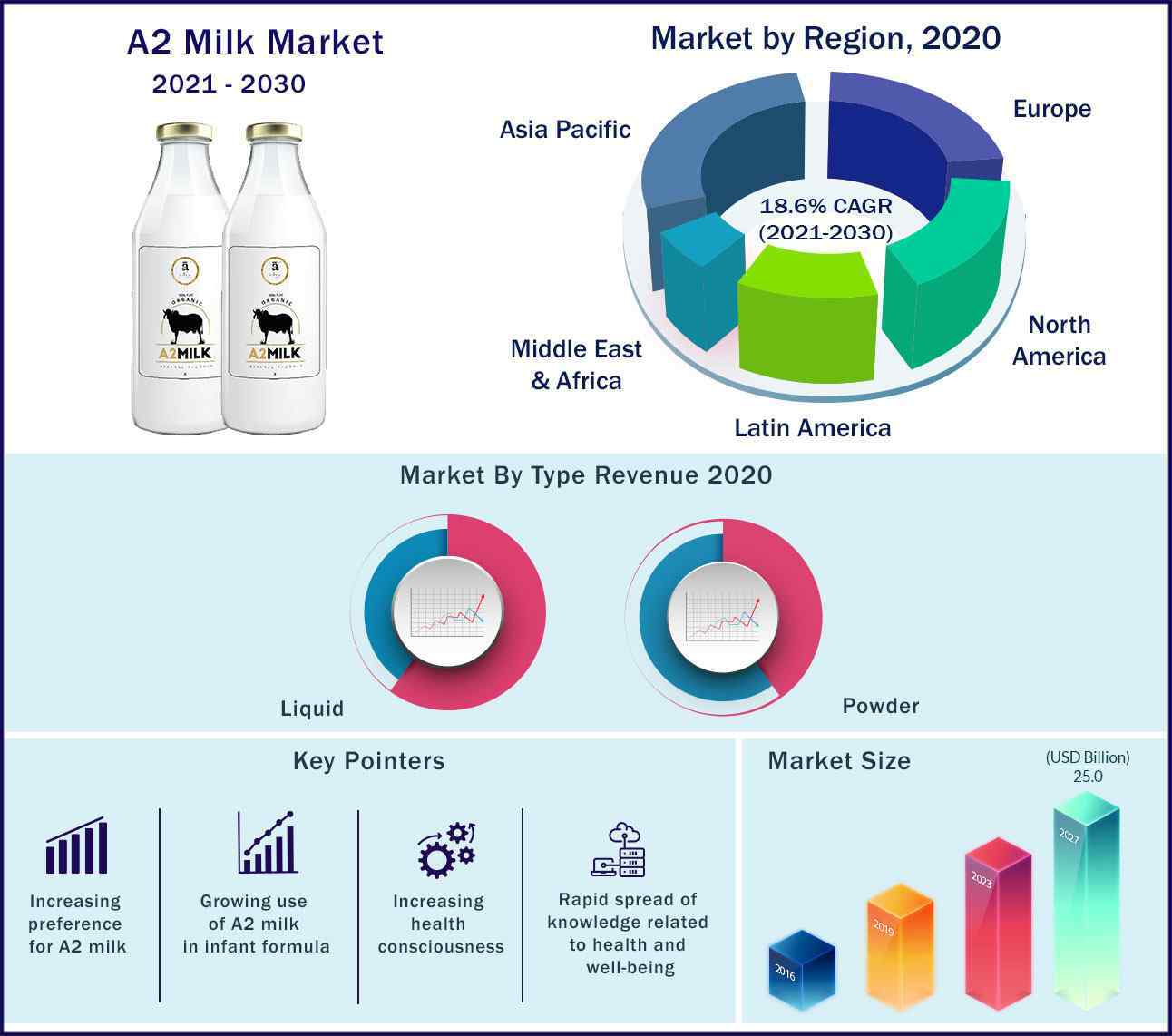 Top Players contending in the Market:
The companies focusing on research and development are expected to lead the global A2 milk market. Leading competitors contending in global A2 milk market are as follows:
Fonterra Co-operative Group
Amul (GCMMF)
Provilac
The a2 Milk Company Limited
Freedom Foods Group Limited
Vinamilk
Nestlé S.A.
In order to well recognize the present status of A2 milk, and policies implemented by the foremost nations, Precedence Research projected the future progress of the A2 milk market. This research report bids quantitative and qualitative insights on A2 milk market and valuation of market size and progress trend for probable market segments.
Recent Developments in Global A2 Milk Market:
In December 2019, the a2 milk company entered into collaboration with Yuhan pharmaceuticals to introduce a2 Platinum infant formulation products in South Korea.
In June 2018, the a2 milk company broadcasted the launch of premium a2 Milk powder in combination with Mānuka honey, uniting the benefits of the Mānuka honey UMF 10+ from New Zealand with unadulterated and organic A2 milk for a pleasant and calcium-abundant beverage.
Major Market Segments Covered:
By Form
By Application
Infant Formula
Milk-based Beverages
Bakery & Confectionery
Dairy Products
By Packaging
Carton Packaging
Glass Bottles
Cans
Plastic Pouches & Bottles
By Distribution Channel
Online Stores
Grocery and Convenience Stores
Hypermarkets and Supermarkets
Others
By Geography
North America
Europe

Germany
France
United Kingdom
Rest of Europe

Asia Pacific

China
Japan
India
Southeast Asia
Rest of Asia Pacific

Latin America

Brazil
Rest of Latin America

Middle East & Africa (MEA)

GCC
North Africa
South Africa
Rest of Middle East & Africa