The global acetic acid market size was reached at USD 19.76 billion in 2022 and it is expected to gain around USD 32.65 billion by the end of 2032 with a registered compound annual growth rate (CAGR) of 5.2% from 2023 to 2032.
Access our Premium Real Time Data Intelligence Tool, Visit: Precedence Statistics
Key Takeaways
By application, the vinyl acetate monomer segment accounted highest revenue share of around 45.3% in 2022.
The acetic anhydride application segment has contributed 19.5% revenue share in 2022.
The Asia Pacific has accounted revenue share of around 49.2% in 2022.
Acetic acid (CH3COOH), often referred to as ethanoic acid or methane carboxylic acid, is an organic chemical that is colorless and has a pungent, harsh, and sour smell. It is one of the most significant chemical reagents and industrial chemicals used in the manufacturing of volatile organic esters such as ethyl and butyl acetates, vinyl acetate, cellulose acetate, and metal acetates. The growing use of acetic acid in the manufacture of terephthalic acid is anticipated to support market expansion throughout the anticipated time frame. In the production of polyester resins, which are widely utilized in polyester films, PET resins, and polyester fibers, terephthalic acid plays a key role as a building component. Terephthalic acid is also used in the production of textiles including bed sheets, clothing, and curtains, as well as in home furnishings.
The market size is anticipated to increase during the assessment period due to the expanding usage of acetic acid in the production of several products, including vinyl acetate monomers (VAM) and pure terephthalate acid. Vinyl acetate monomers, which are made from acetic acid, are frequently used to make resins and polymers for textiles, paints, coatings, adhesives, films, and other end-use goods.
Growth Factors
A clear organic liquid, acetic acid is sometimes referred to as ethanoic acid. The second most straightforward carboxylic acid, acetic acid has methyl as its functional group. It is used in the synthesis of several chemical compounds as a chemical reagent. The production of vinegar, acetic anhydride, vinegar, and vinyl acetate monomer are the main products made from acetic acid. It serves as an important industrial chemical and chemical reagent in the manufacture of synthetic fibers, textiles, and photographic film. As a result, the acetic acid market is growing due to the expansion of the textile sector.
The growing end-user demand
Increasing advancements in acetic acid
Scope of the Acetic Acid Market
Report Coverage
Details
Market Size in 2022
USD 19.76 Billion
Market Size by 2032
USD 32.65 Billion
Growth Rate from 2023 to 2032
CAGR of 5.2%
Largest Market
Asia Pacific
Fastest Growing Market
North America
Base Year
2022
Forecast Period
2023 to 2032
Segments Covered

Application
End-Use
Geography

Companies Mentioned
Eastman Chemical Company, Celanese Corporation, LynodellBasell Industries Holding B.V., SABIC, Indian Oil Corporation Ltd, Gujrat Narmada Valley Fertilizers & Chemicals Limited, Pentokey Organy, Ashok Alco Chem Limited, DAICEL CORPORATION, The Dow Chemical Product, HELM AG, Airedale Chemical Company Limited, DubiChem, INEOS

Key Market Drivers
Rising expansion of the textile sector - Acetic acid, also known as ethanoic acid, is frequently used to make vinyl acetate and metal acetate, which are then used to make chemical reagents for textiles, photographic films, paints, and volatile organic esters. Acetic acid is a common component in the printing and dyeing of textiles in the textile industry. To reach US$291.22 billion in 2020, China's textile and apparel exports climbed by 9.6%, according to the Ministry of Industry and Information Technology of China. Moreover, the U.S. Department of Commerce reports that from January to September 2021, shipments of clothing jumped by 28.94% to US$4.385 billion while exports of products from textile mills increased by 17.31% to US$12.365 billion. The production of synthetic fibers in the textile industry uses vinyl acetate monomer. As a result, the demand for textiles is increasing globally, which is driving the expansion and is anticipated to account for a sizeable portion of the acetic acid market.
Vinegar used in the food business has increased - The rise in demand for food products has been brought on by the rapid population growth and the adoption of a sustainable and nutritious diet, which has raised the level of food production worldwide. Global vegetable output reached 1128 million tonnes, up 65% from 2000, while fruit production increased to 883 million tonnes, up 54% from that year. In order to make vinegar, which is a common component in foods and personal care items, acetic acid is mostly used. Pickling solutions, marinades, and salad dressings all contain vinegar. Additionally, it lessens the possibility of salmonella infection in meat and poultry products. A further application for acetic acid and its sodium salts is food preservation. As a result, the market for acetic acid is growing as a result of the spike in the usage of vinegar in the food business.
Key Market Challenges
Fluctuating costs of raw materials - The acetic acid market has identified fluctuating costs for the raw materials needed to make the acid as a significant barrier. As a result, enterprises that produce alumina are observing fluctuations in their profit margins, which makes it challenging for them to plan for growth. The irrationality of development strategies will definitely prevent market growth.
Key Market Opportunities
Increasing opportunities in different sectors - The acetic acid market is expected to grow rapidly in emerging nations. The economies of these countries are rapidly growing, and chemical, textile, and coating manufacturing facilities have increased dramatically. Because of the rise of these projects, the demand for acetic acid has a very promising future.
Segments Insight
Application Insights
On the basis of application, the vinyl acetate monomer (VAM) segment has dominated the market in 2022. Currently, one of the most quickly expanding uses for acetic acid, which accounts for the majority of its total worldwide use, is vinyl acetate monomer (VAM), an intermediary in the manufacturing of a variety of chemical derivatives. In the composition of paints and coatings, vinyl acetate monomer is frequently used. VAM is polymerized to create polyvinyl acetate or other polymers that are crucial components in the paints industry. Acetic acid is in high demand since it is used as a crucial chemical reagent in the industrial sector.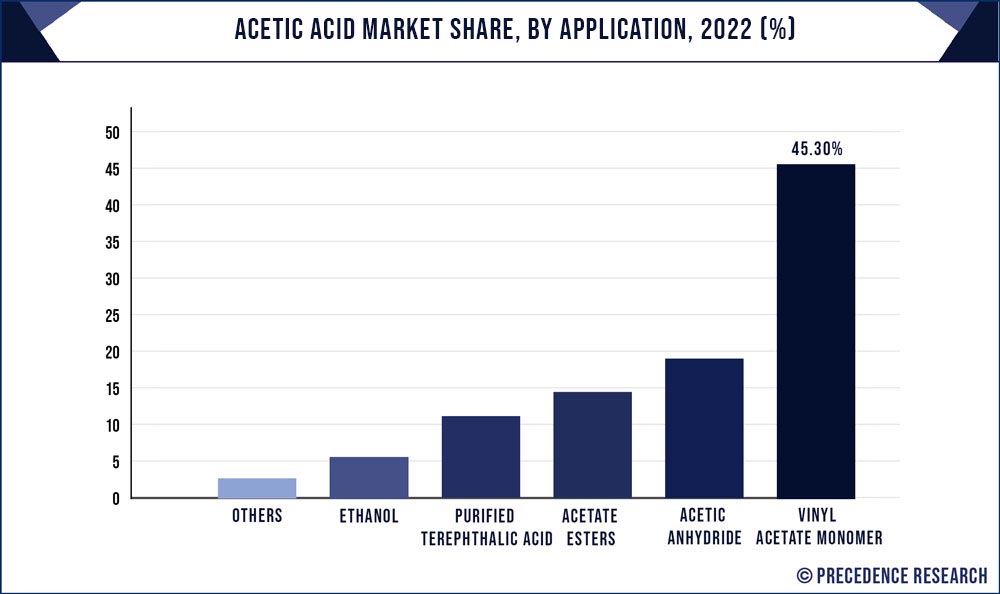 Polyester, including polyester fiber, polyester film, and polyethylene terephthalate (PET) bottles, is produced using purified terephthalic acid (PTA). Additionally, textiles and food and beverage containers employ this polyester. Coatings and other composite materials are a few examples of further PTA uses. Population growth has raised the need for food and drink, which has boosted the need for plastic bottles and containers made of polyester. The demand for this kind of acid is also quite large internationally because of this feature.
End-Use Insights
On the basis of end users, the food & beverages segment has dominated the market and it will continue to grow well in terms of revenue. Acetic acid is used to produce PET bottles, which are subsequently used to hold food and beverages. In food processing facilities, acetic acid is frequently used as cleaning and disinfecting agents. Acetic acid is the main component of vinegar, a popular culinary ingredient used in sauces and the pickling of vegetables. As a consequence of advancements in the food and beverage industry, the acetic acid market is growing.
The market for acetic acid worldwide that is increasing with the significant rate is paints and coating segment. When VAM is polymerized to create polyvinyl acetate or other vital components of the paints industry, paint and coating compositions require a significant amount of the vinyl acetate monomer that is created.
Acetic Acid Market Share, By Region, 2022 (%)
| | |
| --- | --- |
| Regions | Revenue Share in 2022 (%) |
| North America | 17.8% |
| Asia Pacific | 49.2% |
| Europe | 25% |
| Latin America | 5% |
| MEA | 3% |

Regional Insights
On the basis of geography, Asia-Pacific has accounted for the majority revenue share in the market throughout the projection period. Numerous end-use sectors like textile, food and beverage, agricultural, home cleaning goods, polymers, and paints and coatings are primarily responsible for this increase. The region's industrial expansion has also been aided by a rise in urbanization and disposable income in the area. Acetic acid is widely used to make vinegar, vinyl acetate, and metal acetates, which are then employed in a variety of end-use industries. Additionally, Asia-Pacific is one of the key areas for producing plastic, which offers significant chances for regional businesses to flourish. China produced 32% of the plastic used in the globe, according to Plastic Europe. Consequently, the region's strong expansion in a number of end-use sectors is also driving the rise of acetic acid market.
Up to 2032, the North American market might see positive growth. Ethanoic acid is being used more often in a variety of applications as a result of the expansion of the chemical industry and increased demand from end-use industries including the textile and construction sectors. The ethanoic acid market has expanded as a result of rising investments and expanding production facilities from big businesses like Celanese and BP Plc. Additionally, a rise in consumer spending and disposable income is driving the expansion of the textile and construction industries. Due to the U.S. dominating the fashion sector, the pace of chemical consumption is supported by an increase in the textile industry. There will likely be a considerable increase in North America as a result of these causes.
Recent Developments
In January 2021 – To expand its geographic reach and diversify its product offering, INEOS purchased BP's worldwide Aromatics & Acetyls business, which consists of 15 distinct production facilities throughout the world and 10 joint ventures.
Segments Covered in the Report
(Note*: We offer reports based on sub-segments as well. Kindly, let us know if you are interested)
By Application
Vinyl Acetate Monomer
Acetic Anhydride
Acetate Esters
Purified Terephthalic Acid
Ethanol
Others
By End-Use
Food and beverages
Paints and coating
Plastics & Polymers
Pharmaceutical
Chemicals
Others
By Geography
North America
Europe
Asia-Pacific
Latin America
Middle East & Africa (MEA)