The global aircraft sensors market size accounted for USD 5.93 billion in 2022 and it is predicted to reach around USD 14.94 billion by 2032, poised to grow at a CAGR of 9.68% over the forecast period 2023 to 2032. North America is expected to expand at the fastest CAGR between 2023 to 2032.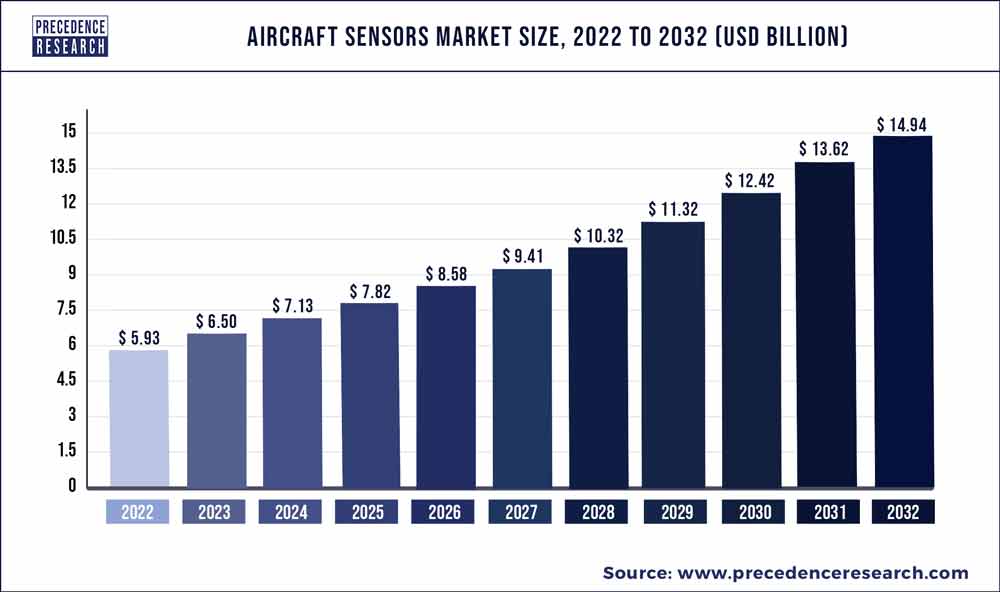 Market Overview:
The global market for aviation sensors is made possible by the growing popularity and use of wireless sensors. The development of wireless sensors is a focus for international aircraft manufacturers, and demand is growing due to the increased usage of Internet of Things (IoT) technologies for structural health monitoring systems in aircraft. The size of the global aircraft fleet is expected to grow, as are the production costs of the main commercial aircraft programs, the entry of new market players, the release of new iterations of the best-selling aircraft programs, the increased focus on passenger safety & fuel efficiency, and the rising cost of electronic components in the next-generation aircraft.
Growth Factors:
Commercial and military aircraft can operate more effectively, economically, and dependably thanks to aviation sensors. Feedback on a wide range of flying situations as well as other states of various equipment and flight systems is necessary for secure and successful aircraft control. These conditions are continuously monitored by a wide range of sensors, which provide the data to the flight computers for processing before the pilot sees it. An aircraft uses a variety of sensors, many of which are crucial for operational, security, and safety reasons. Various sensors are integrated into modern aircraft to determine their operational parameters, such as electronic performance control and immediate sense for the monitoring of engine health.
A position sensor, such as a linear variable differential transducer (LVDT), for instance, may detect the movement of various aircraft parts. In environmental cooling systems, temperature sensors are used to monitor the conditions of fuels, hydraulic oils, refrigerants, and temperature. The torque and force in the actuation and braking systems of the flight controls are measured by vibration and force sensors. For the goal of crucial measurement for flight and engine control systems, propulsion and space sensors are employed.
Report Scope of the Aircraft Sensors Market:
| | |
| --- | --- |
| Report Coverage | Details |
| Market Size in 2023 | USD 6.50 Billion |
| Market Size by 2032 | USD 14.94 Billion |
| Growth Rate from 2023 to 2032 | CAGR of 9.68% |
| Largest Market | North America |
| Base Year | 2022 |
| Forecast Period | 2023 to 2032 |
| Segments Covered | By Aircraft Type and By Sensor Type |
| Regions Covered | North America, Europe, Asia-Pacific, Latin America, and Middle East & Africa |

Market Dynamics:
Driver:
Growing adoption of more electric aircraft
The development of more electric aircraft (MEA) is receiving more attention, which has prompted aircraft OEMs to work with suppliers to design and create new electric-intensive aircraft architecture more quickly. In the Aircraft Sensors, the MEA idea plays a crucial role as an enabler and offers enormous possibilities for lighter aircraft, more fuel-efficient engines, lower operating costs due to lower maintenance expenses, and higher aircraft reliability. While hydraulic, pneumatic, and mechanical power sources currently power non-propulsive systems, the MEA concept offers a motivation to use electricity in these conventional systems.
Additionally, electrical actuators are more efficient (around 80%) than their hydraulic counterparts because they use a more effective motor, which eliminates the problem of heating and reduces the possibility of component damage. The usage of electrical actuation systems is safer and more environmentally friendly than that of conventional actuators, which use hydraulic fluids that, when heated to high temperatures, can burn the skin and contaminate or infect people. As a result, there is a growing need for electrical sensor solutions, which in turn is driving the market for Aircraft Sensors.
Ongoing digitalization and adoption of IoT
The networking of physical objects with the use of devices, such as sensors and actuators, allowing the transfer of information within the network, is known as the Internet of Things (IoT). The use of IoT in aviation provides numerous opportunities to improve automation and operational effectiveness across a range of aircraft activities. IoT makes it possible to combine numerous actuators with different capabilities into a network so that they may communicate with one another and carry out a variety of tasks that would otherwise be impossible for each type of actuator to carry out on its own.
During the forecast period, analytics is anticipated to have a significant impact on aircraft design, production, and maintenance. IoT technology is currently being used in airplane engines by Pratt & Whitney (a United Technologies Group company) to increase their effectiveness. However, IoT can be applied to electrical appliances (like actuators) to make it simple for them to talk to each other and move in unison. The growing application scope of actuators in IoT for these applications is anticipated to drive up demand for actuators throughout the projected period because IoT offers aviation applications the chance to improve automation in these areas.
Restraints:
Absence of highly qualified personnel in the sector
As the use of real-time analytical solutions, particularly "Big Data" analytics, has recently increased, a workforce with analytical abilities is now necessary. Lack of competent labor could slow the overall aviation passenger traffic's explosive expansion. The expansion of the aviation analytics market is also restricted by a lack of experienced personnel, which is a key obstacle to current data and analytics initiatives despite the rise in data usage and consumption. It is challenging to integrate traditional and contemporary aircraft equipment, and it takes significant financial and technical effort. New gadgets can have various protocols that make them challenging to adopt. Due to a lack of adequate analytical capabilities, integrating old data systems with modern technology takes time and effort and may divert a company from its main business operations.
Opportunities:
Large-scale data production in the aviation sector
The amount of data used in the aviation industry is substantial and difficult to manage and evaluate. The FAA's Air Traffic Organization (ATO) manages over 2.8 million airline passengers and more than 50,000 flights per day across more than 30 million square miles of airspace. More than 2.5 million characteristics are gathered by sensors on a single airplane, with engine data being one of the most important. Any business decision requires access to these enormous amounts of data.
Technological advancements
According to International Air Transport Association (IATA) study, airline-controlled operations like maintenance are the primary factor in delayed flights (42%). The need for aviation analytics is anticipated to increase as a result of ongoing technological developments made by industry participants to raise productivity and customer satisfaction. For instance, the development of IoT affects maintenance and safety, enabling airlines to fly their planes for longer periods of time with fewer stops at the airport. Moreover, cloud computing is another significant recent development in technology. IT providers can remotely give resources to an airline in accordance with their needs by utilizing cloud computing. Mobile gadgets are another emerging invention that could have a significant impact on services.
These gadgets, along with aviation analytics, enable for the delivery of auxiliary services such as luggage fees, on-board meals, and other related items. Throughout the projection period, the market will have opportunities due to these technological breakthroughs. Also, it is projected that advances by important players like OAG Aviation Worldwide Limited, Accelya, GE and others will increase demand for an aviation analytics industry. For instance, OAG Aviation Global Limited introduced Flight Info Alerts in November 2021, a new detection and alerting solution that sends real-time updates to flight schedules. Moreover, SAS Institute Inc. and Raleigh-Durham International Airport worked together to create a considerably better passenger projection.
Impact of COVID-19:
The Boeing Company and Airbus SAS's reduction in production and delivery until April 2020 has had a significant negative influence on the market's overall growth. The manufacture of the sensor units was impeded by the aviation sensors' entire supply chain. By 2021, the market is anticipated to stabilize. Additionally, COVID-19 has affected many OEMs' R&D and manufacturing operations. Although there was a brief disruption in the rollouts and delivery systems for the industry participants. Additionally, the COVID-19 pandemic in 2020 decreased flight activity and negatively impacted airline cash flows by affecting air traveler traffic around the world. Thus, the majority of airlines made the decision to postpone or cancel their aircraft orders. As the pandemic reduced the demand for new aircraft, commercial aircraft OEMs reduced their production rates. However, a gradual recovery in the commercial aviation sector in 2021 resulted in a marked increase in aircraft deliveries compared to 2020. In contrast to the 722 aircraft delivered in 2020, Airbus and Boeing together delivered 950 aircraft in 2021.
Segments Insight:
Type Insights:
The flight control system, power generation, fuel management system & gearbox system, landing gear & braking system, firing or weapon control system and aircraft health monitoring system are the systems by which the aircraft actuator market is divided. The market's largest segment was anticipated to be the power generation and gearbox system and flight control system. Due to the benefits of lightweight aircraft and better reliability and efficiency, the market will grow as EMAs and EHAs are increasingly being used in surface control systems. During the forecast period, the passenger comfort segment is anticipated to grow at the fastest rate. Due to the rise in demand for comfort, safety, and luxury associated with air travel, there is a greater need for passenger comfort.
Sensor Insights:
The aviation sector is constantly looking to incorporate technologies that will lower maintenance and operation expenses. By lowering weight and design complexity, the use of wireless sensor networks in aircraft structural health monitoring would be advantageous to aircraft operators. As a direct result of all these advantages, maintenance and operating expenses are reduced, generating more money for aircraft operators. Wireless sensors also increase the efficiency of data collecting since they enable the connection of several data acquisition units without the need for additional gear. Several projects are currently in progress to examine whether wireless sensor networks are more practical than wired sensor systems. The Flite Instrumentation Test for Wireless Sensors (FLITE-WISE) project, funded by Europe, aims to test the viability of radio interface technology-based wireless sensor networks (WSN). With the efficacy of wireless technology over wired solutions improving and awareness of the advantages of WSN in aviation maintenance and monitoring growing, wireless sensors are predicted to experience rapid growth in the near future.
Due to its growing use in aircraft applications, the proximity sensor market is anticipated to have significant revenue growth. Proximity sensors are perfect for use in airplanes because they can detect the presence or absence of close items without making direct touch, which is risky for crucial components. Applications for proximity sensors in airplanes include, among others, engine control systems, obstacle detection systems, and landing gear systems. In the anticipated period, temperature sensors will grow at the fastest rate. Fuel temperatures, outdoor air temperatures, cabin temperatures, cargo temperatures, and turbine intake temperatures are all applications where temperature sensors are frequently employed.
Precision air data measures are now required for safety and optimum performance due to rising air traffic, rising operational expenses, and increasing performance demands. So, for an aircraft to operate efficiently, total temperature measurement must be accurate and reliable.
Regional Insights:
Due to the rise in air travel as well as the presence of important aircraft and sensor manufacturers in the region, the Aircraft Sensor Market in North America is anticipated to expand at a rate that is above average. The expansion of the aforementioned market in the area has also been aided by this aspect.
Due to the existence of aviation engine producers in the area and their connections with numerous aircraft manufacturers, the European market also has significant potential for the expansion of the aforementioned industry. Furthermore, China is a key player in the market in Asia Pacific thanks to its own commercial aircraft, which lowers import costs, as well as the establishment of its own engine manufacturing facility, which boosts the development of the aircraft sensor market. The Middle East and Africa region's market is expected to expand in the next years as a result of numerous new aircraft orders placed by important carriers.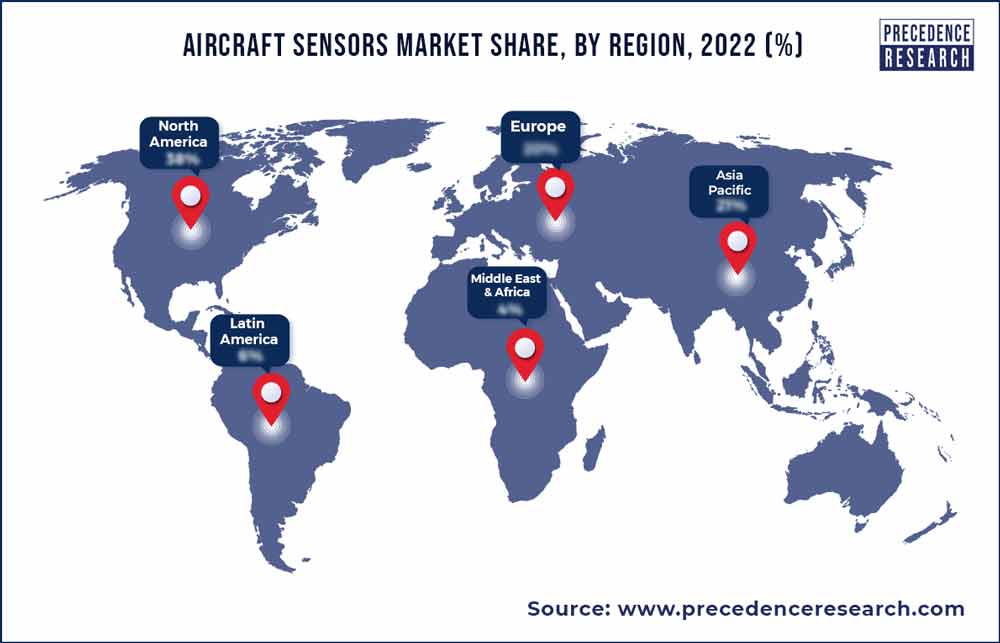 The U.S. is the world's biggest market for aerospace engineering. One of the industries that contribute most to the American manufacturing sector is aircraft engineering. The aerospace sector employs 3% of all manufacturing workers in the United States, hence the government pays close attention to it. Additionally, the United States is the biggest producer and exporter of commercial aircraft. The UK, France, Germany, Japan, and other countries are important markets for American aircraft producers. However, due to the growing number of air travelers in these nations, Asian nations—including India, China, and Southeast Asian nations—are anticipated to be the main market for aircraft manufacturers.
Recent Developments:
The next generation of inertial sensor technology will be developed by Honeywell with support from the US Defense Advanced Research Projects Agency (DARPA) and will be applicable to both commercial and military navigation applications.
The installation of Teledyne Controls, LLC's new, advanced Aircraft Cabin Environment Sensor (ACES) on Boeing 737 aircraft was given FAA Supplemental Type Certification (STC) certification in March 2021.
The U.S. Special Operations Command (SOCOM) awarded L3Harris Technologies a contract of US$ 96.4 Mn in May 2021 for updating military rotary wing aircraft's forward-looking infrared equipment.
The "black box in the sky" concept, which Honeywell and Curtiss-Wright created in April 2019, gives airlines and other customers ongoing access to crucial flight data and cockpit voice information, even when the aircraft is in flight. This is made feasible via a satellite communications system link that offers a round-the-clock connectivity between the aircraft and a data center on the ground. Airlines and investigators may instantly access the data in the event of an incident, eliminating the need for them to wait for the recorders to be discovered and allowing them to address the issue before an accident may occur. Several tests will be conducted before this technology is implemented in 2021.
Market Key Player:
Honeywell International Inc.
TE Connectivity
United Technologies Corporation
Safran Inc.
Meggitt PLC
Curtiss-Wright Corporation
Esterline Technologies Corporation
Thales Group
Raytheon Company General Electric
Eaton Corporation
Crane Aerospace & Electronics
Stellar Technology
Custom Control Sensors LLC
Brunswick Corporation
Segment Covered in the Report:
(Note*: We offer report based on sub segments as well. Kindly, let us know if you are interested)
By Aircraft Type
Commercial
Business Aircraft
Military Aircraft
By Sensor Type
Temperature
Pressure
Position
Flow
Torque
Radar
Accelerometer
Proximity
Other Sensor Types
By Geography
North America
Europe
Asia-Pacific
Latin America
Middle East and Africa