The global electric aircraft market size was valued at USD 7.91 billion in 2022 and it is expected to hit USD 50.86 billion by 2032 with a noteworthy CAGR of 20.6% from 2023 to 2032.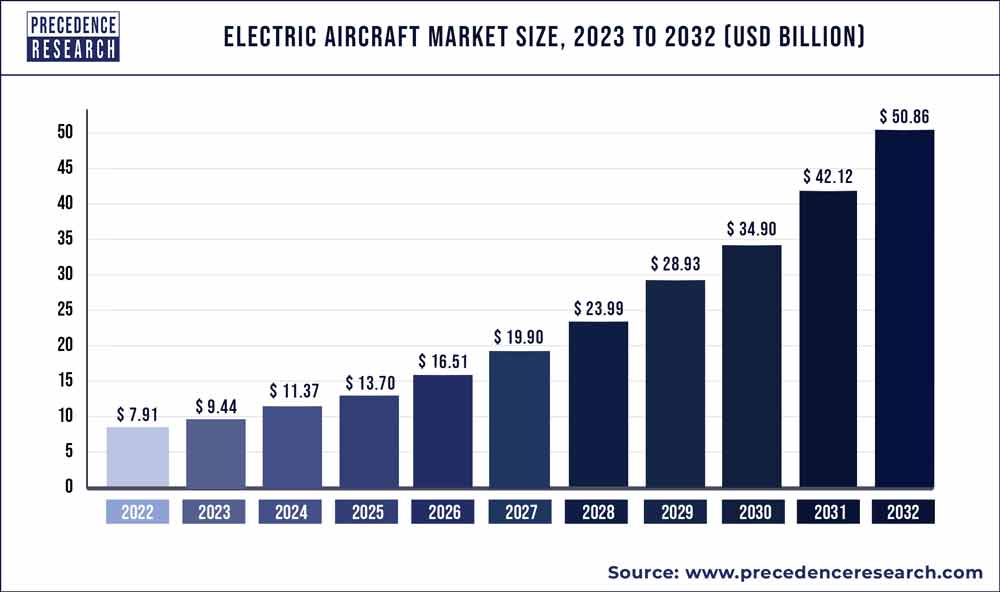 Access our Premium Real Time Data Intelligence Tool, Visit: Precedence Statistics
Key Takeaway
Light and ultralight aircraft segment will generate 40.1% revenue share in 2032.
Battries segment will lead the market and projected to reach 35.6% revenue share in 2032.
Fixed wing segment will account revenue share of 46% in 2032.
eVTOL segment will capture 58.25% revenue share in 2032.
Military segment will generate 45.1% of global revenue share in 2032.
North America region will capture 43% revenue share in 2032.
Growth Factors
The airplane needs large amount of fuel and gasoline. This results into high cost for aviation industry to manufacture airplanes. This factor is driving the adoption and acceptance of electric airplane on a large scale. In addition, the growing preference technologically advanced products is aiding the growth of the global electric aircraft market.
The growing environmental concerns are also helping to drive the electric aircraft market growth. The use of electric aircraft helps in the reduction of pollution levels. This also results in decline of adverse effects of global warming. Additionally, the electric aircraft is regarded as eco-friendly solution for the environment. The government of developed and developing regions is also taking efforts in order to curb effects of carbon emissions and greenhouse gases emissions. This factor is supporting the growth and development of the global electric aircraft market over the forecast period.
Another factor that is propelling the growth of the global electric aircraft market is technological developments in the aviation industry. The aircraft are being manufactured with the help of various technologies. The electric aircrafts are being deployed with the autonomous systems. Some of the electric aircrafts are also being utilized in military and defense sectors. These factors are spurring the expansion of the electric aircraft market globally.
Report Scope of the Electric Aircraft Market
| | |
| --- | --- |
| Report Coverage | Details |
| Market Size by 2032 | USD 50.86 Billion |
| Growth Rate from 2023 to 2032 | CAGR of 20.6% |
| Largest Market | North America |
| Fastest Growing Market | Europe |
| Base Year | 2022 |
| Forecast Period | 2023 to 2032 |
| Segments Covered | Platform, System, Type, Technology, Application, Range, Geography |
| Companies Mentioned | Pipistrel Group, Airbus, Bye Aerospace, Aerospace Limited, Yuneec Holding Limited, Leonardo S.p.A., Faradair Aerospace Limited, Boeing, Digisky S.R.L., Groupe Gorge |
The rising disposable income and rapid urbanization is increasing the number of passengers for airlines. This surge in number of passengers is resulting in to the adoption of advanced technology and innovative aircrafts. The rapid growth in economies is also resulting into the growth of the electric aircraft market over the projected period. In addition, the growing sales of electric aircraft through original equipment manufacturers (OEMs) are boosting the growth of the electric aircraft market.
The government of Europe and North America regions is constantly working for the installation and implementation of electric aircraft. The government is launching new development programs for this. The original equipment manufacturers (OEMs) have started deploying electric motors and batteries on large scale. The utilization of these devices is cost effective in nature as compared to traditional devices.
On the other hand, the biggest challenge that aviation industry and electric aircraft manufacturers face is the development of high-density batteries. Till now, the manufacturers are not able to develop batteries which can run for long distance. The batteries do not have long shelf life, which is restricting the electric aircraft market growth.
Market Drivers
Rising Concern Regarding Environment
With most aircraft powered with jet gasoline, the aviation sector accounts for nearly 2.5% of global CO2 emissions. The European Commission estimates that by 2050, the demand for air transport will increase aviation's greenhouse gas (GHG) emissions by approximately 300% compared to 2005 levels if no drastic steps are adopted to control GHG emissions.
In 2019, the top 5 nations with respect to passenger aviation-related carbon emissions were the U.S., China, Japan, the United Kingdom, and Germany. Flights departing from airports in the U.S. and its territories emitted approximately 23% of global passenger transport-related CO2 in 2019, 2/3rd of which was from domestic flights. By emitting nearly 19% of the global passenger transport- related CO2 in 2019, the 28 countries of the European Union (EU) collectively stood 2nd behind the United States. In 2022, Japan's CO2 emissions due to international aviation accounted for around 9.89 million tons. This count is considerably high as compared to 8.85 million tons of CO2 emitted in the previous year of 2021.
The aviation sector is aiming to achieve net-zero carbon emissions by 2050. Various governments are working on the required measures to curtail aviation emissions. In October 2022, the United Nations' International Civil Aviation Organization (ICAO) had 2 weeks of negotiations with 184 countries for agreement on CO2 emissions reduction measures. In July 2020, the Environmental Protection Agency (EPA) proposed greenhouse gas emission standards for new commercial aircraft, which will also be applicable to all large passenger jets. As compared with the levels in 2020, the aviation sector of China has planned to decrease carbon emissions per ton-km by 4.5% by 2025. Qantas Airways Ltd has decided to decrease carbon emissions by nearly 25% by 2030. Thus, rising emissions in the aviation sector and respective initiatives to curb them drive the demand for electric aircraft significantly all over the world.
Growing Air Traffic across the World
The growth in air traffic is majorly attributable to the rise in domestic air travel across developed as well as developing countries. In 2022, airlines in the United States carried about 688 million passengers on domestic flights across the country. This count was a crucial rise from 612 million domestic passengers carried by US airlines in 2021. Domestic airlines in India carried 123.245 million passengers from January 2022 to December 2022. This count is a drastic increase (47.05%) from 83.814 million passengers carried in the previous year of 2021.
As per the data released by the U.S. Bureau of Economics, Disposable Personal Income (DPI) grew by $2.13 trillion and personal income increased by $1.97 trillion (10.5%) in April 2020. With increasing disposable income and enhancing the tourism sector, the count of air travelers is rising rapidly across various countries of the world.
In 2022, Dubai received about 14.36 million international overnight visitors. This count is a 97% year-on-year (Y-o-Y) rise as compared to 7.28 million tourist arrivals in 2021. As per the World Tourism Organization, a specialized agency of the United Nations, the arrival of tourists in Maldives in January 2021 stood at 92,103. This count grew to 99,397 by 3rd February 2021. The rising count of tourists is creating immense scope for the aviation sector.
Owing to short vacation trips, demand for electric short take-off and landing (eSTOL) aircraft is predicted to increase promisingly. In June 2021, as per a press release by Airflow, Ravn Alaska ordered 50 eSTOL aircraft with a total order book value of $200 million. Order for various eSTOL aircraft is contributing prominently to the electric aircraft market growth from the supply side. Thus, the demand for electric aircraft is estimated to be driven by a growing count of air passengers all over the world.
Increasing Investment in Electric Aviation
In January 2023, U.S. Air Force selected Electra Aero, Inc. for a Strategic Funding Partnership valued at $85 million to develop electric short takeoff and landing (eSTOL) aircraft. This Strategic Funding Partnership involves the development of a full-scale pre-production prototype of eSTOL aircraft. The funding will come from government contribution, private investment, and matching Small Business Innovation Research (SBIR) funding. In August 2020, the Department of Energy (DOE) announced funding of $33 Million for Carbon Neutral Hybrid Electric Aviation. In January 2023, Dovetail Electric Aviation was awarded a grant of A$3 million ($2 million) from the government of Australia for converting turbine-powered aircraft to electric-powered aircraft.
In July 2022, Hydrogen-electric plane developer ZeroAvia reported that it obtained additional funding of $30 million. ZeroAvia's Series B funding round totaled $68 million, which is used for getting its 40 to 80-seat planes into operation by 2026. In May 2021, Electric aviation startup Beta Technologies raised a Series A funding of $368 million for its electric aviation ecosystem. In January 2023, Edham Nurredin Husic, Australian Minister for Industry, Science and Technology announced the release of grants worth $44 million to assist Australian companies in various research projects involving electric aviation. In November 2021, Rory Roberts, associate professor of mechanical engineering at Tennessee Tech, got a federal grant of $1.6 million for electric aviation research.
In December 2021, the Federal Aviation Administration (FAA) awarded a grant of $625,000 to researchers at Embry-Riddle Aeronautical University for enhancing the safety of a new class of electric propulsion-powered aircraft. Thus, increasing investment and funding for research and development (R&D) of electric aircraft enhances the electric aircraft market growth remarkably.
Growing Inclination towards Air Taxi
The requirement for air taxis as on-demand aerial transport vehicles is increasing considerably for commuting passengers over shorter distances. In the initial phase of the operation of the air taxis, stakeholders are focusing more on pilot-driven air taxi services. In February 2023, Blade Air Mobility and BETA Technologies announced that they have tested the first all-electric air taxi or eVTOL successfully around greater New York. This electric air taxi, ALIA-250 EVA is offered in 2 versions, one for transporting cargo and the other for passengers. Both versions feature a 50-minute charging time and are powered with distributed direct-drive electric propulsion with 250 nautical miles of range.
On the basis of range, air taxis can be segmented into intercity (100 kilometers to 400 Kilometers) and intracity (20 kilometers to 100 Kilometers). In June 2022, the European Union Aviation Safety Agency (EASA) published regulations and rules for the operation of air taxis in cities. Regulations from concerned authorities help manufacturers develop air taxis with enhanced safety features. Further in 2021, Federal Aviation Administration (FAA) collaborated with the National Aeronautics and Space Administration (NASA) for Advanced Air Mobility National Campaign. This collaboration is intended to promote awareness regarding new-age air transportation services such as air taxis in suburban, urban, regional, and rural environments.
In February 2023, a startup from IIT Madras developed an electric flying taxi prototype that can ferry passengers more quickly as compared with a helicopter. The prototype is an electric vertical takeoff and landing (eVOTL) model and provides a range of about 200 km on one full charge. In September 2022, United Airlines decided to invest $15 million in Eve Air Mobility, an aviation startup owned by Embraer. As part of this deal, United Airlines will buy 200 electric air taxis from Eve Air Mobility. These 200 electric air taxis have a seating capacity of 4 passengers and can land and take off vertically like a helicopter. Thus, increasing investment, rising research and development (R&D) activities, and growing awareness regarding air mobility are drastically driving the demand for electric air taxis all over the world.
Market Restraints
Inadequate Infrastructure and High Costs
The high production, as well as maintenance costs of eVTOLs, are affecting the initial rollout due to uncertainty about total expenditure. Most of the production cost is associated with the procurement of new materials essential for creating efficient and lightweight electric aircraft. In 2019, Uber calculated that the production cost can reach up to $1.2 million per 4-seater air taxi. Another significant factor affecting the growth of the electric aircraft market is the high cost associated with the respective technology. Electric aircraft technology is still relatively new in the aviation sector and hence every manufacturer is not able to afford it.
Most of the countries in the Asia Pacific (APAC) and the African region are in the developing stage and are not as developed as the countries in the West. Hence, these countries lack the charging infrastructure to power electric aircraft batteries. The power grid and maintenance facilities required for electric aircraft are developing at a slow rate.
Even in the United Kingdom (UK), with a limited count of aircraft along with a lack of suitable charging stations, vertiports, and airspace accommodations, the initial rollout of air taxi services is getting hampered considerably. Since electric air mobility is in the developing stage and has not become commercially viable, the required infrastructure is developing at a very slow pace. All the mentioned factors are restraining the electric aircraft market growth to a notable extent.
Limitations with Electric Aircraft Battery
Considering commercial electric air transport viability, the battery technology required for electric aircraft is in the initial phase. Electric vertical take-off and landing eVTOL aircraft tend to have distinct battery limitations. eVTOLs need high-power cell discharging and extremely fast charging capabilities. Owing to high load conditions at the beginning and end of flights, electric aircraft batteries need very careful thermal management. Considering the weight, size, and power, the unavailability of an energy-dense battery that is small and light is acting as a crucial restraining factor. Due to this restraining factor, many manufacturers have planned to go with a hybrid alternative that provides access to energy-dense fuel.
For protecting the electric aircraft from potential battery failures, developers are finding it difficult to include containment and propagation mechanisms for safeguarding the battery from damaging itself. The weight of batteries needed for powering an electric aircraft is still too high. This decreases the range and payload capacity of the aircraft.
Most of the commercially available batteries lie in the range of 150-250 Wh/kg, but commercial airline applications have power requirements in the range of 450-500 Wh/kg. Heart Aerospace's plane which is powered with over 5 tons of onboard lithium-ion batteries is able to fly only 124 miles on one charge. Hence, such planes cannot be used for long international travel. Lithium batteries can also cause short circuits very easily, produce dangerous heat levels, and cause inextinguishable fires. This is the reason why renowned aviation authorities, including those in the United States, banned lithium-ion batteries when traveling. Thus, all the mentioned limitations with electric aircraft batteries restrain the market growth to a considerable extent.
Market Opportunity
Growing Application in Logistics
Airlines transport more than 52 million metric tons of goods every year. As per International Air Transport Association (IATA), nearly 90% of cargo in international trade is shipped via sea route and only around 0.5% is transported by air. But this transport by air cargo translates to approximately 35% of world trade by value or about $6 trillion in value. With a growing demand for international products, the requirement for an efficient and safe air service is expected to grow enormously in the coming years.
Air freight is playing a significant role in shipping temperature-sensitive medications in the finest condition. Considering temperature- sensitive space and fast delivery speeds in aircraft, vaccines are generally shipped by air.
As per World Health Organization (WHO)s, vaccination programs help in preventing over 3 million child deaths every year. As per Seabury Group, about 0.5 million tons of pharmaceutical products are shipped by air each year. In 2020, Amazon Air transported 100,000 thermometers, 29 million face masks, and 3 million gloves. All these products were distributed to employees in Europe amidst the pandemic of COVID-19. Hence, the transport of medications by air can create a considerable scope for electric aircraft in near future.
In November 2020, the Indian Union Ministry of Food Processing Industries (MoFPI) announced an air transportation subsidy of 50% for 41 notified vegetables and fruits from the North-eastern and Himalayan states to any location in India. In January 2023, E-commerce giant Amazon launched its cargo service 'Amazon Air' in India with 2 cargo aircraft having a capacity of 20,000 packages. The rising e- commerce shipments is expected to create significant opportunities for electric aircraft.
Segments Insights
Platform Insights
The light and ultralight aircraft segment dominated the electric aircraft market in 2022. The demand for light and ultralight aircrafts is rising at a rapid pace. This is attributed to the modernization of aircrafts and technological advancements and product innovation in the electric aircraft market. In addition, the light and ultralight aircraft are easy to drive. Furthermore, the rising recreational activities are also driving the growth of the light and ultralight aircraft segment.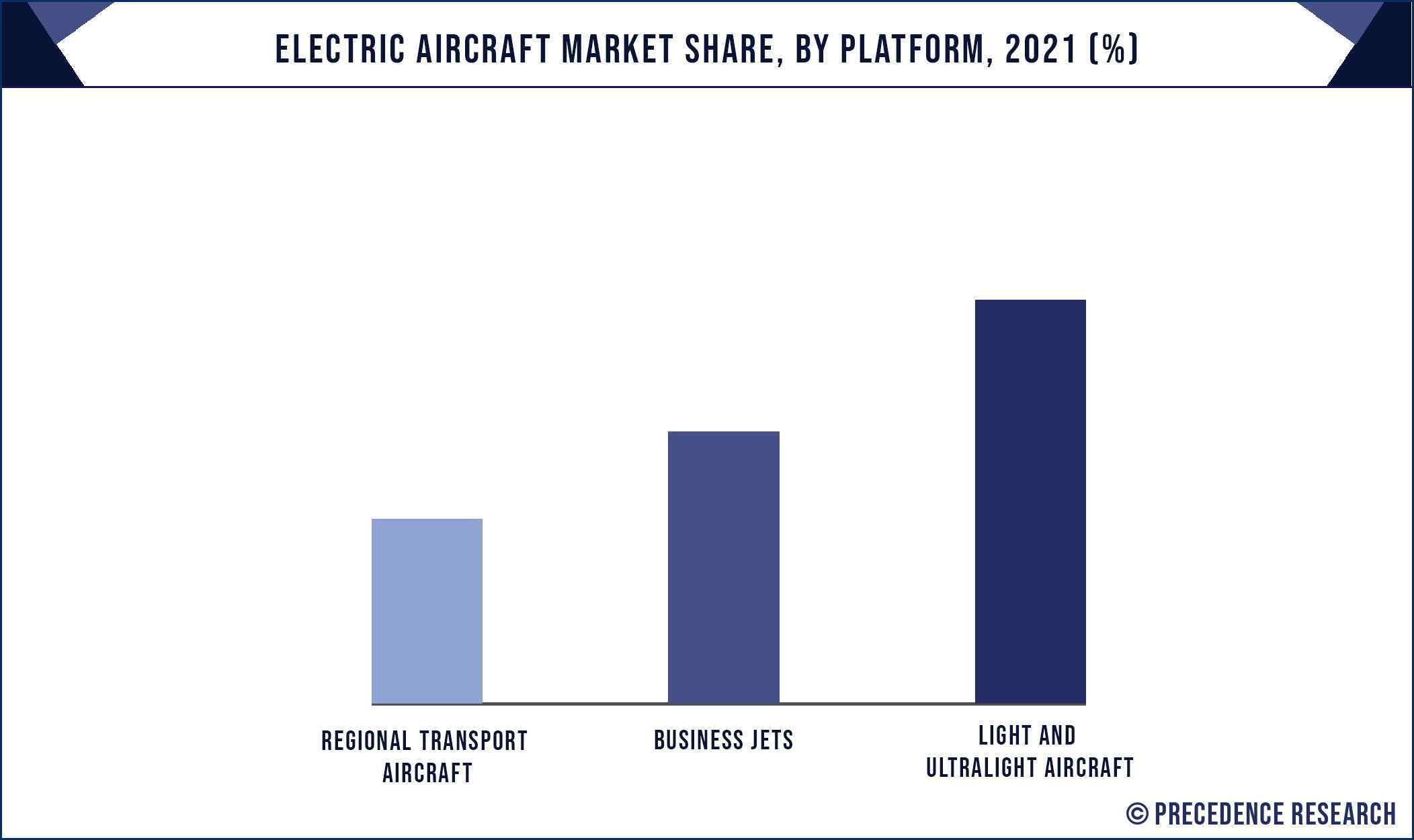 The business jets segment is fastest growing segment of the electric aircraft market in 2022. The growing tourism sector is contributing towards the growth of the segment. This is attributed to the growing number of people with high net worth and the launch of programs for business jets. In addition, the business jets are mostly used by businessmen to travel within a region to save time.
System Insights
The electric motors segment accounted largest revenue share in 2022. The growth of the segment is attributed to various benefits provided by electric motors. Those benefits are high performance and low cost of operations and maintenance. The electric motors are more efficient and effective in nature as compared to traditional motors.
The batteries segment is fastest growing segment during the forecast period. The aircraft batteries use two kind of materials which are common in nature. Those two types of materials are nickel cadmium and lead acid batteries. These batteries are advanced batteries with several features such as large capacity to store energy and wide range of sizes. In addition, batteries have long shelf life.
Technology Insights
The VTOL segment led the electric aircraft market in 2022. The vertical takes off and landing (VTOL) aircraft lands vertically without landing through runway. This type of aircrafts is fully autonomous in nature. The vertical takes off and landing (VTOL) aircraft are deployed with batteries and electric motors instead of fuel-based motors. The vertical takes off and landing (VTOL) aircraft are cost effective in nature.
The STOL segment is fastest growing segment during the forecast period. The short take off and landing (STOL) aircraft are used on short runways. The short take-off and landing (STOL) aircraft needs distinctive ports. That's the reason short take-off and landing (STOL) aircraft is also used for defense and military areas.
Region Insights
North America accounted largest revenue share in 2022 owing to growing environmental concerns combined with increasing government initiatives are driving the growth of the electric aircraft market. In addition, the people or business owners in the North America region are using business jets for traveling on a large scale. This factor is also driving the growth of the electric aircraft market in North America region.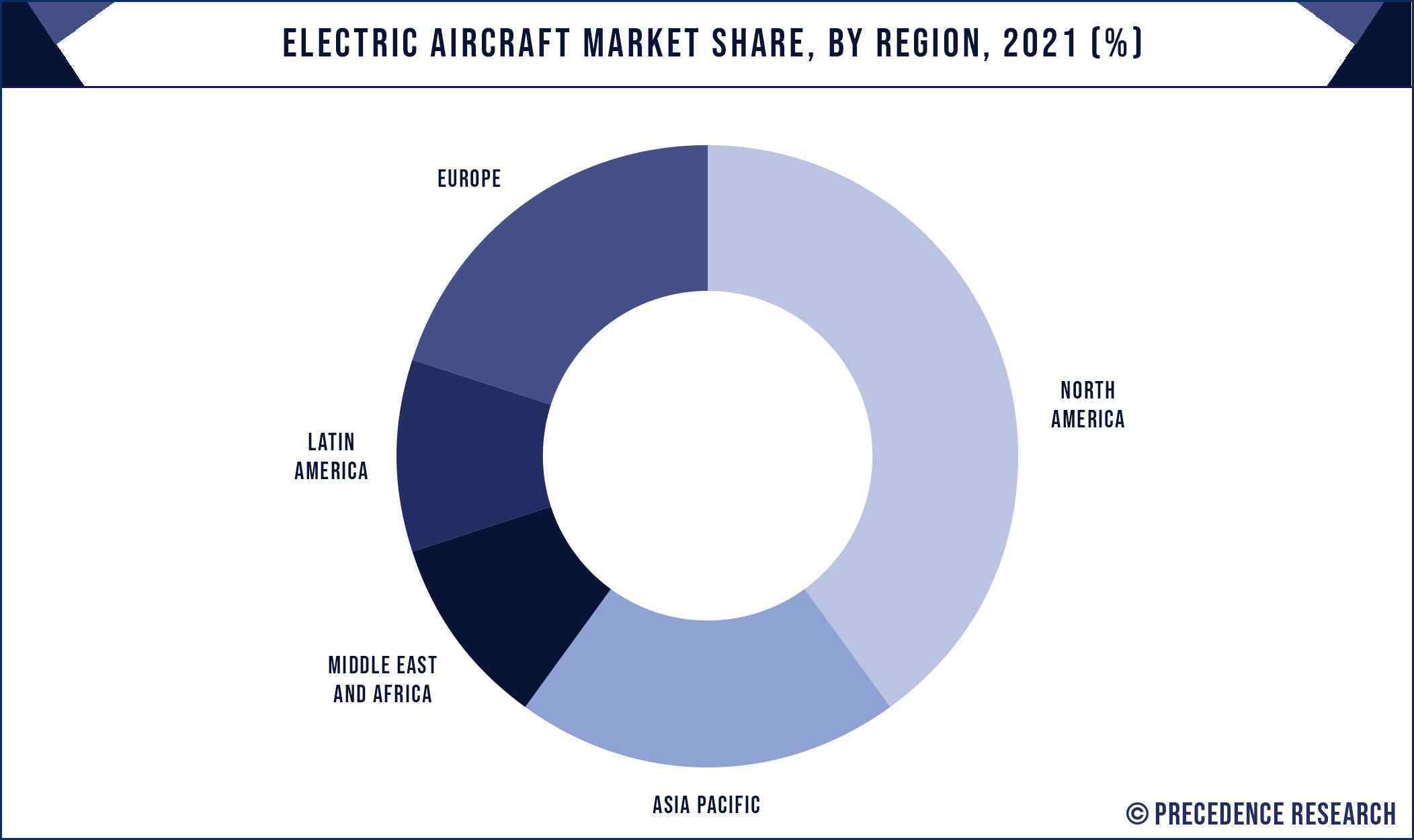 Europe is expected to develop at the fastest rate during the forecast period. The UK dominates the electric aircraft market in Europe region. The electric aircraft market in Europe is being driven by the existence of major market players. In addition, the people in this region can afford to travel with business jets, which is propelling the demand for electric aircraft in Europe region. Furthermore, favorable government policies are contributing towards the market growth.
Key Developments
Airbus declared in April 2021 that it plans to replace the mechanical rudder controls on the A320 neo series of aircraft with a full electric rudder system by 2024. The change will take place around the same time as the long range A321XLR, which is being designed with the E-rudder design in mind.
Archer Aviation Inc., a U.S. based aircraft manufacturer said in August 2021 that it would collaborate with REEF, North America's largest mobility hub operator. They would draw up blueprints for landing and takeoff locations in cities. Archer will build vertiports and REEF will provide access to suitable urban sites. Archer would set up shop in places close to high traffic city hubs, maximizing profits from the company's planned urban air mobility network.
Some of the prominent players in the global electric aircraft market include:
Pipistrel Group
Airbus
Bye Aerospace
Aerospace Limited
Yuneec Holding Limited
Leonardo S.p.A.
Faradair Aerospace Limited
Boeing
Digisky S.R.L.
Groupe Gorge
Segments Covered in the Report
(Note*: We offer report based on sub segments as well. Kindly, let us know if you are interested)
By Platform
Regional Transport Aircraft
Business Jets
Light and Ultralight Aircraft
By System
Batteries
Electric Motors
Aerostructures
Avionics
Software
Others
By Type
Fixed Wing
Rotary Wing
Hybrid Wing
By Technology
By Application
By Range
Less than 500 KM
More than 500 KM
By Geography
North America
Europe
Asia-Pacific

China
India
Japan
South Korea
Malaysia
Philippines

Latin America

Brazil
Rest of Latin America

Middle East & Africa (MEA)

GCC
North Africa
South Africa
Rest of the Middle East & Africa