The global alkanes market size was estimated at USD 11.2 billion in 2022 and is anticipated to reach around USD 16.66 billion by 2032, poised to grow at a CAGR of 4.1% during the forecast period from 2023 to 2032.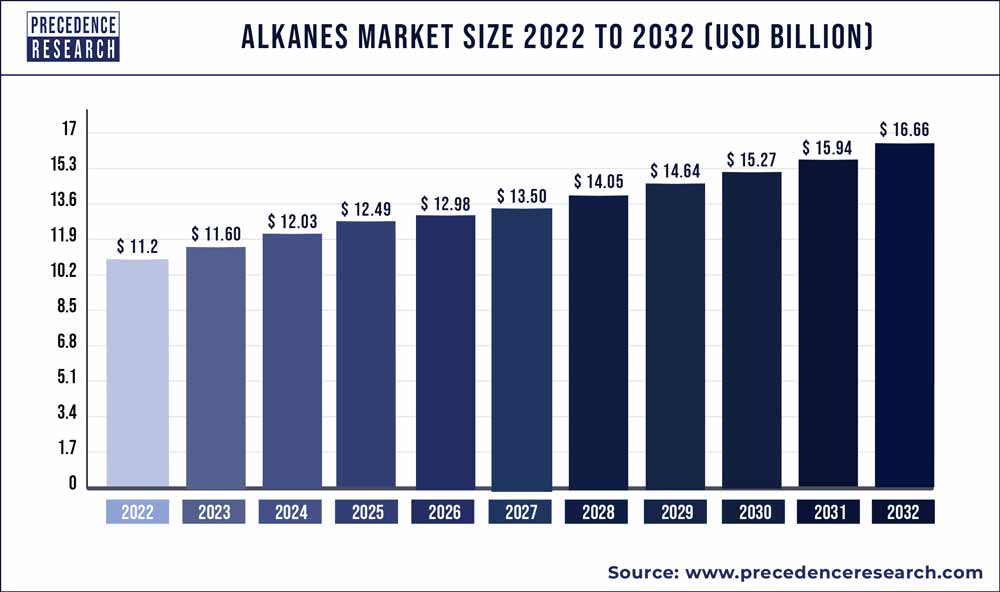 Access our Premium Real Time Data Intelligence Tool, Visit: Precedence Statistics
Key Takeaways
By Region, North America contributed more than 40% of revenue share in the alkanes market in 2022. Whereas Asia-Pacific is estimated to expand the fastest CAGR between 2023 and 2032.
By Product, the saturated alkanes segment has held the largest market share of 54% in 2022. Whereas the unsaturated alkanes segment is anticipated to grow at a remarkable CAGR of 7.2% between 2023 and 2032.
By Type, the linear alkanes segment generated over 38% of revenue share in 2022. On the other hand, the acyclic alkanes segment is expected to expand at the fastest CAGR over the projected period.
By Application, the chemicals and petrochemicals segment had the largest market share of 42% in 2022. Whereas the polymers and plastics segment is expected to expand at the fastest CAGR over the projected period.
Alkanes Market Overview
The alkanes market primarily deals with a group of hydrocarbons that are saturated and linear in structure, consisting of carbon and hydrogen atoms. These compounds have various applications across industries, including chemicals and petrochemicals, pharmaceuticals, cosmetics, polymers and plastics, and more. Saturated alkanes have single carbon-carbon bonds and find use as feedstock for various chemical processes.
Isomeric and branched alkanes offer unique properties in different applications. The market's growth is driven by the demand for hydrocarbon-based raw materials and feedstock in various industrial sectors, and it is influenced by factors such as energy needs, industrial production, and technological advancements.
Alkanes Market in the U.S. 2023 To 2032
The U.S. alkanes market size reached USD 2.69 billion in 2022 and is expected to hit USD 4.04 billion by 2032, growing at a CAGR of 4.2% from 2023 to 2032.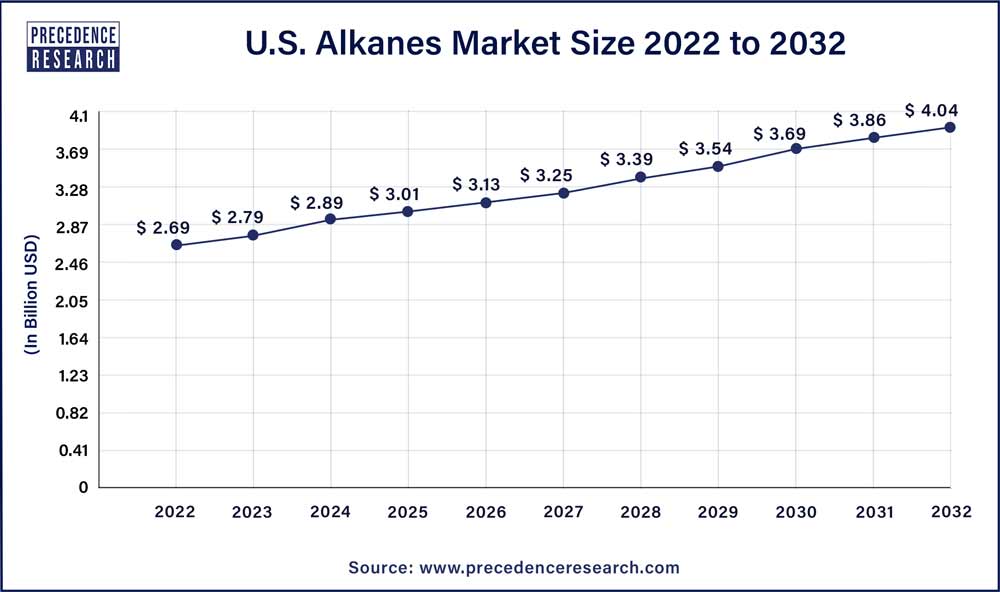 North America has held the largest revenue share of 40% in 2022. The alkanes market in North America is characterized by the prominence of the oil and gas industry. The region's established energy infrastructure and advanced extraction techniques drive substantial production. Recent trends include the growing exploration and production of shale gas, offering abundant sources of alkanes. Additionally, increasing focus on sustainability and transitioning towards cleaner energy sources is impacting the demand for natural gas, a significant component of alkanes.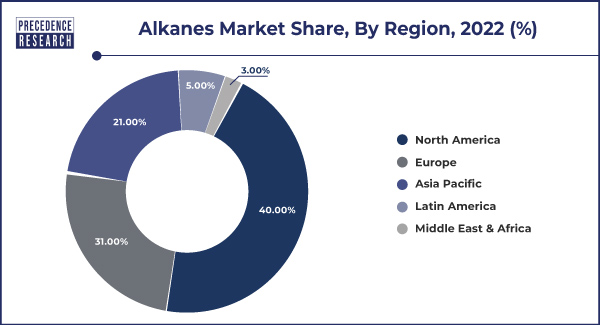 Asia Pacific is estimated to observe the fastest expansion. Asia-Pacific is experiencing a significant surge in the alkanes market, primarily driven by the escalating energy demands of emerging economies. China and India, two prominent countries in the Asia-Pacific, are leading consumers in the alkanes market. Their consumption is bolstered by rapid industrialization and urbanization.
A noteworthy trend in this region is the increasing adoption of natural gas, considered a cleaner alternative to coal for power generation. Moreover, there's a strong focus on research and development initiatives, which aim to enhance extraction methods while prioritizing environmentally sustainable practices. These endeavors are a response to the ever-growing energy and petrochemical needs of the dynamic markets in Asia Pacific.
Growth Factors
The alkanes market is characterized by a range of hydrocarbons with diverse properties, making them crucial for various industries. Alkanes serve as essential feedstock for chemicals, petrochemicals, and pharmaceuticals, contributing to the market's growth.
As primary constituents of fossil fuels, alkanes play a pivotal role in meeting global energy requirements. The industry is experiencing a shift toward sustainable and renewable sources, posing a challenge for traditional alkanes.
Innovations in extraction, purification, and processing methods enhance market efficiency. Increasing environmental concerns are driving the need for cleaner and more sustainable production processes.
Market growth is influenced by global economic factors, geopolitical issues, and energy policies. Alkanes are key components in the production of polymers and plastics, which are in high demand.
Alkanes find applications in the cosmetics and pharmaceutical industries, boosting market growth. The expanding petrochemical sector, especially in Asia, fuels the demand for alkanes.
The market faces supply chain disruptions and geopolitical instability that can affect production and distribution. Companies are investing in R&D to explore new applications and sustainable alternatives for alkanes.
Alkanes Market Scope
| | |
| --- | --- |
| Report Coverage | Details |
| Market Size in 2023 | USD 11.60 Billion |
| Market Size by 2032 | USD 16.66 Billion |
| Growth Rate from 2023 to 2032 | CAGR of 4.1% |
| Largest Market | North America |
| Base Year | 2022 |
| Forecast Period | 2023 to 2032 |
| Segments Covered | By Product, By Type, and By Application |
| Regions Covered | North America, Europe, Asia-Pacific, Latin America, and Middle East & Africa |

Alkanes Market Dynamics
Driver
Plastic & polymer production and expanding petrochemical sector
The alkanes market experiences significant demand driven by two key factors: plastic and polymer production and the expanding petrochemical sector. Alkanes, as crucial components in the production of various types of plastics and polymers, are integral to these industries. The versatile applications of plastics in sectors such as packaging, construction, automotive, and consumer goods drive consistent demand for raw materials like alkanes. As global plastic consumption continues to rise, especially in emerging economies, the demand for alkanes to create polymers and plastics is set to grow steadily.
Moreover, the expanding petrochemical sector relies heavily on alkanes as feedstock. Petrochemical industries, particularly in regions experiencing rapid industrialization, are a major driver of alkane consumption. These industries use alkanes in the production of chemicals, solvents, and other essential materials. As economies develop and demand for chemicals and plastics increases, the alkanes market finds itself in a pivotal position to meet these growing needs. Consequently, the market's growth is closely tied to the robust expansion of the plastic, polymer, and petrochemical sectors.
Restraint
Fluctuating crude oil prices and competition from renewable energy sources
Fluctuating crude oil prices have a significant impact on the alkanes market. Alkanes are predominantly derived from petroleum and natural gas, and their production is highly sensitive to fluctuations in crude oil prices. When crude oil prices rise, the cost of alkane production also increases, affecting their affordability and overall market demand. Conversely, during periods of low oil prices, there can be reduced incentives for energy companies to invest in alkane extraction and production. This price volatility makes it challenging for consumers and industries to predict and manage their expenses, leading to uncertainty in the demand for alkanes.
Moreover, the increasing competition from renewable energy sources presents another restraint to the alkanes market. Renewable energy sources like wind, solar, and hydropower are progressively supplanting conventional fossil fuels across diverse applications. This shift stems from growing environmental consciousness, stricter government regulations, and remarkable technological advancements in the renewable energy sector. As renewables gain traction and become more accessible, they lessen society's reliance on alkanes, presenting a formidable and enduring challenge to sustaining market demand in the context of ever-evolving energy preferences.
Opportunity
Growing demand in emerging economies and research development
The alkanes market is surging in response to the rapid industrialization and urbanization of emerging economies, notably China and India. These regions are experiencing a substantial rise in energy consumption, which directly drives the demand for alkanes. Alkanes, as fundamental components for fuel, chemicals, and plastics production, are integral to meeting the energy and material needs of these burgeoning industrial and urban sectors.
Moreover, these regions are investing in infrastructure development, which requires substantial amounts of plastic materials derived from alkanes. This robust industrial and economic growth in emerging economies propels the global demand for alkanes.
Research and development and continuous advancements in technology and chemistry are driving the discovery of novel ways to synthesize alkanes, expanding their applications and increasing efficiency. For instance, researchers are working on developing green and sustainable production methods for alkanes to meet the growing demand for eco-friendly alternatives.
Furthermore, R&D efforts aim to enhance the overall properties of alkanes, such as their combustion efficiency and compatibility with emerging clean energy technologies. This focus on innovation and technological advancement ensures the steady growth of the alkanes market by broadening its utility in diverse industrial sectors.
Impact of COVID-19
The alkanes market, like many industries, faced the impact of the COVID-19 pandemic. Lockdowns and restrictions on movement disrupted supply chains and hampered industrial activities worldwide. The reduced demand for transportation fuels during lockdowns, coupled with economic uncertainties, led to fluctuations in oil and gas prices. Consequently, this affected the production and pricing of alkanes, which are derived from these hydrocarbons. However, certain segments, like natural gas, found stability as it is essential for power generation and heating.
Moreover, the pandemic spurred innovation in the development of cleaner and more sustainable energy sources, potentially reshaping the future demand for alkanes. As industries worldwide continue to recover and adapt to the ongoing challenges presented by the pandemic, the alkanes market is experiencing shifts in both supply and demand dynamics. These changes will likely persist as the world continues to navigate the long-term effects of the global health crisis.
Product Insights
The saturated alkanes segment held 54% revenue share in 2022. saturated alkanes, also known as paraffins, are hydrocarbons consisting of only single bonds between carbon atoms. These linear or branched alkanes are characterized by their stability and lack of double bonds, making them crucial in applications like fuel and lubricants. In the alkanes market, the demand for saturated alkanes is primarily driven by their extensive use in the production of gasoline and diesel fuel, which is a key component of the global transportation sector.
The unsaturated alkanes segment is anticipated to expand at a significant CAGR of 7.2% during the projected period. Unsaturated alkanes, on the other hand, contain at least one carbon-carbon double bond, introducing reactivity and versatility. Commonly referred to as olefins, these alkanes are instrumental in the production of plastics, synthetic rubber, and chemicals.
Trends in the alkanes market indicate an increasing demand for unsaturated alkanes due to the expanding plastics and petrochemical industries. As these sectors grow, so does the need for feedstock such as ethylene and propylene, both important unsaturated alkanes. This growing demand reflects the ongoing global emphasis on sustainable materials and chemicals, further influencing industry trends in the alkanes market.
Type Insights
Based on the type, the linear alkanes segment is anticipated to hold the largest market share of 38% in 2022. Linear alkanes, also known as n-alkanes, are saturated hydrocarbons with a simple linear carbon chain structure. They are crucial components of many fuels and petrochemical products. In the alkanes market, linear alkanes are witnessing increased demand due to their use as feedstock in various industrial applications, particularly in the production of solvents, detergents, and lubricants.
On the other hand, the acyclic alkanes segment is projected to grow at the fastest rate over the projected period. Acyclic alkanes, on the other hand, are open-chain hydrocarbons that may have branches or substituents in their structure. They are versatile compounds that find application in a range of industries. In the market suggest growing demand for acyclic alkanes due to their utilization in the production of high-performance motor fuels and the increasing emphasis on green and sustainable chemistry practices. These trends reflect the market's responsiveness to environmental concerns and the need for cleaner and more efficient energy solutions.
Application Insights
In 2022, the chemicals & petrochemicals segment had the highest market share of 42% on the basis of the end user. In the alkanes market, the chemicals & petrochemicals sector is a prominent consumer. These chemicals, including ethylene and propylene, play an indispensable role in synthesizing plastics, resins, and a wide range of chemical products.
With the global demand for plastics and chemical goods showing no signs of diminishing, the chemicals & petrochemicals segment stands as a robust driver for the alkanes market. Additionally, there's a growing focus on sustainable practices within this sector, leading to increased demand for renewable and bio-based alkanes as a greener feedstock.
The polymers & plastics segment is anticipated to expand at the fastest rate over the projected period. In the polymers & plastics segment, alkanes are primarily utilized as the building blocks for polymer production. With the increasing demand for plastics in various industries, including packaging, automotive, and construction, the need for alkanes remains strong.
The market trend is shifting towards developing biodegradable and sustainable plastics, which is expected to influence the choice of feedstock. As environmental concerns rise, the industry is exploring alternative sources for alkanes, like bioplastics and recycling, to meet sustainability objectives while maintaining the production levels of polymers and plastics. This transition aligns with the global push for eco-friendly and circular economy practices.
Recent Developments
In 2022, The Chemours Company expanded PFA production at the Fayetteville Works Plant to meet growing demand from the semiconductor industry, enhancing its presence in North America.
In 2022, Gujarat Fluorochemicals announced plans to expand PFA production in India, specifically to cater to the growing demands of the semiconductor and battery industries. This strategic move will significantly enhance the company's presence in India, involving a substantial investment of INR 2500 crore to increase their PFA production capacity by fourfold, alongside other fluoropolymers.
Alkanes Market Players
Royal Dutch Shell PLC
Exxon Mobil Corporation
Chevron Corporation
TotalEnergies SE
Sinopec Group
BP plc
Eni S.p.A.
China National Petroleum Corporation (CNPC)
Gazprom PJSC
Lukoil
ConocoPhillips
Valero Energy Corporation
Marathon Petroleum Corporation
Repsol S.A.
Indian Oil Corporation Limited
Segments Covered in the Report
By Product
Saturated Alkanes
Unsaturated Alkanes
Branched Alkanes
Others
By Type
Linear Alkanes
Isomeric Alkanes
Cycloalkanes
Acyclic Alkanes
Others
By Application
Chemicals & Petrochemicals
Pharmaceuticals
Cosmetics & Personal Care
Polymers & Plastics
Others
By Geography
North America
Europe
Asia-Pacific
Latin America
Middle East and Africa