The global artificial intelligence (AI) in precision medicine market size was estimated at USD 1.74 billion in 2022 and it is expected to hit around USD 16.91 billion by 2032, growing at a CAGR of 25.54% from 2023 to 2032.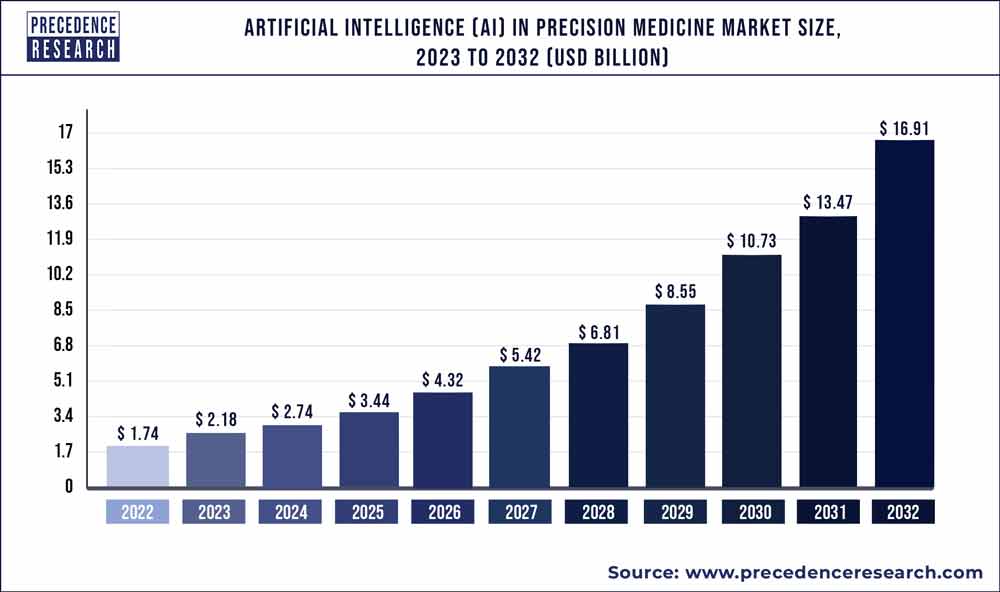 Access our Premium Real Time Data Intelligence Tool, Visit: Precedence Statistics
Key Takeaways:
North America region generated more than 31% of revenue share in 2022.
Europe is predicted to grow at the fastest CAGR between 2023 and 2032.
By technology, the deep learning segment is captured for the maximum revenue share in 2022.
By technology, natural language processing is expected to expand at a remarkable CAGR of 36% from 2023 to 2032.
By component, the software segment led the market and generated more than 56% of the revenue share in 2022.
By component, the service segment is expected to expand at a significant CAGR between 2023 and 2032.
By therapeutic application, the oncology segment led the market and captured more than 31% of the revenue share in 2022.
By therapeutic application, the neurology segment is expected to expand at the fastest rate from 2023 to 2032.
Market Overview:
The ever-increasing need and demand for tailored medications, the growing number of people living with various types of diseases such as respiratory illnesses and heart diseases, and rapidly increasing R&D spending globally, combined with the large number of companies that are progressively adopting collaborations and partnerships as key market strategies are key factors driving the global market growth.
Furthermore, the increasing accessibility to digital health-related data and research methodology for data analysis will create tremendous opportunities and development potential for the market in the near future. Cerba announced an arrangement with Taliaz in October 2022 to provide physicians with AI-based psychiatry services. The recently developed test solution assists physicians in making more precise and rapid decisions for their patients, increasing their chances of a fast recovery.
Report Scope of the Artificial Intelligence (AI) in Precision Medicine Market
| | |
| --- | --- |
| Report Coverage | Details |
| Market Size in 2023 | USD 2.18 Billion |
| Market Size by 2032 | USD 16.91 Billion |
| Growth Rate from 2023 to 2032 | CAGR of 25.54% |
| Largest Market | North America |
| Fastest Growing Market | Europe |
| Base Year | 2022 |
| Forecast Period | 2023 to 2032 |
| Segments Covered | By Technology, By Component and By Therapeutic Application |
| Regions Covered | North America, Europe, Asia-Pacific, Latin America and Middle East & Africa |

Market Dynamics:
Driver
Rising cancer prevalence.
The increasing prevalence of cancer around the world has boosted market growth. According to WHO data, cancer will account for approximately 10 million deaths worldwide in 2020. Rising sedentary lifestyle adoption and high consumption of tobacco and alcohol are two key factors that are favorably impacting cancer prevalence rates. Rising R&D investment is also propelling the market forward.
The African Access Initiative (AAI) is a collaboration of private and public sector organizations that addresses South Africa's cancer crisis by increasing the availability of cancer treatments and diagnosis and establishing technically sophisticated healthcare infrastructure.
Rising prevalence of older people and increasing chronic diseases.
One of the major causes of rising diseases and ailments such as high cholesterol, strokes, CVDs, hypertension, diabetes, aneurysms, and cancer is the rapidly increasing population of the older age group. Aging is considered to be the main factor in cardiac health decline; hence aging population is the primary predictor of market growth.
As per WHO, one in every six individuals will be 60 years or above by 2030. Over the projected period, the abovementioned factors will lead to a rise in the usage of artificial intelligence based precision medicines.
Restraints
Potential security risks
The most obvious disadvantage of artificial intelligence in healthcare is that it results in a data privacy breach. As it grows and develops based on the information gathered, it is also vulnerable to data collected being abused and taken by the criminal. While AI may try and cut expenses while decreasing clinician tension, it may also make some jobs redundant.
This variable may result in the displacement of professionals who have invested time as well as money in healthcare learning, posing equity issues. For instance, in July 2022, OneTouchPoint observed a breach that impacted nearly 2,651,396 people.
Opportunity
Sales of AI in precision medicine are skyrocketing as popular companies seek to maintain their position in the market through collaborations and partnerships. Intel, for example, collaborated with the Perelman School of Medicine at the University of Pennsylvania to develop an AI model that aids in the identification of brain cancer. Penn Medicine worked with 29 international organizations to create this tool, which uses a privacy-preserving technique known as federated learning.
Impact of COVID-19:
The pandemic of COVID-19 has accelerated the use of artificial intelligence (AI) in the healthcare industry. Artificial intelligence applications have improved a wide range of applications in healthcare services, such as population health, precision medicine, medical imaging, and chronic illness management.
The management of COVID-19 has accelerated market expansion. For example, the COVID-19 mortality risk calculator was developed using artificial intelligence by a team from the Johns Hopkins School of Public Health. This calculator used artificial intelligence to guide public health initiatives such as prevention resources such as N-95 masks. Furthermore, AI was used to allocate scarce resources and define therapy priorities for COVID-19 patients. A research group at the General Hospital in Beijing, China, developed an online triage tool model to treat suspected COVID-19 pneumonia in adult patients.
Segments Insight:
Technology Insights:
The deep learning segment generated the maximum revenue share in 2022. The expansion of the segment is due to high processing power, developments in data center capabilities, as well as the ability to conduct processes without human intervention. The recent deep learning algorithms are able to model and integrate various data from a single individual across time and modalities, which allows better treatment recommendations as well as an increased prediction for each patient.
Natural language processing is expected to grow at the fastest rate of 36% during the forecast period. Natural Language Processing (NLP) is the study of text and voice in order to derive the meaning of words. NLP is the practice of using computer algorithms to identify key features in a universal language and derive information from unstructured spoken or written data. This technology will be critical in accelerating healthcare decision-making procedures.
The true advantage of developing effective algorithms is based on the accuracy of the data collected. A faster decision-making procedure enables physicians to focus on patient-value-added treatments.
Component Insights:
The software sector dominated the market and captured more than 56% of revenue share in 2022 due to the rapid adoption of artificial intelligence-based software solutions in precision medicine by institutions, healthcare payers, patients, and providers. The growth is also due to the rising use of AI technology in various healthcare applications, such as cybersecurity, reduction of dose error, clinical trials, virtual assistants, telemedicine, fraud detection, and robot-assisted surgery. Furthermore, private and government initiatives propel the growth of the segment.
Due to the introduction of innovative startups and entrepreneurship, which provide innovative cancer diagnosis and treatment as well as prediction solutions, the service sector is anticipated to expand at a remarkable CAGR during the projected period. Some players offer software services that use an ML method based on extensive knowledge of scientific prediction to estimate cancer progression, assisting in accurately predicting cancer progression as a response to therapy.
Therapeutic Application Insights:
Based on the therapeutic application, the oncology sector dominated the market and generated more than 31% of revenue share in 2022. The application of Artificial Intelligence in oncology helps in more accurate and faster cancer diagnosis, which results in enhanced patient income and is anticipated to propel the sector expansion over the predicted period. The most significant factor expected to propel the oncology sector is the growing prevalence of cancer as well as the rising development of medical infrastructure.
Moreover, a severe shortage of healthcare personnel in hospital facilities, such as physicians and nurses, is expected to increase the demand for technology. Since these experts are in short supply, AI is anticipated to have a significant role in patient care. AI has numerous applications in oncology. CanAssist Breast (CAB) helps women with breast cancer personalize their treatment. CAB uses AI to forecast the probability of cancer relapse for each patient, which clinicians use to plan treatment.
The neurology sector is expected to expand at the fastest pace from 2023 to 2032. The growing incidence of neurological disorders like epilepsy, dementia, migraines, Alzheimer and brain tumor, is anticipated to propel segmental growth. The demand for early detection of neurological diseases as well as advancements in technologies is also driving the sector expansion. Artificial intelligence is able to treat patients affected by strokes by providing precision treatment. AI improves intra-operative, postoperative, and pre-operative stages of brain surgery.
Regional Insights:
North America is anticipated to lead the global artificial intelligence in the precision medicine industry and captured more than 31% of revenue share in 2022. The growth of the market in this region is due to the rising R&D expenditure as well as the increasing need for personalized medicine. Moreover, collaboration among significant companies is fostering growth. For instance, in August 2022, Atomwise and Sanofi signed a USD 20 million contract.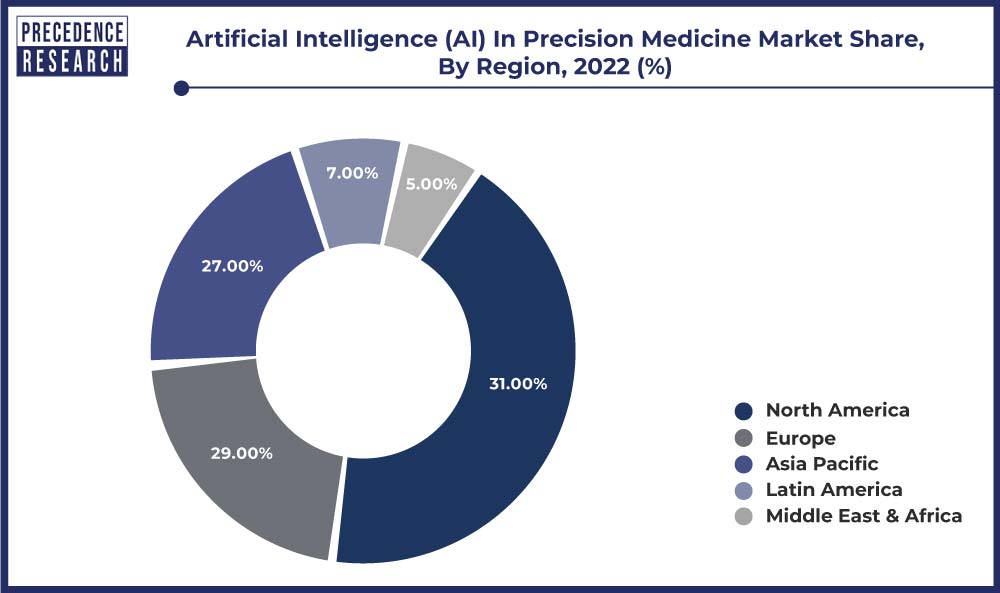 Europe is anticipated to grow at the fastest CAGR from 2023 to 2032. The growing incidence of chronic diseases as well as the increasing elderly population, contribute to the rise in the need for improving and diagnosing infections in the initial phases. Various companies are implementing strategies to hold a competitive advantage over others. For instance, Nuclear and Merck KGaA Darmstadt announced a partnership to use image analysis and discover a biomarker platform.
Recent Developments:
Google partnered with iCAD, Inc., in November 2022. The collaboration aims to improve breast cancer detection and risk assessment in the short term. Furthermore, the partnership would focus on increasing connectivity to mammography technology via cloud-based solutions.
NVIDIA announced a collaboration with Harvard and MIT's Broad Institute in September 2022. By bringing NVIDIA's computing and AI tools to the institute's Terra cloud platform, the partnership aims to assist academic researchers and pharmaceutical companies in gaining AI-enabled computing power to extract large quantities of healthcare data.
Sanofi and Atomwise joined a partnership in August 2022. As per this collaboration, the companies targeted to make the development of drug discovery more cost-effective and effective.
NVIDIA collaborated with GSK in October 2020. Through this partnership, companies targeted developing new medicines as well as vaccine discovery to give accuracy to research.
AstraZeneca and Renalytix AI collaborated in August 2020. The company targeted developing solutions for delivering significant challenges in healthcare and chronic illness patients.
GE Healthcare revealed Omni Legendi in October 2022. As a result of this launch, the firm aimed to improve operational efficiency and diagnostic power to enhance patient outcomes.
GE Healthcare launched an artificial intelligence-powered Cath lab, Optima IGS 320, in September 2022. The release is expected to offer intelligent imaging to assist patients and cardiologists with personalized therapy protocols.
GE Healthcare announced Xeleris V in May 2021. It allows clinicians to secure access to information from a variety of locations by reducing the demand for a standalone treatment workstation.
Key Market Players:
Novo Nordisk A/S
GE Healthcare
Intel Corporation
NVIDIA Corporation
Microsoft Corporation
Alphabet Inc.
IBM Corporation
BioXcel Therapeutics Inc.
Enlitic Inc.
AstraZeneca
Sanofi
Zephyr AI
Sensely Inc.
Tempus
Berg LLC
Insilico Medicine
Modernizing Medicine Inc.
Atomwise Inc
Segments Covered in the Report:
(Note*: We offer report based on sub segments as well. Kindly, let us know if you are interested)
By Technology
Machine Learning
Querying Method
Deep Learning
Context-Aware Processing
Natural Language Processing
By Component
Hardware
Software
Service
By Therapeutic Application
Oncology
Neurology
Cardiology
Respiratory
Others
By Geography
North America
Europe
Asia-Pacific
Latin America
The Middle East and Africa