The global artificial intelligence (AI) in retail market size accounted for USD 8.41 billion in 2022 and it is projected to attain around USD 45.74 billion by 2032, poised to grow at a CAGR of 18.45% during the forecast period 2023 to 2032.
Key Takeaways:
On the basis of components, the solution segment contributed more than 72% revenue share in 2022.
On the basis of technology, the machine learning segment generated more than 31% of revenue share in 2022.
On the basis of sales channels, the pure-play market segment gained a sizeable revenue share.
On the basis of application, the customer relationship management segment captured of around 21.50% of revenue share in 2022.
On the basis of geography, The North America region accounted for more than 39% of revenue share in 2022.
Market Overview
As physical storefronts continue to dominate the retail industry, they face intense competition. As with traditional stores, digital platforms may quickly access their competitors in the market where they compete. Retailers may use AI to improve the customer shopping experience and gain the competitive advantage they need to stay relevant. The most widely utilized AI technologies are those based on machine learning and deep learning. Businesses in the retail sector use machine learning and deep learning technology to provide end consumers with a more personalized experience and an engaging setting.
However, a reluctance to adopt technology advancements may hinder the market's expansion. The market expansion is also being hampered by a need for a competent workforce to integrate AI in retail. Artificial intelligence (AI) is making advances in the retail sector, and retailers may utilize AI to interact with customers and operate more efficiently. Techniques include using computer vision to adjust marketing in real-time and machine learning for inventory management.
Report Scope of the Artificial Intelligence (AI) in Retail Market
| | |
| --- | --- |
| Report Coverage | Details |
| Market Size in 2022 | USD 8.41 Billion |
| Market Size by 2032 | USD 45.74 Billion |
| Growth Rate from 2023 to 2032 | CAGR of 18.45% |
| Base Year | 2022 |
| Forecast Period | 2023 to 2032 |
| Segments Covered | By Component, By Technology, By Sales Channel, By Application |
| Regions Covered | North America, Europe, Asia-Pacific, Latin America, Middle East & Africa |

Market Dynamics
In the coming years, AI has the potential to significantly change the retail industry, impacting the value chain from cost elements to shopping participation. Adopting AI is crucial because e-commerce and AI work in tandem and the coronavirus outbreak has increased e-commerce growth rates. The benefits of AI will convert the industry. Sellers must subsequently begin planning as soon as it is practical, and these plans must include both technology and company strategy.
The main advantage of AI is that it can help consumers with tedious, repetitive activities. A large number of workers think that productivity has grown as a result of the greater use of AI at work. The usage of AI in retail may result in the same outcome. Artificial intelligence is a tool drivers in the logistics sector can use to determine the optimal delivery routes. Robots can also assist with order selection and packing, freeing staff employees to focus on other essential duties.
Numerous factors are expected to impede the spread of artificial intelligence in the retail sector, even though well-known retail companies continue to invest in cutting-edge technology to enhance client engagement. Large firms and significant retailers like Walmart have already included artificial intelligence technologies for managing online portals and in-store operations. Small and medium-sized firms and new start-ups need more infrastructure and technological know-how to utilize the technology. A lack of AI knowledge is a barrier to deploying such technology. Also, the adoption of the intelligent retail solution needs to be improved by its high implementation costs, which represent substantial challenges for small retailers. These factors are expected to limit market expansion.
Artificial intelligence in the retail market has a wealth of lucrative potential due to the increased usage of IoT, Big Data analytics, and e-commerce marketing. Computer vision and other technological developments in the retail industry are becoming more popular in brick-and-mortar stores. This development creates possibilities for new retail in areas such as customer experience, demand forecasting, and inventory management. Furthermore, using AI in retail will increasingly focus on planning and product recommendations. Growth in artificially intelligent products and services across various industrial domains and verticals will be fueled by developments in big data analytics.
COVID-19 Impact
The COVID-19 epidemic negatively impacted global economies. Governments worldwide have been compelled to shut down retail facilities, shops, and import-export operations, disrupting global supply chains. Retail, manufacturing, and logistical sectors have all been significantly impacted by the COVID-19 epidemic, as have customer behavior and product demand. The retail industry, especially brick-and-mortar retailers, has been severely damaged by the temporary closures of non-essential stores, bars, and venues in several nations, except food and grocery stores and pharmacies.
Since customers view internet platforms as their primary shopping channel, the COVID-19 outbreak has consequently enhanced the significance of online retail channels. Retailers and consumer products companies now have a fantastic opportunity to develop sustainability efforts connected with their online presence. Retailers are embracing e-commerce platforms and online marketplaces to profit from this shifting trend.
Segments Insight
Component Insights
Based on components, artificial intelligence (AI) in retail market is segmented into services and solutions. The solution segment occupies the retail market's highest share of global artificial intelligence (AI) in the estimated year. New automated technology is being developed in response to the management problems many retail companies are experiencing. With AI-powered technologies, retailers can manage supply chain operations, logistics, and warehouse management while improving the consumer experience.
On the hand, the services segment is expected to see strong growth in the projected period. This growth is attributed to the rapid adoption of AI solutions as it contributes to the creation of intelligent functions, improves the customer experience, increases the potential for revenue development, leads to faster innovation, and lowers human error.
Technology Insights
Based on technology, the market is bifurcated into natural language processing, machine learning (ML), image & video analytics, chatbots, and swarm intelligence. Amongst the mentioned segments, the ML segment acquired the largest revenue share of the market. Machine learning technology's greater precision and flexibility contribute to the segment's increasing expansion. As it serves data rapidly and deeply, machine learning is excellent for offering personalized experiences to customers. Furthermore, it aids merchants in streamlining supply chain strategies and demand projections to increase inventory productivity. For instance, the fully managed service - Amazon Sage Maker enables the deployment of machine learning models for any activity, from customer experience to predictive analytics.
Additionally, NLP is expected to progress as data analysis increases and chatbots powered by AI become more popular. Thus, demand for natural language processing will be expected to increase rapidly throughout the forecast period.
Sales Channel Insights
Based on sales channels, the market is segregated into brick-and-mortar, omnichannel, and pure-play online retailers. The pure-play market category gained a sizeable revenue share of AI in the retail industry. The increased acceptance of online and virtual purchasing would hasten the growth of pure-play internet businesses. Social media, IoT, and AI would grow in popularity, boosting AI in the retail industry.
Application Insights
Based on application, the global market for AI in retail is segmented into customer relationship management (CRM), inventory management, supply chain & logistics, product optimization, payment & pricing analytics, in-store navigation, virtual assistant (VA), and others. CRM in the retail market saw the highest revenue share. The CRM market would rise to prominence if there were a pressing need to enhance customer service & retention. With the use of chatbots, search engines, and other technologies, retail providers may encourage customer loyalty and strong relationships.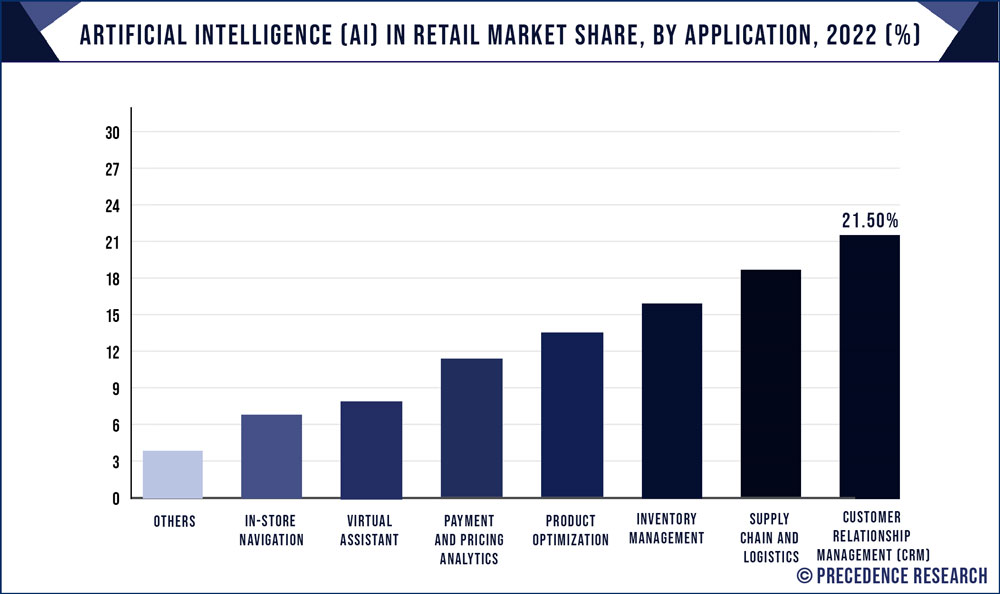 Virtual assistant technologies have ample opportunities to explore in the retail industry, such as streamlining the supply chain, invoicing, ordering inventory, and bookkeeping. Therefore, virtual assistance is expected to experience rapid growth in the projected period.
Artificial Intelligence (AI) in Retail Market Share, By Region, 2022 (%)
| | |
| --- | --- |
| Regions | Revenue Share in 2022 (%) |
| Asia Pacific | 23% |
| North America | 39% |
| Europe | 27% |
| Latin America | 8% |
| MEA | 3% |

Regional Insights
Artificial intelligence in the retail sector generated most of its revenue in North America. There is potential for industrial growth as significant investments are being made in AI projects and related R&D activities initiated by the companies. To improve the efficacy of their customer service, regional retail providers are concentrating on obtaining insightful consumer preferences. The industry leaders use both inorganic & organic methods to expand. The United States pioneered AI technology adoption and is seeing significant investment in the field. Due to the country's growing need for technology, new start-ups and small businesses are also emerging. This should accelerate the growth of artificial intelligence in the retail sector.
Regarding AI in retail market share dominance, Europe is probably in second place. The region's significant merchants, including those in the apparel, cosmetics, and fashion industries, actively invest in cutting-edge technology to improve the customer experience. Thus, the need for artificial intelligence in the retail sector is anticipated to increase. Additionally, due to the increasing digitalization, Asia Pacific is predicted to experience rapid growth during the projection period. The regional retail market is experiencing an immediate era of change, and the demand for cutting-edge technologies to enhance operations and customer experience is propelling the market.
Recent Developments
In September 2022, Microsoft collaborated with the Indian global IT business Infosys. The organizations wanted to make it possible for enterprises to reimagine customer experiences quickly, augment systems with cloud & data, and update processes through this alliance.
In August 2022, the company introduced a new personalized e-commerce product suggestions solution called ViSenze's Session-Based Recommendations. With the new approach, the clients would receive a more customized experience without providing personal information.
In July 2022, novel reference kits were released by Intel. The new solution sought to make it easier for data scientists and engineers to understand how to implement AI in various settings, including manufacturing, retail, healthcare, and other fields.
In July 2022, Askdata, a search-driven analytics business, was acquired by SAP. The company's goal after the acquisition was to improve its capacity to support businesses in making educated decisions through AI-based natural language searches.
In June 2022, Google and the retail outlet H&M entered a partnership. The company intended to design and create a corporate data backbone through this partnership, including cutting-edge AI & ML capabilities, a core data platform, and data products.
In June 2022, Oracle and the retail operator Komax collaborated. As a result of this partnership, Oracle would provide Komax with access to its retail bouquet of services via its cloud infrastructure to assist the company in introducing the newest apparel, accessories, and footwear from various well-known brands to clients throughout Latin America.
In June 2022, NVIDIA and German multinational firm Siemens established a collaboration. The firms hoped to combine Siemens Xcelerator and NVIDIA Omniverse through this alliance to provide an industrial metaverse in addition to physics-based digital models.
In April 2022, SAP and Kyndryl, a well-known supplier of IT infrastructure services, joined forces. Through this agreement, the businesses planned to concentrate on delivering cutting-edge solutions to customers' most demanding digital business transformation concerns.
In March 2022, Microsoft acquired Nuance Communications, an American multinational company that develops computer software. The company's goal after this acquisition was to incorporate Nuance's conversational AI and ambient intelligence, which were best in class, into its reputable and secure industry cloud products.
In January 2022, Federos, a provider of IT consulting and services, was purchased by Oracle. With network analytics, assurance, ad automated orchestration, and AI-optimized services, this acquisition aims to give service providers more leverage.
Company Profiles and Competitive Intelligence
The key players operating in the global artificial intelligence (AI) in retail market are:
IBM Corporation
Microsoft
SAP SE
Amazon Web Services
Oracle
Salesforce Inc.
Intel
NVIDIA
Google LLC
Sentient Technology
ViSenze
Segments Covered in the Report
(Note*: We offer reports based on sub-segments as well. Kindly, let us know if you are interested)
By Component
By Technology
Image and Video Analytics
Machine Learning
Natural Language Processing
Swarm Intelligence
Chatbots
By Sales Channel
Brick and Motor
Omnichannel
Pure-play Online Retailers
By Application
In-Store Navigation
Payment and Pricing Analytics
Customer Relationship Management (CRM)
Supply Chain and Logistics
Inventory Management
Product Optimization
Virtual Assistant
Others
By Geography
North America
Europe
Asia-Pacific
Latin America
Middle East & Africa (MEA)