The global mobile artificial intelligence (AI) market size was reached at USD 15.41 billion in 2022 and it is expected to hit around USD 170.07 billion by 2032, expanding at a CAGR of 27.14% during the forecast period from 2023 to 2032.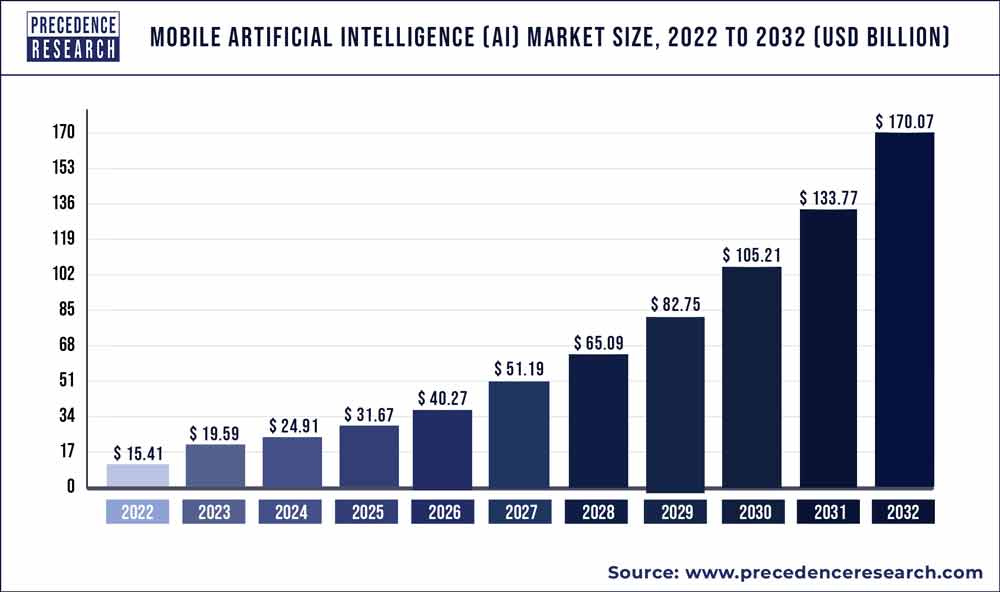 Key Takeaways:
North America generated more than 31% of revenue share in 2022.
By technology node, the 10 nm segment captured more than 45% of revenue share in 2022.
By component, the software segment is expected to hold a significant market share over the forecast period.
By application, the smartphone segment contributed more than 38% of revenue share in 2022.
By industry vertical, the consumer electronics segment is expected to dominate the market over the projected period.
Market Overview:
Mobile AI leverages the power of AI algorithms, machine learning, natural language processing (NLP), and computer vision to enable mobile devices to understand, learn from, and respond to user interactions in a more human-like and context-aware manner. The integration of AI into mobile devices has led to a paradigm shift in how we interact with our handheld companions, making them not only smart but also intuitive and personalized. At the core of Mobile AI lies on machine learning, which allows devices to analyze vast amounts of data and recognize patterns.
This capability empowers mobile devices to predict user behavior, preferences, and intent, tailoring the user experience to individual needs. The more a device learns about its user, the more it can anticipate their requirements and offer proactive suggestions, streamlining everyday tasks and making life more convenient.
According to Salesforce's latest State of Service report, for the majority of service teams case volumes increased up to 54% between 2021 and 2022. As a result, several businesses have boosted mobile workforces by raising their budgets by approximately 62% over the previous year.
Growth Factors:
One significant advantage of mobile AI is its ability to perform real-time processing on the device itself. By leveraging on-device processing, AI applications can operate without constant reliance on cloud services, leading to faster response times and enhanced data privacy. This on-device AI processing also reduces the strain on network bandwidth, making mobile AI applications more efficient and accessible. The market growth is being driven by the increasing use of IoT and AI-powered mobile applications, expanding use of AI technology across a variety of sectors, and the rising trend toward artificial intelligence (AI) chips.
Report Scope of the Mobile Artificial Intelligence (AI) Market:
| | |
| --- | --- |
| Report Coverage | Details |
| Market Size in 2023 | USD 19.59 Billion |
| Market Size by 2032 | USD 170.07 Billion |
| Growth Rate from 2023 to 2032 | CAGR of 27.14% |
| Largest Market | North America |
| Base Year | 2022 |
| Forecast Period | 2023 To 2032 |
| Segments Covered | By Technology Node, By Component, By Application, and By Industry Vertical |
| Regions Covered | North America, Europe, Asia-Pacific, Latin America and Middle East & Africa |

Market Dynamics:
Driver:
Rising interest in real-time voice assistants and image recognition technologies
The market for mobile artificial intelligence is expanding as a result of rising demand for real-time voice assistants and image identification tools. Search engines are progressively being replaced by real-time voice assistant systems that use artificial intelligence. Customers utilize them to enjoy the comfort of a smart home and get help with several jobs. Technology companies and marketing companies are increasingly utilizing them to engage customers and offer more individualized experiences. Apple recently released a high-end smart speaker with exceptional audio quality to provide a smart home experience, comfort, and convenience regardless of any difficulties.
These speakers have superior sound quality and helpful Siri capabilities that helped users with regular tasks. The demand for improved AI for real-time voice assistants and image recognition technologies is being driven by the rising popularity of such speakers and their integration with AI and IoT technologies. In the long term, these aspects will contribute to the expansion of the mobile artificial intelligence market.
Restraint:
High cost
One of the main obstacles hindering the market growth of mobile artificial intelligence is the high cost of AI devices. An AI gadget involves consultation, testing, and research, thus its creation and deployment are quite expensive. The installation of AI devices necessitates the expertise of a professional, which raises the cost of an AI device's implementation. Additionally, businesses are using specialized robots to carry out jobs like package delivery and office cleaning, which need expensive customization and hence increase the cost.
Due to technological limitations and their expensive price, such technologies are only adopted by major corporations. Another aspect limiting the market for AI devices is the requirement for technology that is energy-efficient. A unique AI solution may cost between $6,000 and $300,000 per year, whereas third-party AI software costs between $0 and $40,000 annually. Due to their limited budgets, SMEs and the mass of the public cannot afford such expensive AI hardware and software. These factors are limiting the development of the mobile artificial intelligence sector.
Opportunity:
Emphasis on enhanced user experience
Mobile AI can make devices more intuitive and personalized, adapting to users' preferences and behavior. It can provide context-aware recommendations, optimize settings based on usage patterns, and streamline everyday tasks, leading to a smoother and more enjoyable user experience. In addition, AI-powered virtual assistants on mobile devices can become even more capable and efficient. They can understand natural language commands, offer personalized responses, and perform complex tasks like scheduling appointments, managing tasks, and making recommendations based on individual preferences. Thus, this is expected to offer a lucrative opportunity for market growth.
Segments Insight:
Technology Node Insights:
Based on the technology node, the global mobile artificial intelligence market is segmented into 5 to 7 nm, 10 nm, 20 to 28 nm, and others. The 10 nm segment is expected to dominate the market during the forecast period owing to the demand for power-efficient CPUs increasing as 10nm technology nodes are increasingly used in the newest smartphones. Mobile AI on the 10nm process node enables more powerful and efficient AI processing. This leads to faster response times, improved multitasking, and better overall performance, making mobile devices more capable and responsive. Moreover, it allows for real-time object recognition, scene understanding, and seamless integration of virtual content with the real world. Thus, this is expected to drive segment growth during the forecast period.
Component Insights:
Based on the component, the global market is segmented into hardware, software, and services. The software segment is expected to hold a significant market share over the forecast period. Mobile artificial intelligence in the software segment encompasses a broad range of applications and functionalities that leverage AI technologies on mobile devices. Virtual assistants like Siri (iOS), Google Assistant (Android), and Bixby (Samsung) are prominent examples of mobile AI in the software segment. These AI-driven assistants use natural language processing to understand and respond to user voice commands, perform tasks, and provide information or recommendations. Thereby, driving the segment expansion.
Application Insights:
Based on the application, the global mobile artificial intelligence industry is segmented into smartphones, cameras, drones, automotive, robotics, augmented reality/virtual reality (AR/VR) and others. The smartphone segment is expected to grow at the highest CAGR over the forecast period. The huge movement in customer preference for smart home devices like Google Assistants and Siri, among others, may be linked to the increased use of cutting-edge software and hardware to boost AI functions. A few other factors driving up demand for AI include the growing adoption of the technology for quick data processing, scene recognition, night camera shooting, and user security, as well as expanding the use of AI processors in high-end smartphones for features like voice processing and image recognition. Thus, the increasing adoption of advanced technologies in smartphones is expected to propel the segment expansion over the forecast period.
Industry Vertical Insights:
Based on the industry vertical, the global mobile artificial intelligence industry is segmented into consumer electronics, entertainment & gaming, manufacturing, automotive and others. The consumer electronics segment is expected to dominate the market over the projected period. AI algorithms in smartphones analyze user behavior and optimize device settings for a more personalized and efficient user experience. Thereby driving the market growth over the forecast period.
Regional Insights:
North America is expected to dominate the market over the analysis period. The regional growth of the market is attributed to the increasing proliferation of smartphones, growing investment and increasing adoption of augmented reality and virtual reality (AR/VR) technologies in various sectors. Additionally, expanding IoT and AI use across a variety of industries, increased smart speaker and voice assistant usage, and a burgeoning smart home culture are all driving up demand for mobile AI in the region. The need for 3D graphics, artificial intelligence chipsets, and machine learning technologies in high-end gaming devices is increasing due to the U.S. gaming industry's rapid expansion, which is also promoting the development of mobile artificial intelligence.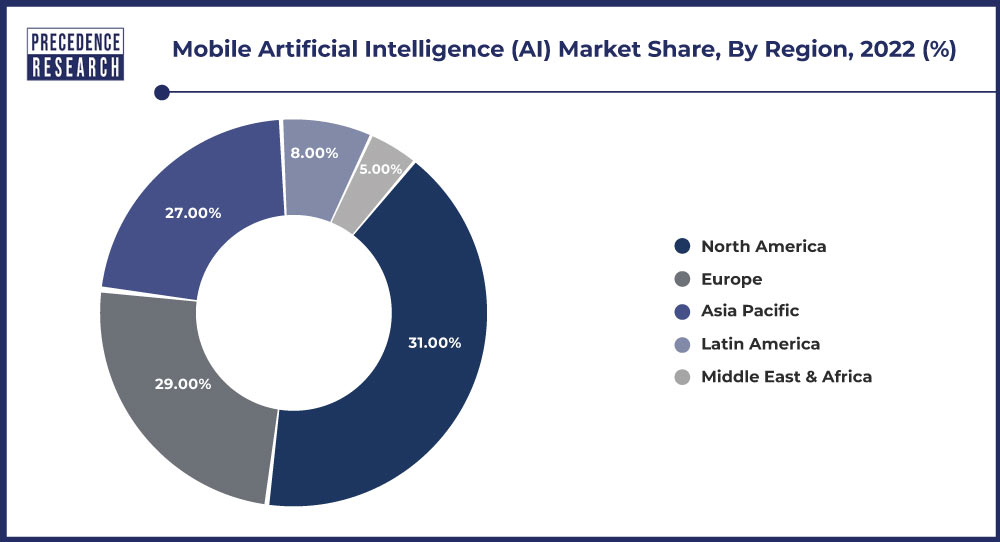 Asia Pacific is expected to grow at the fastest rate over the forecast period. The region is home to some of the world's largest and fastest-growing smartphone markets, including China, India, and other Southeast Asian countries. Mobile AI is increasingly integrated into smartphones to cater to the diverse needs of this vast consumer base. Moreover, mobile AI is being used in health and wellness apps to offer personalized fitness recommendations, analyze health data from wearables, and support telemedicine initiatives in remote areas. Thus, this is expected to drive market expansion in the region.
Recent Development:
In May 2022, the industry-leading Avaya OneCloudTM portfolio and Microsoft Azure have been combined by Microsoft Corp. and Avaya, a global leader in solutions to improve and streamline communications and collaboration, to give organizations more options for boosting productivity and customer engagement with unmatched reliability, agility, and scale. Avaya is now extending their relationship to encompass the Avaya OneCloud portfolio on Azure, enabling clients who want the most freedom to deploy in a hybrid, public, or private cloud environment, building on the success of Avaya OneCloudTM Contact Center as a Service (CCaaS) provided on Azure.
In March 2022, Granulate Cloud Solutions Ltd announced that it has entered into an agreement for acquisition by Intel Corporation. Consumers of cloud and data centers will now be able to boost compute workload performance ad save infrastructure expenses.
In February 2022, Apple Inc. acquired an AI music firm that creates custom music using artificial intelligence. Through the acquisition, the company hopes to improve its audio products by utilizing cutting-edge AI technologies.
Key Market Players:
IBM Corporation
Mediatek
Intel Corporation
Qualcomm Inc
Microsoft Corporation
Deephi Tech
Huawei (Hisilicon)
GoogleLLC
Nvidia
Samsung
Cerebras Systems
Graphcore
Cambricon Technology
Shanghai Thinkforce Electronic Technology Co., Ltd (Thinkforce)
Apple Inc
Segments Covered in the Report:
(Note*: We offer reports based on sub segments as well. Kindly, let us know if you are interested)
By Technology Node
5 to 7 nm
10 nm
20 to 28 nm
Others
By Component
Hardware
Software
Services
By Application
Smartphones
Cameras
Drones
Automotive
Robotics
Augmented Reality/Virtual Reality (AR/VR)
Others
By Industry Vertical
Consumer electronics
Entertainment & Gaming
Manufacturing
Automotive
Others
By Geography
North America
Europe
Asia-Pacific
Latin America
Middle East and Africa