The global automotive seat control modules market was valued at US$ 6.6 billion in 2020 and predicted to hit around USD 8.8 billion by 2030, growing with a CAGR of 2.9% during the forecast period 2021 to 2030.
Vital factors accountable for market growth are:
Snowballing body electronic functions in current vehicles
Growing awareness associated to vehicle convenience and safety is accelerating the market
Augmented production of trucks and economy class vehicles is pushing the growth of low-end body control modules
Integration of smartphones with seating systems
Increasing sale of luxury vehicles
Growing after-market solutions for seat control
Increasing preference of people for private cars
Growing trend of long-distance travel in developing regions due to modernization of road network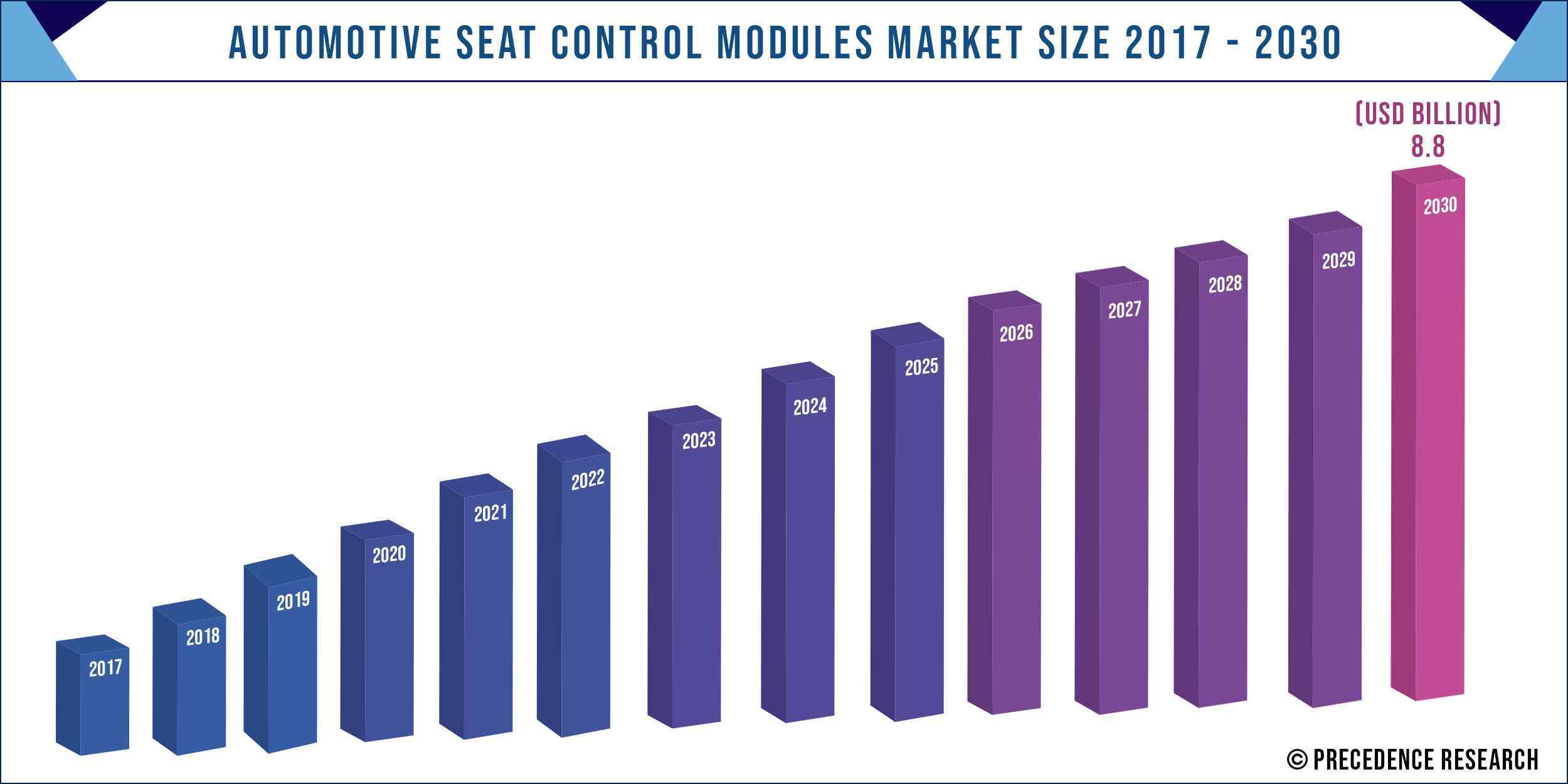 Key Automotive Seat Control Modules Market Insights:
Since past few years, seat control module highlights more on the safety, comfort and seat control system due to rapid progress of automobile sector and electronics technology. These factors gradually converted into imperative consideration for consumers appreciating automobile's comfort. Seat control module can regulate plentiful motors for correcting angle, location, and height of seat to permit drivers set their perfect driving position. The major influences that boost the growth of the automotive body control modules market are upsurge in need for advanced comfort, safety, and expediency features in vehicles; strict guidelines set by governments; and rise in requirement of automotive across the globe. Yet, growing complication is projected to confine the market growth to some extent. Furthermore, the demand for hybrid and electric vehicles and demand for advanced driver assist (ADAS) features are anticipated to deliver lucrative prospects for the development of the global automotive body control modules market during years to come.
Global automotive seat control module market structure is fragmented in nature. With the change in consumer behavior on account of COVID-19 outbreak, the players are concentrating on leveraging forthcoming trends. Influences such as the snowballing acceptance of luxury vehicles, evolving aftermarket vendors providing smart seat solutions are driving the growth of automotive seat control module market. Further, growing commuting time and long-distance traveling are accelerating implementation of comfort seats.
Significant Market Trends:
Passenger car is Predicted Grow at Rapid Pace During Years to Come
Among different types of vehicles, passenger car vehicle contributed biggest revenue in 2020. Each light-duty vehicle is mounted with a body control module for appropriate operations of other body control functions. OEMs are fine-tuning the seat control module for their individual vehicle models. Seeing the availability of customization in the vehicles, users are also enthusiastic to go for such vehicle offerings. This is the motive for the growth of the passenger vehicles market in across the globe.
North America Acquired Largest Revenue for Automotive Seat Control Modules Market
The research report covers key trends and prospects of automotive seat control modules products across different geographical regions including North America, Europe, Asia-Pacific, Latin America, and Middle East and Africa. In 2020, North America subsidized the maximum revenue, of the total revenue generated by market.
Currently, the automotive seat control module market has presence of a limited global manufacturers. Nonetheless, the U.S. and Europe have many local manufacturers in the aftermarket sector. Technological revolutions accelerate the growth of automotive seat control modules market. Further, investments for the growth of innovative designs, accumulation of new features and easy installation process are foretold to endure during the prediction period.
The global automotive seat control module market is led by North America on account of large OEM base and high disposable income that safeguards consumers to willingly adapt such innovative features in cars. Numerous automakers in the North America have installed seat control modules as an obligatory feature in cars. Europe is also anticipated to grasp a noteworthy share in the automotive seat control modules market backed by occurrence of number of well-established automakers and technology providers.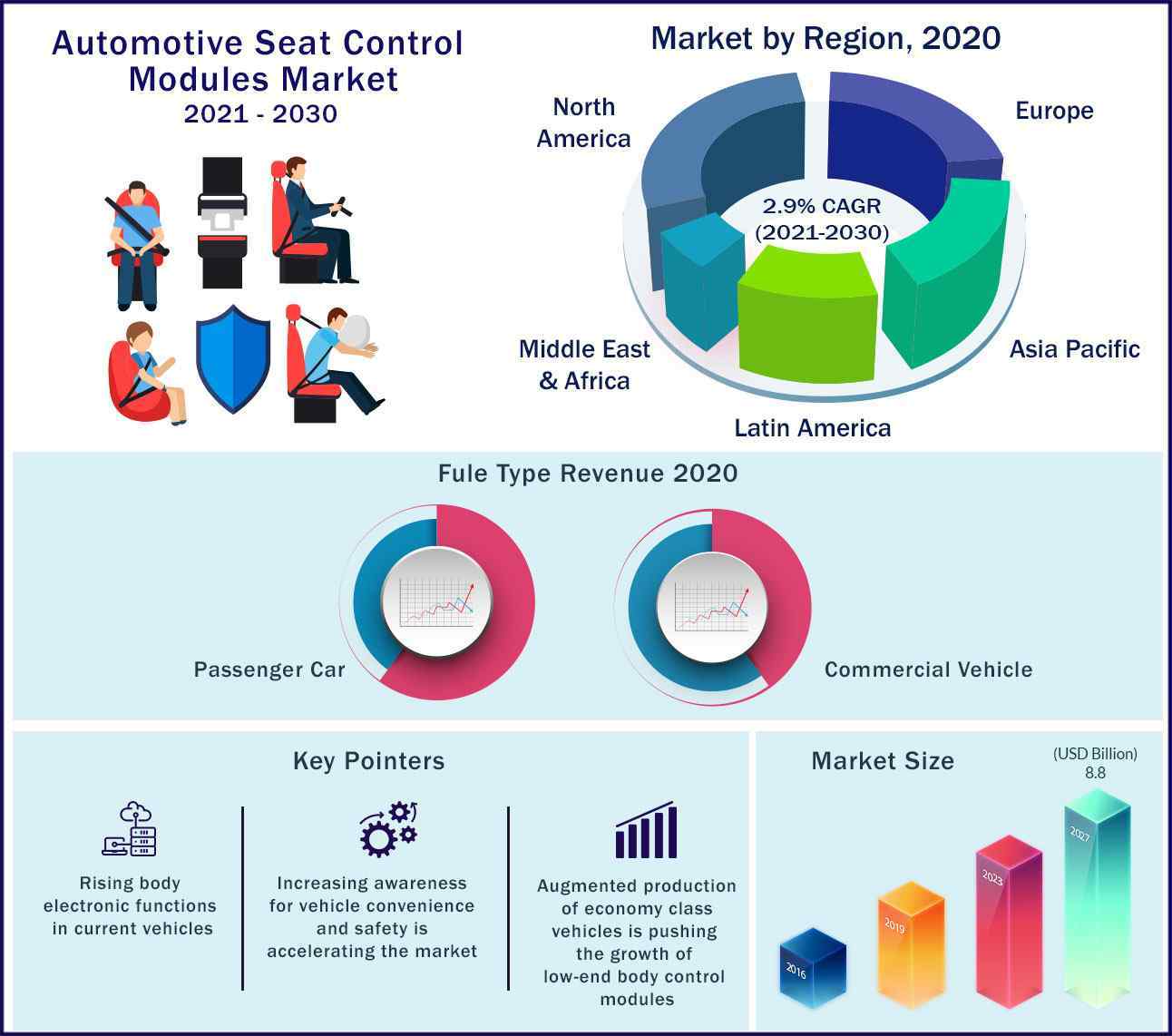 COVID-19 Impact on Global Automotive Seat Control Modules Market
All the businesses have been disrupted by the COVID-19 pandemic, resulting in an unparalleled technology and corporate model transformation worldwide. Amid this alteration, the COVID-19 outbreak has put extra stress on the automotive seat control modules industry. After early supply and manufacturing disturbances, the industry is now facing a demand shock with ambiguous recovery timeline due to COVID-19 related regulations. With inadequate room to cut static costs, some OEMs have little liquidity to power through an extended period of absent revenues. Reductions in market capitalization are likely to quicken business consolidation and without securing additional expenses, some manufacturers risk going out of business. Changes in buyer behavior, such as diverse mobility preferences might continue after the emergency.
Future of Global Automotive Seat Control Modules Market
In the last few years, irrespective of what's going on in the autonomous domain, car seating arrangements have experienced significant invention. In a recent example, the 2017 Lincoln Continental model of the Ford Motor Company introduced its 'Perfect Position' seats which can be adjusted in 30 different ways. Moreover,the launch of electric vehicle revolution by Nissan and announcement of USD 2.75 billion investment by Honda in General Motors' self-driving subsidiary Cruise, these two sectors are paving the path to an automotive seating transformation. Smart seats are the imminent consequence of the arrival of EVs and AVs, so businesses are fine-tuning their product approaches.
Top Players contending in the Global Automotive Seat Control Modules Market:
The advent of new-fangled players is predictable to exaggerate competition amongst the existing players during the estimate period. Prominent market contributors are accenting on strategies such as innovative product launch, business development, collaborations and acquisition to withstand the strong market rivalry. Leading competitors contending in global automotive seat control modules market are as follows:
Hella KGaAHueck& Co
Delphi Automotive LLP
Continental AG
De Amertek Corporation
Infineon Technologies AG
Omron Corporation
Pektron plc
Advanced Micro Electronics CO., Ltd
Leopold Kostal GmbH & Co. KG
In order to better recognize the current status of acceptance of automotive seat control modules, and policies adopted by the foremost countries, Precedence Research foretold the future evolution of the automotive seat control modules market. This research study offers qualitative and quantitative insights on automotive seat control modules market and assessment of market size and growth trend for probable market segments.
Major Market Segments Covered:
By Type
Manual seat control module
Memory seat control module
By End-User
Passenger Car
Commercial Vehicle
By Application
Headrest positioning
Climate based seating (heating, air conditioning and seat ventilation)
Massage
Seat adjustment (eight-way)
Others
By Geography
North America
Europe

Germany
France
United Kingdom
Rest of Europe

Asia Pacific

China
Japan
India
Southeast Asia
Rest of Asia Pacific

Latin America

Brazil
Rest of Latin America

Middle East & Africa (MEA)

GCC
North Africa
South Africa
Rest of Middle East & Africa