The global bag on valve products market size was reached at USD 9.15 billion in 2022 and it is expected to hit around USD 17.86 billion by 2032, growing at a CAGR of 6.92% from 2023 to 2032.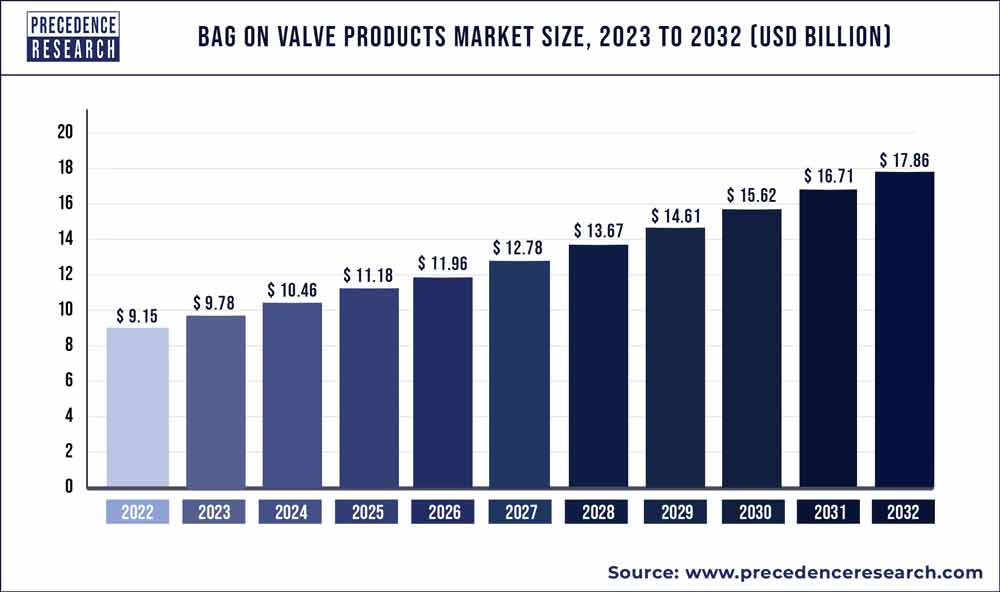 Market Overview:
Bag on the valve is the practice of putting a product inside a bag, sealing the bag with a valve, and then putting the bag into a can due to its capacity to increase consumer convenience and safety while extending the shelf life of goods. The product is released from the bag when the valve is depressed, and the propellant in the container creates pressure to dispense it. It is especially suitable for goods like food, medicines, and cosmetics that are delicate to oxygen or moisture.
It can also be used for goods that need to be dosed precisely, like medicinal sprays, and interests that need to be kept under pressure, such as shaving creams and foams. In the future decade, the market's expansion will be accelerated by soaring demand from the food and beverage and personal care sectors. For instance, advantages like simplicity of administering, optimal content use, and safer packaging options are driving up demand among end users. The healthcare industry's growing need for clean packaging free of contamination boosts bag-on-valve sales.
Growth Factors:
Environmentally friendly bags on valve goods employ compressed air or nitrogen as the propellant rather than dangerous substances like CFCs and HCFs. Because of this, there is now a higher demand for products with the bag on valves as people grow more environmentally conscious. They are less expensive than other packaging techniques because they produce less material and less waste.
As a result, bag-on-valve products are now more appealing to manufacturers and customers. The product inside the container has a longer shelf life since it is shielded from air and moisture. This makes bag-on-valve products perfect for goods that need a longer shelf life, such as food and medical supplies.
Report Scope of the Bag On Valve Products Market
| | |
| --- | --- |
| Report Coverage | Details |
| Market Size in 2023 | USD 9.78 Billion |
| Market Size by 2032 | USD 17.86 Billion |
| Growth Rate from 2023 to 2032 | CAGR of 6.92% |
| Largest Market | North America |
| Base Year | 2022 |
| Forecast Period | 2023 to 2032 |
| Segments Covered | By Application |
| Regions Covered | North America, Europe, Asia-Pacific, Latin America and Middle East & Africa |

Market Driver:
Product Variation.
Products like liquids, creams, and gels can all be processed using the bag on valve techniques. Due to this variance, many industries now have a higher demand for bag-on-valve items. The expansion is fueled by increased public awareness of environmentally friendly packaging options. Aluminum is used as the primary raw material, and as it can be recycled readily, no hazardous chemicals are dumped in landfills. In contrast to conventional aerosols, it also decreases the amount of volatile organic compounds. Thus, increasing consumer awareness of eco-friendly packaging options is anticipated to fuel market expansion.
Rising demand for personal care products.
The growth in personal care spending in the emerging countries of Asia Pacific can be attributed to the strong industrial and economic development, coupled with population expansion, which is expected to positively influence the production of commodities such as perfumes, shaving foams, lotions, gels, and other personal care products. This is expected to result in increased demand for bag-on valve-based cans, thus driving the growth of the bag-on valve products market.
The growing adoption of personal care products by consumers across the world, along with a rising emphasis on health and hygiene, is expected to drive the growth of the personal care industry globally. Furthermore, advertisements by major brands promoting spray-based products, as they are untouched by human hands and protected from external environments prior to their usage, are expected to create new growth opportunities in the bag-on valve products market.
The personal care industry has been witnessing an increasing trend in several developing nations across the Asia Pacific and Central & South America regions, owing to large investments by several foreign companies in these markets. Companies such as Unilever plc, Reckitt, L'Oréal S.A., and Procter & Gamble have set up manufacturing facilities in these countries, due to high product demand. They are offering spray cans packaging in perfumes, shaving foams, sanitizers, hair gels, and oils, thus benefitting the growth of the bag-on valve products market. The bar chart below represents the global beauty & personal care industry from 2011 to 2020 in terms of USD billion.
The rapidly growing demand for natural ingredients-based personal care products by end customers is expected to increase the demand for packaging materials. Their usage is highly popular among the younger population groups for growing fitness and healthy living trends. The younger population is heavily emphasizing haircare, skincare, and other personal care regimes. This is expected to augment the growth of personal care goods from residential customers, salons, and spas. Spray cans are rapidly gaining popularity in these places, thus benefitting the growth of the bag-on valve products market.
The growth of hygiene products has spiraled owing to the global COVID-19 pandemic, which led to recommendations by health organizations and governments prompting regular hand wash and sanitization of homes, workplaces, cars, railways coaches, and airplanes to avoid the transmission of the disease. The adoption of spray can-based products has been in high demand as they help maintain adequate hygiene levels. Companies have also launched spray-based sanitizers for surfaces, books, and sofa sets for the sanitization of small areas. Consumers are increasingly adopting such products in order to maintain hygiene in their daily lives. This is expected to further increase the demand for spray can packaging over the coming years, thus benefitting the growth of the bag-on valve products market.
Market Restraints:
The cost of manufacturing bag on valve products can be higher than that of conventional aerosol cans or other packaging types. The kinds of products that can be packaged using this technology are constrained because it necessitates a specific filling procedure. For instance, products with high viscosity or particular materials might not function properly with a bag on the valve. Compared to alternative packaging formats, it could have a lower shelf life. If the bag is not adequately sealed, the product can also be more prone to infection.
High usage of low-cost substitutes.
Bag-on valve technology-based cans have been gaining popularity over the past few years, as a substitute for traditional aerosol cans. This is attributed to the fact that bag-on valve cans display better emptying capacity up to 99%, much more as compared to traditional cans. Also, the product purity is maintained to maximum levels, without involving the usage of propellants and preservatives, primarily in the case of food & beverage industry. However, the growth of the bag-on valve products market is expected to be hampered, due to their high cost as compared to traditional valves in packaging of aerosols.
On an average, the cost of the aerosol bag on valve is USD 0.15, as compared to USD 0.03 for traditional solenoid valve. Due to this, most of the small and medium scale can manufacturers prefer traditional solenoid valves as it down their overall manufacturing costs. In addition, the price of automatic BOV filling and feeding machines is also higher, owing to complex mechanism of filling and packaging BOV cans. The production of bag-on valve-based cans is primarily limited to large scale manufacturers.
The laminate bag cost is also saved in this process, as the propellant mixed product is directly filled in the can. Furthermore, the lack of information among end-users about the less emptying capacity of traditional valve-based cans, is expected to further restrain the growth of bag-on valve products market. Also, the manufacturing cost of bag-on valve cans is expected to be higher as compared to traditional aerosol cans. The aforementioned factors are expected to limit the demand for bag-on valves products, over the coming years.
Market Opportunities:
Consumers' preference of bag on valve products over conventional aerosol packing is growing. It can be applied to various goods, such as liquids, gels, and creams. This makes it perfect for multiple uses, including domestic, industrial, and personal care goods. Businesses now have a great potential to match customer demand and gain market share. It is ideal for sunscreen, hair sprays, shaving creams, and deodorants that contain aerosols or are sensitive to air and light. This can also be used for lotions, body washes, and liquid soaps. Because it is aseptic, it is perfect for packing pharmaceuticals and medical devices, which need to be sterile. Moreover, it can aid in extending the shelf life of goods.
Market Challenges:
Fluctuating raw material prices.
Plastic is one of the key raw materials utilized in most laminate bags in the bag-on valve assembly. In plastic, majorly polypropylene (PP) and polyethylene (PE), which are derived from the crude oil are used as laminate bag materials therefore, continuous fluctuations in crude oil prices lead to uncertainty around the availability of raw materials at lower or economical prices.
Large-sized manufacturers stock raw materials in large quantities owing to their long-term production planning, availability of warehousing, and strong financial position, which reduces the impact of fluctuation in raw material prices. However, small-size manufacturers cannot store raw materials in high quantities due to the unavailability of warehousing and small production capacity, thus, fluctuations in raw material prices disturb their product costing as well as profit margin associated with the product.
As per macrostrends, net, in 2013, the average crude oil price was approximately USD 110 per barrel. The price decreased to USD 108 per barrel in 2014. In 2015, the price further declined to USD 62 per barrel. Crude oil prices dropped drastically from USD 108 per barrel in 2014 to USD 54 in 2016. However, in 2019, crude oil prices increased to USD 67 per barrel.
Transportation is a key end-use sector of crude oil and thus, crude oil prices may vary as per the demand from transportation industry. These are mostly uncontrollable factors and often lead to fluctuation in crude oil prices, which generates uncertainty in resin prices, thus creating fluctuations in the prices of bag-on valve products.
Impact of COVID-19:
The Covid-19 epidemic significantly impacted the market for bag-on-valve products. In the healthcare industry, it is frequently used to package pharmaceuticals like inhalers, wound care items, and disinfectants. The pandemic has raised the demand for these items and increased the demand for bag-on-valve products. Nevertheless, the outbreak has also hampered global supply networks, making producing and distributing products with the bag on valves harder.
The sourcing of raw materials and components has proven challenging for many bag makers on valve products, which has caused production delays and increased costs. Also, the distribution of bags on valve items to various regions has been impacted by the lockdowns and travel restrictions put in place by numerous nations. Nonetheless, there is an increasing demand for advanced packaging options, such as bag on valve technology, as the world slowly recovers from the pandemic.
This is because bag-on-valve solutions have several advantages over conventional packaging strategies, including better product preservation, usability, and little environmental effect. As a result, rising demand from the healthcare and personal care industries is anticipated to fuel further growth in the market for bag-on-valve products over the coming years.
Segments Insight:
Application Insights:
The pharmaceutical application segment generated for a maximum revenue share of around 40% in the year 2022. The sector with the largest revenue share in the market is personal care, and it offers various advantages over typical aerosol packaging. In items with a bag on the valve, the product is laid inside the can, and the propellant is set in the gap between the bag and the can. The bag collapses when the product is dispensed, keeping it from contacting the propellant and preserving its purity and shelf life.
These goods are especially well-liked in the personal care sector for items like sunscreen, hairsprays, and other aerosol products susceptible to air or light. The product can be dispensed more precisely with bag-on-valve technology, resulting in reduced waste and more effective use. Also, they are environmentally benign because they don't include any dangerous propellants. Because of its numerous advantages, such as greater product purity, longer shelf life, more effective use of the product, and eco-friendliness, it has grown in popularity in the personal care business.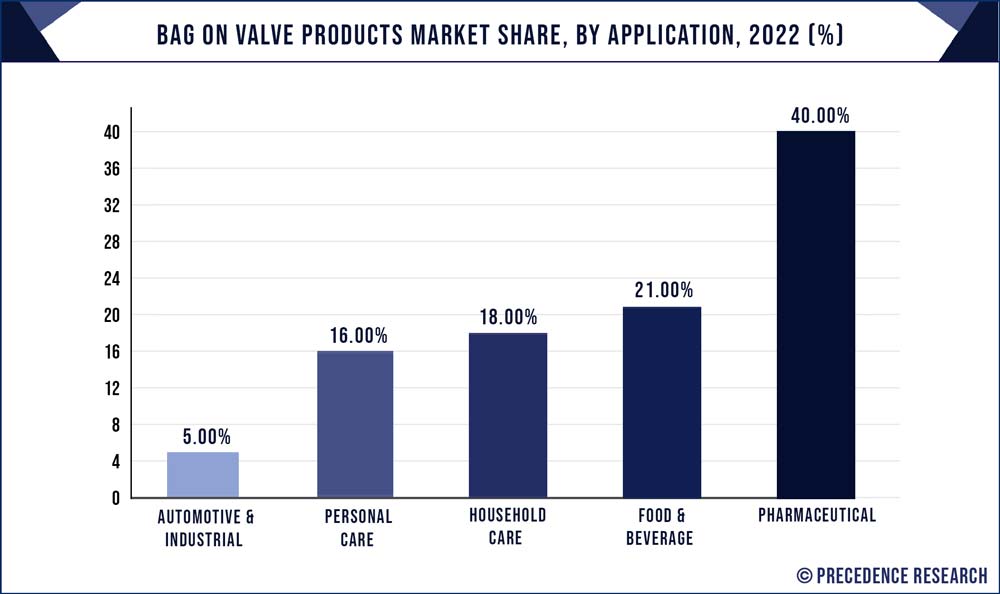 In the following years, the pharmaceutical segment will hold the highest share. Pharmaceutical products frequently need special packaging to maintain their stability and efficacy. It may be a barrier between the pharmaceutical product and the propellant, preserving the latter's strength. It can offer a more precise and regulated drug dispensing method to ensure proper dosing and minimize waste.
Furthermore, as more pharmaceutical businesses look for creative and efficient packaging options, the need for pharmaceutical items may drive the bag on the valve technology market. The pharmaceutical industry can benefit from the bag-on-valve product by fostering innovation and creating a rising demand for this technology.
Food and drink ingredients can affect bag-on-valve goods, including corrosion, odor, taste transfer, etc. Food and drink products can potentially corrode the metal can or the bag's valve on the valve. As a result, the can may rust or otherwise degrade, endangering the integrity of the goods inside. Food and beverage goods with strong scents or flavors may leave behind aromas or flavors in the inner bag, the bag's valve, or the bag's valve on the bag, which may alter the taste or smell of the following products packaged in the same container.
Bag-on-valve technology is used in the automobile industry for several purposes, including tire inflation, lubricants, and coolants. The expansion and output of the automobile industry impact the demand for items with the bag on valves. Vehicle production and demand are increasing demand for bags on valve stems. Moreover, it has a variety of industrial uses, including in paints, adhesives, and cleaning goods. Factors including industrial output, manufacturing operations, and the usage of industrial cleaning chemicals impact the demand for bags on valve items in this industry.
Regional Insights:
In recent years, the North American market has seen a surge in demand for bag on valve products in need for bag on valve products in various sectors, including personal care, pharmaceuticals, food, and beverages. Several North American companies have launched a new pack of valve products and packaging solutions to meet customers' evolving needs.
In addition to product innovation, North American manufacturers have invested in advanced production processes and machinery to improve the quality and efficiency of bag-on-valve products. They have also been adopting sustainable practices to reduce waste and minimize the environmental impact of bags on valve production. Overall, North American manufacturers have been playing a significant role in the growth and development of the bag-on-valve product market, contributing to its continued expansion and popularity in various industries.
The bag-on-valve product market significantly impacts the Asia Pacific region in terms of economic growth and consumer preferences. The region's market is expected to grow due to the increasing demand for sustainable and eco-friendly packaging solutions.
Recent Developments:
In January 2023, Aptar Pharma, an element of AptarGroup, Inc., an international leader in drug delivery systems, announced the start of APF Futurity's primary metal-free, multidose nasal spray pump devised to render nasal saline and rest similar over-the-counter formulations.
In April 2022, Lindal Group, aerosol dispensing specialists, introduced a new hair mouse actuator ST580 designed for foam applications. This attaches to the mounting cup and is suitable for all widely used cans.
In June 2021, Coster Group launched sustainability report 2020 which highlights the extensive work in implementing sustainability initiatives across its global value chains.
In November 2020, The UN Environment Programme and the Ellen MacArthur Foundation published "The New Plastics Economy Global Commitment," and Coster Group joined as a signatory. This foundation works with organizations and institutions of power to develop a circular economy that addresses some of the most pressing problems of our time, including waste, pollution, and climate change.
Key Market Players:
Amcor plc
TUNAP Group
Aptar Group
Summit Packaging Systems
KOH-I-NOOR Mlada Vozice a.s
Chicago Aerosol, LLC
Gualapack S.p.A
Farrag Packaging
Precision Valve Corporation
Lindal Group
Coster Technologie Speciali S.p.A
Wipf Doypak
Segments Covered in the Report:
(Note*: We offer report based on sub segments as well. Kindly, let us know if you are interested)
By Application
Personal Care

Liquid Soap & Shampoo
Hair Gels & Shaving Products
Cosmetic Products

Household Care

Household Cleaner
Insecticides
Air Fresheners
Others

Pharmaceutical

Nasal Sprays
Wound Cleaners
Others

Food & Beverage

Whipped Cream
Toppings & Dressings
Others

Automotive & Industrial

Waxes
Cleaning Products
Others
By Geography
North America
Europe
Asia-Pacific
Latin America
The Middle East and Africa