The global bioactive ingredients market size accounted for USD 44 billion in 2022 and is projected to hit around USD 90.26 billion by 2032, poised to grow at a CAGR of 7.5% during the forecast period 2023 to 2032.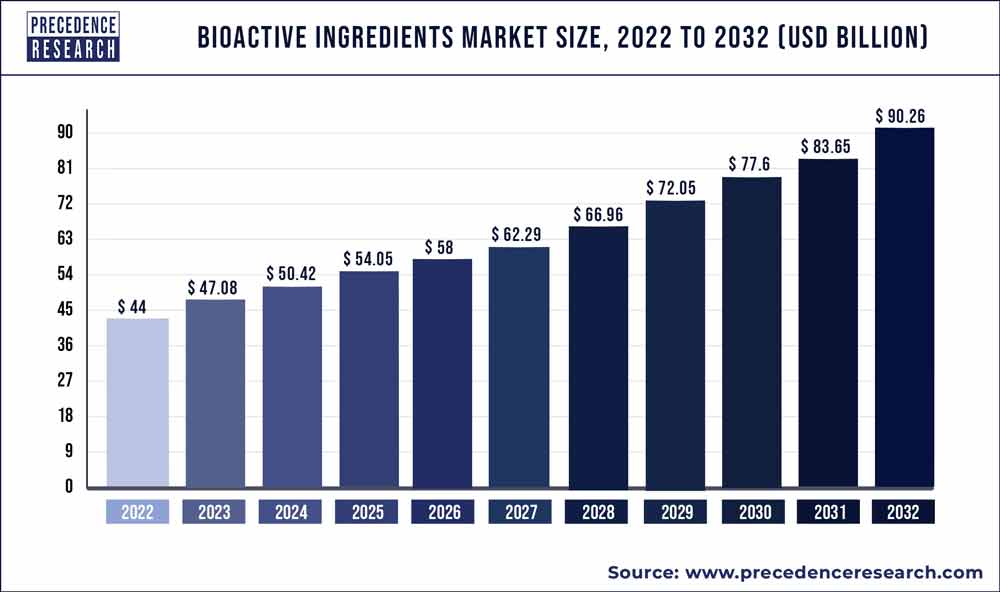 Key Takeaways:
By product, fiber product segment has accounted maximum revenue share of 25% in 2022.
By application, the functional food and beverage segment has accounted for the largest share of more than 29.5% of the total revenue in 2022.
Asia Pacific region has dominated the market in 2022 with revenue share of 39.5% in 2022.
Growth Factors
The growth of the global bioactive ingredients market is being driven by the surge in demand for functional ingredients. These kinds of ingredients help to get rid of certain illnesses and ailments. In addition, the growing prevalence of obesity and diabetes is also boosting the expansion of the global bioactive ingredients market. As per the World Health Organization (WHO), diabetes was the tenth biggest cause of mortality in 2019, accounting for an estimated 1.5 million deaths and fatalities. Overweight individuals aged 18 and up accounted for roughly 1.9 billion adults in 2016. Over 650 million of these people were overweight or obese. The growth of the global bioactive ingredients market is attributed to rising technological advancements. The bioactive ingredients are protected from undesired interactions and oxidation using recent technical breakthroughs such as microencapsulation. The major market players are increasingly looking for solutions that will increase productivity while maintaining appropriate product quality.
One of the significant factors contributing to the growth of the global bioactive ingredients market is the growing trend of veganism. Moreover, consumers are also preferring natural and organic ingredients for gut health and well-being. In most health and dietary supplements, bioactive ingredients are used on a large scale. When nutritious components are employed in animal feed, the manufacturers of animal feed get higher output from their animals, which is driving the growth of the global bioactive ingredients market. The increased awareness of bioactive ingredients among healthcare providers as well as a thriving personal care industry that incorporates bioactive ingredients into their products is some key aspects boosting the global bioactive ingredients market forward.
Report Scope of the Bioactive Ingredients Market
Report Coverage
Details
Market Size in 2023
USD 44 Billion
Market Size by 2032
USD 90.26 Billion
Growth Rate from 2023 to 2032
CAGR of 7.5%
Base Year
2022
Forecast Period
2023 to 2032
Segments Covered
Regions Covered

North America
Europe
Asia-Pacific
Latin America
Middle East & Africa

Segments Insight
Type Insights
The omega-3 and structured lipids segment dominated the bioactive ingredients market in 2022. Eicosatetraenoic acid, Alpha-linolenic acid, and docosahexaenoic acid are the three primary omega-3 lipids. Plant oils such as soybean, flaxseed, and canola oils are high in alpha-linolenic acid. The fish and other types of seafood include eicosatetraenoic acid and docosahexaenoic acid. They are extensively distributed in nature and have a major function in human food and physiology as essential elements of animal lipid metabolism.
The probiotics segment is the fastest-growing segment of the bioactive ingredients market in 2022. The probiotics are yeast and bacteria that assist people and animals keep a healthy microbial balance in their guts. The probiotics element promotes the body's natural digestive enzymes and juices, ensuring optimal digestion. They can be taken as supplements or taken orally. The main aspect influencing the segment expansion is the rise in consumer preference for organic and natural products. The probiotics segment is expanding as consumers' concerns about preventative health care and the usefulness of probiotic bacteria on health development. The need for probiotics has risen as a result of a rise in the consumption of functional food products, which in addition to offering basic nourishment, have the ability to enhance health.
Application Insights
The food and beverage segment dominated the bioactive ingredients market in 2022. The growth of the segment is attributed to the advantages provided by bioactive ingredients. The bioactive ingredient-based food and beverage items are high in vitamins, fiber, and minerals while still being low in calories. The bioactive ingredients have the ability to modulate metabolic processes and have favorable features such as enzyme induction, antioxidant activity, and gene inhibition.
The animal nutrition segment is the fastest-growing segment of the bioactive ingredients market in 2022. Animal nutrition is required for effective milk and meat production, healthy bone construction, and reproduction, and includes vitamins, macronutrients, dietary minerals, amino acids, enzymes, and eubiotics. The protein synthesis, transport, and storage of other nutrients all require amino acid supplementation resulting in high-quality animal-based food products such as milk, eggs, and meat. As per the International Dairy Federation, dairy product intake is anticipated to rise by 25% between 2015 and 2024. As a result, dairy processes are increasing their use of amino acids to meet the immediate requirements, interrupting the animal nutrition segment.
Regional Insights
Asia-Pacific dominated the bioactive ingredients market in 2022. China and India dominated the bioactive ingredients market in the Asia-Pacific region. One of the primary factors driving the growth of the Asia-Pacific bioactive ingredients market is the surge in demand for functional ingredients. Thus, the market players are launching innovative products in the bioactive ingredients market. For example, Shenzhen Qianhai XiaozaoTechnology Co. Ltd, a Chinese ingredient manufacturer has begun producing algal omega-3 with highly eicosapentaenoic acid components, thereby diversifying their bioactive ingredients offers. The market players are also adopting business expansion strategies to increase their market reach. For example, Neptune Bioresources of Quebec has formed a joint venture with Koyo Chemical of Japan to sell and manufacture glucosamine and krill oil supplements for joint health in Japan.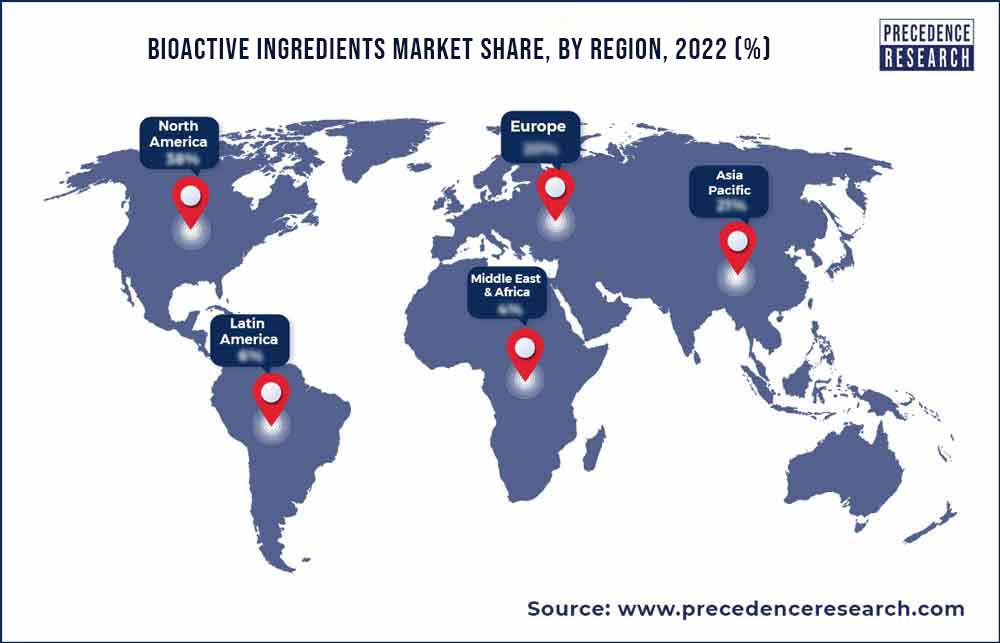 Europe is projected to grow at the fastest rate from 2023 to 2032. The factors such as growing demand for organic and natural ingredients as well as growing healthcare expenditure are driving the growth of Europe's bioactive ingredients market. Due to rising health concerns, people are avoiding consuming synthetic ingredients. This is directly boosting the demand for bioactive ingredients in the region. In addition, the existence of a large number of market players is also contributing to the expansion of the bioactive ingredients market in the Europe region.
Key Market Developments
As their position in the bioactive ingredients industry has been evaluated, the major market players have been progressively depending on product innovation as a primary tactic to expand their consumer base. In recent years, there has been significant funding in research and development, which has resulted in the launch of various new goods in the bioactive ingredients market under consideration. The major manufacturers have been developing new products to meet market demands for functional ingredients throughout many end-user industries such as animal nutrition, food and beverage, and nutritional supplements. Key market corporations like Archer Daniel Midland Company and Dupont De Nemours have been at the forefront of the latest product launch and creation.
Proclaim Resources Ltd. will show off prototypes of its CapsoilFoodTech platform, which turns bioactive oil molecules into water-soluble powders including fat-soluble vitamins, lipid-based minerals, and nutritional oils. The CapsoilFoodTech platform can turn oil-based compounds into ultra-fine, self-emulsifying powder, and water-soluble making them simpler to include in a variety of drinks, foods, and extended forms of nutritional supplements.
Some of the Prominent Players
FMC Corporation
Ingredion Incorporated
Mazza Innovation Ltd.
Roquette
Sabinsa Corporation
Archer Daniel Midland
Cargill
BASF SE
AJINOMOTO CO
Arla Foods
Segments Covered in the Report
(Note*: We offer reports based on sub-segments as well. Kindly, let us know if you are interested)
By Type
Prebiotics
Probiotics
Amino acids, peptides & proteins
Omega 3 & structured lipids
Phytochemicals & plant extracts
Minerals
Vitamins
Fibers & specialty carbohydrates
Carotenoids & antioxidants
Others
By Application
Food and beverages
Dietary supplements
Animal nutrition
Personal care
By Geography
North America
Europe
Asia-Pacific
Latin America
Middle East & Africa (MEA)