The global biorefinery market size was reached at USD 135.43 billion in 2022 and it is expected to hit around USD 328.04 billion by 2032, expanding at a CAGR of 9.25% during the forecast period from 2023 to 2032.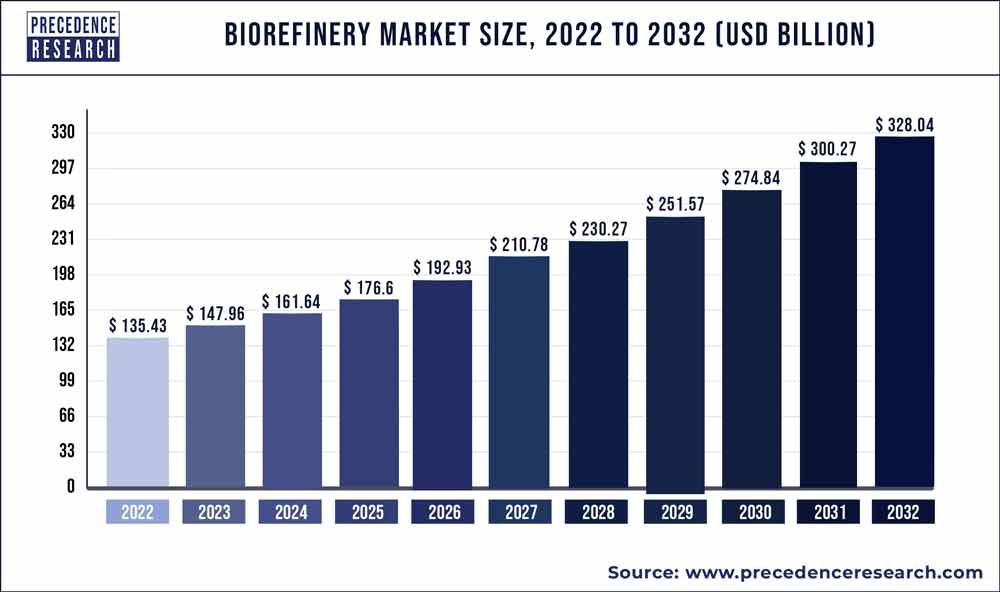 Key Takeaway:
Asia Pacific holds the dominating share of the market, the region is anticipated to sustain its dominance throughout the forecast period.
By type, the first-generation segment is expected to generate significant revenue throughout the predicted period.
By feedstock, the starch & sugar crops segment shows significant growth during the forecast timeframe.
By product, the energy-driven segment is expected to grow at a significant rate during the forecast period.
By technology, the industrial biotechnology segment is expected to hold the dominating share of the market.
Market Overview:
The biorefinery market is a sector of the renewable energy and sustainable products industry that focuses on the conversion of biomass feedstocks into a wider range of valuable products, including biofuels, biochemicals and biomaterials. The global biorefinery market is supported by increasing concerns about energy security. Biofuels and biochemicals are primary products used in biorefineries. Biofuels are liquid or gaseous fuels produced from biomass and they are intended to replace traditional fossil fuels. Whereas biochemicals are chemicals produced from biomass and are used in various applications including pharmaceuticals, cosmetics and plastics industries.
Growth Factors:
The depletion of the high rate of conventional resources such as natural gas, coal, petroleum, etc., and an upsurge in environmental concerns are the primary reasons for boosting the growth of the biorefinery market. Meanwhile, regulatory policies and the availability of numerous public and private tax incentives propel the investment in renewable energy to further practice research and development to gain commercialization. Increasing modes of transportation enrolling for the growing production of biofuels are stimulating the expansion of the market significantly.
Report Scope of the Biorefinery Market:
| | |
| --- | --- |
| Report Coverage | Details |
| Market Size in 2023 | USD 147.96 Billion |
| Market Size by 2032 | USD 328.04 Billion |
| Growth Rate from 2023 to 2032 | CAGR of 9.25% |
| Largest Market | Asia Pacific |
| Fastest Growing Market | North America |
| Base Year | 2022 |
| Forecast Period | 2023 To 2032 |
| Segments Covered | By Type, By Feedstock, By Product, and By Technology |
| Regions Covered | North America, Europe, Asia-Pacific, Latin America, and Middle East & Africa |

Market Dynamics:
Driver:
Rising emphasis on energy security
Biorefineries help improve energy security in various ways, and the recovery of energy or waste-to-energy conversion achieves it. Biomass as a renewable energy source to generate heat and electricity is optimized by extending biofuel applications beyond burning firewood. Biorefineries in general have lower carbon footprints compared to conventional refineries. The use of bio-based products from biorefineries can help countries meet their climate change commitments and reduce their dependence on fossil fuels. These factors are major contributors to greenhouse gas emissions. Thus, the rising emphasis on energy security promotes the growth of the biorefinery market.
Restraint:
High establishment cost of biorefineries
With biorefineries' prevailing high establishment cost, entrepreneurship flourishes in an ecosystem with supportive infrastructure such as incubators, co-working spaces, and research facilities becomes difficult. It becomes challenging for entrepreneurs to access resources, network, and collaborate. Governments and organizations must invest in creating and expanding entrepreneurial infrastructure, providing affordable office spaces, and establishing innovation hubs to foster a conducive environment for startups. The high cost of establishing a biorefinery may limit underdeveloped countries or economically weaker areas to adopt the solutions achieved by biorefineries. Thus, the factor is observed to restrain the growth of the market.
Opportunity:
Increasing production of advanced biochemicals
Biorefineries can produce a wide range of high value biochemicals, such as enzymes, organic acids, and specialty chemicals. These chemicals have applications in various industries, including pharmaceuticals, cosmetics, and agriculture. Advanced biochemicals are often more complex and have higher value compared to conventional biofuels. They can be used in various applications. This increased value proposition attracts more investments in biorefineries and encourages the expansion of the market. Thus, the increasing production rate of advanced biochemicals is observed to open a plethora of opportunities for the market.
Segments Insight:
Type Insights:
The first-generation segment is expected to generate significant revenue throughout the forecast period. The initial demand for biofuels and other biorefinery products was mainly driven by the desire to find alternative and more sustainable sources of energy and chemicals. First-generation biorefineries are capable of meeting some of these requirements at the very early stages. Early policies and incentives in many countries also promote the growth of the segment.
Feedstock Insights:
The starch and sugar crops segment dominates the global biorefinery market, the segment will continue to grow at a significant rate during the forecast period. Using sugar crops (sugar cane, sweet sorghum, and sugar beet) as feedstock in biorefinery has a more significant advantage in crop reproduction and the conversion process over starch crops. The primary sources of starch crops for biorefinery comprise cereal grains (rice, corn, and wheat), tubers (potato and cassava), and roots. Integrating sugar- and starch-based biorefinery production can improve the country's economy.
The organic and agricultural residues segment is expected to witness a notable growth rate during the forecast period. Agricultural residues and cost-adequate renewable lignocellulosic fiber resources can be used as an alternative to woody lignocellulosic biomass. These residues have similar composition, properties, and structure to other plant fibers suitable for paper, composite, textile, and pulp applications. Further, using agro-residues can alleviate the scarcity of wood resources in countries with lesser forestry resources.
Product Insights:
The energy-driven segment is expected to hold the largest share of the market, fluctuations in fossil fuel prices can impact the competitiveness of energy-driven products. When fossil fuel prices rise, renewable energy sources become more appealing economically. This factor drives the growth of the segment.
Multiple consumers are increasingly conscious of the environmental impact of their choices and are seeking products with sustainable credentials. Energy-driven products from biorefineries often carry a green label, which states the sustainability of the product. This factor also highlights the segment's growth.
The material-driven segment is expected to be the most attractive segment of the market. Material-driven products from biorefineries have a wide range of applications across various industries such as biomaterial, bioplastics and biochemicals. These products are widely used to replace conventional fossil-fuel-based materials, making them an attractive choice for environmentally conscious consumers and industries.
Technology Insights:
Industrial biotechnology is observed to be the fastest growing segment of the market. Industrial biotechnology offers more sustainable and eco-friendly solutions compared to traditional petrochemical-based industries. Biorefineries use biological processes to convert biomass into valuable products, reducing the reliance on fossil fuels and minimizing greenhouse gas emissions. Thus, the demand for sustainable biorefinery products promotes the segment's growth.
Thermochemical is anticipated to register a considerable growth rate during the forecast period. Thermochemical technologies offer greater flexibility in terms of feedstock utilization compared to other biorefinery technologies. They can process a wide range of biomass, including lignocellulosic materials and even waste materials. The technology ensures more stable supply chain, this factor promotes the growth of the segment.
Regional Insights:
Asia Pacific held the largest share of the market in 2022, the region is expected to witness a significant growth during the forecast period. The region's growth is attributed to the growing awareness of environmental pollution and converting waste products into energy sources. The ever-increasing population in the region tends to highly impact the need for energy sources such as natural gas, oil, and coal. For instance, EcoCeres Inc., an Asia-based biorefinery firm with prominent research and development, declared its first 100 percent agricultural waste-produced ethanol delivery to the European markets. According to PwC India, the Ministry of New and Renewable Energy (MNRE) stated that to continue to work with the National Bioenergy Program with a budget of Rs.858 crore for energy recovery till 2025–2026 in November 2022. The Program uses biomass, cattle dung, and industrial bio waste for energy recovery, contributing to India's path toward bioenergy usage.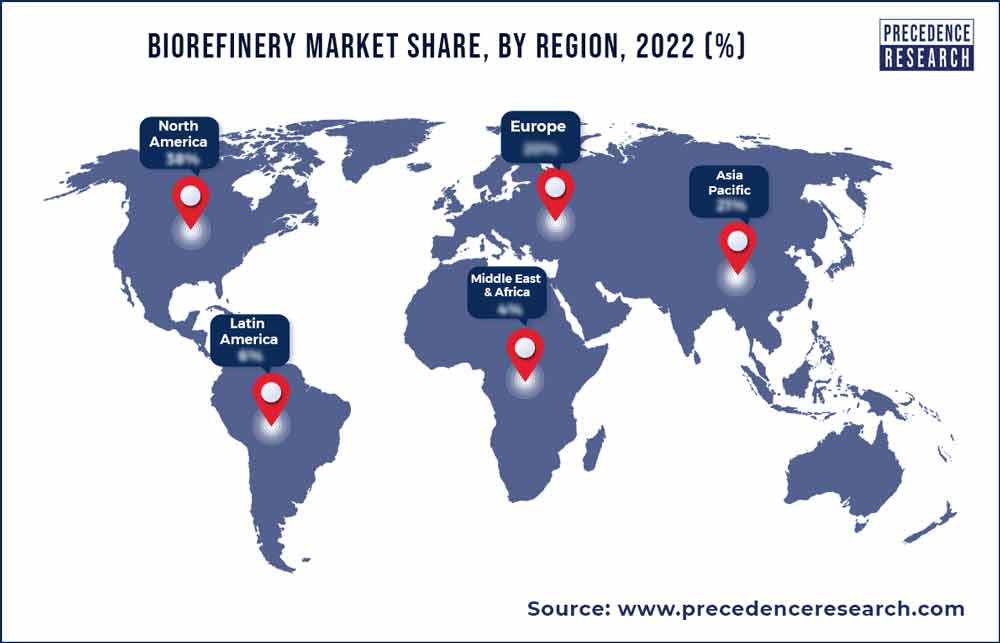 North America is the fastest-growing region in the market, the region will experience notable growth during the forecast period.
The presence of raw materials, infrastructure, and transportation contributes to urbanization, and the industrial revolution is the primary factor responsible for the biorefinery market expansion in North America. Moreover, United Airlines Ventures declared a well-planned investment in NEXT Renewable Fuels, permitting a biofuel refinery in production to start in 2026 in Port Westward, Oregon.
Recent Developments:
In February 2023, IIT Guwahati established a sustainable microalgae biorefinery model and bio alcohol production; and the Institute is operating on multiple projects to contribute concerning sustainable energy under the same model.
In October 2022, Afyren and the European AFTER-BIOCHEM project inaugurated the first plant of bio-sourced ingredients derived from fermentation technology which was a long-awaited step for the key players dealing with cosmetics and perfumes.
In September 2022, Waste Fuel, a California-based bio-refinery developer specialized in converting municipal solid waste into low-carbon fuels, started the Waste Fuel Methanol module. This new technology will notably accelerate employing organic waste to generate green methanol.
In June 2022, Fintoil and Neste Engineering Solutions chose Emerson's technologies and software to fully exploit the functional execution of its biorefinery assembled in the port of Hamina-Kotka in Finland, considered the world's third-largest crude oil biorefinery and build advanced biofuel and biochemical feedstocks that assist fewer emissions and diminish reliance on fossil fuels.
In April 2022, Godavari Biorefineries, Mumbai-based ethanol, and bio-based chemicals manufacturer, plans to open its initial public offering aggregating to ₹700 crore while perceiving the geopolitical situation.
Key Market Players:
UPM Global
Valero
Versalis SpA.
IES BIOGAS srl
Neste
Ørsted A/S
Renewable Energy Group
Sekab, Green Plains Inc.
TotalEnergies
Vivergo Fuels
AB HOLDING SPA
Assam Biorefinery Private Limited.
Borregard AS
BP PLC
BTS Biogas Srl/GmbH
Chempolis
Clariant
Cargill Incorporated
Godavari Biorefineries Ltd.
Honeywell International Inc.
Wilmar International Ltd.
Zea2 Bioworks
Segment Covered in the Report:
(Note*: We offer reports based on sub segments as well. Kindly, let us know if you are interested)
By Type
First Generation
Second Generation
Third Generation
By Feedstock
Starch & Sugar crops
Energy Crops
Organic & Agricultural Residues
Multi-feedstock
By Product
Energy Driven
Material Driven
By Technology
Industrial Biotechnology
Physico-Chemical
Thermochemical
By Geography
North America
Europe
Asia-Pacific
Latin America
Middle East and Africa