The global compound management market size was exhibited at USD 369.2 million in 2022 and it is projected to hit around USD 1,521.27 million by 2032, growing at a CAGR of 15.2% during the forecast period 2023-2032. The U.S. compound management market size was valued at USD 112.51 million in 2022.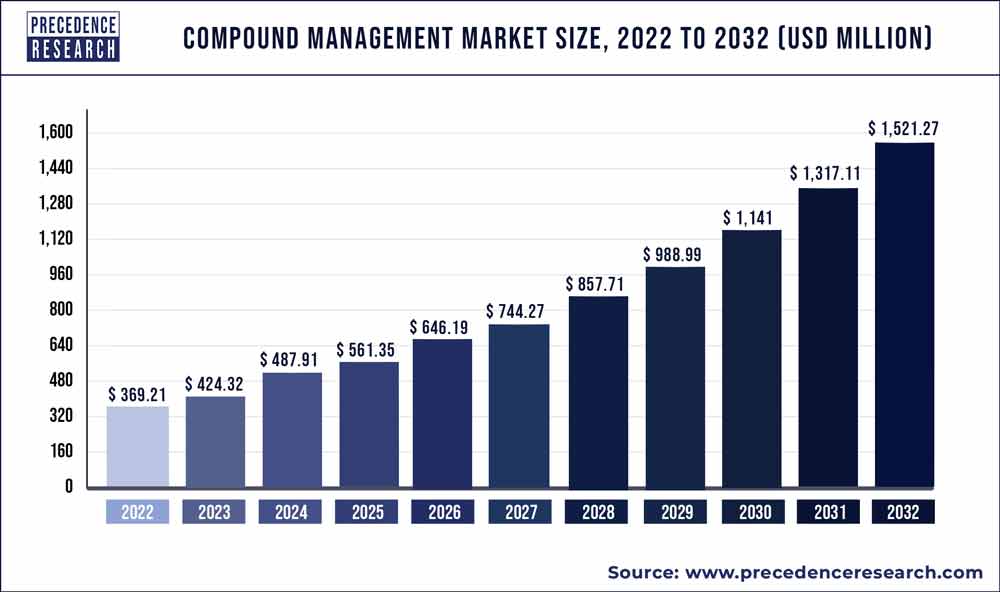 Key Takeaway:
By type, the products segment has garnered a revenue share of 60.64% in 2022.
The service segment is expanding at a CAGR of 14.9% from 2023 to 2032.
By sample type, the chemical compounds segment has accounted revenue share of around 53.68% in 2022.
The biosamples segment is poised to grow at a CAGR of 15.6% between 2023 to 2032.
By end-use, the pharmaceutical companies segment has accounted revenue share of 34.86% in 2022.
The biopharmaceutical companies segment is expected to grow at a CAGR of 15.5%.
Market Overview
The management of chemical libraries, which encompasses databases updating chemical information, restoring outdated chemicals, storage environment quality control, and robotics for fetching chemicals are all included in Compound Management. Another word for compound management is compound Control. For the success of drug discovery, where the fundamentals are traceable, reliable, speed, and throughput, efficient compound management is the most important factor. The growth of the biobanking or biopharmaceutical industry is fueling the compound management market. Most biotech and bio-pharmacy companies focus on core functions due to outsourcing functions to CROs and CMOs.
The location of drug candidates is reliable due to the compounds of high integrity. The development of the R&D industry is supported by the collection, storage, and distribution of human biological samples. Sample consistency and lifespan can be increased by maintaining samples at the proper temperature, in nitrogen or dry air to reduce fluctuations in stock concentrations, and in a dark environment to prevent photodegradation. Compound management is now more crucial than ever due to the development of high-throughput screening techniques. In order to improve the purity, safety, shelf life, and other critical aspects of samples, compound management involves effectively maintaining chemical libraries and biological samples.
Report Scope of the Compound Management Market
| | |
| --- | --- |
| Report Coverage | Details |
| Market Size in 2023 | USD 424.32 Million |
| Market Size by 2032 | USD 1,521.26 Million |
| Growth Rate from 2023 to 2032 | CAGR of 15.2% |
| Base Year | 2022 |
| Forecast Period | 2023 to 2032 |
| Largest Market | North America |
| Fastest Growing Market | Europe |
| Segments Covered | By Product, By Sample Type, By End-User |
| Regions Covered | North America, Europe, Asia-Pacific, Latin America, Middle East & Africa |

Market Dynamics
Market dynamics are forces that have an effect on stakeholder behavior and prices. When the supply and demand curves for a specific product or service alter, pricing signals are produced. Various advanced techniques are used to check the drug discovery process, which makes drug development a very long, expensive, and complicated process. The key factor to drive the Global Compound Management market revenue over the forecast period is increasing pharmaceutical sample collection, storage, and transportation activities, rise in pharmaceutical R&D and new drug development projects, growing demand for Compound management outsourcing services, and increasing research collaborations between leading pharmaceutical companies. Another important factor that is anticipated to significantly contribute to the worldwide market revenue growth is the rising need for completely automated compound management systems.
High investment costs and a shortage of skilled workers are expected to restrain the growth of the market. A compound/sample management facility requires significant capital due to investment in both hardware and software, including the installation of new automated liquid compound storage systems connected to a significant inventory database. A largely automated storage system, for instance, typically costs between US$1 million and US$10 million.
The low labor and raw material costs, rising life science research, government support, and technological integration and advancements are the key factors for emerging compound management markets. India has been made into a hotspot for biotechnology research through collaboration between the Department of Biotechnology (DBT) and government-funded organizations like the National Biotechnology Board (NBTB). Unreliable and inadequate compound management can lead to compound destruction, an increase in downtime, and a delay in the onset of research. Research and development can be significantly impacted by imprecise and improper compound management. Drug development workflows can be severely impacted by compound management, which results in unnecessary delays because of segmented and temporary processes.
Another important element that is anticipated to significantly contribute to the worldwide market revenue growth is the rising need for completely automated compound management systems. Fully automated compound management systems support a variety of processes, including compound weighing and dissolution, assay plate preparation, library maintenance, and more.
In 2020, there were 17,737 pharmaceuticals in the R&D pipeline, and in 2022, there were 20,109 pharmaceuticals in the pipeline, according to Pharma R&D annual review 2022. Despite the decrease in COVID-19 incidences, the significance of COVID-19 vaccinations has increased dramatically. The demand for COVID-19 vaccines is rising as a result of the concern that a new COVID-19 variation would arise. As a result, several pharmaceutical companies are creating COVID-19 vaccines. According to Clinicaltrials.gov, around 1,112 COVID-19 vaccines were in development as of May 31st, 2022. There is a probability of increased demand for COVID-19 vaccine compound management.
Market Driver
Increasing Research and Development (R&D) Activities
The compound management market's expansion is significantly impacted by rising research and development (R&D) efforts. Compound management is essential to the processes of drug development and discovery. Compound libraries, which are collections of various chemical compounds, are in higher demand as a result of R&D operations in the pharmaceutical and biotechnology industries. These libraries offer researchers useful tools for screening and identifying prospective drug candidates. Compound libraries are more necessary as R&D activities increase, fueling the expansion of the compound management industry. As R&D expenditures rise, so does the quantity of chemicals being examined for potential medication candidates. By assuring precise compound identification, suitable storage conditions, and quick sample retrieval, compound management systems aid in streamlining and automating the screening operations. This boosts medication screening's overall effectiveness and hastens the identification of fresh therapeutic possibilities. R&D activities produce a ton of data, including information about compounds, screening findings, and experimental parameters. To ensure compliance with legal requirements and promote reproducibility, the pharmaceutical sector maintains data integrity, security, and traceability. In order to track and securely preserve compound-related data, the compound management industry offers integrated data management systems, such as laboratory information management systems (LIMS).
Pharmaceutical and biotechnology businesses frequently look for cost-effective approaches to manage their compound libraries as R&D costs rise. It becomes a desirable choice to outsource compound management services to specialized companies. These service providers provide knowledge, cutting-edge facilities, and specialized teams for compound management. As a result of the increased demand for outsourcing solutions, the compound management industry is expanding.
Regulatory Compliance Requirements
Compound management market growth is significantly fueled by regulatory compliance requirements. Strict rules and regulations are in place in sectors including healthcare, biotechnology, and pharmaceuticals to guarantee the efficacy, safety, and quality of goods and services. The adoption of effective compound management systems and procedures is required by these requirements, which increases the market's demand for solutions. The tracking, storing, and retrieval of chemicals and related data must be done in a precise and effective manner in order to meet regulatory compliance requirements. Compound management entails handling chemical compounds, samples, and reagents while keeping meticulous records of their characteristics, origins, and applications. Companies maintain thorough records to show compliance with laws and standards including Good Laboratory Practices (GLP) and Good Manufacturing Practices (GMP), according to regulatory organizations. Organizations use compound management systems, which provide capabilities like barcode labelling, inventory tracking, and electronic data management, to satisfy these criteria.
The demand for reliable technologies that make compliance with these requirements easier is driving the compound management market's expansion. Additionally, regulatory compliance standards place a strong emphasis on data security and integrity. Compound data and related information must be accurate, secure from unauthorized access, and accessible for auditing by organizations. For proper data processing, version control, and audit trails, secure and controlled compound management systems must be put in place. In order to comply with regulatory compliance standards, businesses engage in compound management solutions that offer data encryption, user access controls, and data backup functions. The demand for secure and compliant data management is fueling the market for such solutions.
Growing Focus on Personalized Medicine
The market for compound management is expanding significantly due to the increased emphasis on personalized treatment. Precision medicine, also referred to as personalized medicine, strives to offer specialized treatment options based on a person's unique genetic profile, way of life, and environmental circumstances. It signifies a change from a generalized approach to a more specialized and successful treatment plan. By guaranteeing the effective storage, tracking, and distribution of compounds used in drug research and development, compound management plays a critical role in enabling the development and application of personalized medicine. The growing awareness of genetic variants and their impact on disease susceptibility and treatment response is one of the main factors influencing the demand for compound management in the context of personalized medicine. Due to developments in genomics and genetic testing, distinct genetic markers and biomarkers linked to a number of diseases have been identified. Healthcare professionals can choose the best therapeutic substances or treatments for a patient by looking at their genetic profile, improving treatment effectiveness and reducing side effects.
Large compound libraries are kept organized and maintained with the use of compound management systems, making it easier to find drugs that target particular genetic variants or biomarkers. Furthermore, the demand for effective compound management has increased as a result of the advent of high-throughput screening technology. The precise handling and tracking of compounds during the screening process is ensured by the integration of compound management systems with automated screening platforms, increasing productivity and enabling the identification of customized therapeutic solutions. The acceptance of personalized medicine is also being fueled by the increased incidence of chronic diseases and the rising desire for focused medicines. Chronic illnesses like cancer, heart disease, and neurological issues frequently need to be managed over an extended period of time and treated according to an individual's needs. Compound management makes it easier to choose, store, and distribute the compounds used in personalized medicines, allowing healthcare professionals to give patients individualized treatment plans.
Market Restraint
High Initial Investment
The pharma, biotech, and life sciences sectors all depend heavily on the compound management market. The market has a lot of scope to grow, but one of its biggest obstacles is the high initial cost of setting up and maintaining a compound management system. A comprehensive compound management infrastructure requires a number of parts and related expenses. To preserve the stability and integrity of the compounds, specialized storage facilities with controlled temperature and humidity conditions are required. These facilities need a significant capital investment, which includes building or leasing fees, installing suitable environmental control systems, and paying ongoing maintenance expenses. For the effective handling, tracking, and retrieval of compounds, advanced automation and robotics technologies are just as important as physical infrastructure. Robotic arms, conveyor belts, and high-throughput screening platforms are examples of automated systems that are expensive to buy, integrate, and maintain. Operating and troubleshooting them requires trained personnel, which raises the entire cost of the investment.
Additionally, combining different software programs for inventory control, sample tracking, and data analysis is necessary to develop a successful compound management system. To suit unique organizational requirements, these software systems must be designed and customized, which can be expensive. The acquisition of compounds themselves is included in the initial outlay needed for compound management. Large chemical libraries are often maintained by pharmaceutical and biotechnology businesses, and they cost a lot of money to develop and grow. For organizations with tight budgets, the price of procuring a wide variety of high-quality compounds, as well as the costs connected with their synthesis and characterization, might be a considerable hurdle.
Market Opportunity
Increased Outsourcing
The compound management market has experienced tremendous expansion in recent years due to the increased outsourcing of drug discovery and development procedures by pharmaceutical and biotechnology companies. For these businesses, outsourcing has evolved into a strategic way to take use of outside expertise, cut costs, and speed up the drug development process. Outsourcing enables biotechnology and pharmaceutical businesses to concentrate on their core strengths, such as research and development, while leaving compound management chores in the hands of knowledgeable service providers. Chemical and biological samples must be stored, tracked, and distributed as part of compound management, which can be resource-intensive and need for specialized infrastructure. Companies can more effectively manage their resources by outsourcing these tasks, allowing them to focus on critical areas of drug discovery and development. Outsourcing additionally gives access to the cutting-edge infrastructure and knowledge provided by compound management service providers. These suppliers have cutting-edge tools, automated processes, and devoted teams of professionals with years of compound management knowledge.
The effectiveness, precision, and quality of compound management processes can all be considerably improved by making use of these resources. Businesses can gain from the suppliers' expertise in data tracking, inventory control, and sample handling, which boosts overall productivity and lowers operational hazards. Compound management outsourcing can also aid businesses in overcoming capacity issues. Management of a large number of compounds and samples may present issues for organizations when drug discovery and development pipelines expand. Through outsourcing, they can take advantage of service providers' scalability and their infrastructure and capacity to handle massive volumes of chemicals. With this scalability, businesses may adapt to changing customer demands without having to invest heavily in internal facility expansion.
COVID-19 Impact
Various healthcare facilities were affected due to the outbreak of COVID-19. There was a huge impact on Compound Management Market as well. Lockdowns disrupted logistics and transportation. An integral part of healthcare reforms in near future will be technological progress, cost containment, and increased access. The front liners are digital health and telehealth. The importance of remote diagnosis, care, and consultation is re-emphasized due to COVID-19. However, many healthcare workers are working on telephone calls and video conferencing, this segment growth will increase several folds over the next few years. Online consultation of patients with moderate symptoms has greatly reduced the burden on hospitals already swamped by counts of COVID-19 patients.
Medical loT devices are now being used for optimizing outpatient treatment and minimizing repeat visits. These devices can further be used in a crisis situation. It is necessary to preserve the shelf life, quantity, purity, and other characteristics of each chemical in the storage bank in addition to their storage location. In certain industries, the chemicals used may also contain biological materials like purified proteins or nucleic acids. Manufacturers are introducing the latest medicines, and therapy forms, progressing digitalization, and constant management change for significant growth. Furthermore, it is anticipated that the compound management market would grow considerably in the upcoming years due to expanding applications in pharmaceutical development. Regardless of the issues, we face in the future, what we actually need are software systems that are adaptable to new developments, hardware that is suitable for mixing and matching, along with open minds.
Regional Insights
Based on geography, the global compound management market is segmented into North America, Europe, Asia Pacific, and LAMEA. As North America has the largest consumer market and the highest GDP, it is anticipated that it would dominate the market. The North American region dominates the compound management market and holds a revenue share of around 40.26% because of factors such as rising outsourcing of compound management, increasing use of AI in drug development workflow, and the current trend of biobanking. With a rise in R&D activity in the pharma and biotech industries, Europe is predicted to develop at the fastest rate.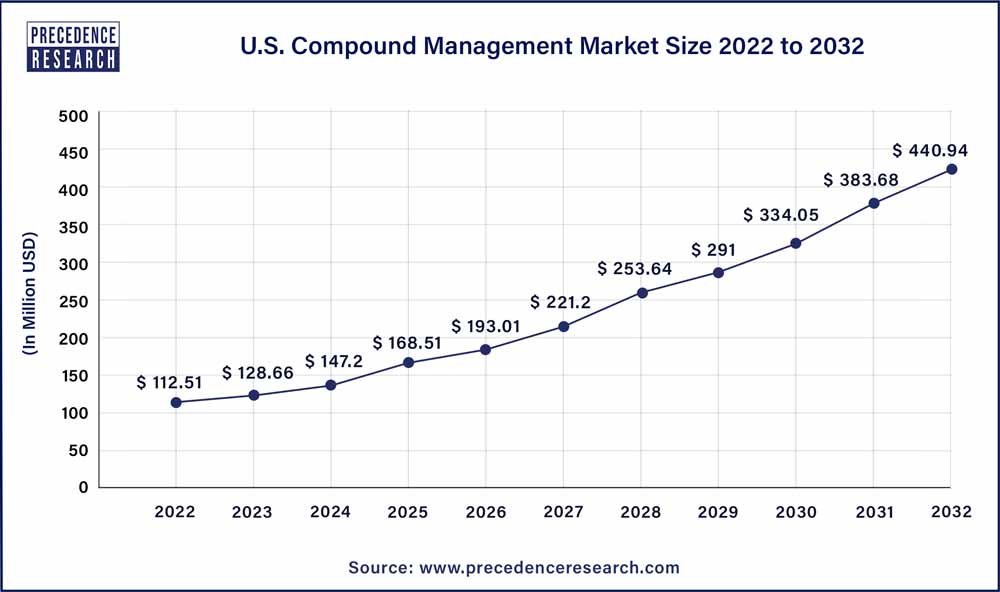 The Middle East and Africa are anticipated to have a significant increase throughout the forecast period due to the growing trend toward biobanking and software upgrades. Over the forecast period, the Asia Pacific market is predicted to expand quickly due to continuous research in regional government initiatives, pharmaceutical discovery, and private-public collaborations. Numerous programs have been implemented across Africa to improve the efficiency of National Medicines Regulatory Authorities (NMRAs).
North America compound management market size was valued at 148.64 million in 2022 and it is expected to hit around USD 594.29 million by 2032.
Europe compound management market size was estimated at 81.39 million in 2022 and it is expected to surpass around USD 338.72 million by 2032.
Asia Pacific compound management market size was reached at 97.34 million in 2022 and it is predicted to rake around USD 430.06 million by 2032.
LAMEA compound management market was valued at 41.84 million in 2022 and it is poised to reach at USD 158.19 million by 2032.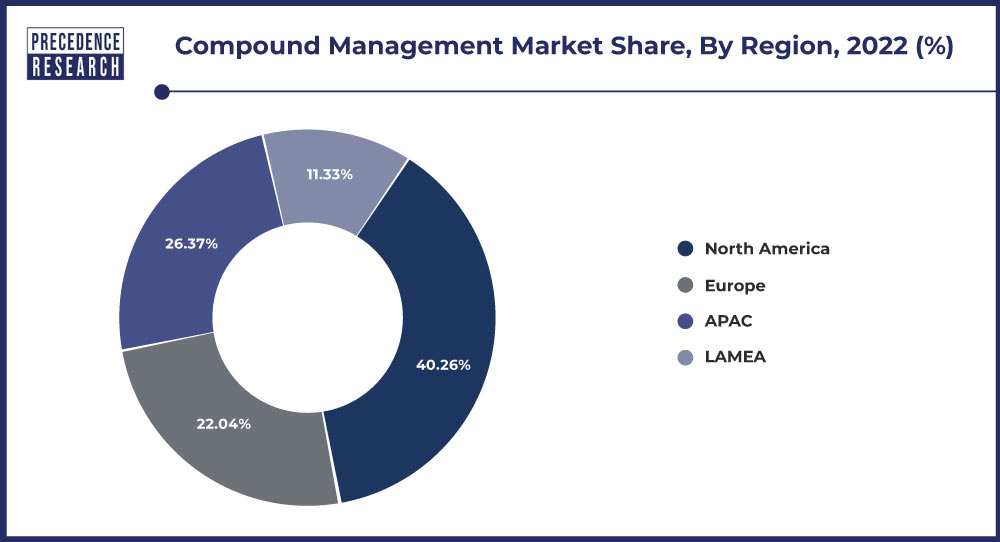 Type Insights
Based on the type, the global compound management market is segmented into products and services. The product segment has generated highest revenue share in 2022. The product segment will grow at a CAGR of 15.5% from 2023 to 2032.
The services segment was valued at USD 145.32 million in 2022 and will grow at a CAGR of 14.9% from 2023 to 2032.
Global Compound Management Market Revenue, By Type, 2022-2032 (US$ Million)
| | | | | |
| --- | --- | --- | --- | --- |
| Type | 2022 | 2023 | 2027 | 2032 |
| Products | 223.90 | 257.83 | 455.87 | 941.14 |
| Services | 145.32 | 166.49 | 288.40 | 580.12 |
Sample Type Insights
Based on the sample type, the global compound management market is segmented into Chemical Compounds and Bio Samples. Chemical compounds, especially biopharmaceuticals, are dominating the market and accounted for more than 53.68% of revenue share because they constitute a significant share in all kinds of drug discovery in 2022. Regardless of the research area, the chemicals are utilized as reagents or in reactions for the development procedure.
A large number of small molecule compounds being screened and assayed during the drug discovery process lead the chemical compound segment held the largest revenue share. There are a high number of chemicals used in drug discovery, which are required to be stored and managed throughout the drug discovery process promoting segmental growth. According to FDA recommendations, biotechnology and pharmaceutical companies depend significantly on the discovery and development of biomarkers in R&D processes.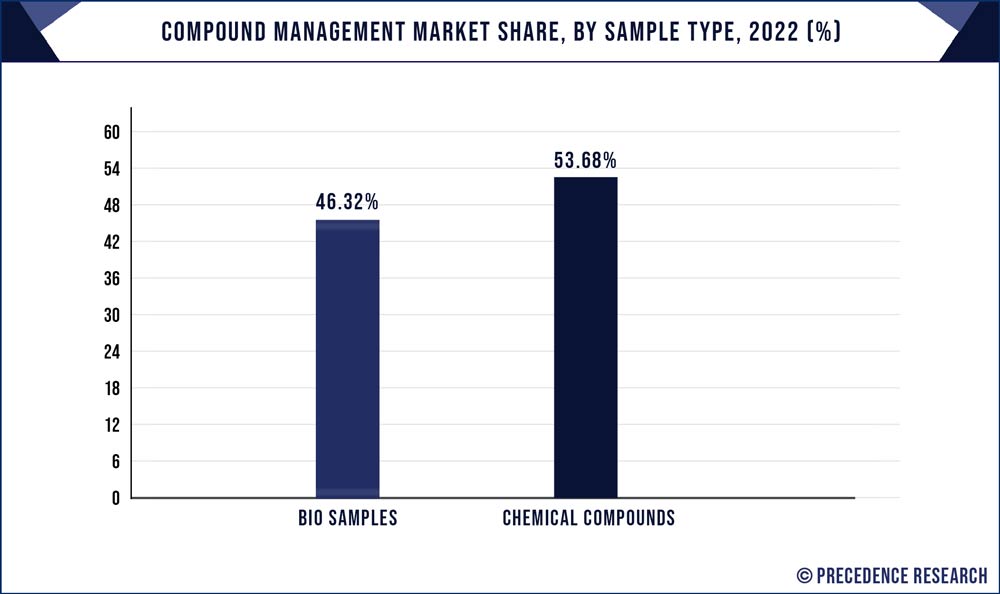 In 2022, the service sector's revenue share in the market for compound management increased significantly. Some of the major drivers affecting the service segment's expansion include the rise in drug development activities, the increasing need for compound management services, and the growing desire to reduce costs associated with drug research.
Global Compound Management Market Revenue, By Sample Type, 2022-2032 (US$ Million)
| | | | | |
| --- | --- | --- | --- | --- |
| Sample Type | 2022 | 2023 | 2027 | 2032 |
| Chemical Compounds | 198.18 | 227.08 | 393.54 | 792.39 |
| Biosamples | 171.03 | 197.24 | 350.73 | 728.87 |
End User Insights
Based on the end users, the global compound management market is segmented into Biopharma Companies, Biobanks, Pharma Companies, and CRO. The role of CROs in the drug development process is constantly changing, and there are more opportunities to use CROs in drug discovery research as data management and dissemination initiatives evolve. Over the forecast period, it is anticipated that biopharmaceutical companies will exhibit the highest CAGR. Increasing biologic manufacturing and the development of biosimilars is expected to fuel the segment's growth. The segment is also driven by increased R&D expenditures by biopharmaceutical firms and the rising incidence of chronic disorders.
The rising number of companies involved in the collection and storage of biomaterials is expected to cause the biobanking segment to grow at a lucrative CAGR over the forecast period. Additionally, the necessity for biobanking is being driven by the growing focus on personalized medicine. The rising need for personalized treatments is driving the industry's development. Access to necessary biological material is necessary for medical research. There is a considerable need for different biospecimens stored in biobanks owing to the increased cell-based research activities.
Global Compound Management Market Revenue, By End User, 2022-2032 (US$ Million)
| | | | | |
| --- | --- | --- | --- | --- |
| End User | 2022 | 2023 | 2027 | 2032 |
| Biopharma Companies | 111.21 | 128.06 | 226.43 | 467.45 |
| Biobanks | 55.94 | 64.61 | 115.61 | 242.26 |
| Pharma Companies | 128.71 | 147.62 | 256.87 | 519.80 |
| CRO | 73.36 | 84.03 | 145.37 | 291.74 |
Recent Developments
In June 2022, TTP Europe's leading technology and product development company, and Ionomr Innovations Inc., designer and manufacturer of next-generation ion-exchange membranes and polymers for clean energy, announced they are joining forces to demonstrate a new green hydrogen electrolyzer designed for mass production.
In December 2021, a leading software company for automated processes and laboratory connection Biosero has been acquired by BICO. BICO spends up to $20 million over a three-year period to accelerate Biosero's commercial agenda and to expand into new geographical markets and fully maximize on current order pipeline. A total of 63 percent of the acquisition price was paid in cash, 21 percent by issuing the Considerations Shares, and 16 percent will be paid over the next three years as an earnout component (shares and cash).
In February 2021, BioMicroLab was acquired by SPT Labtech. SPT Labtech sample management capabilities for the life science industry will strengthen due to acquisition.
In December 2020, Trans-Hit Biomarkers Inc. was acquired by Brooks Automation, Inc. Brooks Automation strengthens its biospecimen procurement, sample management, and genomic analytical services due to this acquisition.
In December 2020, Symeres and Axxam have strengthened their strategic collaboration that provides integrated drug research and development services.
In May 2020, The Hamilton Plate Sealer seals ANSI/SLAS format microplates with optically clear or pierceable foil adhesive seals for critical stop points in applications such as thermal cycling, incubation or low-temperature storage.
In December 2019, at the Hamilton Company in Japan, LPX-220, a product from LiCONiC AG, was installed. The installation was combined with a Hamilton liquid handling system, planned to be utilized for research on enzymes and to broaden LiCONiC AG's product line.
In January 2019, Beckman Coulter Life Science acquired Labcyte which helped them in expanding their laboratory automation business.
Key Market Players:
Brooks Automation (US)
Hamilton Company (US)
TTP Group (US)
Labcyte (US)
Biosero (US)
SPT Labtech LTD.
Tecan Trading AG
LiCONiC AG
Titian Service Limited
Wuxi Apptec
Evotec
Segments Covered in the Report
(Note*: We offer reports based on sub-segments as well. Kindly, let us know if you are interested)
By Type
By Sample Type
Chemical Compounds
Bio Samples
By End-User
Biopharma Companies,
Biobank
Pharma Companies
CRO
By Geography
North America
Europe
Asia-Pacific
Latin America
Middle East & Africa (MEA)