The global display material market is expanding rapidly due to the increasing demand for LCDs from various end-use sectors, rising demand for environmentally friendly and energy-efficient display materials, and the growing use of OLED technology in televisions and smartphones.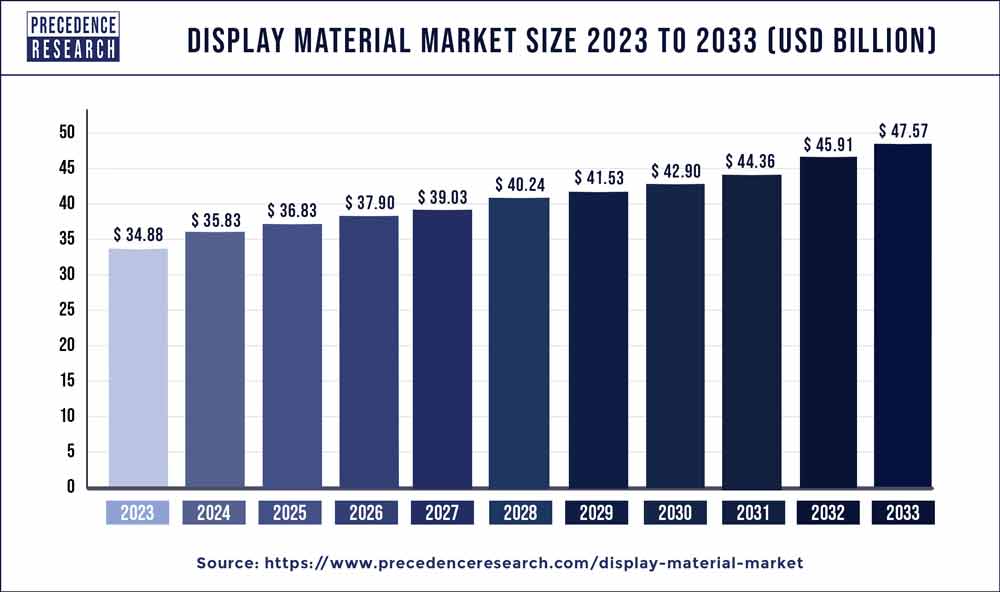 Access our Premium Real Time Data Intelligence Tool, Visit: Precedence Statistics
Market Overview
Display material is an aspect which is mainly used on display cell phones, digital cameras, media players, and televisions. Among the crucial display components are film, glass, backlights, ICs, and some organic materials that are flexible and used to manufacture displays. Different technologies, such as OLED, LCD, IPS, AMOLED, and others, are used to create displays.
The advancement of electronic display technology is made possible by several materials and methods. Plastics are ideal for point-of-purchase displays because they are inexpensive, have excellent aesthetic qualities, and are simple to manufacture.
Plastic is sturdy and lightweight, and wide varieties may be easily customized with painting and printing. When using showcases made of plastics like acrylic, high-impact polystyrene, polycarbonate, and expanded PVC, customers have a rich shopping experience. These materials are available in various colors and textures and can be made with basic woodworking tools.
Many plastic sheet materials can be produced on strip heaters and thermoformed, and they can be swiftly glued together using solvent cement blocks and adhesives. Polycarbonate, special acrylic, and PETG materials designed to transmit and diffuse LED light can create stunning backlit displays.
As long as there is a need for high-end consumer electronics, specifically TV applications, and as long as the umbrella ecosystem is accepted, the market for display materials will keep growing. The growing size and resolution of TV displays are driving the growth of the display material market. Therefore, it is likely that the growing adoption of OLED display technology and its expanding applications will fuel rising demand for the market of display material in the years to come.
In OLED technology, a light-emitting diode's light-emitting layer is an organic substance, and organic molecules typically release light in reaction to an electric current. The extraordinary rapid expansion of quantum dot OLED and LCD will also likely increase demand for display materials in the future.
Throughout the projection, it is also expected to positively affect the display materials market. Despite several motivating elements, the display material market will likely decrease and have a variable growth rate because of the IP protection and exclusivity of advanced and emerging display materials.
The high power consumption of IPS displays, which leads to crisper screens and faster battery drain, is hurting the display material market. The high manufacturing costs and higher engineering complexity that make it difficult to be installed in consumer devices like entry-level tablets and budget smartphones are two major factors restraining the global market for display material.
The display material market will grow over the next years due to the continued demand from OLED display panel manufacturers for thin substrate sheets of exceptionally high quality.
Report Scope of the Display Material Market
| | |
| --- | --- |
| Report Coverage | Details |
| Largest Market | Asia Pacific |
| Base Year | 2022 |
| Forecast Period | 2023 to 2032 |
| Segments Covered | By Technology, By Component and By Application |
| Regions Covered | North America, Europe, Asia-Pacific, Latin America and Middle East & Africa |

Growth Factors
The increasing demand for LCDs from various end-use sectors, including automotive, consumer electronics, and healthcare, is expected to drive robust growth in the global market for display material during the forecast period. The growing use of OLED technology in televisions and smartphones is also anticipated to fuel industry expansion. Additionally, over the upcoming years, it is projected that the rising demand for environmentally friendly and energy-efficient display materials will open up new prospects for market participants.
The growing popularity of smartphones and tablets, Advances in display technology, such as the development of flexible and foldable displays, The increasing popularity of smart TVs, which use internet-connected display panels, The increasing adoption of advanced driver assistance systems (ADAS) and infotainment systems in vehicles.
The rise in popularity of gaming, the increasing use of virtual and augmented reality technology, the adoption of IoT devices, like smart home devices and wearables, and the increase in e-commerce and online learning due to the COVID-19 pandemic is driving demand for display materials.
Impact of Covid-19:
The impact of Covid-19 on the display material market has been mixed. On the one hand, the increased need for remote work and online learning has led to a surge in demand for laptops, tablets, and other devices with display screens, which has driven demand for display materials such as LCDs and OLEDs.
On the other hand, the economic downturn caused by the pandemic has led to a decline in consumer spending on non-essential items, such as smartphones and televisions, which has negatively affected demand for display materials in those markets. Additionally, supply chain disruptions caused by the pandemic have led to shortages and price increases for some display materials. Overall, the market will likely recover once the pandemic is under control and the global economy improves.
Segments Insight:
Technology Insights
The market is divided into OLED and LCD segments based on technology. Due to the growing use of OLED screens in smart wearables and smartphones, the LCD category commands a sizable portion of the market. Making an LCD panel requires more layers, materials, or components.
A colour filter layer, liquid crystal, and a backlight unit are also used in LCDs, which are not necessary for OLED displays, thereby accelerating the growth of the Market for Display Materials. Two layers of polarizers and substrates are used in LCDs instead of just one layer of each plate in OLED.
Component Insights
The market is divided into polarizers, substrates, colour filter layers, liquid crystals, backlighting units, and others based on the component. Due to industry leaders' rising investments in enhancing these materials for greater energy efficiency and extended lifespan, the Polarizer category maintains a sizable market share. These reasons are driving the display material market growth.
Application Insights
By Application, the market is divided into television, smartphones and tablets, signage and large-format displays, and smart wearables. Due to the rising display materials consumption used in LCD panels for TVs, the television industry owns a sizable portion of the market.
The majority of the display material demand comes from smartphones and tablets. Shipments of OLED panels for TV applications are increasing exponentially, driven by LG, which is accelerating the expansion of the market for display material.
Regional Insights
The global market for display material is divided into North America, Asia Pacific, Europe, Latin America, the Middle East, and Africa based on geographic analysis.
Due to the substantial market share held by the Asia Pacific region, the media and entertainment industries' rapid growth and expansion, as well as the region's abundant supply of raw materials, all of which are contributing factors to the worldwide display material market's rapid expansion.
Key Developments
On Apr 2021, Samsung was thrilled to be a partner in important material innovation projects with Corning, QD Display, OLED, and flexible displays.
On Apr 2021, a long-term deal for a new OLED Technology License and Material Purchase Agreements was signed by Universal Display Corporation, a global leader in designing and producing innovative display panels, and LG Display Co., Ltd., which enables energy-efficient lighting and displays with its Universal PHOLED technology and materials.
Competitive Analysis
The market for display materials has experienced a mixed response to Covid-19. On the one hand, the demand for tablets, laptops, and other devices with displays has surged due to the growing requirement for online learning and remote work. As a result, demand for display components like LCDs and OLEDs has increased. Conversely, the pandemic-related economic slowdown has decreased consumer expenditure on discretionary items like cell phones and televisions, which has harmed display materials demand in those countries. In addition, the pandemic's effects on the supply chain have created shortages and price rises for several display materials.
AGC Inc.
DIC Corporation
Corning Incorporated
DuPont and Dow
Idemitsu Kosan Co, Ltd
Hodogaya Chemical Co., Ltd
JSR Corporation
NITTO DENKO CORPORATION
LG Chem
SAMSUNG SDI CO., LTD.
Segment Covered in the Report:
(Note*: We offer report based on sub segments as well. Kindly, let us know if you are interested)
By Technology
By Component
Substrate
Polarizer
Liquid Crystals
Colour Filter Layer
Backlighting Unit
Others
By Application
Smartphone & Tablet
Television
Smart Wearables
Signage/Large Format Display
By Geography
North America
Europe
Asia-Pacific
Latin America
The Middle East and Africa