The global disposable medical sensors market size was evaluated at USD 10.43 billion in 2022 and is projected to hit around USD 42.55 billion by 2032, growing at a CAGR of 15.1% during the forecast period from 2023 to 2032.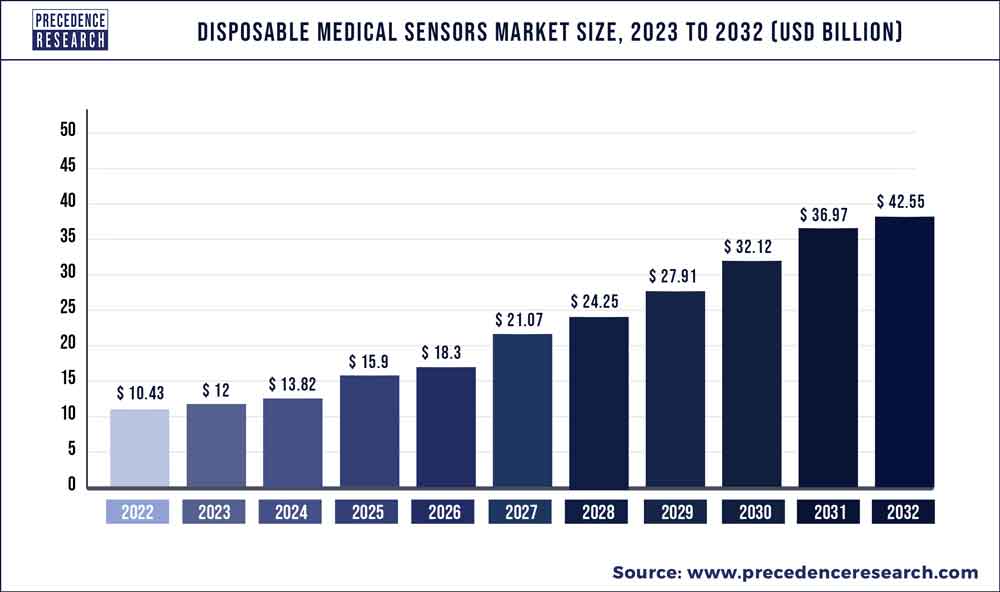 Key Takeaways:
On the basis of geography, the North America region will likely dominate the market and captured more than 42% revenue share in 2022.
On the basis of application, the diagnostic segment dominates the market and captured more than 40% of the revenue share in 2022.
On the basis of product, the biosensors segment contributed more than 50% of revenue share in 2022.
On the basis of type, the strip sensors segment led the market and captured more than 39% in 2022.
Market Overview
The introduction of implantable sensors and ongoing technological developments in medical sensors such as wireless, disposable, and biosensors used in various monitoring and diagnosing systems are likely to propel the disposable medical sensors market over the forecast years.
Additionally, the market will likely grow in the next years due to the rising incidence of chronic diseases and the rising need for medical sensors for at-home treatment. Additionally, government initiatives to promote R&D and the increased adoption of biosensors will likely fuel the market during the anticipated period.
Some limitations and difficulties may prevent the market from expanding. Strict government rules on validation, safety standards for diagnostic medical sensors certification, and unfavorable reimbursement practices are likely to impede market expansion.
Report Scope of the Disposable Medical Sensors Market
| | |
| --- | --- |
| Report Coverage | Details |
| Market Size in 2023 | USD 12 Billion |
| Market Size by 2032 | USD 42.55 Billion |
| Growth Rate from 2023 to 2032 | CAGR of 15.1% |
| Base Year | 2022 |
| Forecast Period | 2023 to 2032 |
| Segments Covered | By Application, By Product, and By Type |
| Regions Covered | North America, Europe, Asia-Pacific, Latin America and Middle East & Africa |

Market Dynamics
The market will grow as sensing devices become more widely used in daily healthcare requirements at homes and hospitals to diagnose and cure various illnesses and conditions. Additionally, the market for disposable medical device sensors is likely to grow due to the rise in chronic diseases like cancer and cardiovascular disease and other conditions like diabetes and new infectious diseases. The players will have a tremendous opportunity for growth due to the developing world's burgeoning economies. Smart pill technology sensors will offer immense growth opportunities for businesses as numerous top industry players collaborate and invest to launch cutting-edge products.
Consumers also chose contact-free testing and treatment technology, as well as healthcare options offered in the comfort of their own homes. A study predicts that the usage of at-home diagnostic tools will triple in 2020 compared to 2019. The number of incidents and worst-case scenarios grew, along with the demand for medical instruments, including pulse oximeters, monitors of blood pressure, digital thermometers, glucometers, and IoT devices for the healthcare industry.
Impact of Covid-19
The COVID-19 epidemic has led to a rise in the demand for medical sensors that are disposable. The high virulence of the COVID-19 virus is largely to blame for the enhanced control measures for infection in hospital settings. Additionally, the growing need for disposable medical sensors is a result of people's greater knowledge of easy and efficient methods for obtaining test results more quickly.
The COVID-19 epidemic has changed consumer expectations and priorities, with a current emphasis on using technology and contact-free therapy. As a result, customers select remote healthcare services more frequently, doing so from the comfort and security of their own homes.
Additionally, the present pandemic has prompted scientists from all over the world to race to create dependable and effective new biosensor-based procedures for the early detection of SARS-CoV-2 due to the growth in disposable medical sensor demand.
Segments Insights:
Application Insights
The diagnostic segment dominates the market and generated more than 40% of the revenue share in 2022. Various diagnostic tools, including surgical instruments, spirometry, endoscopy, and medical imaging devices, use disposable medical sensors. The sensors improve the diagnostic tools and catch the disease early on. For instance, biosensors based on carbon nanotubes are used to find microbes like S. aureus and E. coli. Because of the sensors' technological advancements, which include high speed and low cost, results are now quicker and more accurate. Additionally, the diagnostic industry is experiencing growing potential because of wireless connectivity and integrated biosensors.
Diagnostic testing is necessary to look for symptoms and illness signs in people with chronic diseases like diabetes. Many tools are available for tracking activities and keeping an eye on patient health hazards. For example, in October 2020, STMicroelectronics and AlifaxS.r.l., a producer of clinical diagnostic equipment, collaborated to develop a cost-effective and speedy portable solution to boost genetic material (DNA1 and RNA) for diagnostic detection that is molecular point-of-care in patient samples using extremely reliable real-time Polymerase Chain Reactions (PCR). Alifax will make this solution available.
The patient monitoring segment will likely grow at the greatest CAGR during the forecast period. Blood pressure monitors, pulse oximeters, and other patient monitoring devices use medical sensors. The demand for medical sensors is growing due to improved technology and a growing need for better monitoring tools. New product introductions are also raising the standard of care. For instance, Philips is planning to introduce a biosensor of the next generation for monitoring that would continually and automatically record vital indications, including heart rate, skin temperature, and breathing rate.
Furthermore, demand for these devices will likely rise during the forecast period due to the numerous benefits of these sensors. Collaboration between businesses and increased R&D spending is likely to spur industry expansion. For instance, Rockley Photonics Holdings Limited recently declared that it would collaborate with Medtronic on future projects in March 2022. Together, the two companies hope to apply Rockley's recently unveiled Bioptx biomarker detection technology with Medtronic's solutions in various healthcare contexts.
Product Insights
Based on products the market is segmented into Pressure Sensors, Biosensors, Temperature Sensors, Accelerometers, and Image Sensors, Others owing to surging demand for a rapid and reliable diagnosis. These sensors are widely used in the diagnosis and monitoring of the patient. The biosensors segment generated more than 50% of the revenue share in 2022. Moreover, surging innovation and an increasing need for quick diagnosis are propelling the growth of the segment.
The image sensor is also likely to acquire the highest growth during the upcoming years. These sensors are widely used in endoscopy as it uses light waves and converts it into signals in order to form an image. The image sensors are further bifurcated into two types' charge-coupled devices (CCD) and complementary metal oxide semiconductors (CMOS). The CMOS are preferred over CCD as it requires less power. CMOS is commonly used in x-ray imaging, minimally invasive surgery, endoscopy, and ocular surgery. Furthermore, the surging advancement of technology coupled with the growing requirement for higher resolution is propelling the development of the industry.
Type Insights
With a market share of more than 39% in 2022, the strip sensors segment led the industry. The main applications for strip sensors are magnetic nanoparticles, illness diagnosis, and blood glucose monitoring. Due to rising demand and its use in diagnostic applications, the strip sensors category has the biggest market share. Utilizing strip sensors has the added advantage of producing results more quickly. Additionally, the industry is being driven by consumer demand for home-based medical gadgets and self-diagnosis tools.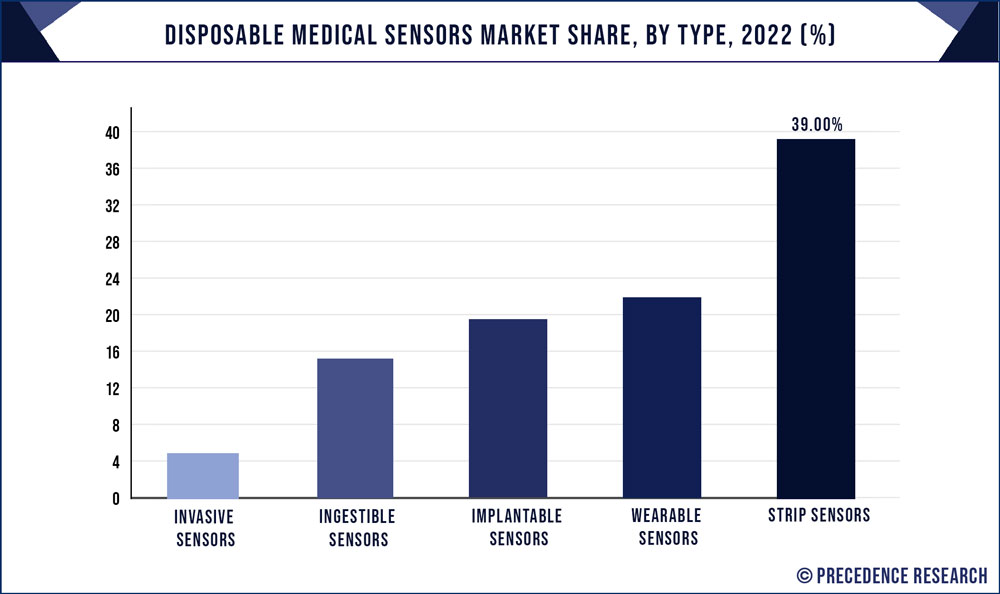 During the forecast period, the ingestible sensors market is anticipated to grow at the greatest CAGR. The term "ingestible sensor" refers to a tiny chip that is swallowed in the form of a capsule. The chip records any anomalies in the body and sends the information to an external device. These sensors are mostly employed in endoscopy, carefully regulated drug administration, and patient observation. Ingestible sensors are expanding due to the rising incidence of chronic diseases and the demand for invasive diagnostic procedures. Additionally, ingestible sensors produce more accurate data, which is projected to drive the market even further.
Ingestible sensors have many benefits, which will likely lead to an increase in demand over the forecast period. Market expansion is anticipated to be fueled by rising R&D expenditures and corporate partnerships. The FDA approved the use of two LINQ II implantable cardiac monitors with the AI algorithms AccuRhythmin in July 2021, according to Medtronic plc. All LINQ II implants in the United States will be able to employ the AI AccuRhythm algorithms once they are made available on the CareLink Network later this year.
Disposable Medical Sensors Market Share, By Region, 2022 (%)
| | |
| --- | --- |
| Regions | Revenue Share in 2022 (%) |
| Asia Pacific | 23% |
| North America | 42% |
| Europe | 25% |
| Latin America | 7% |
| MEA | 3% |

Regional Insights
The disposable medical device sensors market has been categorized geographically into Asia-Pacific, North America, Latin America, Europe, the Middle East, and Africa. Throughout the projection period, North America will likely dominate the global disposable medical device sensors market and generated more than 42% revenue share in 2022. Diagnostic applications frequently employ disposable wearable sensors due to their numerous advantages, including cost-effectiveness, the convenience of use, non-infectious nature, and speedier findings, which further add to market expansion. Developing sensors and better healthcare I.T. infrastructure will help drive this market. The European market, dominated by Germany, France, and the United Kingdom, makes up a sizeable percentage of the disposable medical device sensors market after North America.
Due to the increased frequency of chronic illnesses and patient pools, Asia-Pacific will likely experience a significant growth rate during the projected period. Another factor contributing to the region's economy is medical tourism and improved healthcare infrastructure. The market is anticipated to grow due to the early adoption of new technologies in biomedical device sensors.
Recent Developments
In 2021, in order to conduct the BinaxNOW COVID-19 investigation, Abbott received FDA Emergency Use Authorization (EUA). Self-antigen test kits are readily available without a prescription and have quick results.
In 2020, the MiniMed 770G was created by Medtronic, and its use was approved by the FDA. It is a hybrid loop system, and mobile applications make the results accessible.
In 2018, after receiving approval from the Food and Drug Administration, Smiths Medical announced the DeltaVen closed system catheter's US commercial release (FDA).
Key Companies and Strategies:
In order to begin mass manufacturing, producers of disposable medical sensors are moving more quickly to secure licenses for their goods. The market players are also using a range of strategies to strengthen their market positions, such as collaborations, product releases, product launches, and innovations like the creation of disposable medical sensor devices.
For instance, Hill-Rom disclosed that it paid EarlySense USD 30 million in February 2021 for its continuous contactless monitoring technology. This acquisition can help the business create the next generation of AI-based sensing technologies with an emphasis on the remote patient care market. In addition, Stryker purchased OrthoSensor, Inc. in May 2021. This was supposed to help the company gain market share in the field of joint replacement and musculoskeletal care.

Some of the prominent players include:
ACE Medical Devices
SSI Electronics
Smith's Medical
Sensirion AG Switzerland
GE Healthcare
Koninklijke Philips N.V.
Honeywell International Inc
Analog Devices, Inc.
Medtronic
TE Connectivity
NXP Semiconductor
Segments Covered in the Report
(Note*: We offer reports based on sub-segments as well. Kindly, let us know if you are interested)
By Application
Therapeutic
Diagnostic
Patient Monitoring
By Product
Pressure Sensors
Biosensors
Temperature Sensors
Accelerometers
Image Sensors
Others
By Type
Wearable Sensors
Strip Sensors
Invasive Sensors
Implantable Sensors
Ingestible Sensors
By Geography
North America
Europe
Asia-Pacific
Latin America
Middle East & Africa (MEA)