The global ingestible sensors market size was reached at USD 860 million in 2022 and it is expected to hit around USD 2,095.24 million by 2032, poised to grow at a CAGR of 9.31% throughout the projection period 2023 to 2032.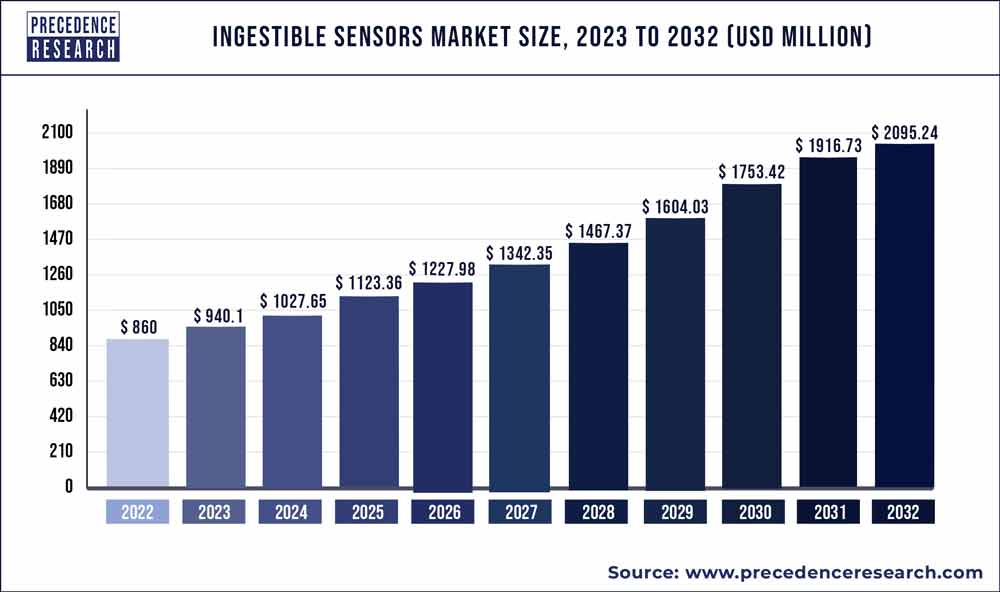 Access our Premium Real Time Data Intelligence Tool, Visit: Precedence Statistics
Ingestible sensors refer to tiny electronic devices that can be swallowed and are designed to monitor various aspects of a person's health from inside the body. These sensors are usually made up of biocompatible materials and are small enough to pass through the digestive system and exit the body naturally.
They can transmit data wirelessly to an external device, such as a smartphone or a wearable device, where the data can be analyzed and monitored. One primary application of ingestible sensors is in the field of healthcare. These sensors can monitor various health indicators, such as heart rate, body temperature, and blood sugar levels.
They can also monitor the effectiveness of medications and detect the presence of disease in the body. Ingestible sensors can benefit patients with chronic conditions, such as diabetes, who must monitor their blood sugar levels regularly.
Key Takeaways:
North America generated more than 45% of the revenue share in 2022.
By component, the sensors segment is captured for the maximum market share in 2022.
By sensor type, the temperature sensor generated more than 36% of revenue share in 2022.
Report Scope of the Ingestible Sensors Market
| | |
| --- | --- |
| Report Coverage | Details |
| Market Size in 2023 | USD 940.1 Million |
| Market Size by 2032 | USD 2,095.24 Million |
| Growth Rate from 2023 to 2032 | CAGR of 9.31% |
| Largest Market | North America |
| Base Year | 2022 |
| Forecast Period | 2023 to 2032 |
| Segments Covered | By Component, By Sensor Type and By Industry Vertical |
| Regions Covered | North America, Europe, Asia-Pacific, Latin America and Middle East & Africa |

Market Dynamics:
Driver: Increasing prevalence of chronic diseases
The rising incidence of chronic diseases like diabetes, cardiovascular disease, and gastrointestinal disorders is one of the key factors driving the market for ingestible sensors. Due to these diseases' ongoing monitoring and management, there is an increased need for creative healthcare solutions that can offer real-time health monitoring and control.
For instance, in February 2022, Rani Therapeutics Holdings, Inc. revealed the creation of the RaniPill HC (High Capacity), an oral biologics device with significantly higher drug payload capacity than the company's current oral biologics capsule, capable of delivering over 500% more drug payload. Additionally, As the prevalence of chronic diseases continues to rise, the demand for innovative healthcare solutions like ingestible sensors is expected to grow, driving the growth of the ingestible sensors market.
Furthermore, in response to this ever-increasing healthcare challenge, healthcare providers are looking for new and innovative ways to monitor and manage chronic diseases. Ingestible sensors have emerged as a promising solution, as they allow for continuous monitoring of patients' health metrics in real-time, even when not in a clinical setting.
Restraint: Expensive and time-consuming regulatory approvals
One of the principal restraints in the ingestible sensors market is regulatory hurdles. The regulatory approval process for ingestible sensors can be lengthy and expensive, delaying product launches and limiting market adoption. Additionally, there are concerns about data privacy and security when collecting and transmitting data from ingestible sensors. For instance, Medtronic faced a delay in PillCam COLON 2 approval.
This ingestible capsule is designed to aid in diagnosing colon cancer. Still, despite being first submitted to the FDA for approval in 2018, it received a "not approvable" letter in 2019 due to safety and effectiveness concerns. Although Medtronic resubmitted the device in 2020, the FDA issued another "not approvable" letter in early 2021, citing insufficient data.
As a result, Medtronic has faced challenges in bringing the device to market, creating uncertainty for patients who could benefit from its technology.
Furthermore, The high cost of regulatory approval is a significant challenge for companies in the ingestible sensors market, particularly for startups and smaller companies that may need more financial resources to navigate the regulatory landscape.
Opportunity: Improved access to remote patient monitoring
With the growing trend of telemedicine and remote healthcare, ingestible sensors can provide a non-invasive and convenient way for healthcare providers to monitor patients' health in real-time. For example, patients with chronic conditions such as diabetes, heart disease, or hypertension can benefit from ingestible sensors that monitor their vital signs and medication adherence.
The data collected by the sensors can be transmitted to healthcare providers, who can then use this information to adjust treatment plans, provide timely interventions, and prevent complications. This can improve patient outcomes and reduce healthcare costs associated with hospitalizations and emergency room visits.
Ingestible sensors can also benefit patients recovering from surgeries or undergoing other medical procedures. By tracking their vital signs and medication adherence, healthcare providers can monitor their progress remotely, reducing the need for in-person visits and providing more personalized care. Furthermore, ingestible sensors can be particularly valuable for elderly patients with difficulty remembering to take their medication or limited mobility.
By using ingestible sensors, healthcare providers can monitor their health and provide timely interventions, reducing the risk of complications and improving their quality of life.
COVID-19 Impact:
The COVID-19 pandemic has had a significant impact on the ingestible sensors market. While the pandemic has increased the demand for remote monitoring solutions and digital health technologies, it has also created challenges for the ingestible sensors market. One of the key impacts of the COVID-19 pandemic on the ingestible sensors market has been the disruption to supply chains and manufacturing operations.
The pandemic has led to shutdowns and reduced capacity at manufacturing facilities, which has impacted the availability and affordability of ingestible sensors. This has also led to delays in the launch of new products and the completion of clinical trials.
The COVID-19 pandemic has led to an increase in the use of telemedicine, which has, in turn, increased the demand for remote patient monitoring technologies like ingestible sensors. For example, in the United States, the Centers for Medicare and Medicaid Services (CMS) expanded its coverage of telemedicine services during the pandemic to allow for remote patient monitoring using technologies like ingestible sensors.
This has led to a surge in demand for remote patient monitoring solutions, including ingestible sensors, as healthcare providers look for ways to provide patient care while minimizing in-person contact.
Segments Insight:
Component Insights
Based on component, the global ingestible sensors market is segmented into sensors, In 2022, the sensors segment accounted for the largest market share. Advancements in sensor technology have led to the development of more advanced and sophisticated ingestible sensors. For example, recent advances in wireless communication and data analytics have enabled ingestible sensors to transmit real-time data to healthcare providers, allowing for more accurate and efficient diagnosis and treatment.
Additionally, global healthcare expenditure has been increasing significantly over the years. The growing healthcare expenditure and the increasing burden of gastrointestinal diseases are expected to boost the demand for ingestible sensors. Furthermore, the rising demand for personalized medicine bolsters the growth of the ingestible sensors market.
Sensor Type Insights
Based on sensor type, the global ingestible sensors market is segmented into temperature sensors, pressure sensors, pH sensors, and image sensors. In 2022, the temperature sensors segment accounted for the largest market share. Increasing demand for temperature sensors in various industries dramatically fosters the growth of this segment.
Temperature sensors are growing in the automotive, healthcare, food and beverage, and HVAC industries. The growing demand for these sensors in various applications significantly drives the temperature sensor market's growth.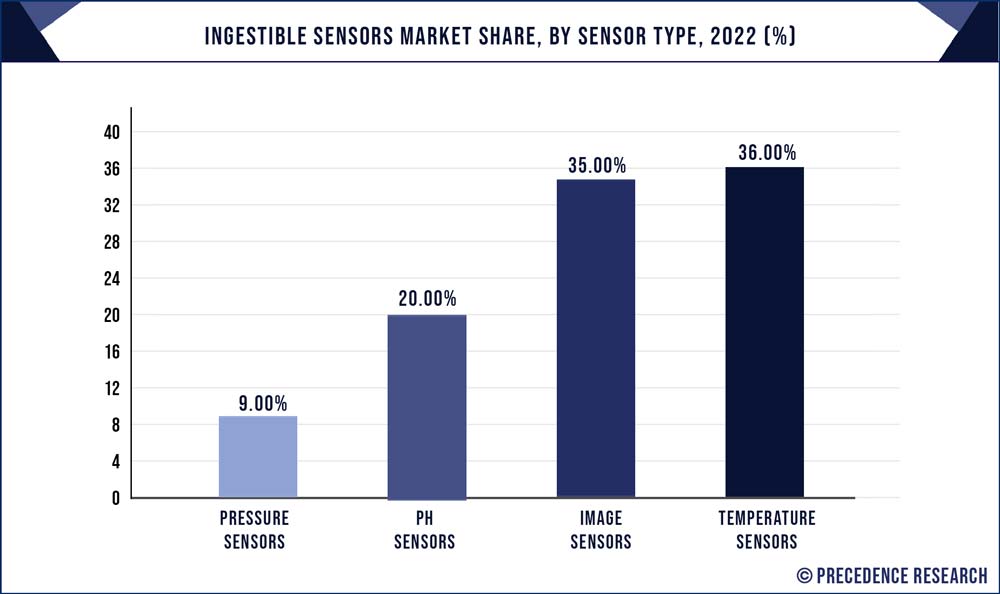 Additionally, the development of new temperature sensor technologies, such as infrared and fiber optic sensors, has expanded the range of applications for temperature sensors. These technological advancements have also improved temperature sensors' accuracy, reliability, and performance, making them more attractive to customers.
Furthermore, government regulations and standards related to safety and environmental protection drive the adoption of temperature sensors in various industries. For example, food safety and storage rules require temperature sensors to monitor and control the temperature in refrigerated environments.
Regional Insights
In 2022, North America dominated the global ingestible sensors market with the highest market share. The growth in this region is attributed to the high adoption rate of advanced healthcare technologies in the area. Additionally, increasing government initiatives and funding for developing advanced healthcare technologies are other factors contributing to the growth of the ingestible sensors market in this region.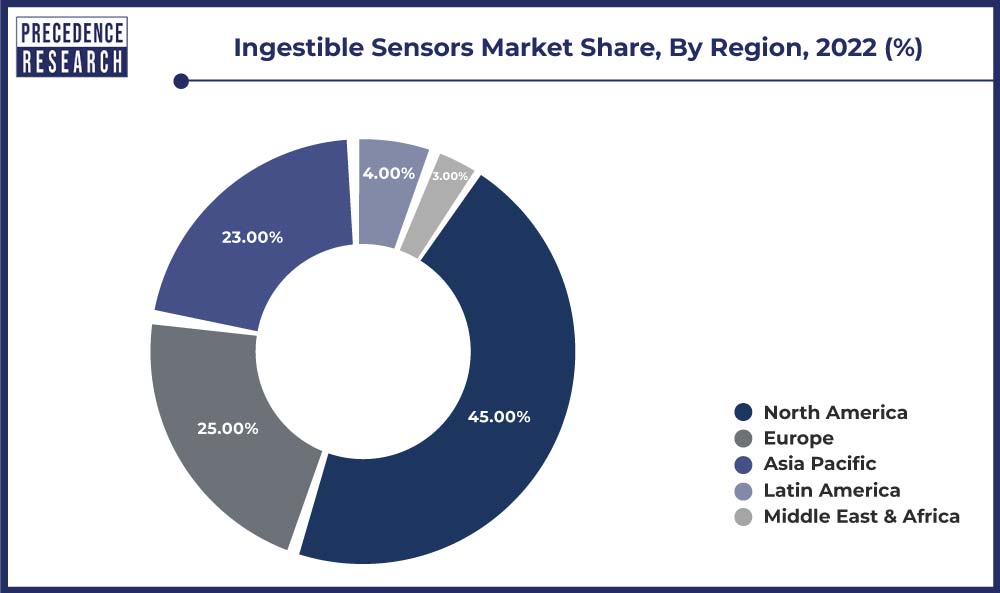 For instance, the FDA has approved several ingestible sensors in the US market, such as the Proteus Digital Health ingestible sensor and the FDA-cleared PillCam COLON 2 capsule from Medtronic. This has helped to increase the adoption of ingestible sensors in the US healthcare system and other industries such as sports and fitness.
Recent Developments
CapsoVision, a leading player in the gastroenterology diagnostics sector, showcased CapsoCam Plus at the Digestive Disease Week (DDW) event held in San Diego, CA in May 2022. This capsule endoscopy system is the only one that provides a complete 360° panoramic view.
A digital health company called etectRx, Inc. announced a partnership with Pear Therapeutics, Inc. in January 2021 to develop up to two product candidates for the Central Nervous System that combine prescription digital therapeutics (PDTs) and adherence sensors. This collaboration is the first to look at the potential of integrating PDTs and digital pill solutions.
Olympus Corporation unveiled the introduction of "PowerSpiral" in Europe and certain parts of the Asia-Pacific region, such as Hong Kong and India, in March 2019. This technology utilizes a motorized rotating attachment that delicately grasps the mucosa of the small intestine, assisting the endoscope in moving further into the intestine.
Key Market Players:
Medtronic
Olympus
Otsuka Holdings Co., Ltd.
etectRx
CapsoVision, Inc.
H.Q., Inc.
IntroMedic
JINSHAN Science & Technology
Check-Cap
Seed Health
Segments Covered in the Report:
(Note*: We offer report based on sub segments as well. Kindly, let us know if you are interested)
By Component
Sensor
Wearable Patch/ Data Recorder
Software
By Sensor Type
Temperature Sensors
Pressure Sensors
pH Sensors
Image Sensors
By Industry Vertical
Medical
Sports and Fitness
Others
By Geography
North America
Europe
Asia-Pacific
Latin America
The Middle East and Africa