The global disposable syringes market was estimated at USD 6.73 billion in 2021 and is predicted to reach USD 11.02 billion by 2030, expanding growth at a CAGR of 5.6% over the forecast period 2022 to 2030.
Key market Insights:
As a substitute for the glass hypodermic needles, disposable plastic syringes have been launched. These are used in all the healthcare services across the globe to provide medicines to uncountable patients following this breakthrough. Syringes are accessible in bulks and are among other items, can be used to administer medications via intravenous, intramuscular or intradermal routes. Disposal of them can have impact on the environment which is a major concern. This is ill-suited to demand for supportable growth, but healthcare organization is growing worldwide in response to the growing demand for decent medical care and the rise in chronic diseases, drug administration is becoming increasingly prevalent. In any healthcare environment, it is a actual simple operation, and disposable syringes are an integral part. Dealings like the latest COVID-19 epidemic make investing in the future more profitable for the market for disposable syringes. The growth of the global demand for disposable syringes is motivated by an increase in the incidence of needle stick injuries, increased healthcare spending worldwide, supportive government policies, and a rise in chronic conditions and infectious diseases. However, costly disposable syringes for protection and access to various distribution modes inhibit the growth of the market. On the other hand, in developed countries, the rise in untapped capacity generates new prospects in the coming years.
Crucial factors accountable for market growth are:
Increasing number of patients at risk of developing stroke
Increasing patient awareness
Increased health care expenditure
Large pool of geriatric population
COVID-19 Impact on Global Disposable Syringes Market
The implications on the overall market, including both the demand side and supply side viewpoints, of the Covid-19 pandemic will be played out and analyzed. All nations around the globe have conducted life saving immunization programs for different diseases and viral infections, increasing the market for disposable syringes. In addition, the WHO has proposed the use of disposable and auto-disable syringes to obtain blood samples from 19 patients with Covid, which in turn helps prevent transmission through healthcare facilities.
Future of Global Disposable Syringes Market
Key companies like Baxter International and Fresenius Kabi AG are aiming towards profitable development by accepting strategies like mergers and acquisitions, weighty investments in the industrial facilities that is expected to fuel the worldwide market growth in near future. This tendency is likely to continue and will enhance growth of the aiming industry in forecast time frame. Also, stringent government regulations regarding usage of secure and engineered devices in medical sector will flourish target market growth over the forecast time frame.
Scope of the Disposable Syringes Market
| | |
| --- | --- |
| Report Highlights | Details |
| Market Size | USD 11.02 Billion by 2030 |
| Growth Rate | CAGR of 5.6% From 2022 to 2030 |
| Base Year | 2021 |
| Historic Data | 2017 to 2021 |
| Forecast Period | 2022 to 2030 |
| Segments Covered | Type, Application |
| Regional Scope | North America, Europe, Asia Pacific, Latin America, Middle East & Africa (MEA) |
| Companies Mentioned | Fresenius Kabi AG, Braun Medical, Inc., Baxter International, Inc., Terumo Corporation, Novo Nordisk, Henke-Sass, Wolf, Retractable Technologies, Inc., UltiMed, Inc., Covidien, Becton, Dickinson and Company. |
Segment Analysis:
The Safety Syringe Segment Is Predictable To Lead the Product Segment of Disposable Syringes Market Revenue
On the basis of type safety syringe division was dominant with significant share in 2020. The growth of the safety syringe is owing to benefits that safety bulbs offer outruns their duration of existence even at low cost over disposables, which further shifts the preference toward safety syringes.
Therapeutics Segment Is Likely to Take over the Application Segment of Disposable Syringes Market Revenue
On the basis of application the global market is segregated into therapeutics and immunization applications. The therapeutics application segment is anticipated to hold share in the global market in the near future. Immunization application segment will grow at moderate CAGR in the next 10 years.
North America is Valued to be the Major Market for Disposable Syringes
The study report delivers prospects and trends of disposable syringes products across different geographical regions counting Europe, North America, Latin America, Asia-Pacific, Middle East, and Africa. However, regionally, the disposable syringes market is dominated by North America due to high incidence of diseases and growing preference for injectable drugs. Also, disposable syringe producers are also investing by launching new products in the countries U.S. and Canada. Availability of advanced healthcare infrastructure, presence of key market players, and government initiatives are among the major factors to fuel growth of the target industry in the North America. Europe constitute a share more than 20% of the global in 2020. Presence of key operating players in the countries of the region is expected to help the development of the Europe market in the coming years of the forecast period. Asia Pacific disposable syringes market is anticipated to grow at significant CAGR over the forecast period.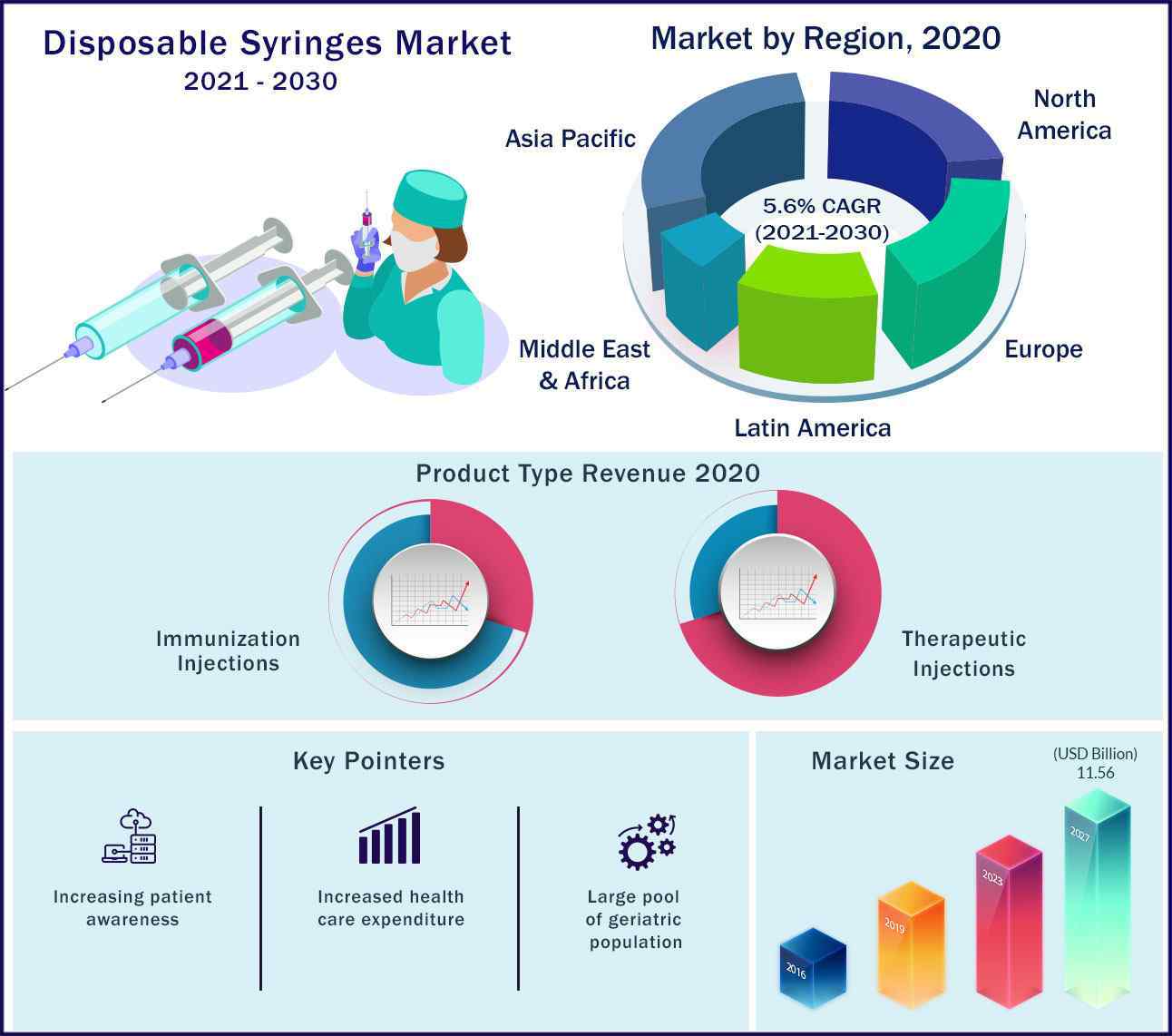 Top Players contending in the Market:
The key players are concentrating on research and development is anticipated to lead the disposable syringes market. Foremost players challenging in global disposable syringes market are:
Fresenius Kabi AG
Flextronics International Vita Needle Company
Braun Medical, Inc.
Baxter International, Inc.
Terumo Corporation
Novo Nordisk
Henke-Sass, Wolf
Retractable Technologies, Inc.
UltiMed, Inc.
Covidien
Becton, Dickinson and Company.
For the superior understanding the current state of the disposable syringes market and for most policies of the country, Precedence Research predicts the upcoming development of the disposable syringes industry.
Key Market Developments:
In 2015, B Braun a leading player has launched the Stimuplex Ultra 360, which is echogenic peripheral nerve block needle technology.
Major Market Segments Covered:
By Type
Conventional Syringes
Safety Syringes
Retractable Safety Syringes
Non-retractable Safety Syringes
By Application
Immunization Injections
Therapeutic Injections
By End User
Hospitals
Diagnostic Laboratories
Blood Banks
Pharmaceutical Industry (B2B) (Prefilled Syringes)
By Geography
North America
Europe

Germany
France
United Kingdom
Rest of Europe

Asia Pacific

China
Japan
India
Southeast Asia
Rest of Asia Pacific

Latin America

Brazil
Rest of Latin America

Middle East & Africa (MEA)

GCC
North Africa
South Africa
Rest of Middle East & Africa