The global drive by wire market size was valued at USD 24.59 billion in 2022 and is projected to surpass USD 49.98 billion by the end of 2032, exhibiting growth at a CAGR of 7.4% during the forecast period 2023 to 2032.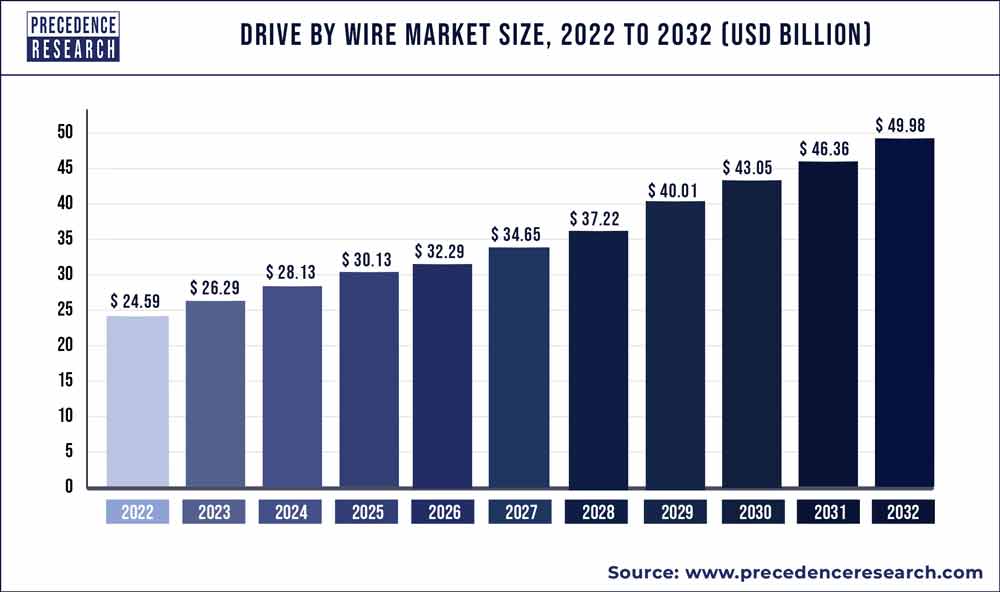 Market Overview:
Globally numerous environmental guidelines such as the Paris Agreement 2015 and the Kyoto Protocol 1998 were executed in order to reduce vehicle emissions and achieve the greenhouse gas emission norms. Over the past few years, researchers and manufacturers have been incorporating electronics and computers into the modern automobiles in order to facilitate the drivers to get accustomed to the technology. The drive-by-wire arrangement has the ability to increase safety, functionality, and comfort through the drive. Sensors and computers that are employed in these systems evaluate commands and send instructions to vehicles on precisely what to do. Such systems have an environmental approach, too, since the expertise could advance fuel economy and lessen engine emanation. The automobiles with drive-by-wire technology rely largely on electronics to regulate a wide variety of vehicle actions, including braking and acceleration. The drive-by-wire expertise is regarded as an environmental-friendly option. With better fuel range to lap up, the automobile owners can contribute to reduction in carbon emissions, which is certainly better for helping protect the environment that is sure to display a positive effect on the progress of market in the estimate period.
Scope of the Drive by Wire Market
| | |
| --- | --- |
| Report Highlights | Details |
| Market Size in 2023 | USD 26.29 Billion |
| Market Size by 2032 | USD 49.98 Billion |
| Growth Rate from 2023 to 2032 | CAGR of 7.4% |
| Base Year | 2022 |
| Forecast Period | 2023 to 2032 |
| Segments Covered | Components, Solution |
| Regional Scope | North America, Europe, Asia Pacific, Latin America, Middle East & Africa (MEA) |
| Companies Mentioned | TORC Robotics Inc., Mobil Elektronik GmbH, Danaher Motion, Robert Bosch GmbH, SKF Group, Audi, RLP Engineering, Peugeotm, Nissan, TRW |
Crucial factors accountable for market growth are:
Implementation of stringent vehicle emission regulations by government authorities
Increasing demand for comfort of automobile owners
Advantages such as reduction in vehicle weight and higher fuel efficiency
Reduced tail-pipe emission
Technological advancements
Increasing popularity
Adoption of autonomous vehicles
Rapidly increasing awareness regarding fuel conservation
Increased focus on the improvements in automobile functioning
COVID-19 Impact on Global Drive by Wire Market
The COVID-19 pandemic has had a significant impact on the automobile and component manufacturing business as manufacturing plants were forced to shut down around the world, consumer footfalls in showrooms had fallen sharply, and vehicle sales had dropped dramatically. The COVID-19 pandemic situation has also resulted in changes in the car-buying behavior. Digital amenities and features are getting readily acknowledged by individuals as a way to remain safe, trackable, and connected. Growing adoption of in-vehicle screens will result in easy incorporation of several of these digital aspects.
Furthermore, in-vehicle digitalization is anticipated to rise as people spend additional time in their private vehicles. Popular linked features include Wi-Fi hotspot, digital keys, and navigation. Between these, digital keys will exhibit a high requirement in the approaching years owing to its low-cost execution. Voice recognition, virtual assistant, gesture control, and personalization will also experience augmented demand on rising concerns over surface contamination. Digitalization in automobiles will receive a boost from COVID-19 pandemic with people accepting a digital lifestyle that endorses hygiene, social distancing, efficiency, and tracking. Features and services permitting these lifestyle changes will exhibit growing popularity amongst car-buyers.
Significant Market Trends:
Shift by Wire Segment Reported Foremost Market Stake in 2022
The shift by wire segment displayed a major share in the worldwide drive by wire market in 2022. Effortless gear shift just by a push of a button and advantages such as lower fuel consumption are expected to boost the growth of the segment in the near future.
Steer by wire is expected to grow at highest CAGR within the forecast time-duration.
Electronic Transmission Control Unit Segment Will Dominate the Drive by Wire Market Revenue By Component
Factors such as increasing demand for electronic transmission control unit in electric and hybrid vehicles and technological innovations are driving growth of the segment.
Sensors segment is expected to grow at highest CAGR within the forecast time-duration.
North America is Estimated to be the Largest Market for Drive by Wire
The comprehensive research account covers substantial projections and inclinations of drive-by-wire throughout chief regions encompassing Africa, Asia Pacific, Europe, Latin America, North America, and Middle East.By region, drive-by-wire market is led by North America due towell-developed automobile industry, presence of skilled professionals, and availability of latest automobile products. Europe accounted for successive highest stake primarily due to availability of latest automobile infrastructure, presence of leading market players, and increasing adoption of autonomous vehicles. Asia Pacific is projected to advance at top-most CAGR predominantly due to implementation of stringent emission norms and growth in the research and development activities. African, South America, and Middle Eastern region is expected to exhibit note-worthy growth in the projected time-frame.
Top Players contending in the Market:
The companies focusing on research and development are expected to lead the global drive-by-wire market. Leading competitors contending in global drive-by-wire market are as follows:
TORC Robotics Inc.
Mobil Elektronik GmbH
Danaher Motion
Robert Bosch GmbH
SKF Group
Audi
RLP Engineering
Peugeotm
Nissan
TRW
In order to well recognize the present status of drive-by-wire, and policies implemented by the foremost nations, Precedence Research projected the future progress of the drive-by-wire market. This research report bids quantitative and qualitative insights on drive-by-wire market and valuation of market size and progress trend for probable market segments.
Major Market Segments Covered:
By Component
Vehicle Electronic Control Unit
Actuator
Engine Control Module
Electronic Transmission Control Unit
Feedback Motor
Sensors
Others
By Solution
Brake by Wire
Steer by Wire
Throttle by Wire
Shift by Wire
Others
By Geography
North America
Europe

Germany
France
United Kingdom
Rest of Europe

Asia Pacific

China
Japan
India
Southeast Asia
Rest of Asia Pacific

Latin America

Brazil
Rest of Latin America

Middle East & Africa (MEA)

GCC
North Africa
South Africa
Rest of Middle East & Africa