The global e-mobility rental market is surging with an overall revenue growth expectation of hundreds of millions of dollars during the forecast period 2023 to 2032.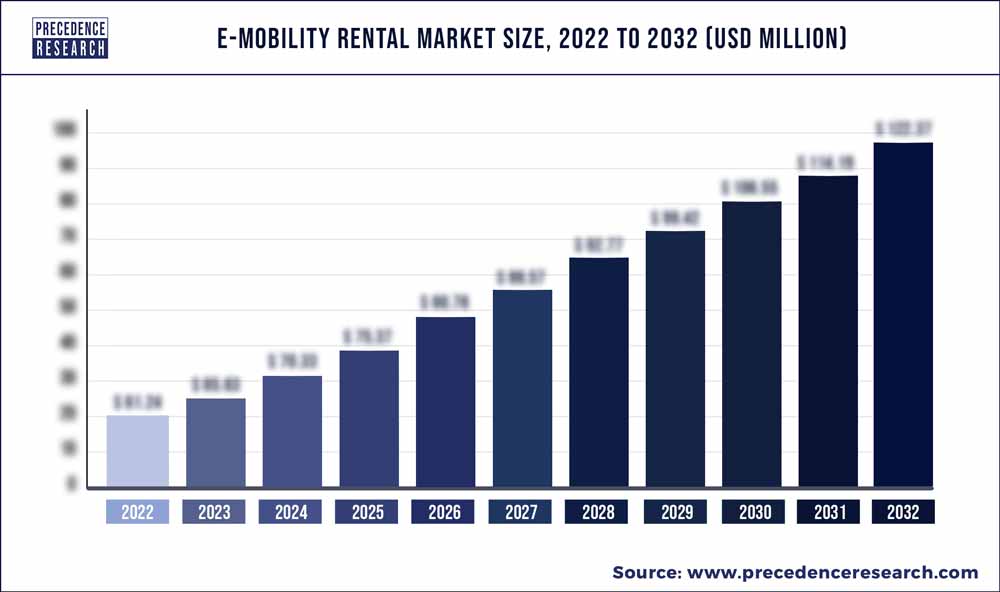 Key Takeaways:
North America had the largest revenue share in 2022.
By Vehicle Type, the battery segment held the highest market share in 2022.
By Category, the luxury segment has captured the maximum market share in 2022.
By Booking Type, online booking has held the major share in 2022.
By Commuting Pattern, the daily commuting segment has generated the largest share in 2022.
By End Use, the personal segment held the largest share in 2022.
Market Overview:
Electric cars, electric bikes, and electric scooter rentals are referred to as the e-mobility rental market. Increasing environmental awareness, advancements in battery technology, and government initiatives to encourage the usage of electric vehicles are some of the factors that have led to the emergence of this industry in response to the growing need for environmentally friendly and sustainable transportation solutions.
Typically, e-mobility rental companies provide a variety of electric vehicles for short-term rentals, like by the hour or day. Customers can use these vehicles instead of conventional gasoline-powered cars to travel within a city or region, lowering their carbon footprint and helping to maintain a cleaner environment. As more individuals become interested in eco-friendly transportation options and as governments across the world continue to develop rules and regulations to encourage adoption, the e-mobility rental market is anticipated to expand dramatically in the future years.
Growth Factors:
Due to a number of causes, including the introduction of laws and incentives by numerous governments worldwide to encourage the use of electric cars (EVs), including rental EVs, the market for electric mobility has been gradually expanding in recent years. Consumers are becoming more aware of the advantages that electric vehicles provide for the environment as well as for the economy due to their lower operating costs. The market for renting electric mobility vehicles has expanded as a result of an increase in the number of persons choosing to rent electric vehicles over conventional gas-powered automobiles. Electric vehicles are now more useful for rental firms to use because of advancements in technology like longer battery life and quicker charging periods.
As a result, there are now more electric vehicles available for rent, which has contributed to the expansion of the market for electric mobility rentals. There is a growing need for urban mobility solutions as more people relocate to metropolitan areas. The market for electric mobility rentals has expanded as a result of the perception of electric mobility rentals as a practical and environmentally beneficial option to urban transportation demands.
Report Scope of the E-mobility Rental Market:
| | |
| --- | --- |
| Report Coverage | Details |
| Largest Market | North America |
| Base Year | 2022 |
| Forecast Period | 2023 to 2032 |
| Segments Covered | By Vehicle Type, By Category, By Booking Type, By Commuting Pattern, and By End Use |
| Regions Covered | North America, Europe, Asia-Pacific, Latin America and Middle East & Africa |

Market Dynamics:
Driver:
Technological advancements
Recent substantial technological developments in the automotive sector have had a significant impact on the expansion of the electric mobility rental market. Electric vehicles have grown more practical and inexpensive as a result of the development of new technologies, such as better battery performance and quicker charging times. The growth of the infrastructure for charging electric vehicles has also been essential in promoting the use of electric transportation. Customers are growing more at ease with the concept of driving an electric vehicle as more charging stations are erected along roads and in cities, since they know they can quickly recharge their vehicles whenever necessary.
Additionally, technology is facilitating the management of rental firms' fleets of electric vehicles. Rental firms can now track the operation of their electric vehicles in real-time thanks to advancements in telematics and fleet management software, making it simpler to spot and fix any problems. With the use of this technology, rental companies can also streamline their fleet management, ensuring that their cars are used to their fullest potential while experiencing the least amount of downtime.
Restraint:
Lack of charging infrastructure
The absence of charging infrastructure, especially in less developed regions, is one of the main challenges that the electric mobility rental business must overcome. Since electric cars have a shorter range than conventional gas-powered cars, rental companies must make sure that their cars are completely charged before lending them to clients. Rental companies may find it challenging to maintain their vehicles charged and ready for customers if there is not enough charging infrastructure in the area. Potential clients may be put off by this absence of charging infrastructure. Customers may be reluctant to rent an electric car if they are unclear of their ability to locate a charging station when they need one. This is especially true for long-distance trips, during which customers might need to charge their car several times.
Opportunity:
Increasing consumer demand for sustainable transportation
There is a rising desire for more environmentally friendly transportation options, including electric vehicles, as people become more conscious of the effects of their mobility decisions. The electric mobility rental business now has a huge possibility to develop and grow. By providing a more eco-friendly choice, rental companies that have electric vehicles in their fleet may set themselves apart from the competition. Even if it means paying a marginally higher rental charge, this can draw clients who are looking for a more environmentally friendly transportation alternative.
Rental firms must keep investing in their electric vehicle fleets and making sure that their cars are properly cared for and charged in order to take advantage of this opportunity. They can promote their electric cars as a greener alternative by emphasizing how much better for the environment they are than conventional gas-powered cars.
Governments can also influence the demand for electric vehicles by providing incentives to persuade people to choose them over conventional vehicles, such as tax credits or subsidies. The market for electric mobility rentals may increase as a result of making electric vehicles more accessible and cheap for consumers.
Impact of Covid 19:
The COVID-19 epidemic has significantly impacted several other businesses, including the rental market for electric transportation. Due to the pandemic's broad travel bans, decreased consumer demand for transportation, and interruptions in the world's supply chain, the electric mobility rental business has been impacted.
The pandemic's principal effects on the market for renting electric mobility include a decline in rental car demand. The need for transport as a whole has greatly dropped as a result of many people working from home and avoiding pointless travel. The necessity for rental cars, especially electric cars, has decreased as a result of this. The epidemic has also impacted the production and distribution of electric vehicles by disrupting the worldwide supply chain. The manufacture of electric vehicles has been delayed as a result of several factories closing down or running at reduced capacity, which has left a lack of vehicles accessible for rental firms.
Despite these difficulties, the pandemic has also had some advantageous effects on the market for renting electric mobility. Since traffic in many cities has decreased, there has been more attention paid to environmentally friendly transportation options, including electric vehicles. Because of this, several governments are already providing incentives for the usage of electric vehicles, which may eventually help to boost demand.
Additionally, the epidemic has heightened awareness of health and safety, which might eventually be advantageous for the market for renting electric mobility. Because they release fewer harmful pollutants and have fewer touchpoints than conventional vehicles, electric vehicles provide a more hygienic and environmentally friendly transportation choice.
Electric mobility rental companies had to change their business models and install new safety procedures in order to respond to the pandemic's effects. In order to do this, they have improved cleaning procedures, introduced contactless rental choices, and modified their fleets to accommodate shifting demand.
Segments Insight:
Vehicle Type Insights:
The market for electric vehicle batteries held the maximum share in 2022 and is expected to grow due to factors like the rise in demand for zero-emission vehicles, the decline in the price of electric vehicle batteries, and technological advancements in battery systems. The leading players in the market are expected to benefit from new market opportunities brought in by the development of lithium-ion technology and proactive government efforts.
Category Insights:
Luxury automobile makers were among the first to embrace the change to electric mobility and made significant investments in creating electric versions of their existing models, accounting for the category with the highest share in 2022. Over the past several years, the cost of electric luxury cars has considerably fallen, making them more affordable for a wider variety of consumers. Additionally, this has contributed to a rise in demand for high-end electric rentals.
Booking Insights:
Based on booking insights, online booking has held the maximum share in 2022 and has been developed into a crucial part of the market for renting out electric mobility, giving clients a simple and practical way to make reservations for and hire out electric vehicles. Customers may browse and choose from a range of electric vehicles, choose their pickup and drop-off locations, and finalize their reservations online while relaxing in the comfort of their own homes.
Online reservations have a number of advantages, one of which is the simplicity with which clients may compare the features and prices of various electric vehicles. This can assist clients in choosing a rental car that best suits their demands and budget by enabling them to make better educated decisions. Online reservations can also spare consumers the inconvenience of standing in a lengthy rental queue waiting times or dealing with paperwork.
Commuting Pattern Insights:
Daily commuting held the maximum share in 2022. Using data from commuter patterns, many consumers utilise rental electric vehicles for their everyday travels to work, school, or other destinations, which has a substantial impact on the market for electric mobility. Renting businesses can better serve their consumers by understanding these tendencies and optimizing their fleet management, pricing, and marketing tactics.
The shift to alternative modes of transportation, particularly electric vehicles, is one of the major developments in daily commuter patterns. Many people are looking for more environmentally friendly transportation options for their everyday commutes due to worries about climate change and air pollution. Due to this, there is now more demand for electric vehicles for daily commuting, particularly in metropolitan areas where there may not be as many public transport choices.
End Use Insights:
On the basis of end use, personal users held the maximum share in 2022. More people are choosing to rent electric vehicles for their own mobility needs as awareness of the advantages of electric vehicles rises. Electric car rentals give private users a lot of options. They can rent an electric vehicle for the precise length of time they require, whether they need to make a quick trip to the grocery store or a longer drive outside of town. This may be especially appealing to people without cars or who require a second vehicle for a specific use. Renting an electric car can be a more affordable option than buying one. This is especially true for people who do not need a car every day or who live in cities with lots of public transit options. Renting an electric car might be a cost-effective and practical solution for your personal mobility requirements.
Regional Insights: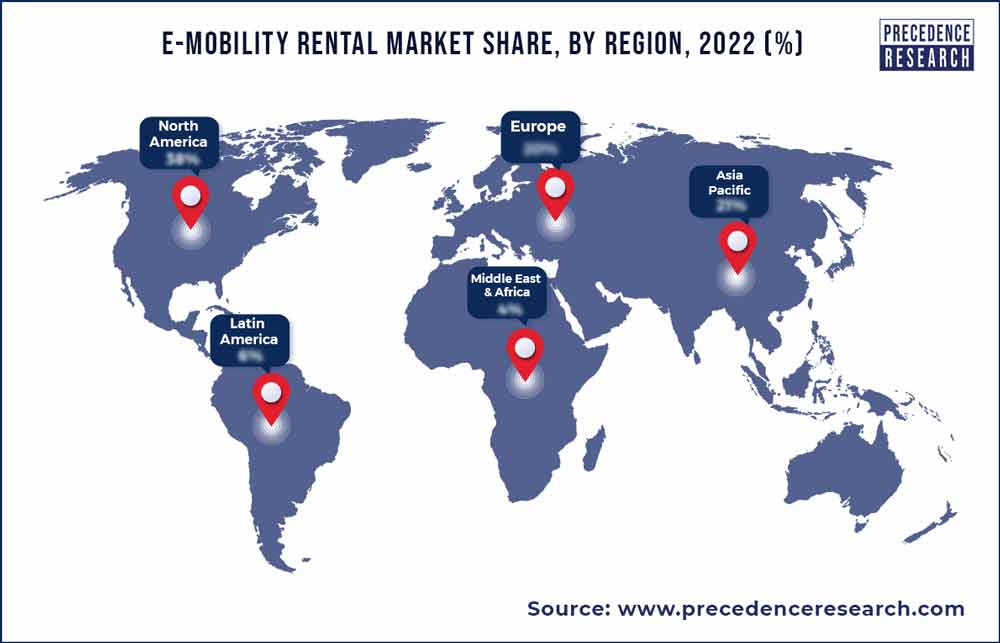 Due to its dense population and heavy traffic, North America had the highest share by region in 2022. This is because there is a large demand for e-mobility rental services in this region. Also due to the high disposable income of the local populace, the market will continue to expand.
Recent Development:
In order to provide automobiles, Xpeng Motors and the neighborhood car rental business eHi Car Services forged a strategic collaboration in July 2022. The building of the supercharging infrastructure, vehicle operation, and user service experience are just a few of the areas where XPeng and eHi will continue to strengthen their partnership over the next three years. The partnership between a new Chinese automaker and a car rental service that will exclusively use electric vehicles in big numbers is unprecedented.
Key Market Players:
Neutron Holdings Inc.
Bird Rides Inc
Uber Technologies Inc.
Beijing Xiaoju Technology Co. Ltd.
Grab Holdings Inc.
Donkey Republic ApS
Cityscoot SAS
car2go N.A. LLC
Enterprise Holdings Inc
ANI Technologies Pvt. Ltd.
Segments Covered in the Report:
(Note*: We offer report based on sub segments as well. Kindly, let us know if you are interested)
By Vehicle Type
Battery
Hybrid
Plug-In Electric Vehicle
By Category
By Booking Type
Offline Access
Online Access)
By Commuting Pattern
Daily Commuting
Last-Mile Connectivity
Occasional Commuting
By End Use
By Geography
North America
Europe
Asia-Pacific
Latin America
Middle East and Africa