The global energy as a service market size was estimated at USD 64.5 billion in 2022 and is expected to hit around USD 156.23 billion by 2032, poised to grow at a compound annual growth rate (CAGR) of 9.3% from 2023 to 2032.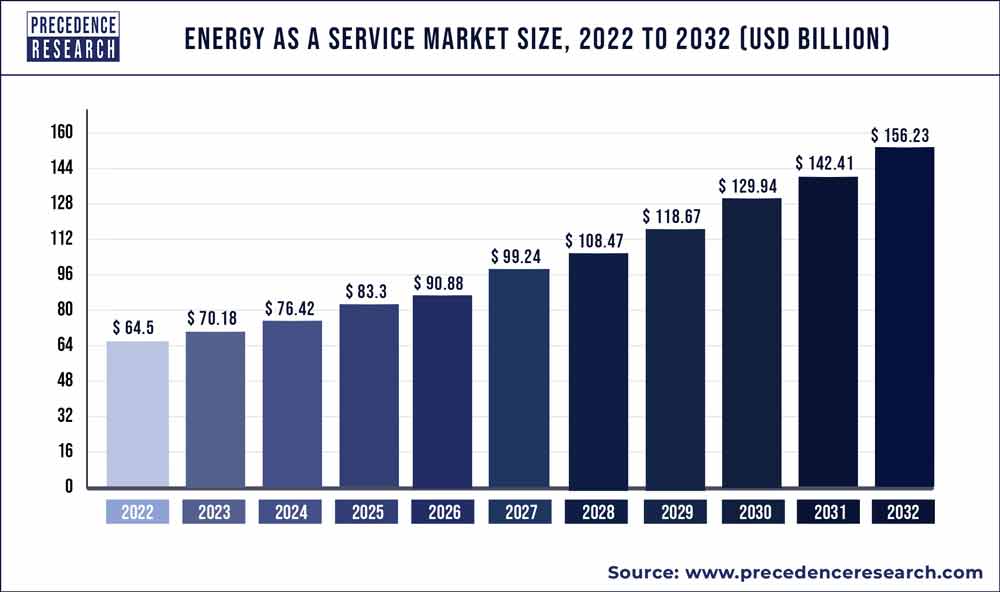 Access our Premium Real Time Data Intelligence Tool, Visit: Precedence Statistics
Key Takeaways:
By service type, the energy supply service segment hit 42.4% market share in 2022.
By end user, the commercial segment held 63.4% market share in the year 2022.
The industrial segment generated a 36.6% market share in 2022.
North America region accounted for 43% of revenue share in 2022.
The centralized, asset-focused method of generating electricity to passive consumers is replaced by the energy-as-a-service model. Instead, it provides total administration of a customer's energy resources and services. EaaS providers are able to merge markets, provide predictable load balancing, and update the grid in a variety of ways by pooling the resources of their clients into a sizable smart energy community. A rapidly expanding and recently created business model called energy as a service offers a range of energy-related services and offers energy optimization solutions for small, medium-sized, and big organizations.
Additionally, it raises awareness of better management practices and enhanced distributed generation source installations. Different service types employ energy as a service, and the market analysis provides a full review of these areas. On the end use category, which includes commercial and industrial uses, the EaaS market offers comprehensive information.
Growth Factors
The growing emphasis on developing federal rules and standards to meet the need for energy solutions supports the size of the EaaS industry. Market shares are boosted by the growing use of distributed energy resources (DER) and the decarburization of the world economy. Additionally, the booming global transportation industries, the spread of electric vehicles (EVs), and a greater emphasis on sustainable energy all have an impact on market expansion.
All industries have been severely harmed by the COVID-19 epidemic. Since 2020, most nations have noticed a significant increase in the number of impacted cases. Unrest in the economies of numerous rapidly emerging nations was caused by the pandemic's conclusion.
Many countries and regions have seen a sharp reduction in commercial and industrial activity, which has decreased many vertical energy demands. The sharp decline in energy intake has limited the adoption of new technology around the world.
Almost every sector has been affected due to pandemic and production and manufacturing sector has been stopped for a long duration due to restrictions, that effected the electricity consumption.
Report Scope of the Energy as a Service Market
| | |
| --- | --- |
| Report Coverage | Details |
| Market Size in 2023 | USD 70.18 Billion |
| Market Size by 2032 | USD 156.23 Billion |
| Growth Rate from 2023 to 2032 | CAGR of 9.3% |
| Base Year | 2022 |
| Forecast Period | 2023 to 2032 |
| Segments Covered | Service Type, End User and Geography |
| Companies Mentioned | Schneider Electric, Honeywell International Inc., Entegrity, Enel SpA, Siemens, Engie, NORESCO, LLC, Centrica plc, Veolia, Johnson Controls, Bernhard, General Electric, Wendel |
Key Market Trends
Diverse applications: Due to rising per capita income, a growing global population, and an increase in the number of electrical equipment, the usage of electricity in the commercial construction sector is rising quickly worldwide. Campaigns to preserve energy must consider how energy is used in the home and business sectors.
Growing economy: Due to growing infrastructural requirements and a burgeoning economy, both energy demand and expense are increasing. Prices and demand often fall when the economy is struggling. Burning fossil fuels like coal and natural gas generates the majority of our energy. This is typically the least expensive way to produce energy. In the event that these fossil fuels become limited, the necessity for new, more expensive methods of energy generation will eventually lead to higher energy prices.
Drivers in the Energy as a Service Market
Increasing adoption of renewable sources: The principal goals of governing authorities in nations all over the world are to reduce greenhouse gas (GHG) emissions and the rising demand for energy. Following this, the installation of renewable energy sources is anticipated to increase significantly during the following ten years, which will result in the market's rise. The market size has been positively impacted by new energy targets that have been introduced by various governments to encourage the tendency toward sustainable electricity. For instance, by the end of 2023, Brazil hopes to have 42.5% of its primary energy supply come from renewable sources. Similar to this, the UK government plans to have around 50% of its electricity come from renewable sources by 2025, according to the carbon brief analysis. Germany is on track to generate 65% of its energy from renewable sources by 2032. By 2032, China wants to have 16% of its energy sources be renewable. After the country's investment and expansion, it is anticipated that renewable energy would hold a 26% share and surpass the goal set.
Rise in demand from end user sector: To accommodate employees' necessary output and working hours, commercial buildings, residential structures, and industries need a constant supply of energy. Because of the rising demand for backup power systems in data centers in these industries in the event of mainline outages, the industry has seen investments. The demand for energy will increase as more and more automobiles that currently rely on fossil fuels switch entirely to electricity. For the EaaS market, new charging stations and higher manufacturing rates will present opportunities. The manufacture of textiles, chemicals, pharmaceuticals, and other industries is one that is anticipated to increase at a healthy rate. In the upcoming years, it is anticipated that industries like the automobile sector's production and working rate would increase. A key factor in the market's expansion is the world's rising energy consumption. Numerous software and technical solutions are provided by energy as a service provider so that businesses can comprehend the patterns of power consumption.
Challenges in the IoT Battery Market
High capital investment - Investment is necessary to produce electricity from renewable sources. Therefore, assistance from government companies is required to complete the majority of the projects. Governments only contribute a small portion of the entire investment; the remainder is up to the enterprise. The installation of smart equipment is necessary for grid upgrading, which is extremely expensive and may restrain the expansion of the EaaS market.
High deployment costs - The high implementation costs of upgrading the existing utility infrastructure. The real-time information and data analysis of consumer energy consumption and electricity market conditions forms the foundation of the energy business model as a service. This will spur additional investments and raise demand for utility infrastructure upgrades, while also slowing market growth.
Segmental Insights
Service Type Insights
According to service type, the energy supply segment is in the lead and is anticipated to contribute most to the energy as a service market. Consumers are searching for a reliable energy supply to ensure that they can function off the grid in the face of rising rates. Additionally, energy as a service models primarily support renewable energy due to its lower costs, smaller carbon footprint, higher energy efficiency, and environmental friendliness. This is because renewable energy is increasingly being focused on as a variety of energy supply sources, including biomass, renewable, fossil fuels, nuclear, and biofuels.
The segment is expanding as a result of each region having more clients due to the growing population. The implementation of these services is cost-effective in the long run because the customer makes service payments based on actual energy savings or other equipment performance metrics, which leads to a reduction in operating costs right away.
End User Insights
The services offered by an EaaS company to conserve energy or deliver electricity for various needs are included in the commercial sector. EaaS providers provide a range of technical and software solutions that help businesses comprehend the patterns of power consumption. With energy service implementations being required in the business sector across all worldwide regions, the commercial segment is anticipated to have the greatest market share and the fastest expanding market. This is primarily due to important structural effects, specifically, economic expansion. Additionally, energy as a service will give commercial users access to their energy efficiency, which will assist them reduce their energy use. A sizeable portion of the worldwide market is controlled by the industrial sector.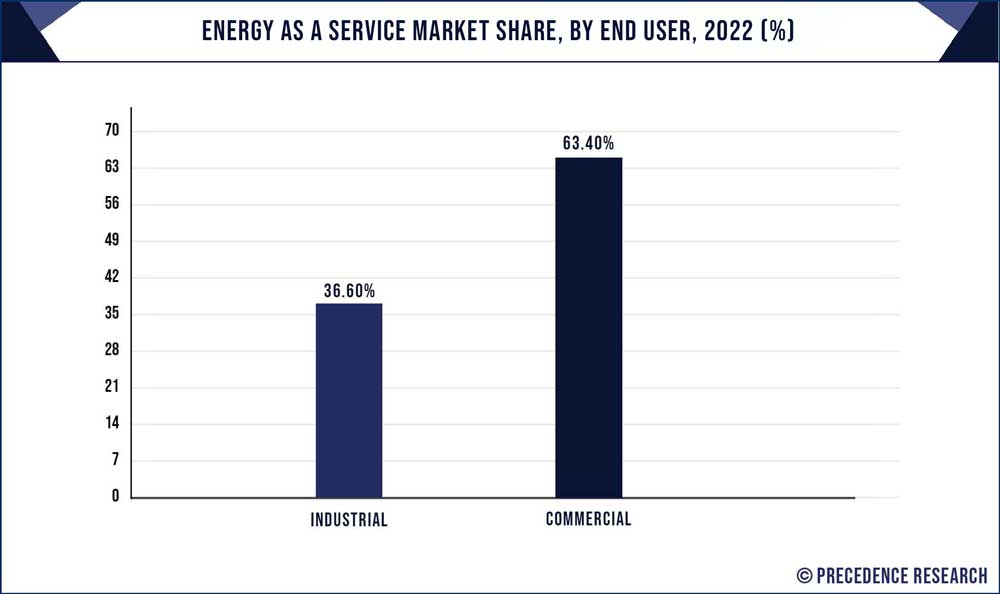 A sizeable portion of the worldwide market is controlled by the industrial sector. Production facilities and manufacturing facilities are included in the industrial sector. These facilities depend on a steady supply of electricity and cannot tolerate disruptions in energy storage or delivery. As a result, these elements are anticipated to fuel market growth in this sector.
Energy as a Service Market Share, By Region, 2022 (%)
| | |
| --- | --- |
| Regions | Revenue Share in 2022 (%) |
| North America | 43% |
| Asia Pacific | 19% |
| Europe | 30% |
| Latin America | 5% |
| MEA | 3% |
Geography Insights
Energy as a service is predicted to be dominated by North America during the forecasted period, with the U.S. accounting for the majority of demand. The nation stands out among others for having used Energy as a service in a number of industries. Particularly in the commercial sector, the area has embraced a number of initiatives that are anticipated to boost energy storage efficiency and assist reduce operational costs. The region has also seen notable investment in the exploration, production, and refining sectors, which is expected to increase demand for the energy as a service model in the upcoming years. Moreover, energy efficiency projects are being implemented by utilities in the U.S., Canada, and Mexico in an effort to lower the cost of energy production. In the U.S., fresh strategies like pay-for-performance are being adopted to boost business energy efficiency on a bigger scale. The energy as a service market in this region is also anticipated to be driven by a rise in the share of renewable power generation and energy efficiency efforts.
Europe region will grow at a significant rate during the projected period. By supporting governmental and organizational policy frameworks to implement green energy solutions and significantly installing power production technology in various places, Europe's market is benefited. At the moment, the main nations making a significant contribution to the market for energy as a service in the area include Germany, the UK, and Italy, among others. Additionally, it is projected that rising investments and plans to strengthen and expand grid infrastructure networks to support the rising installation of renewable energy will further advance the business.
The necessity to address the demand & supply gap as well as the region's growing interest in clean energy will support the industry outlook in Asia Pacific. The establishment of new industrial gas facilities and the construction of new homes and businesses facilitated the acceptance of these models in the area.
Key Market Developments
The largest privately-owned provider of energy as a service (EaaS) solutions in the US, Bernhard LLC, will be acquired by DIF Capital Partners, a top worldwide independent infrastructure investment fund manager, from a Bernhard Capital Partners subsidiary in October 2021.
Key Market Players
Schneider Electric
Honeywell International Inc.
Entegrity
Enel SpA
Siemens
Engie
NORESCO, LLC
Centrica plc
Veolia
Johnson Controls
Bernhard
General Electric
Wendel
Segments Covered in the Report
(Note*: We offer report based on sub segments as well. Kindly, let us know if you are interested)
By Service Type
Energy Supply Services
Operational and Maintenance Services
Energy Efficiency and Optimization Services
By End User
By Geography
North America
Europe
Asia-Pacific
Latin America
Middle East & Africa (MEA)