The global hydrogen generator market size was evaluated at USD 1 billion in 2022 and is projected to hit around USD 1.73 billion by 2032, growing at a CAGR of 5.7% during the forecast period from 2023 to 2032.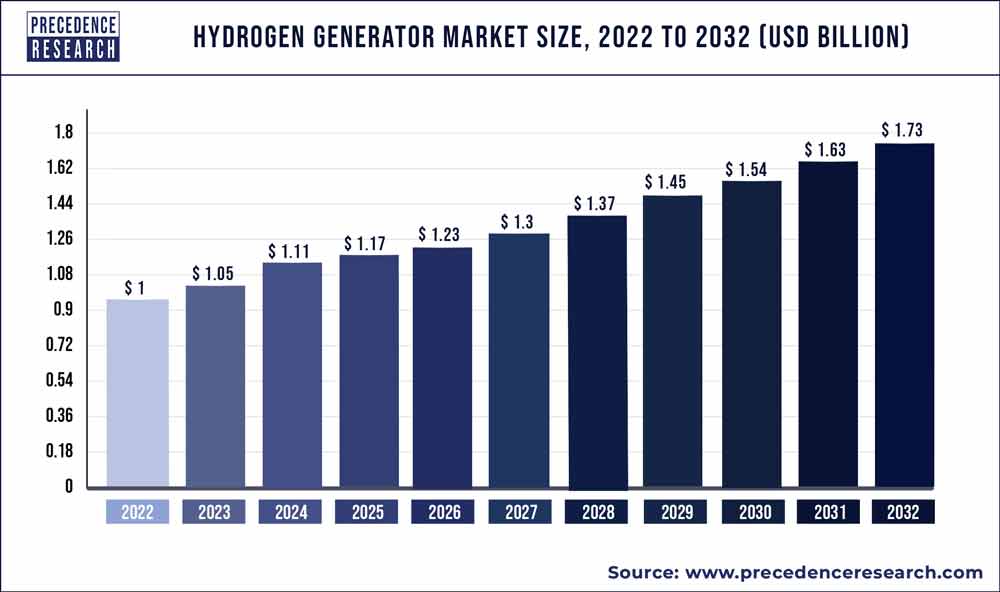 A hydrogen generator is a device that creates hydrogen from water and fossil fuels using a variety of techniques, including electrolysis and steam reforming. It produces high-quality hydrogen gas from water using a proton exchange membrane, and it is presently employed in a variety of end purposes, including chemical synthesis, fuel cells, refinement, and petroleum recovery.
Key Takeaways:
By product type, onsite hydrogen generators are anticipated to exceed 5% CAGR in 2022.
The market for steam reformer electrolysis was highest in 2022.
The value of chemical processing applications was greatest in 2022.
The refinery applications are anticipated would total USD 120 million By 2032.
The Asia Pacific region held a commanding 41.50% revenue share in 2022.
Growth Factors
The creation and use of clean and green energy have become necessary due to the growing concerns about global warming as well as the worsening climatic and environmental circumstances brought on by excessive pollution. Thus, hydrogen is a source of clean and renewable energy and is anticipated to see rapid growth throughout the course of the projection period. Rising government measures to lessen carbon emissions are promoting the production and use of hydrogen, which is driving up the market for hydrogen generation globally. Since 1975, the demand for hydrogen has increased thrice. The worldwide market for hydrogen generation is expanding as a result of the increasing need for green energy across several sectors. Currently, coal and natural gas are the two major sources for producing hydrogen. The production of hydrogen uses around 6% of natural gas and 2% of coal. A typical substitute for electric energy is hydrogen. In fuel cell technology, hydrogen fuel is widely employed. This is a significant driver of the worldwide market for hydrogen generation expansion.
The market participants are adopting a variety of development tactics, including partnerships and agreements, to produce hydrogen energy using zero-emission technologies. For instance, a collaboration deal was made to build a hydrogen plant in the US by Brookfield Renewable Partners and Plug Power, Inc. To lessen its carbon impact, this plant plans to produce about 15 metric tonnes of liquid hydrogen per day from 100 percent renewable resources. These kinds of development techniques are anticipated to open up new potential opportunities in the near future and accelerate the expansion of the market for hydrogen production worldwide. Furthermore, the market's development is greatly influenced by government regulations that support the production of hydrogen. Governments in both developed and emerging markets are introducing a variety of policies to assist the reduction of carbon emissions and promote the use of renewable energy. For instance, in their strategic energy partnership, the US and India opted to integrate low-carbon technologies.
The hydrogen generator market is primarily driven by government-supported initiatives and subsidies provided to end consumers.
As people's awareness of environmentally friendly and zero-emission automobiles increases, there is a huge market opportunity for hydrogen generators because of the increased demand in the automotive sector for fuel cells.
An increase in demand for different types of ammonia fertilizers globally.
The demand for the hydrogen generator market is rising as a result of an increase in population and the requirement for various chemical raw materials in various sectors.
Report Scope of the Hydrogen Generator Market
Report Coverage
Details
Market Size in 2023
USD 1.05 Billion
Market Size by 2032
USD 1.73 Billion
Growth Rate from 2023 to 2032
CAGR of 5.7%
Largest Market
Asia Pacific
Fastest Growing Market
North America
Base Year
2022
Forecast Period
2023 to 2032
Segments Covered

By Product Type
By Process
By Application

Regions Covered

North America
Europe
Asia-Pacific
Latin America
Middle East & Africa

Key Market Drivers
Extensive research and development have been done to create technology for creating hydrogen
The fuel is mostly utilized by petroleum refineries and businesses that make fertilizer. Since this is the most dependable and economical approach, fossil fuel reformation produces 99% of all hydrogen. However, because of the emissions of carbon dioxide, it is not good for the environment. Electrolysis, a process that employs electricity to split water into hydrogen and oxygen and emits no carbon dioxide, is the way that green hydrogen is generated. The decarbonization of the world is one of the goals that several governments have set for 2050. One of the most important components in attaining this aim is the production of an element like hydrogen, which creates green hydrogen and today accounts for more than 2% of global carbon dioxide emissions.
Key Market Challenges
Hydrogen is a synthetic energy transporter, which results in energy loss along the value chain.
Energy generated by numerous other processes is transported via it. Electrical energy is transformed into hydrogen by water electrolysis. However, high-grade electrical energy is also used to compress in addition to creating hydrogen. The medium may be moved, liquefied, transported, or stored. Hydrogen must be produced using energy. The energy input and the energy content of the synthetic gas should ideally match. Energy must be transformed for any technique of creating hydrogen, including electrolysis and reforming. Electrical energy or the chemical energy of hydrocarbons is turned into hydrogen's chemical energy. Sadly, energy losses always contribute to the production of hydrogen. Every stage of the value chain for producing hydrogen results in energy loss. The energy required for electrolysis is wasted by around 30% during manufacturing. During the conversion of energy into various forms, an extra 10% to 25% is lost. Green hydrogen must be delivered using energy, either in the form of car fuel or electricity from pipes. It loses more energy when hydrogen is used in fuel cells.
Key Market Opportunities
Rising focus on achieving net zero emission target by 2050
Under the scenario of net zero emissions, hydrogen generation undergoes an unparalleled transformation. 70% of electrolysis will be produced using low-carbon methods by the time the world output reaches 200 Mt in 2030. Nearly all of the growth in hydrogen production—to 500 Mt H2 by 2050—will be attributed to low-carbon technology. To attain net zero emissions by 2050, the energy system will need to be modified using several technologies. The main pillars for decarbonizing the global energy system are projected to include energy efficiency, behavioral change, electrification, hydrogen, and hydrogen-based fuel cells, renewable energy, carbon capture utilization, and storage.
Strong hydrogen demand growth and the adoption of cleaner technologies for its production will enable hydrogen and hydrogen fuel-based fuels to avoid up to 60 GB of carbon dioxide emissions in the period from 2021 to 2050, or 6.5% of all cumulative emissions reductions, in the net zero emission scenario.
Segments Insight
Product Type Insights
Market growth for onsite hydrogen generators is anticipated to exceed 5% CAGR. Increasing hydrogen gas demand is projected in the oil, gas, refinery, and other sectors due to its low emission features. The market for portable hydrogen generators is anticipated to grow at the fastest rate through 2032 as a result of a shift in emphasis toward renewable energy. Sustainable environmental practices, a high power-to-weight ratio, and noise-free properties are some of the factors that may help drive up demand for a product.
Process Insights
In 2022, the market for steam reformer electrolysis was the highest. From hydrocarbon fuels like methanol and methane (CH4) found in natural gas, the process creates hydrogen gas (CH3OH). Hydrogen generator growth steam reformer electrolysis is anticipated to be boosted by the rising demand for hydrogen in chemical manufacturing and processing. The CAGR for the electrolysis process is expected to exceed 5%. By breaking apart the water molecule, hydrogen gas is created in this process. Demand for energy from clean, renewable sources like water is set to increase.
Application Insights
In 2022, the value of chemical processing applications the greatest. From 2023 to 2032, rising demand for hydrogen in various chemical processes is anticipated to drive hydrogen generator growth. Applications for fuel cells are expected to grow at a rate of over 6% CAGR. Growth in the business might be fueled by rising demand in the residential and transportation sectors due to low emissions and cheap operating costs.
By 2032, it is anticipated that refinery applications would total USD 120 million. Hydrogen generator market growth for refinery application is projected to be boosted by rising hydrogen utilization to refine crude oil into refined fuels like diesel and gasoline and eliminate impurities like Sulphur from these fuels.
Regional Insights
In 2022, the Asia Pacific region held a commanding 41.50% revenue share and dominated the worldwide market. In terms of income, China was the largest country in the Asia Pacific area in 2022. The use of hydrogen production has increased in the Asia Pacific area as a result of the existence of more refineries in important nations like China and India. Governments in certain Asia-Pacific nations, like Australia and Japan, are also researching cleaner, greener methods of producing hydrogen. To increase their revenue, hydrogen manufacturers in the area are aiming to broaden their geographic reach and focus on emerging nations like South Africa, Vietnam, and Indonesia. As part of their strategic expansion strategies, U.S. based industry leaders like Praxair Inc. and Air Liquide want to increase their operations in the nations where the need for hydrogen is rising.
Since a few years ago, the hydrogen-generating sector has been expanding in North America. Each application and technology has contributed to the industry's rapid growth. The fastest-growing industry is the manufacturing of methanol and ammonia, which has seen tremendous expansion in the previous five years in nations like the U.S. and Canada.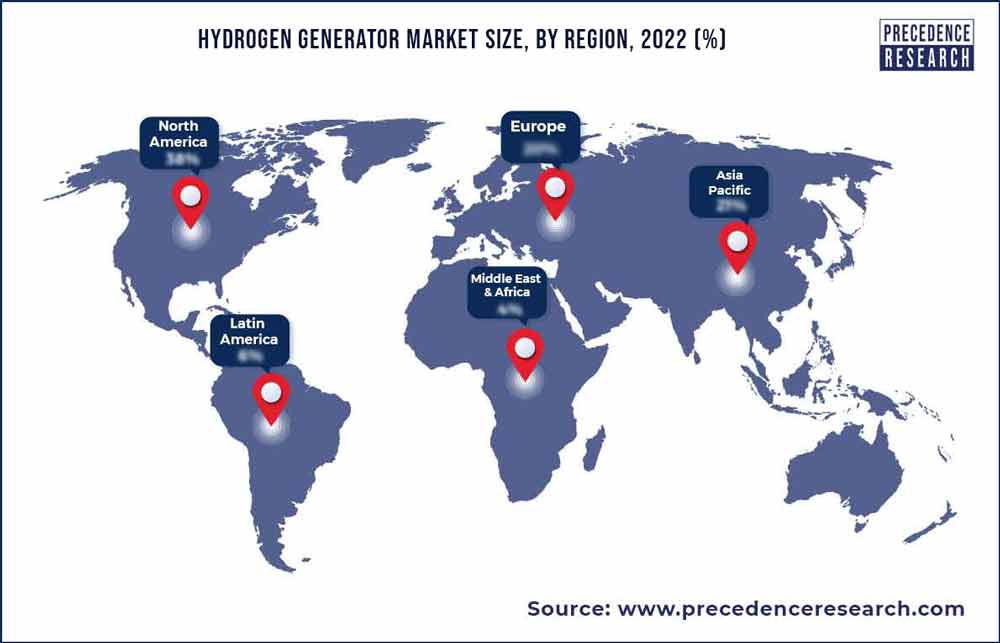 Due to the increased research and deployment of fuel cell systems in Europe brought on by initiatives announced by the European Commission through organizations like the Fuel Cells and Hydrogen Joint Undertaking, a rise in the region's hydrogen production is anticipated (FCH JU). These initiatives have been announced with the goal of increasing the use of fuel cell vehicles in Europe, which will aid in the creation of hydrogen infrastructure that will support fuel cell vehicles in the main European nations.
Recent Developments
March 7, 2020, Together with Toshiba Energy System, Tohoku Electric Power, and Iwatani Corporation, the New Energy and Industrial Technology Development Organization (NEDO) officially opened the Fukushima Hydrogen Research Field, which was built with a 10 MW class hydrogen production unit powered by renewable energy.
On January 21, 2021, the Canadian government signed a contract for the installation of an 88-megawatt water electrolysis facility for Hydro-Quebec with ThyssenKrupp Uhde chlorine experts. The capacity of this new facility will be to produce 11,100 metric tonnes of green hydrogen annually.
Key Market Players
Air Products and Chemicals Inc.
Athena Technology
Chromatec SDO JSC
Chromservis sro
Cummins Inc.
EPOCH Energy Technology Corp.
F-DGSi
Air Liquide SA
Linde Plc
LNI Swissgas SRL
Matheson TRI Gas Inc.
McPhy Energy SA
MVS Engineering Pvt. Ltd.
Nel ASA
Nuberg Engineering Ltd.
Parker Hannifin Corp.
PCI Analytics Pvt. Ltd.
PerkinElmer Inc.
Scientific Repair Inc.
Teledyne Technologies Inc.
Segment Covered in the Report
(Note*: We offer reports based on sub-segments as well. Kindly, let us know if you are interested)
By Product Type
Onsite type
Portable type
By Process
Steam reforming
electrolysis
others
By Application
Chemical processing
Fuel Cells
Petroleum recovery
Refining
others
By Geography
North America
Europe
Asia-Pacific
Latin America
Middle East & Africa (MEA)