The global industrial batteries market size was accounted for USD 32.82 billion in 2022 and it is expected to hit around USD 390.5 billion by 2032, representing a remarkable CAGR of 28.10% from 2023 to 2032. Asia Pacific industrial batteries market was valued at USD 9.8 billion in 2022.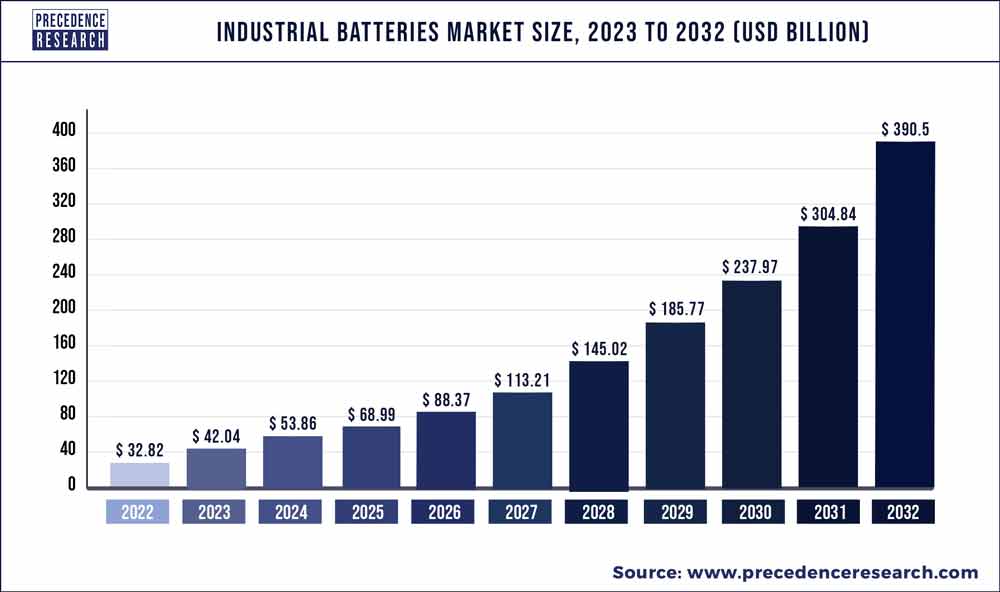 The industrial batteries market refers to the production, distribution, and sale of batteries used in various industrial applications such as power plants, manufacturing facilities, warehouses, and transportation systems. These batteries are typically designed to provide backup power or serve as the primary source of power in the event of a power outage or disruption.
The global industrial batteries market is expected to grow significantly in the coming years, driven by increasing demand for reliable and uninterrupted power supply in various industries and rising electrification. The market is also likely to be boosted by the growing adoption of renewable energy sources, which require battery storage solutions to manage fluctuations in power supply.
Key Takeaways:
Asia-Pacific region generated the maximum market share of 36% in 2022.
By Type, the lithium-based segment is predicted to contribute the largest market share between 2023 and 2032.
By Application, the telecommunications segment is expected to expand at a fastest CAGR between 2023 and 2032.
Scope of the Industrial Batteries Market
| | |
| --- | --- |
| Coverage | Details |
| Market Size in 2023 | USD 42.04 Billion |
| Market Size by 2032 | USD 390.5 Billion |
| Growth Rate from 2023 to 2032 | CAGR of 28.10% |
| Largest Market | Asia Pacific |
| Segmentation | By Type, By Application, By Region |
| Key Players | Toshiba International Corporation,C&D Technologies, Inc., East Penn Manufacturing Company, Robert Bosch GmbH, Northstar Battery Company LLC, GS Yuasa Corporation, Enersys Inc., Exide Technologies Inc., Johnson Controls Inc.,Saft Groupe S.A., Exide Industries Ltd. and Others |
Key Market Drivers
A surge in the usage of lithium-ion batteries by the renewable energy industry
Lithium-ion batteries outperform lead-acid, nickel-cadmium, and nickel-metal hydride batteries in terms of electrochemical performance. These batteries have a long life and provide increased power, efficiency, and low self-discharge. They are primarily used in energy storage systems that store energy generated by renewable sources such as solar and wind. Various market participants are working to improve the performance of lithium-ion batteries, making them an appealing option for stationary energy storage applications. The service life of these systems is determined by the cells or batteries embedded in the battery energy storage systems. Some of the companies that provide lithium-ion batteries and install them in their battery energy storage systems are LG Chem (South Korea), Panasonic (Japan), and Samsung SDI (South Korea).
Lithium-ion energy storage systems allow higher energy storage, facilitating the integration of low-cost wind and solar energy into grids. As a result, carbon dioxide emissions are reduced, and overall power costs are reduced. According to a 2017 report titled "Energy Storage Trends and Opportunities in Emerging Markets" published by the International Finance Corporation (IFC) and the World Bank Group's Energy Sector Management Assistance Program (ESMAP), the use of lithium-ion technology in utilities allows for 90% battery efficiency. In public utility applications, the use of advanced lead-acid batteries and flow batteries results in efficiencies of 80% and 70%, respectively. The adoption of lithium-ion batteries in the renewable energy sector is increasing demand for industrial batteries. The market demand is expected to boost during the forecast period owing to the aforementioned reasons.
Increase in healthcare savings by the use of sterilization pouches - The growing electrification of most industrial, commercial, and household works is driving market growth. The rapid expansion of the telecommunications sector is increasing demand for backup batteries with large storage capacities. Industrial batteries are the primary source of power for a few applications such as automated machinery, robots, and light vehicles, propelling market growth. The implementation of government regulations concerning carbon emissions is expected to increase demand for lithium-ion batteries, thereby increasing demand for the industrial batteries market. The demand for continuous electrical energy is increasing as people's reliance on electronic devices grows. Furthermore, emerging economies prefer electrification, and increasing urbanization has a significant impact on global market demand. Uncertainty in the costs and the availability of raw materials such as cobalt, lithium, and lead has aided market growth.
Key market challenges
Presence of Substitutes - Industrial batteries, such as lead-acid batteries, were previously the most cost-effective technology. However, as alternative battery technologies proliferate, lead-acid batteries are losing ground in terms of cost-effectiveness. Alternative battery storage technologies, such as supercapacitors, fuel cell, and flywheels powered by UPS, are replacing rechargeable batteries. Flywheels and fuel cells have begun to be used for power requirements in both mobile and stationary applications. Furthermore, supercapacitor advancements have made them suitable for energy storage applications in the automotive sector, which are expected to grow further. These developments act as market restraints for industrial batteries. Furthermore, the high price of lithium-ion batteries or lithium-ion may hamper the market growth.
Use of toxic chemicals - Toxic organic chemicals are used in the manufacture of industrial batteries. Most countries have strict regulations in place regarding such chemicals, which limits the growth of the industrial battery market. This factor is posing a challenge to the industrial batteries market. For instance, lead-acid batteries contain lead, which is a toxic heavy metal that can cause damage to the nervous system, kidneys, and other organs if ingested or inhaled. Nickel-cadmium batteries contain cadmium, which is a known carcinogen that can cause lung cancer and other health problems. Lithium-ion batteries contain various organic solvents, such as ethylene carbonate and dimethyl carbonate, which can be toxic and flammable.
Market Opportunities
Increasing Demand for Sterilization Pouches in Emerging Markets:
The number of R&D initiatives undertaken by battery manufacturers to develop various battery chemistries has increased significantly. More manufacturers are concentrating on developing lithium-ion batteries. Despite the fact that lithium-ion batteries are more technologically advanced and have a longer lifespan, not many manufacturers produce these batteries. India, a developing and rapidly growing country, imports these batteries because it lacks a domestic manufacturer. However, many manufacturers are now investing in the launch of new products and their global distribution. For example, Narada Power, a leading manufacturer, recently introduced a 512V high voltage lithium-ion battery backup power system designed specifically for UPS and HDVC systems. RELiON also introduced the InSight 12V, a new lithium-ion battery designed specifically for marine and RV applications.
Government Norms: To combat pollution, most countries are enacting stringent regulations to avoid toxic chemicals and to make nature more eco-friendly by switching to electric vehicles. As a result, increased demand for electric vehicles leads to increased demand for the industrial battery market. There are several government norms regarding pollution control that can boost the demand for industrial batteries such as Emission Reduction Targets, Renewable Energy Mandates, Energy Storage Incentives, and others that are expected to boost the demand for the market. End-users and manufacturers are developing advanced industrial battery technologies, which are fuelling the global market growth.
Segment Insights
Type Insights
On the basis of type, the industrial batteries market is segmented into lead-acid, lithium-based, nickel-based and others. Many industrial applications use lithium-ion batteries, including UPS systems, industrial automation systems, and grid-level storage systems. Because of its superior performance, higher energy density, and lower cost, lithium-ion batteries are becoming increasingly popular. Given its favourable capacity-to-weight ratio, it is expected to grow significantly in the industrial battery market. Increasing R&D investments to improve battery performance will increase battery adoption in a variety of applications. Energy storage systems (ESS) aid in the storage and conversion of renewable energy sources such as wind and solar. The emergence of this new and exciting market for commercial and residential applications is driving the demand for lithium-ion batteries.
Application Insights
On the basis of application, the industrial batteries market is segmented into electric grid storage, telecommunication, motive power, and others. During the forecast period, the global telecommunications sector is expected to grow at a rapid pace. This segment's growth is aided by the increased penetration of smartphones, tablets, and laptop computers. Market participants are developing solutions to meet the increasing demand for satellite TV over the phone and the Internet. Battery storage technology enables increased renewable energy generation. With recent advancements in battery storage technology, they have gained more traction for energy storage applications. They are shallow-cycle cells that are designed to stay charged for the majority of the battery's lifetime, with only a few rare discharges. They are used in stationary applications in commercial and residential buildings, as well as by utilities.
Geography Insights
On the basis of geography, the industrial batteries market is segmented into North America, Europe, Asia-Pacific, Latin America, and Middle East & Africa. Asia-Pacific has the largest market share due to the presence of four emerging countries, namely Japan, India, China, and South Korea, which are major key players in the region. Rapid industrialization and the development of the IT sector are driving up demand in this area. Additionally, the industrial batteries market in the Asia-Pacific region is expected to witness significant growth due to various factors such as the increasing demand for energy storage solutions, the rising adoption of renewable energy sources, and the growth of the manufacturing sector in the region. Furthermore, China is one of the largest markets for industrial batteries in the Asia-Pacific region. The country is witnessing significant growth in the manufacturing sector, which is driving the demand for industrial batteries for backup power solutions and energy storage. Additionally, the Chinese government's initiatives to promote the adoption of renewable energy sources are expected to drive the demand for industrial batteries for energy storage solutions.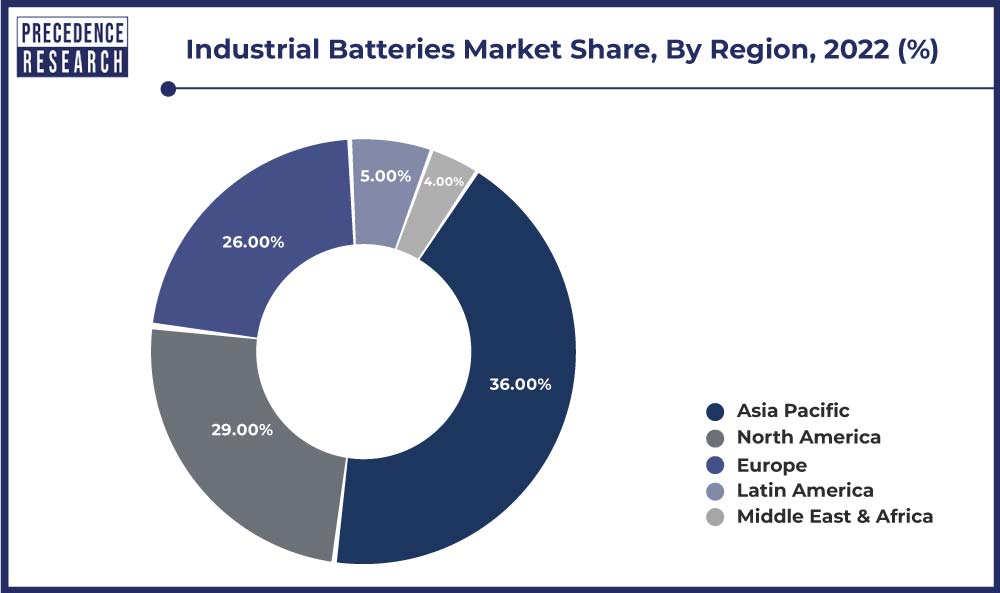 The North American market for industrial batteries is expected to witness significant growth due to the increasing demand for energy storage solutions in the industrial sector, especially in the United States and Canada. Because of the demand for industrial batteries from the automobile industry, electric grid storage, and the IT sector, North America has the second largest market share. Europe is expected to grow at a moderate pace during the forecast period, owing to increased spending on research and development. The presence of automakers in Germany is expected to boost demand in this region. Additionally, increasing demand for renewable energy storage and the presence of major manufacturers in the region is projected to bolster the growth of industrial batteries in this region. The industrial batteries market in the Middle East and Africa is expanding due to the need of oil and gas production units. Latin America is expected to have a high demand for industrial batteries as a result of industrialization and development efforts, and increasing demand for backup power solutions and energy storage in remote locations.
KEY INDUSTRY DEVELOPMENTS
April 2022 - Narada Power introduced a new product for the IDC scenario; the system includes a 512V lithium iron phosphate cell, a three-level BMS, and other core techniques. The modular designed solution is expected to meet various power demands for UPS and HVDC systems, but it also has outstanding characteristics such as high power discharge, high energy density, high safety, and reliability.
December 2021 - Stryten Energy LLC, a US-based developer of energy storage solutions, has acquired Tulip Richardson Manufacturing (TRM), a manufacturer of custom injection molding items for the industrial lead battery, consumer, and automotive markets.
Key Market Players:
Toshiba International Corporation
East Penn Manufacturing Company
Robert Bosch GmbH
C&D Technologies, Inc.
Northstar Battery Company LLC
GS Yuasa Corporation
Saft Groupe S.A.
Enersys Inc.
Exide Technologies Inc.
Johnson Controls Inc.
Exide Industries Ltd.
Crown Batteries
East Penn Manufacturing Company
Leoch International Technology Limited Inc.
Samsung SDI Co., Ltd.
LG Chem
Narada Power
Vision Group
Saft Group
Hoppecke
Sunlight
Rolls Battery
Segments Covered in the Report:
(Note*: We offer report based on sub segments as well. Kindly, let us know if you are interested)
By Type
Lithium-Based
Nickel-Based
Lead-Acid Based
Others
By Application
Electric Grid Storage
Industrial Equipment
Power Storages
Telecommunication
Others
By Geography
North America
Europe
Asia-Pacific
Latin America
Middle East and Africa