The global industrial generator market size was estimated at USD 18.64 billion in 2022 and is projected to hit around USD 30.9 billion by 2030, growing at a CAGR of 6.52% during the forecast period from 2022 to 2030.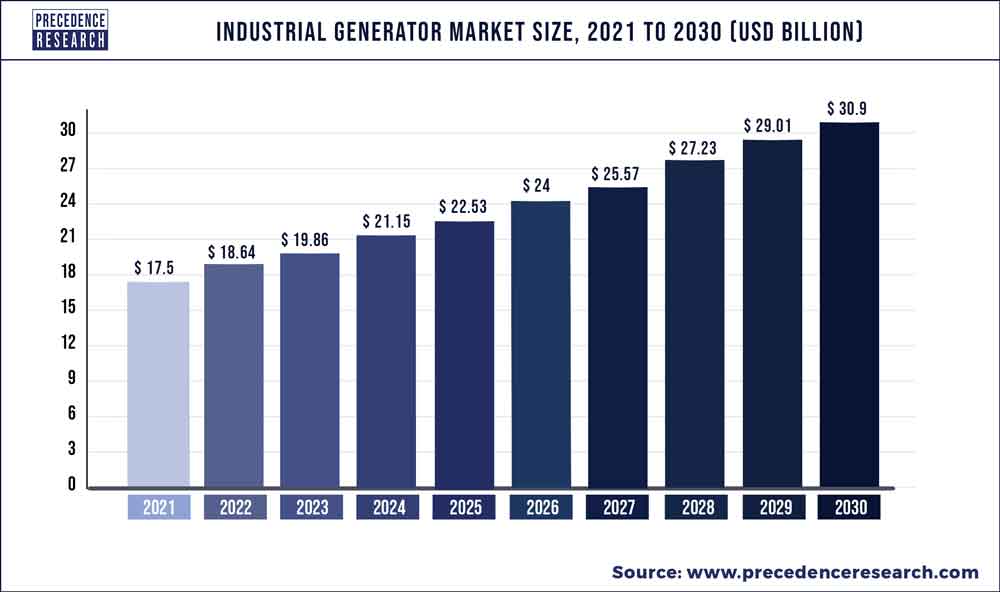 Access our Premium Real Time Data Intelligence Tool, Visit: Precedence Statistics
Key Takeaways:
Due to rising demand from mining operations and expanding infrastructural expansions, a > 750 kVA generating segment is projected to grow at a 6.4% CAGR through 2030.
In 2021, the commercial garnering market for use in the oil and gas industry was worth USD 2.5 billion.
Due to the robust infrastructure development & rebounding industry, the standby application section of the industrial generators market is predicted to exceed USD 7 billion by 2030.
The market for diesel industry generators is anticipated to grow at a CAGR of much more than 6.4% through 2030.
The Asia Pacific commercial generators market accounted for 60% of total revenue in 2021.
Energy is in more demand than it is in supply everywhere in the world. Numerous benefits, including cheap running costs and improved fuel efficiency, come with generating units. As a result, they are very well-liked in developing countries, particularly in the Asia-Western pacific. Along with its many benefits, it also had several disadvantages, including excessive noise and the release of dangerous gases. The World Nuclear Organization has predicted that the amount of electricity needed will double what is currently consumed. Solar energy will remain the most readily available electricity source, according to the U.S. Department of Energy. Due to escalating expenses of rolling blackouts across many service firms & server farms as well as growing customer awareness of the need for dependable emergency electricity supply, the industry in the U.S. is predicted to experience significant expansion. The economy is also influenced by the increased susceptibility of grid power plants to catastrophes brought on by shifting local weather patterns. Manufacturers, installers, maintainers, and repairers of generator systems are essentially the responsibility of solution providers in the diesel generator market. Customers who use generators as disaster backup power systems for commercial settings, household settings, and small businesses enter into contracts for product availability and service with generation dealerships or electrical subcontractors. Additionally, businesses employ a monitoring engineer to oversee a significant number of generating in large-scale operations.
Growth Factors
The market need for commercial generators would be boosted by rising dependence on energy and supplier security. Strict environmental regulations for renewable energy and a growing interest in greener sources will accelerate the expansion of the commercial generator industry. The industry picture will be aided by the increasing demand for a consistent and dependable supply of power from end users such as production facilities, oil, and natural gas amenities, mining operations, and building sites. A focus shifted towards protracted outages and stricter government regulations will both help the sector to advance. Government restrictions on the production of hazardous carbon dioxide are predicted to increase the market share of gas-powered generators over generating units. All end-use sectors' demand for generating units is predicted to be constrained by this trend. However, one of the main elements supporting the current demand for diesel generators is their cheap running costs & low upfront outlay.
Report Scope of the Industrial Generator Market
Report Coverage
Details
Market Size in 2022
USD 18.64 Billion
Market Size by 2030
USD 30.9 Billion
Growth Rate from 2022 to 2030
CAGR of 6.52%
Base Year
2021
Forecast Period
2022 to 2030
Segments Covered

By Power Rating
By End-Use
By Application
By Fuel

Regions Covered

North America
Europe
Asia-Pacific
Latin America
Middle East & Africa

Key Market Drivers:
The demand for generators and energy production systems is being fuelled by the rapidly increasing manufacturing sector - The manufacturing industry has been crucial to the expansion of the economy of various Asia Pacific nations. The demand for products and services is rising as a result of expanding urbanization, which is fuelling the expansion of the manufacturing industry. Additionally, in order to establish themselves as hubs for industrial production, the governments of some Asian nations have inked extra-regional trade agreements. The Comprehensive Economic and Trade Agreement, if implemented effectively, could be a step more toward a larger Free Trade Area within the Asia Pacific, according to ASEAN Community. It can work as a proper inter-governmental platform for free trade, foster the expansion of numerous industries, and support the growth of the region's manufacturing industry. The requirement for power generation equipment and generator in the area has increased as a result of the expansion of the industrial sector.
The administration has adopted positive steps in digitizing the manufacturing sector - Southeast Asia's largest center for the vehicle assembling sector in Thailand. Thailand's economy also benefits from the manufacturing of agricultural products, the beverage, food and beverage, cigarette, cement, tourist, textile, and apparel industries. As a result, the government has made positive steps to digitalize the manufacturing sector. Thailand 4.0, which would be defined as a digitally integrated commercial and social system with cutting-edge infrastructure, was introduced by the government and corporate leaders. The nation also wants to innovate in its focus areas, like robotics and aircraft, in order to transition to digitalization. Such encouraging government programs have spurred the expansion of the industrial sector in the Asia Pacific, which has raised the market for diesel generators.
The increasing demand for uninterruptible power across all industries - Many businesses are drawn to Vietnam because it can produce goods of excellent quality at cheaper production costs. In the nation's manufacturing sector, renewables have been embraced. For example, the DBW plant is the first HVAC facility in Vietnam to have solar panels installed, which may supply more than 20% of the power needed to run the facility during the dry seasons. Due to the outdated transmission & distributing infrastructure's inability to meet the production sector's requirement for a constant and dependable power supply, the market requirement for backup-generating units is growing. As a result, the market for generator sales is expanding due to the increasing need for uninterruptible power from almost all sectors of industry in the Asia Pacific.
Key Market Challenges:
There is a growing need for bi-fuel, inverter, and hybrid generators - There are numerous home, commercial, and industrial uses for diesel generators. Burning diesel releases nitrous oxides, carbon dioxide, and particulates. These emissions, which are immediately released into the atmosphere, harm both the ecosystem and the people who live there. Around the world, several rules have been put into place to lessen the noise & air pollution caused by generating units. As environmental issues have increased, every nation has developed its own set of rules and policies to cut back on air pollution. The creation of maritime propulsion technology that complies with different environmental requirements set forth by authorities of nations all over the world was a focus for producers of ship equipment. This poses a significant challenge for both local and developing businesses engaged in the sale of generators.
Key Market Opportunities
Bi-fuel, Inverters, and hybrid generators are becoming more and more necessary - New and innovative fuel sources were continuously being developed to find energy alternatives to conventional fossil fuels. In essence, hybrid generators which are available from numerous OEMs are internal combustion engines connected to batteries. These hybrid generators instantly power the engine when the loads are high; when the density is very low, the number of cells powers the engine. They have several advantages over conventional gensets and are expected to overtake portable generation units, which are typically used in remote industries like mining and construction.
Modern engineering that makes use of sophisticated electrical circuitry and high-tech magnets - By providing benefits across both petrol and diesel engines, gender fluid generators increase the dependability of reserve energy systems. They primarily run-on gas, but in an exigency, they may run entirely on diesel. Whenever the engine is running in dual-fuel operation, natural gas is added to the intake system, lowering the amount of diesel used while preserving the base diesel engine's torque, power density, and instantaneous responsiveness. Many generator companies are implementing bi-fuel technology to combat the strict emission regulations for diesel engines and their high operating costs. Bi-fuel turbines are thus replacing the traditional diesel generator sets. A modern invention that makes use of high-tech magnets and advanced electrical circuitry is the inverter generator. Compared to conventional generators, inverter generators offer pure AC power and are primarily used to operate existing equipment. They are gaining ground in the market for tiny household generators.
Segments Insight
Power Rating Insights
Due to rising demand from mining operations and expanding infrastructural expansions, a > 750 kVA generating segment is expected to grow at a 6.4% annual rate through 2030. These machines provide a sufficient way to power big machinery such as belt conveyors, excavators, and digging equipment. Additionally, greater use of these on-site generators to power sophisticated drilling rigs in isolated, off-grid sites will promote industry growth.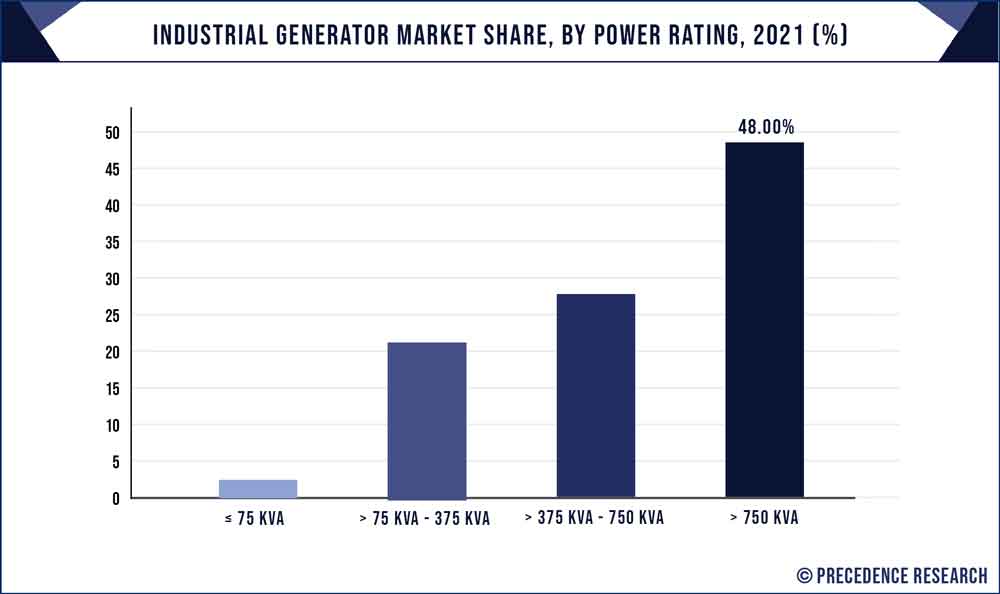 The >75 kVA to 375 kVA generation industry will benefit from continuous building infrastructure and the housing boom. The importance of different gensets is in the construction sector, which needs power for the ongoing investigation of machinery and tools on job sites. The business environment will be boosted by the units' expanding ability to offer power to construction sites without having access to electricity.
End-Use Insights
In 2021, the commercial generating market for use in the oil and gas industry was worth USD 2.5 billion. The supremacy of this generator will be maintained by the widespread use of this technology for backup power generation on O&G fields and construction sites. The industrial demand will increase as on-site gensets are often used in distant places to power directional drilling. The economy has evolved and will be accelerated by the increasing penetration of important electronic loads and the rising requirement for stable & dependable power sources. Due to a growing need for a consistent power supply to run an assembly line, the manufacturing sector is expected to encourage the product rollout. Unexpected blackouts in a manufacturing facility can also result in construction delays, waste of raw materials, and missed goals, all of which will increase the demand for the product. Key benefits of the product include increased capacity, great endurance, and high volatility rates, which boost its commercial potential.
Application Insights
Due to the robust infrastructure development & rebounding industry, the standby application section of the industrial generators market is expected to exceed USD seven billion by 2030. The business environment will be boosted by the vast array of applications across utility companies, mines, and building sites. When the amount of energy that can be taken from the power grid is restricted, these units are typically used. Increased government initiatives to boost electricity rates will heavily rely on prime power units. Further applications for such systems include supporting the primary grid or integrating renewable energy sources to improve the erratic electricity supply.
Fuel Insights
Through 2030, the market for diesel industry generators is anticipated to grow at a CAGR of much more than 6.4%. These units offer important advantages including scalable, adaptable, and temperature operation, which accelerates corporate expansion. Low initial costs and constant access to power are other important variables influencing the industry environment. The current industrialization will cause operating businesses' power needs to climb significantly, which will encourage market growth.
Industrial Generator Market Share, By Region, 2021 (%)
| | |
| --- | --- |
| Regions | Revenue Share in 2021 (%) |
| North America | 19% |
| Asia Pacific | 61% |
| Europe | 13% |
| Latin America | 5% |
| MEA | 2% |

Regional Insights
In 2021, the Asia Pacific industrial generators market accounted for 61% of total revenue. The expansion of industrial enterprises and the inadequacy of electricity grids to support an increased demand will both favorably affect market development. The manufacturing sector's rapid expansion and frequent power outages will improve the economy's prospects. The industrial value will also be complemented by rising production, rising financial losses due to outages, and the rising importance of dependable backup generator solutions.
Recent Developments
The Cat G3516 natural gas fuelled Quick Reply generating sets with US EPA Certification for usage in emergency & non-emergency situations were introduced by Caterpillar in January 2022.
In January 2022, the combined cooling, heating, and electricity plant tri-generation units totalling three MTU were delivered by Rolls-Royce and its distribution partners Knopf & Wallisch (K&W) to the Romanian cloud provider ClusterPower.
Generac announced the release of two new, large diesel units in October 2021. These units, the MDE330 & MDE570 diesel portable generators, are designed to be simple to use and maintain. Wide-opening detachable doors are a feature of rental-ready machines that maximize serviceability.
In August 2021, Toho Gas & MHIET Will Successfully Operate Tests of Mixed-Fuel Combustion of City Gas & Hydrogen in an Industrial Gasoline Engine for a Cogeneration Plant.
Cummins Power Systems unveiled the C2750D5BE in March 2021. The latest model expands the backup power range of the popular QSK60 series for 50Hz countries from 2500kVA to 2750kVA.
Key Market Players:
ABB (Germany),
AGCO Corporation
Aggreko PLC.
AKSA power generation company
Ashok Leyland (India),
Atlas Copco (Sweden),
Briggs & Stratton (US),
Caterpillar (US),
Cooper Corp (India),
Cummins (US),
Deere & Company,
Denyo Co. Ltd (Japan),
Doosan Portable Power
FG Wilson Inc.;
Generac Power Systems Inc. (U.S.),
Genset India,
Greaves Cotton Limited (India),
Himoinsa
Honda India Power Products Ltd.
Jackson
JCB,
JS Power (U.K.),
Jubaili Bros (UAE),
Kirloskar Electric Company (India),
Kohler Co. (US),
Kubota Corporation
Mahindra Powerol,
Mitsubishi Heavy Industries Ltd (Japan),
Multiquip Inc.
Powerica,
Rolls-Royce Holdings (UK),
Siemens (Germany),
Southwest Products (US),
Sterling & Wilson (India),
Supernova Gensets,
Sutton Power Engineering (U.K.),
Wacker Neuson (Germany),
Wartsila Corporation;
Weichai Group (China),
Yanmar Co Ltd (Japan)
Segments Covered in the Report:
(Note*: We offer reports based on sub-segments as well. Kindly, let us know if you are interested)
By Power Rating
≤ 75 kVA
> 75 kVA - 375 kVA
> 375 KVA - 750 kVA
> 750 kVA
By End-Use
Oil & Gas
Manufacturing
Construction
Electric Utilities
Mining
Diesel
Transport & Logistics
Others
By Application
Standby
Peak Shaving
Prime/Continuous
By Fuel
By Geography
North America
Europe
Asia-Pacific
Latin America
Middle East & Africa (MEA)