The global laboratory filtration market size was reached at USD 3.9 billion in 2022 and it is projected to hit around USD 8.1 billion by 2032, anticipated to grow at a CAGR of 7.58% from 2023 to 2032.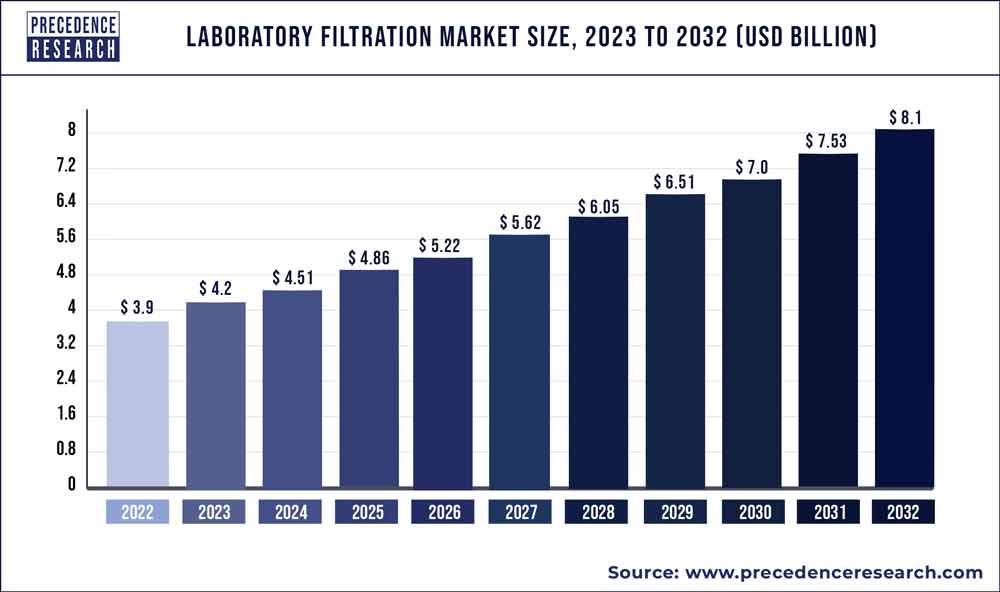 Key Takeaways:
By product, the filtration media segment has held a 52% revenue share in 2022.
By technique, the microfiltration segment has generated the highest revenue share of over 45% in 2022.
By end-user, the pharmaceutical & biotechnology companies segment has dominated the market with a revenue share of 51% in 2022.
In 2022, the North America has captured about 47% of the total revenue share.
Market Overview:
The primary drivers of the market growth are the expanding use of filtration technology in the biopharmaceutical, pharmaceutical, beverage, and food industries and the growing preference for filters with higher levels of efficiency. Bioburden reduction, oil and gas filtration, Sterilized filtration, air filtration, and membrane filtration are all features of filtration products.
Industries are creating novel technologies for high-volume filtration processes used in biopharmaceutical and pharmaceutical businesses. For example, a 3M Purification, Inc. particulate filter with developed pleat significantly high filtration surface area while retaining standard filter measurements.
Research laboratories, virus removal, microbial analysis, and water purification facilities are just a few companies where laboratory filtration is used. Throughout the forecast period, growth is anticipated to be fuelled by rising requirements for high-utilization filtration products and services during the down-streaming process, increasing use of analysis tools, and introducing sophisticated filtration techniques for ultra-purification.
A diverse selection of ash-free filter papers and qualitative filter papers are available from Macherey-Nagel and a few other businesses, including GE Healthcare and Hahnemühle, and are intended for routine quantitative analysis and general laboratory filtration procedures.
Due to increased research and development spending in these regions and rising demand for improved laboratory filters, it is predicted that opportunities in underserved, evolving markets with high potential will drive the expansion of the laboratory filtration market.
The market is anticipated to experience significant opportunities for growth during the forecast period due to the rapid development of nanofiber technology and the quick expansion of filtration technologies in pharmaceutical, biopharmaceutical, and other laboratories. Growing investment in cell-based research and developing nations around the world also help to create significant growth opportunities for industry participants.
Report Scope of the Laboratory Filtration Market
| | |
| --- | --- |
| Report Coverage | Details |
| Market Size in 2023 | USD 4.2 Billion |
| Market Size by 2032 | USD 8.1 Billion |
| Growth Rate from 2023 to 2032 | CAGR of 7.58% |
| Largest Market | North America |
| Base Year | 2022 |
| Forecast Period | 2023 to 2032 |
| Segments Covered | By Product, By Technology and By End User |
| Regions Covered | North America, Europe, Asia-Pacific, Latin America and Middle East & Africa |

Market Dynamics:
Drivers
Proficiency in research and development
Rising investment in research and development, particularly in developed and developing economies, will further open up profitable market expansion opportunities for medical devices and instruments. The market rate of growth is also being boosted by biopharmaceutical and pharmaceutical countries' capabilities in research and development to incorporate cutting-edge technologies in healthcare facilities.
The utilization of filtration technology growing
The key factors expected to drive the growth are the rising demand for filters with higher rates of productivity as well as the rising use of filtering technology in the biopharmaceutical, pharmaceutical, beverage, and food industry sectors. Filtration devices can be used for sterilization, air, bioburden reduction, oil and gas, and membrane filtration.
Companies are creating significant volume filtration processes for the biopharmaceutical and pharmaceutical industries. For example, 3M Purification, Inc.'s particle filter uses cutting-edge pleat technology to increase the filtration surface area while maintaining the exact filter dimensions.
Research labs, virus removal, microbiological analysis, and water purification treatment facilities are among the companies that use laboratory filtration. During the forecast period, growth is anticipated to be fueled by the development of sophisticated filtering technologies for ultra-purification, rising analytical instrument usage, and increasing demand for high-utilization filtration products during the down-streaming process.
The filtration process reduces the number of contaminants like suspended particles, viruses, bacteria, parasites, algae, and fungi. The method of laboratory filtration has several benefits, such as the effective removal of inorganic salts and other contaminants with high boiling points and the fact that distilled water is adequately pure for most laboratory uses. Particles and bacteria more significant than the pore size of a filter are excluded. Ultrafilters can eliminate endotoxins, colloids, and microorganisms for a cheap and simple replacement.
Restraint:
Consumers have a high price sensitivity.
The biotechnology and pharmaceutical industries, end users of laboratory equipment, currently struggle with cost containment despite their demands for better and more sophisticated products. Therefore, there is more pressure on laboratory filtration equipment and accessories suppliers to provide high-quality goods at competitive prices. Due to this affordability, the market for laboratory filtration equipment has experienced price immobility.
Decreased profit margins are also a result of producers not being able to pass on Research and development costs and other expands in production costs to end users due to the fierce competition in the majority of laboratory filtration markets.
Opportunity:
Utilization of laboratory filtration technology growing
Biopharmaceutical companies manufacture small-molecule drugs and components on a large scale. These companies face several challenges when producing medicines, which include cost control and quality improvement. Filters are installed in numerous locations to stop contamination and eliminate organisms during production.
Examples of the different types of laboratory equipment used include sterilization filters and bioburden reduction filters. Sterilizing filters are becoming more common as they are quickly used to protect product quality during loading and manufacturing techniques. To control bacteria and other organisms, laboratory filtration equipment and supplies are also used at various stages of the manufacturing process.
COVID-19 Impact:
The global laboratory filtration market is expected to expand due to the COVID-19 outbreak. To conduct various experiments that enable the identification of the virus and the development of a vaccine, researchers are using a variety of laboratory supplies, including filters. For example, Pall Laboratory's Acrodisc sterile syringe filters guarantee the sterility of the kits, media, and components utilized in the research kits for COVID-19.
The coronavirus outbreak has caused changes in consumer preferences regarding hygiene and health products, indirectly driving the adoption of membrane filtration technology. The laboratory filtration market's main revenue streams are the numerous food, medical, and wastewater treatment applications responsible for the majority of demand.
Segments Insight:
Product Insights
The laboratory filtration market is divided into filtration media, filtration accessories, filtration assemblies, and others based on the type of product. Membrane filters, filtration microplates, filter papers, syringeless filters, capsule filters, syringe filters, and other types of filters are subcategories of filtration media.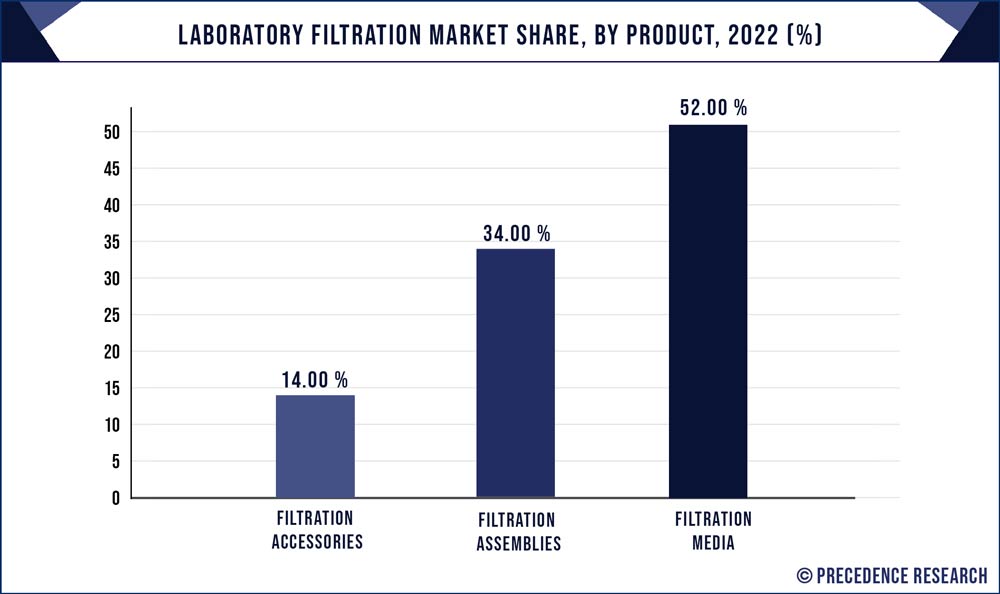 The further sub-segmentation of filter papers includes cellulose, quartz filter papers, and a glass microfiber. Microfiltration assemblies, ultrafiltration assemblies, vacuum filtration assemblies and reverse osmosis assemblies are additional categories of filtration assemblies. Filter holders, cartridge filters, filter flasks, filter dispensers, filter housings, filter funnels, seals, vacuum pumps, and other items are further divided into the category of filtration accessories.
Technology Insights
The dominant market technologies are reverse osmosis, nanofiltration, vacuum filtration, ultrafiltration, and microfiltration. In 2022, this industry was dominated by the microfiltration subsegment. Removing nanoparticles using a membrane filter, a microporous medium, is known as microfiltration technology.
Many companies use microfilters, solid-liquid phase separation and cold sterilization of API and enzymes. It is extensively used in applications involving milk protein fractionation. Applications involve cell restoration from fermentation broths, clarification of corn syrup, milk protein fractionation, and CIP chemical recovery.
Ultrafiltration is among the fastest rapidly growing technologies, with a significant CAGR anticipated throughout the forecast period. Compared to traditional techniques, the ultrafiltration component provides advantages like easier product handling, lower energy consumption, and gentle product handling. The market is anticipated to expand due to the expanding use of ultrafiltration in water purification systems, the food processing industry, and nutrient bio separation.
End User Insights
The laboratory filtration market is divided into four end-user groups based on industry: biotechnology and pharmaceutical firms, hospitals and diagnostic labs, the beverage and food sector, and academic and research organizations. The market share leader in 2022 was the biotechnology and pharmaceutical sector, and it is anticipated that this position will not change throughout the forecast.
Regional Insights
In 2022, the laboratory filtration market in the world was dominated by North America, with about 47% of the market. North America is the largest market for laboratory filtration products for basic research because there are significant manufacturers of filtration products, established laboratories, and growing government funding.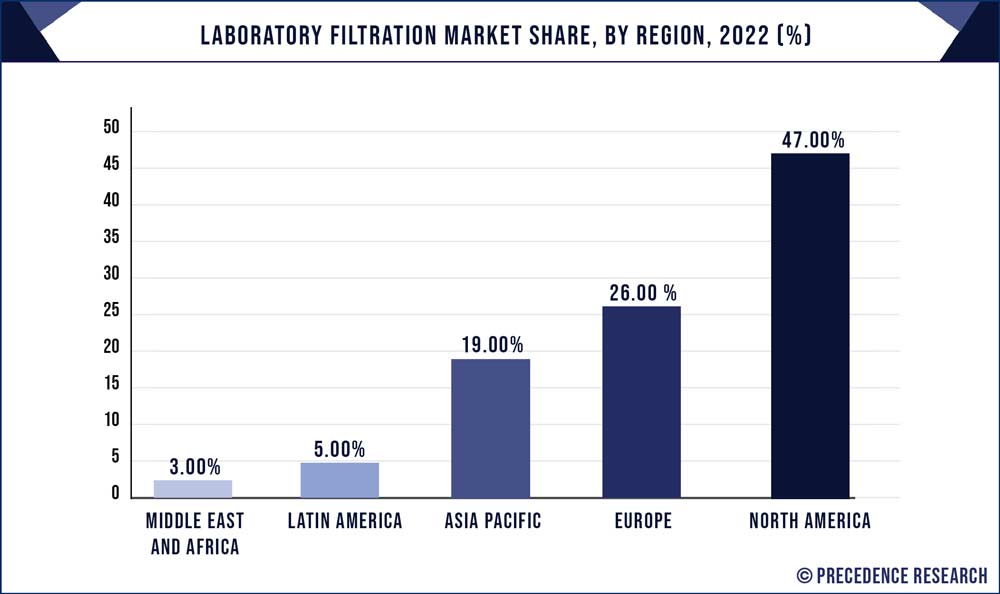 The two primary causes of the large base of the target population in North America are the rise in target diseases and treatment demand. The region has adopted laboratory filtration products at a faster rate than the nation as a whole due to rising industrialization and the accessibility of new products.
The Asia-Pacific region is anticipated to grow during the forecast period due to the rise in participants. Facility. Food and beverage manufacturers are launching more high-quality products, and numerous generic drug manufacturing industries exist in these areas.
Recent Developments:
January 2021- The 24-well format of the Acroprep high-volume 24-well filter plates, introduced by Pall Laboratory, enables laboratories to work on everything from harvest, cellular metabolism, and biomolecule isolation to the final section.
September 2020- Merck Milipore declared the donation of research tools and supplies worth DR 1.2 billion to Indonesia's Eijkman Institute for Molecular Biology (USD 0.086 million). The grant helps the Institute's initiatives to quicken vaccine development research.
Key Market Players:
3M Company
Veolia Water Technologies.
Advantec Toyo Roshi Kaisha Ltd.
3M Purification Inc.
Thermo Fisher Scientific Inc.
Sigma-Aldrich
Agilent Technologies Inc.
Sterlitech Corporation
Amd Manufacturing Inc.
Ahlstrom-Munksj
Sartorius Group
Merck KGaA
Cantel Medical Corporation
Danaher Corporation
Cole-Parmer Instrument Company LLC
Merck Millipore
GE Healthcare
Hawach Scientific Co. Ltd.
GVS S.p.A
Macherey-Nagel GmbH & Co. KG.
Segments Covered in the Report:
(Note*: We offer report based on sub segments as well. Kindly, let us know if you are interested)
By Product
Filtration Media

Membrane Filters
Filter Paper

Cellulose Filter Papers
Quartz Filter
Glass Microfiber Filter Papers

Syringeless Filters
Syringe Filters
Capsule Filters
Other Filtration Media
Filtration Microplates
Filtration Assemblies

Ultrafiltration Assemblies

Vacuum Filtration Assemblies
Microfiltration Assemblies
Reverse Osmosis Assemblies
Other Filtration Assemblies

Filtration Accessories

Filter Dispensers
Filter Holders
Filter Flasks
Filter Funnels
Filter Housings
Cartridge Filters
Vacuum Pumps
Seals
Other Laboratory Filtration Accessories
By Technology
Nanofiltration
Microfiltration
Vacuum Filtration
Reverse Osmosis
Ultrafiltration
By End User:
Academic and Research Institutes
Pharmaceutical and Biopharmaceutical Companies
Hospitals and Diagnostic Laboratories
Others
By Geography
North America
Europe
Asia-Pacific
Latin America
The Middle East and Africa