The global medical imaging displays market size was valued at USD 5.24 billion in 2022 and it is expected to hit around USD 9.14 billion by 2032, expanding at a CAGR of 5.72% during the forecast period 2023 to 2032.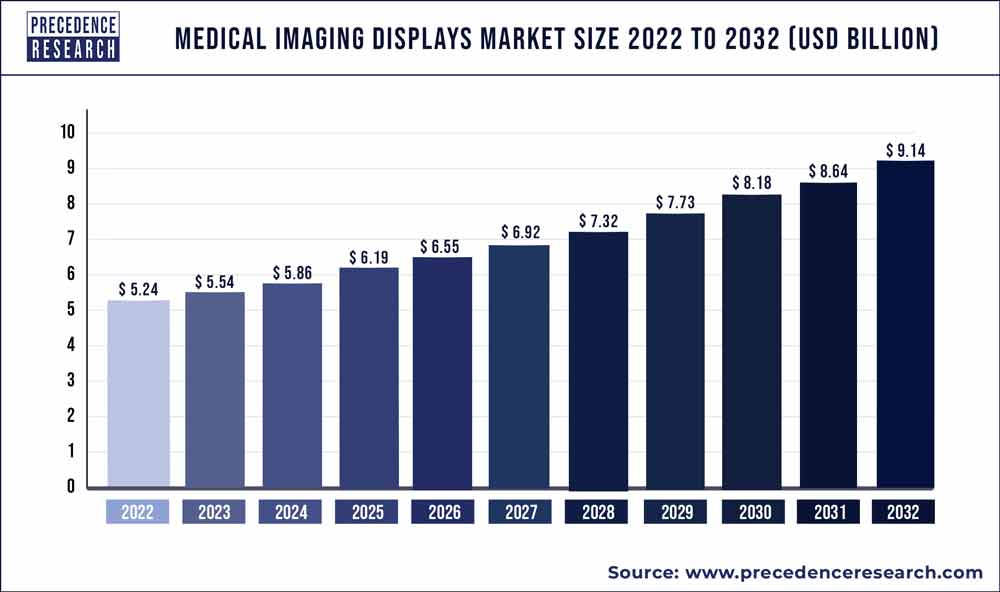 Access our Premium Real Time Data Intelligence Tool, Visit: Precedence Statistics
Key Takeaways:
North America is expected to dominate the medical imaging displays market during the forecast period.
By Type, the monochrome segment is expected to witness a significant growth in the medical imaging displays market.
By Component, the hardware segment is expected to be dominant in the medical imaging displays market.
By Technology, the OLED segment held the largest share in 2022 and is expected to sustain the position throughout the forecast period.
By Application, the diagnostics segment is expected to be dominant in the medical imaging displays market.
By End-user, the hospitals segment shows a dominant position in the medical imaging displays market.
Market Overview:
Diagnostic imaging methods are used to diagnose anomalies, treat diseases, and reveal interior structures hidden behind the skin and bones. It is also used in medical science to study the physiology and anatomy of the body in detail, both in normal and diseased conditions. To detect, treat, and manage complicated patient problems, modern medical imaging technologies such as simultaneous PET/MRI, PET/CT hybrid, and 3D USCT provide high resolution, improved reliability, and safety. Through the use of these methods, new, precise imaging tools with increased resolution, specificity, and sensitivity are guaranteed.
Growth Factors:
The increased prevalence of chronic diseases such as cancer, cardiovascular ailments, and musculoskeletal conditions needs more precise and thorough diagnostic imaging, which drives demand for high-quality displays. Display technologies such as LED, OLED, and LCD screens have increased image clarity, resolution, and color reproduction, making them indispensable in medical imaging.
As the population ages, there is a greater demand for healthcare services and diagnostic imaging. Older people often require more frequent and thorough imaging treatments, necessitating modern medical displays. With a greater emphasis on patient pleasure and comfort in healthcare settings, there is a greater demand for more precise, intelligible imaging data. High-quality presentations are essential for improving patient comprehension and participation in their care.
Medical imaging can help detect cancer before it becomes devastating and incurable. It increases the likelihood of survival by detecting cancer development or size early. As a result, it reduces mortality while also improving care. According to the American Cancer Society, there were nearly 1,958,310 new cancer cases in the United States in 2023.
Report Scope of the Medical Imaging Displays Market:
| | |
| --- | --- |
| Report Coverage | Details |
| Market Size in 2023 | USD 5.54 Billion |
| Market Size by 2032 | USD 9.14 Billion |
| Growth Rate from 2023 to 2032 | CAGR of 5.72% |
| Largest Market | North America |
| Base Year | 2022 |
| Forecast Period | 2023 to 2032 |
| Segments Covered | By Type, By Component, By Technology, By Application, and By End-user |
| Regions Covered | North America, Europe, Asia-Pacific, Latin America, and Middle East & Africa |

Market Dynamics:
Driver:
Rising demand for diagnostic imaging services
Technological progress has resulted in the creation of more complex and high-resolution imaging modalities. These technologies produce better, more detailed images, making more accurate diagnoses. The prevalence of chronic diseases such as diabetes, hypertension, and obesity are increasing globally. These disorders frequently necessitate regular monitoring and follow-up imaging, increasing demand for medical imaging services. As the world's population ages, the prevalence of chronic diseases and ailments that require medical imaging for diagnosis and monitoring rises naturally. Cancer, cardiovascular diseases, and musculoskeletal conditions frequently demand routine imaging evaluations.
Restraint:
High cost initial investment
Medical imaging displays, such as high-resolution monitors and specialty panels, are highly advanced and require significant research, development, and manufacturing investment. This raises production expenses, which are then passed on to end customers. The Food and Drug Administration (FDA) and the European Medicines Agency (EMA) have tight regulatory guidelines for medical imaging displays. The certification procedure necessitates extensive testing and compliance, necessitating additional resources and raising the entire cost. Developing medical-grade collections necessitates using specific technologies and materials to achieve severe regulatory criteria. These components are costly, and their acquisition adds to the overall cost. Companies spend a lot of money on R&D to create cutting-edge technology to help them stay competitive and address changing healthcare needs. Thus, such high-cost investment is observed to restrain the market's expansion.
Opportunity:
Penetration of artificial intelligence (AI)
AI algorithms can evaluate medical images with precision that human radiologists may find challenging to accomplish constantly. This results in more precise diagnosis and treatment regimens, ultimately improving patient outcomes. Artificial intelligence-powered applications can speed up the interpretation of medical images, which is critical in time-sensitive scenarios or emergencies. This can result in earlier treatment and potentially life-saving treatments.
AI can help maximize resource utilization by speeding workflows and decreasing the need for manual intervention, resulting in lower operational costs for healthcare institutions and potentially more accessible patient treatment. AI can potentially automate several stages of the imaging process, including pre-processing, segmentation, and feature extraction. This minimizes the time radiologists spend on mundane duties, allowing them to devote more time to complex or critical cases.
Segments Insight:
Type Insights:
The monochrome segment shows significant growth in the medical imaging displays market. Monochrome displays provide great grayscale contrast and resolution, making it possible to precisely visualize medical images like X-rays, magnetic resonance imaging, and computed tomography scans. This improved clarity allows healthcare providers to make more accurate diagnosis and treatment recommendations. When compared to color screens, monochrome displays have a longer lifespan. This is especially significant in healthcare settings when equipment is expected to function dependably for lengthy periods. Monochrome displays are noted for their long-term stability and consistency, which is critical in medical environments where any divergence in image quality can majorly impact patient care.
The full HD segment is expected to witness the fastest growth rate throughout the forecast period. Full HD resolution has become a norm in many professions, including healthcare. It works with imaging modalities such as X-ray, MRI, CT scans, and ultrasound equipment. There are space limits in many healthcare settings. Full HD monitors are smaller and more portable, ideal for smaller rooms or clinics. Full HD resolution gives sufficient details for accurate diagnosis in many medical applications. This is particularly true for everyday imaging tasks. Radiologists and other medical professionals are frequently used to working on Full HD monitors. Higher resolutions may necessitate retraining and adjustment, which can be costly and time-consuming.
Component Insights:
The hardware segment is expected to dominate the global medical imaging displays market. The display of anatomical structures in medical imaging must be exact and accurate. For example, High-resolution displays and graphics cards guarantee that images are clearly shown, allowing healthcare practitioners to diagnose correctly. The medical industry is extensively regulated to ensure patient safety and privacy, and healthcare facilities must conform to stringent regulations. Medical-grade displays meet various regulatory criteria, offering security that consumer-grade shows do not. Medical imaging displays may include multi-modality support, allowing them to display images from several imaging devices (e.g., X-ray, MRI, CT scans) in real-time. They might additionally have advanced image enhancement and modification tools.
The software segment is the fastest growing in the medical imaging displays market during the forecast period. As medical imaging technologies such as MRI, CT scans, and ultrasound become more advanced, there is a substantial need for software programs to properly process and interpret the massive amounts of data generated by this equipment. Modern software solutions are built to match existing hospital and clinic workflows. They make saving, retrieving, and sharing medical images and reports easier, expediting the diagnosis process. To assist radiologists in identifying and diagnosing medical disorders, software in medical imaging displays frequently combines advanced algorithms and artificial intelligence (AI). These technologies can detect minor anomalies that the human eye may miss, enhancing diagnosis accuracy.
Technology Insights:
The OLED segment is expected to dominate the medical imaging displays market during the forecast period. OLED panels have high contrast ratios and can show true blacks, which is critical in medical imaging for discerning slight variations in grayscale levels, which aids in detecting anomalies or fine details in medical pictures. Unlike other display technologies, OLED panels deliver continuous brightness levels across the screen, providing consistent image quality and decreasing the danger of losing essential details owing to uneven illumination. OLED displays utilize less power than other technologies, which is especially critical in contexts where medical displays are constantly used, such as diagnostic or surgical suites.
OLED screens can be produced in flexible and delicate form factors. This enables the development of bent or bending displays, which can be particularly valuable in designing specialist medical equipment or ergonomic workspaces. OLED technology allows the customization of screen size, resolution, and form factor. Because of its versatility, it is appropriate for a wide range of medical applications, from small handheld devices to massive diagnostic monitors.
Application Insights:
The diagnostic segment is expected to hold the largest share of the market during the forecast period while sustaining its position in the market. Diagnostic displays are designed to display high-resolution images with accurate color reproduction. This is crucial for healthcare workers to interpret and diagnose medical issues correctly. Diagnostic screens are designed to survive prolonged and rigorous use in clinical settings. They have strong backlighting and long-lasting components to ensure their lifetime. They must meet numerous regulatory requirements and are frequently certified to verify that they meet specific medical sector safety and performance standards.
For instance, in September 2022, Royal Philips declared fresh achievements in developing the world's initial spectral detector angio CT solution, incorporating the company's groundbreaking into a complete hybrid angio CT suite. Its goal is to provide physicians with quick access to these two primary imaging techniques in a single room, allowing for innovation in stroke, trauma care, and oncology surgical procedures.
The mammography segment shows significant growth in the medical imaging displays market during the predicted period. Breast cancer is the most common cancer in women in the United States. Breast cancer accounts for around 30% of all newly identified malignancies in women annually. In the United States, about 3.8 million women have been diagnosed with breast cancer, including those currently receiving chemotherapy and those who have completed therapy. Approximately 13% of women in the United States will acquire invasive breast cancer throughout their lifetime.
End-user Insights:
The hospitals segment is expected to be dominant in the medical imaging displays market during the forecast period. Hospitals often have access to cutting-edge medical imaging technology, such as high-resolution CT scanners, ultrasound machines, X-ray systems, and MRI machines. This advanced technology creates comprehensive medical images requiring high-quality displays for adequate interpretation. In the United States, hospitals are required to follow tight regulatory standards and rules established by agencies such as the FDA (Food and Drug Administration). These specifications ensure that medical displays meet stringent performance requirements such as resolution, brightness, contrast, and color accuracy.
Hospitals provide a variety of imaging modalities to treat a wide range of medical problems and specialties. Each modality requires different display capabilities to accurately depict pictures, whether monochrome for X-rays or full color for CT and MRI scans. Images can be used for referral, patient advice, and surgical planning at hospitals linked to a PACS.
The diagnostic centers segment is the fastest growing in the medical imaging displays market during the predicted period. Diagnostic centers are critical components of modern healthcare. These clinics offer early disease diagnosis, extensive testing, convenient and readily available services, and collaborative treatment. Diagnostic centers enable healthcare providers to establish precise and informed diagnoses, devise successful treatment plans, and provide better patient care by providing these services.
For instance, in December 2022, Novosound, a specialist in ultrasound sensors, formed a business relationship with PAVmed Inc., a Nasdaq-listed multinational medical technology firm, to develop technologies that will improve intravascular imaging. Novosound's foray into healthcare and geographic expansion into North America is aided by the PAVmed partnership.
Regional Insights:
North America has largest revenue share in 2022 and is expected to dominate in the medical imaging displays market throughout the predicted timeframe. North America has some of the most modern healthcare systems in the world, including world-class hospitals, clinics, and research centers that rely significantly on cutting-edge medical imaging equipment. It has been quick to implement electronic health records (EHRs) and Picture Archiving and Communication Systems (PACS), both of which necessitate high-quality medical displays for optimal use. North America's healthcare system serves a large and diversified population. This produces a significant demand for medical imaging displays such as radiology monitors surgical and diagnostic screens. Many of the world's leading medical imaging display manufacturers, such as EIZO, Barco, and LG, have a strong presence in North America, providing easy access to cutting-edge technology and experience.
For instance, in October 2022, Samsung decided to boost its investment in the North American ultrasound business to maximize individual and client engagement with our outstanding imaging technology, from new product introductions incorporating Samsung technology to order system processing improvements, growing the range of services to include remote automation, and expanding market penetration to reach more Integrated Delivery Networks. These efforts aim to make our revolutionary imaging technology more accessible to patients and physicians.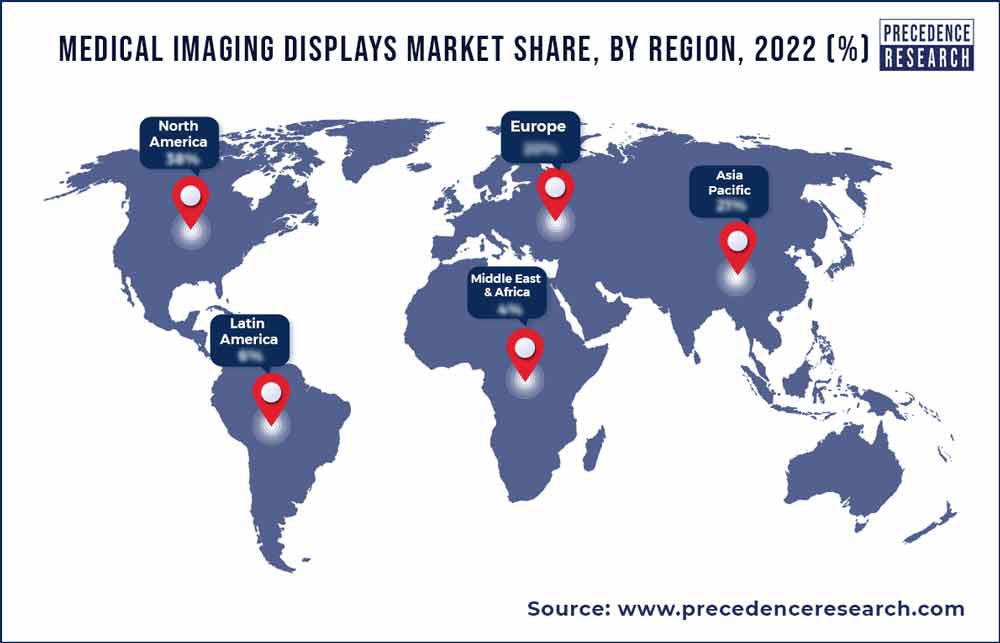 Asia Pacific is the fastest growing region in the medical imaging displays market. Asia Pacific is well-known for its flourishing technology sector. Both domestic and international businesses have developed medical imaging displays. This results in the availability of cutting-edge products that meet the needs of healthcare facilities. The region has a vast, diversified population and a growing middle class population. This demographic shift raises the demand for healthcare services such as diagnostics and imaging. Many governments have realized the value of healthcare and are actively working to upgrade their healthcare infrastructure. This includes equipping radiology departments with cutting-edge imaging technology and displays. Local healthcare practitioners frequently work with international corporations to implement knowledge transfer, training, and technology that contributes to the quick adoption of modern medical imaging solutions.
Recent Developments:
In January 2023, Bayer launched its purchase of Blackford Analysis Ltd. to address the growing need for medical imaging and a scarcity of radiologists. The expenditure is part of Bayer's plan to promote radiology innovation, particularly the development and implementation of artificial intelligence (AI) inside clinical workflows, to improve patient treatment and advance Bayer's leadership in digital medical imaging.
In December 2022, Viz.ai announced the launch of a powered-by AI suite built exclusively to warn radiologists in their process of suspected diseases, link care teams, and prioritize worklists in real time. The Viz Radiology Suite interacts with communication systems (PACS) and picture archiving in healthcare organizations to securely ease access to imaging data between departments and streamline patient diagnosis.
In November 2022, GE Healthcare and MediView XR, Inc. announced a collaboration to incorporate medical imaging into mixed-reality solutions via the OmnifyXR System. This technology combines seamless remote collaboration, evidence-based therapeutic insights, and virtual reality visualization by leveraging spatial computing, mixed reality, and medical imaging.
Key Market Players:
Ampronix Medical Imaging Technology
Advantech
FSN Medical Technologies
Vimex Endoscopy
Barco
Double Blac
EIZO Corporation
NEC
Segments Covered in the Report:
(Note*: We offer reports based on sub-segments as well. Kindly, let us know if you are interested)
By Type
Monochrome
Full HD
3D
Others (4K, 8K)
By Component
Hardware
Software
Services
By Technology
By Application
Surgical
Endoscopy
Radiology
Diagnostic
Mammography
Telemedicine
Teleradiology
By End-user
Hospitals
Diagnostic Centers
Outpatient Clinics
Research Institutions
By Geography
North America
Europe
Asia-Pacific
Latin America
Middle East and Africa