The global nutraceutical excipients market size was valued at USD 3.76 billion in 2021 and is expected to hit around USD 6.9 billion by 2030, poised to grow at a compound annual growth rate (CAGR) of 6.98% from 2022 to 2030.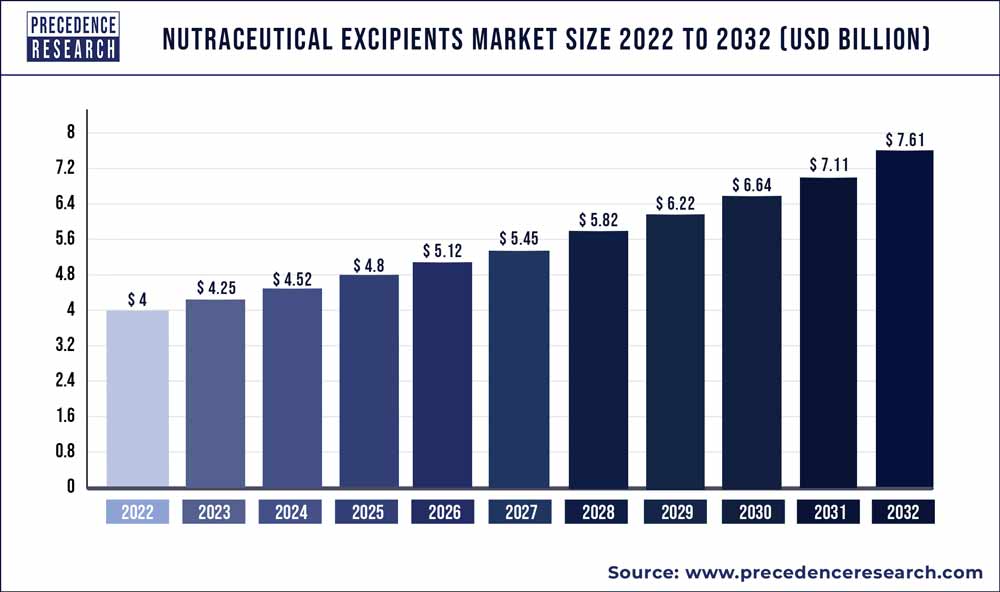 Key Takeaway
Binders and fillers & diluents segments accounted 52% of market share in 2021.
The North America region will grow at a registered CAGR of 7.34% from 2022 to 2030.
The Europe region is expected to grow at a CAGR of 6.92% from 2022 to 2030.
North America has contributed highest revenue share of over 39% in 2021.
Excipients for nutraceuticals are inactive substances that are included with active pharmaceutical ingredients to bulk up solutions that contain potent active compounds. Standardized and pharmaceutical-grade supplements use these nutraceutical excipients. Various chemicals found in dietary supplements are unstable in the presence of heat, light, oxygen, and high humidity. They might also have a varied particle size distribution, poor flow, and bulk density. The incorporation of various nutraceutical excipients, including fillers, diluents, disintegrants, binders, coating agents, flavoring agents, colorants, sweeteners, lubricants, and others, during the manufacturing of various forms of supplements helps to manage the unstable character of the compounds. Numerous types of nutraceutical products, including antioxidants, probiotics, prebiotics, nutritional supplements, and others, are sold on the market. When combined with exercise, these items have been shown to help prevent various illnesses.
Nutraceutical excipients market has binders, fillers, coating agents and flavoring agents. The most important food additions are flavorings, which come in a huge variety of natural sources like wine, vegetables, spice blends, seafood, nuts, and fruit. Chemical flavors that imitate natural flavorings include alcohols, which have a medicinal and bitter flavor, pyrazines, and ketones, which give caramel flavor, terpenoids, which have a pine or citrus flavor, phenolics, which have a smokey flavor, and esters, which have a fruity flavor. The main purpose of flavoring substances is to serve as masking agents and improve the taste of the content.
Growth Factors
The demand for nutraceuticals is being driven by factors such as rising middle-class consumption and disposable income in countries like China and India, an ageing population, increased urbanization, an increase in the prevalence of lifestyle-related diseases like high blood pressure, diabetes, and cardiac conditions, inadequate nutrition as a result of consumers' busy lifestyles, and the high cost of healthcare. The demand for dietary, food, and supplement supplements is being driven by the increase in diabetes and osteoarthritis cases. Due to growing geriatric and health issues, there is a greater requirement for dietary supplements, which has led manufacturers to adopt nutraceutical excipients.
Additionally, it can be used to increase wellbeing, slow down ageing, prevent the onset of chronic diseases, enhance life expectancy, or maintain the structure of the body.
Due to the region's intense concentration of the nutraceutical excipients market, growth is less rapid. The demand for functional food products has been fueled by the rise in nutraceutical excipients in the North American region, which is a result of consumers' busy lifestyles, the prevalence of chronic diseases brought on by busy lifestyles, and a growing consumer awareness of the health benefits of nutritional foods, including food supplements.
Products known as nutraceuticals can be used as medicine in addition to being nutritional. A substance that has physiological benefits or offers protection against chronic disease may be referred to as a nutraceutical product. Nutraceuticals can be used to boost wellbeing, slow down ageing, stop chronic diseases from occurring, lengthen life expectancy, or support the body's structure or functions. Due to their potential for having nutritional, safe, and therapeutic impacts, nutraceuticals have recently attracted a lot of attention. Although both pharmaceutical and nutraceutical substances may be used to treat or prevent disease, only pharmaceutical substances are approved by the government. Due to their potential for having nutritional, safe, and therapeutic impacts, nutraceuticals have recently attracted a lot of attention.
Nutraceutical such as Probiotics, which contain yeast and beneficial bacteria, are advantageous to consumers because they boost digestion and gut health, immunity, nutrient absorption, and the risk of developing food allergies. Yogurt, beverages, and dietary supplements in the form of tablets and capsules are just a few of the different formats in which probiotic products can be found.
Report Scope of the Nutraceutical Excipients Market
| | |
| --- | --- |
| Report Coverage | Details |
| Market Size in 2022 | USD 4.02 Billion |
| Market Size by 2030 | USD 6.9 Billion |
| Growth Rate from 2022 to 2030 | CAGR of 6.98% |
| Base Year | 2021 |
| Forecast Period | 2022 to 2030 |
| Segments Covered | Functionality, Product, Type, Form, End Use, Geography |
| Companies Mentioned | DuPont, BASF SE, Cargill Inc, Shin-Etsu Chemical Co Ltd, Associated British Foods, Roquette Freres, Meggle Group Wasser, Kerry Group PLC, Fuji Chemical Industries Co Ltd, PharmatransSanaq AG |
Functionality Insights
Depending upon the functionality, the binder segment is the dominant player and is anticipated to have the biggest impact on nutraceutical excipients market. Binder excipients, such as those used in tablets, hold a formulation's constituents together. Binders make it possible to produce tablets, powders, granules, and other products with the necessary mechanical strength.
Fillers & diluents hold a significant position in nutraceutical excipients market. A diluent is a substance that dilutes. Some liquids are either too dense to flow from one place to another or too viscous to be easily pumped. This can be a concern because it might not be practical to transfer these fluids at this time in terms of cost. Fillers make a product more voluminous and facilitate consumer absorption of tiny active chemicals. The filler is included in the material to enhance its performance or to add to its volume, weight, or both while decreasing the price of the solid material. Combining and stabilizing the supplement is the filler.
Product Insights
During the projected period, the probiotics segment is anticipated to be the largest in the nutraceutical excipients market. The health advantages of probiotic-fortified foods, the versatility of probiotics, and the growing usage of probiotics in food as a result of expanding consumer awareness of the need of a balanced diet are all contributing to an increase in the global demand for probiotics. Due to rising customer interest in high-end products fortified with probiotics and growing knowledge of their advantages, the demand for probiotics in fortified meals is expected to continue strong.
Prebiotics and probiotics are increasingly popular dietary supplements because of the persistently rising prevalence of lifestyle disorders worldwide. In order to meet the growing nutritional demands of consumers, pre- and probiotics are being rapidly adopted.
The detrimental health effects of a sedentary lifestyle are being considered by consumers when making food decisions. The segment is expected to experience rapid growth over the next few years as dietary supplements and heavy pre- and pro-biotic consumption become necessities of the hour.
Form Insights
The dry form of nutraceutical excipients represented a larger market share than the liquid version. Its appeal can be ascribed to dry form's accessibility and usefulness in a variety of applications. Due to growing consumer demand for specialized blends, fortified beverages, and dry beverage mixes with additional nutrients, the market for dry beverage blends is growing.
Regional Insights
The highest market share and dominant position in the nutraceutical excipients market belongs to North America. The rise of nutraceutical excipients in the North American region has fueled the demand for functional food products. This growth has been attributed to factors such as consumer busy lifestyles, and growing consumer awareness of the health benefits of nutritional foods, including food supplements. In addition, new product launches and the use of technology have made excipients available for use in new and innovative ways.
The market for nutraceutical excipients is anticipated to expand at the quickest rate in the Asia Pacific region. This region majorly includes China, India, and Japan. The region's food sectors, such as nutraceuticals, have promising prospects for growth and diversification as a result of the rise in income and purchasing power, massive expansion of the middle-class population, rise in awareness among consumers of health and fitness, and rise in consumer consumption for nutritional and healthy products. The market players are focusing on the products in this region owning to its population rising factor which boosts the demand for such products in the market. The rising population is leading the market in a significant position as the illness and problems are also rising due to various factors that hence spikes the demand of nutraceutical excipients market.
Key market players
DuPont
BASF SE
Cargill Inc
Shin-Etsu Chemical Co Ltd
Associated British Foods
Roquette Freres
Meggle Group Wasser
Kerry Group PLC
Fuji Chemical Industries Co Ltd
PharmatransSanaq AG
Pioma Chemicals
Gattefosse
Ingredion Plc
Sensient Technologies
W.R. Grace & Co
Omya
Grain Processing Corp
Key Market Developments
Azelis Chemical Limited announced the acquisition of CosBond, a major specialty chemical and food ingredient distributor in China, in order to solidify their leadership in the country and capitalize on CosBond's current clientele.
Segments covered in the report
(Note*: We offer report based on sub segments as well. Kindly, let us know if you are interested)
By Functionality
Binder
Disintegrants

Crosspovidone
Croscarmellose

Fillers & Diluents
Coating Agent
Flavoring Agent
Lubricants
Others
By Product
Prebiotics
Probiotics
Proteins & Amino Acids
By Type
Artificial
Natural/Organic
By Form
By End Use
Protein and Amino Acids
Omega 3 Fatty Acids
Vitamins
Minerals
Prebiotics and Probiotics
Others
By Geography
North America
Europe
Asia-Pacific

China
India
Japan
South Korea
Malaysia
Philippines

Latin America

Brazil
Rest of Latin America

Middle East & Africa (MEA)

GCC
North Africa
South Africa
Rest of the Middle East & Africa