The osteoarthritis therapeutics market size accounted for USD 8.28 billion in 2022 and it is expected to hit around USD 20.24 billion by 2032, expanding at a CAGR of 9.4% from 2023 to 2032.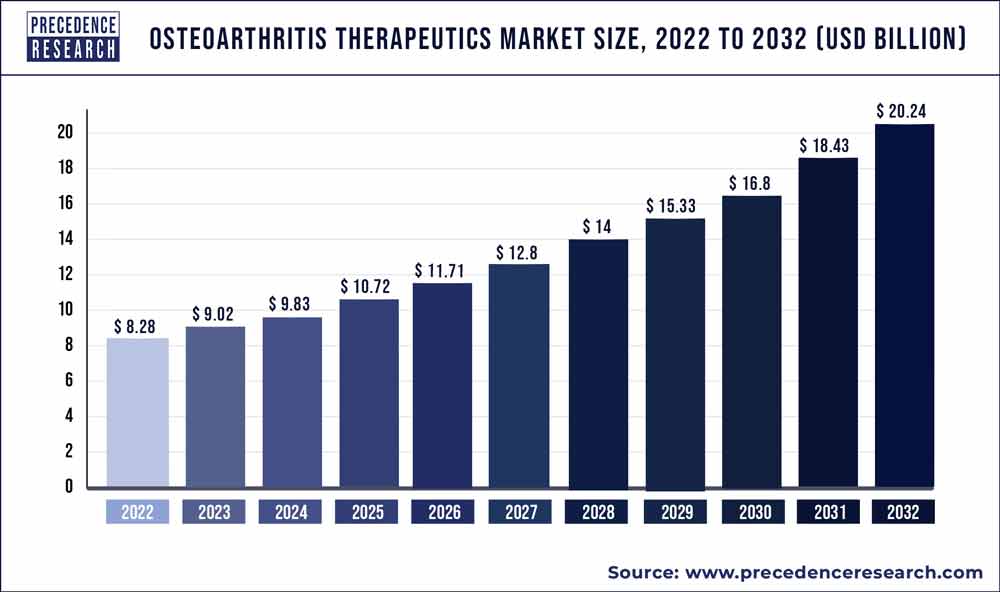 Access our Premium Real Time Data Intelligence Tool, Visit: Precedence Statistics
Key Takeaways:
In 2022, Europe held the biggest market share of around 47% for degenerative joint disease activities.
Asia-Pacific is predicted to have a CAGR of 8.7% between 2023 to 2032.
By distribution channel, the hospital pharmacies segment accounted for 38% of revenue share in 2022, according to research.
Based on anatomy, the knee osteoarthritis segment accounted for 44% of revenue share in 2022.
By drugs, the market was dominated by non-steroidal anti-inflammatory medications (NSAIDs) in 2022 with a revenue share of 39%.
The most prevalent type of osteoarthritis, arthritis, affects millions of individuals globally. When the required to prevent that cushioning of the bones at their ends gradually deteriorates, it happens. Though arthritis can harm any joint, it most frequently affects the hips, hands, knees, and spine joints.
A recent development in the realm of treating OA may give people who experience associated pain sensations a better joint range of motion. Chondroitin sulfate is discovered to dramatically lessen discomfort and increase hand movement in those with osteoarthritis. Two objectives of arthritis therapy are pain alleviation and improved functional status. To get the best results, patients must receive both pharmacologic and non-pharmacologic care.
Growth Factors
The osteoarthritis treatment market is anticipated to expand as the senior population rises. The most prevalent arthritis type among older adults is osteoarthritis, which is also one of the main causes of physical impairment. The condition affects both males and females. Osteoarthritis most frequently affects the hands, neck, lower back, and muscle mass joints such that hips, knees, and feet.
Osteoarthritis does not damage the inner organs; it only affects the joints. As you age, osteoarthritis is much more probable to occur. Osteoarthritis can be brought on by carrying too much weight, having your joints aligned incorrectly, and overworking an already wounded joint.
The industry for osteoarthritis therapies is anticipated to grow as arthritis, including hip or knee osteoarthritis, becomes more common. Knee osteoarthritis is believed to be caused by the disintegration of joint structures as a consequence of mechanical stress and irritation, but the deep root causes of cancer's high incidence are unclear and poorly understood, making it difficult to avoid and cure.
However, it's largely believed that two current public health developments are the most significant. Due to a high BMI and the fact that knee OA is extra mutual as people age (BMI). Osteoporosis of the hip results in pain and stiffness. It can make ordinary actions challenging, such as getting up from a chair or leaning over there to tie your shoe.
The osteoarthritis treatment market is anticipated to be further stimulated by the increase in the need for cell-based studies for the disease. The advancement of osteoarthritis therapeutics based on stem cells is at a turning point. Researchers and clinicians can now look into the possibility of just using bone marrow to modify the advancement of osteoarthritis and epithelial designing to completely resurface an osteoarthritic joint exterior, going to prevent or postpone the requirement for total hip replacement.
This is made possible by the body of literature on cell therapy solitude, chondrocyte distinctions, and formwork design. An increased prevalence of arthritis (OA) among some of the aged is a result of the rise in the world's aging population. The most prevalent kind of joint illness in those over 65, is also linked to a higher mortality rate and a junior standard of living. Osteoarthritis (OA), among the most prevalent causes of discomfort and incapacity in the senior population, is the main factor driving the market.
The lubrication layer of the combined, tissue, is also the subject of numerous arthritis investigations that are now being conducted. That regenerate cartilage, skin cells have been given chemicals to promote proliferation are being employed. The discovery of new chances for the Osteoarthritis Treatment Market is consequently being aided by continuing study and growing federal funding.
Report Scope of the Osteoarthritis Therapeutics Market
| | |
| --- | --- |
| Report Coverage | Details |
| Market Size in 2023 | USD 9.02 Billion |
| Market Size by 2032 | USD 20.24 Billion |
| Growth Rate from 2023 to 2032 | CAGR of 9.4% |
| Largest Market | Europe |
| Base Year | 2022 |
| Forecast Period | 2023 to 2032 |
| Segments Covered | By Drugs, By Anatomy, By Purchasing Pattern, By Distribution Channel and By Route of Administration |
| Regions Covered | North America, Europe, Asia-Pacific, Latin America and Middle East & Africa |

Key Market Drivers
Cumulative administration expenditure proceeding cell-based studies; prevalent usage of painkillers.
Osteoporosis discomfort is recurrently treated through oral, dental, and parenteral analgesics. The reception of painkillers for the disease is substantially owed to the accessibility of supervision and the fee of narcotic painkillers, even if choices like orthopedic splints are applied as a component of a harmless technique of giving discomfort. Oral ache medicines such as paracetamol as well as NSAIDs such as naproxen, opiates, ibuprofen, and duloxetine are amongst the numerous formulae of anesthetics used.
Additional kinds contain pertinent managers similar to NSAIDs and capsaicin, established on bury activities like glucocorticoids but also hyaluronic mordant, and dietary complements include chondroitin and glucosamine. Rendering to training, using these pills right away diminishes severe discomfort by 30.00%. Over the next ten years, it is estimated that an increasing number of people would use painkillers to treat the pain brought on by osteoarthritis, which will fuel market expansion over the research period.
Key Market Challenges
NSAID use in the treatment of osteoarthritis is connected with a potential for adverse cardiovascular risk.
Patients with osteoarthritis frequently use NSAIDS, both over-the-counter and on prescription. Over 60% of persons in the US who have osteoarthritis of the knees accept nonsteroidal anti-inflammatory drugs, depending on a Bioengineering Document from 2019. Correspondingly, in the US, 60.00% of all European knee degenerative joint disease affected role who acquired remedy medicines also attained nonsteroid anti-seditious drugs.
The ingesting of NSAIDs upsurges the coincidental of emerging thoughtful heart sickness. Mutually cox-2-specific nonsteroidal anti-inflammatory drugs and non-selective nonsteroidal anti-inflammatory drugs improve users' danger of CVD.
Nonsteroidal anti-inflammatory drugs are accountable for further than 3 of the augmented cardiac danger related to degenerative joint disease, rendering education obtainable at the annual Information European Assembly of Rheumatology. Such hazards linked with NSAID use may discourage physicians from prescribing these drugs while prompting OTC NSAID users to seek out alternative medicines.
Key Market Opportunities
Osteoarthritis treatment on an individual basis
Modified OA medications have remained conceptualized, which represents a significant advancement in the analysis, treatment, and valuation of illness harshness in patient role with knee joint degenerative joint disease. Easy dimension, improvement healthier of sensitivity also specificity, and counting examination methods that are amicable and effortlessly legible by surgeons are critical appearances that take quantifiable charge for a modified treatment method for osteoarthritis.
The application of pointers to identify entities who are the furthermost perspective to counter to specific treatments might recover the beneficial retort areas and inferior the danger of revealing affected role to tablets is moreover improbable to be obliging or determination reason foremost lateral belongings. Using a mixture of distinct markers & relevant clinical traits on different ages in addition to gender might aid in further improving attempts to tailor RA treatment plans.
Segments Insight:
Drugs Insights
The non-steroidal anti-inflammatory medications (NSAIDs) segment has captured the largest revenue share in 2022, and this trend is anticipated to continue over the projected timeframe due to a rise in NSAID drug acceptance, the introduction of new products, as well as a rise in the number of prescriptions.
Even so, the utilized in an assortment agent market is anticipated to expand significantly over the course of the forecast period due to rising osteoarthritis pervasiveness, advancements in R&D for the creation of new small oil droplet agents, and govt initiatives to encourage research in the healthcare industry.
In 2022, it is anticipated that the market for osteoarthritis therapies would be dominated by viscosupplementation products. The primary reason for the expansion of this market is the increasing prevalence of osteoarthritis of the knee.
Anatomy Insights
The knee osteoarthritis segment has held the highest revenue share in 2022. The market is divided into hand, knee, hip, & small-joint osteoarthritis therapies based on anatomy. The market's biggest and fastest-growing category is therapies for osteoarthritis of the knee. The high prevalence of osteoarthritis of the knee is the main cause of this.
Distribution Channel Insights
The hospital pharmacies segment dominated the market in 2022 and accounted largest revenue share. Owing to the significant amount of patient's role who were treated for arthritis in clinics and the wide assortment of osteoarthritis drugs obtainable through these pharmacists, pharmacy technicians held the highest market share in this segment in 2022. Due to government schemes for improving hospital pharmacies and an increase in osteoarthritis incidence.
Nevertheless, due to improvements in health technologies and an increase in the demand for distant services, the internet pharmacy market is anticipated to have substantial growth during the projected timeframe.
Route of Administration Insights
The parental route is anticipated to hold the highest share in 2022. The injectable route held the largest share in 2022 and is anticipated to experience the fastest CAGR growth over the course of the forecast timeframe. Due to its straightforwardness of management and improved pharmacokinetics and pharmacodynamics, the intravenous route has been widely adopted for the delivery of osteoarthritis treatments, which has led to greater patient adherence.
Purchasing Pattern Insights
The industry for osteoarthritis therapies had the biggest proportion in 2022, according to prescribed pharmaceuticals. Because the majority of corticosteroid & visco-supplementation treatments for arthritis are only accessible with a prescription in 2022, the market category for prescribed medications held a bigger share in 2022.
Regional Insights
Europe was the highest revenue holder in 2022. The market for osteoarthritis treatments was dominated by Europe. The large share of this particular market can be explained by the increasing pervasiveness of rheumatoid arthritis, the increasing geriatric population, as well as increasing obesity rates across several European countries, as well as the increasing amount of injuries sustained in sports as well as collisions on the street due to the presence of main players, accessibility of sophisticated scientific research for developing drugs, and rise in the number of arthritic approvals.
However, because of factors like rising rates of osteoarthritis, growth in the number of women in the population, an expansion in healthcare spending, and a lack of physical activity, Asia-Pacific is predicted to have a CAGR of 8.7% between 2023 to 2032. Because it is the region of the world market with the quickest growth, Asia-Pacific also contributes to the growth. Large patient populations, supportive government regulations, and rising healthcare costs all contribute to this country's economic development.
Recent Developments:
GlaxoSmithKline Pic (UK) introduced Voltaren in the US in 2020.
Ireland's Horizon Therapeutics Pic increased its footprint in the US in 2020.
A 2019 agreement between Kitov Pharma Ltd. (Israel) and Coeptis Pharmaceuticals has aided in the effective commercialization and distribution of Content.
In Dubai, United Arab Emirates, Atnahs opened a retail location in 2016.
In 2017, the FDA approved ZILRETTA from Flexion Therapeutics, Inc. (US).
Key Market Players:
Abbott Laboratories
ABIOGEN PHARMA S.p.A
Ampio Pharmaceuticals Inc.
Anika Therapeutics Inc.
Bayer Aktiengesellschaft
Bioventus
Eli Lilly and Company.
Ferring B.V.
Flexion Therapeutics, Inc.
GlaxoSmithKline Plc.
Horizon Therapeutics plc.
Johnson & Johnson Inc.
Medivir
Merck Sharp & Dohme Corp.
Novartis AG
OrthogenRx, Inc.
Pacira Pharmaceuticals, Inc
Pfizer, Inc.
PHARMED LTD.
Regeneron
Sanofi S.A
TissueGene Inc.
Zimmer Biomet Holding
Segments Covered in the Report:
(Note*: We offer report based on sub segments as well. Kindly, let us know if you are interested)
By Drugs
Non-steroidal Anti-inflammatory Drugs (NSAIDs)

Naproxen
Aspirin
Diclofenac
Ibuprofen

Viscosupplementation agents
Corticosteroids
Hyaluronic Acid Injection
Analgesics
By Anatomy
Ankle Osteoarthritis
Hip Osteoarthritis
Knee Osteoarthritis
Shoulder Osteoarthritis
Others
By Purchasing Pattern
Prescription Drugs
Over-the-counter Drugs
By Distribution Channel
Hospital Pharmacies
Hypermarket & Supermarket
Online Pharmacies
Retail Pharmacies
Others
By Route of Administration
Parenteral Route
Topical Route
Oral Route
By Geography
North America
Europe
Asia-Pacific
Latin America
The Middle East and Africa