The global packaging adhesives market size was estimated at USD 14.6 billion in 2022 and is projected to hit around USD 26.52 billion by 2032, registering a CAGR of 6.2% during the forecast period from 2023 to 2032.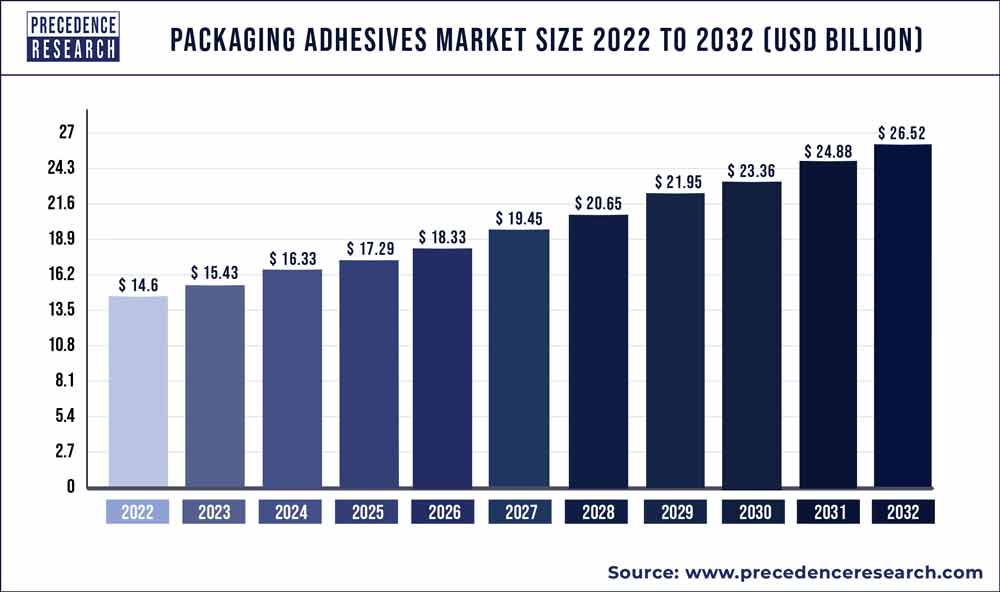 Access our Premium Real Time Data Intelligence Tool, Visit: Precedence Statistics
Key Takeaways
North America led the market with the largest market share of 36% in 2022.
Asia-Pacific is projected to expand at the fastest CAGR during the forecast period.
By Technology, the water based segment has held the major revenue share of 47% in 2022.
By Technology, the solvent-based segment is anticipated to grow at a notable CAGR of 7.8% during the projected period.
By Application, the flexible packaging segment held the highest market share of 29% in 2022.
By Application, the solvent-based segment is projected to grow at a notable CAGR of 7.8% during the projected period.
Packaging Adhesives Market Overview
Packaging adhesives are specialized substances used to bond and seal packaging materials, such as paper, cardboard, plastic, metal, or glass. They play a crucial role in various packaging applications, including carton sealing, label attachment, flexible packaging lamination, and rigid packaging assembly. Packaging adhesives are specialized substances used to create a secure and durable bond, ensuring the protection and integrity of packaged products.
They are versatile and can be tailored to specific applications, with options including water-based, solvent-based, or hot melt adhesives, depending on the packaging requirements. They are formulated to adhere to specific substrates and offer features like fast curing, high tack, and resistance to environmental factors, making them essential components in modern packaging solutions.
Packaging Adhesives Market in the U.S. 2023 To 2032
The U.S. packaging adhesives market size was valued at USD 3.68 billion in 2022 and is expected to grow to USD 6.75 billion by 2032, growing at a CAGR of 6.20% from 2023 to 2032.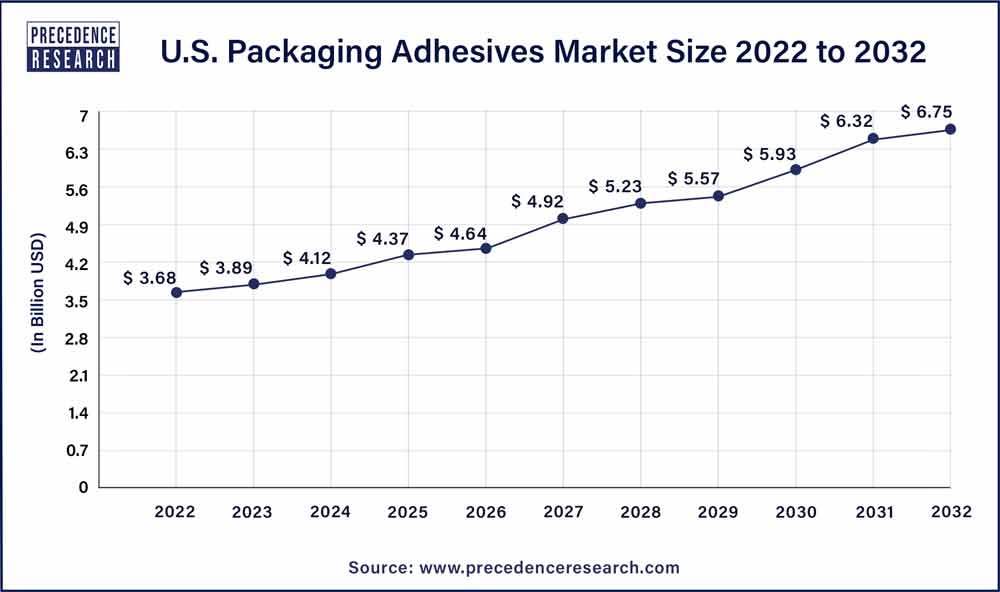 North America has held the largest revenue share 36% in 2022. In North America, the packaging adhesives market is marked by several key trends. There's a notable emphasis on sustainable adhesives as environmental concerns grow, prompting manufacturers to seek eco-friendly solutions. The demand for e-commerce-friendly adhesives has also surged due to increased online shopping.
Additionally, the region is witnessing a focus on tamper-evident and hygienic adhesives in response to heightened health and safety concerns. These trends reflect the evolving needs of both consumers and industries, driving innovation in the North American packaging adhesives market.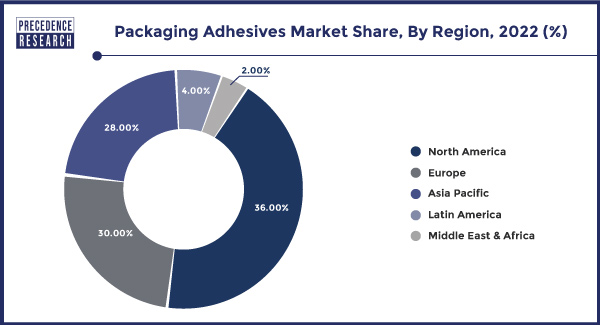 Asia-Pacific is estimated to observe the fastest expansion In the Asia-Pacific region, the packaging adhesives market is witnessing notable trends. The increasing urbanization and industrialization are driving the demand for efficient packaging solutions. Asia-Pacific packaging adhesives market is evolving due to the surge in e-commerce and shifting consumer preferences. The demand for secure and adaptable adhesives has grown in response to the rise of e-commerce, where packaging must withstand shipping and handling challenges.
Moreover, sustainability is a key focus, with increasing interest in eco-friendly and green adhesives to harmonize with Europe's strong environmental concerns, further shaping the market's dynamics. As Asia-Pacific continues to be a hub for manufacturing and innovation, the packaging adhesives market is poised for substantial growth in the coming years.
In Europe, the packaging adhesives market is witnessing notable trends. There is a growing emphasis on sustainable and eco-friendly adhesives to align with the region's strong environmental consciousness. Stringent regulations related to food safety and packaging materials are driving the adoption of compliant adhesives.
The rise of e-commerce is spurring demand for adhesives that ensure secure and durable packaging during transit. Additionally, there is a shift towards innovative packaging designs, requiring adhesives that can bond various substrates effectively. These trends collectively shape the dynamic landscape of the packaging adhesives market in Europe.
Growth Factors
Packaging adhesives are essential components in the packaging industry, serving as bonding agents to ensure the secure and durable sealing of various materials. Packaging adhesives are vital for preserving the integrity and safeguarding the contents of packaged products. The global packaging adhesives market has experienced substantial expansion, attributed to various growth catalysts, evolving industry trends, and promising market prospects.
The market's surge is primarily propelled by the burgeoning packaging sector, propelled by heightened consumer reliance on packaged goods, the thriving e-commerce landscape, and the rapid pace of industrialization. These factors collectively contribute to the growing demand for efficient and reliable packaging adhesives. Additionally, environmental concerns are encouraging the adoption of eco-friendly and sustainable adhesives, further boosting market growth.
Furthermore, technological advancements are leading to the development of innovative adhesives that cater to specific packaging needs. Notable trends in the packaging adhesives market include a shift towards water-based adhesives due to their eco-friendliness and regulatory compliance. Manufacturers are also investing in research and development to create adhesives that offer superior bonding performance while reducing environmental impact. The demand for flexible packaging, driven by convenience and sustainability, is prompting increased use of adhesives tailored for flexible substrates.
The market faces challenges related to volatile raw material prices, stringent regulations regarding the use of certain chemicals, and the need for adhesives that can withstand diverse environmental conditions and packaging materials. Additionally, the competition among adhesive manufacturers is fierce, necessitating continuous innovation and cost-effective solutions. Amidst these challenges, opportunities abound for adhesive manufacturers who can develop novel formulations, particularly those aligned with sustainability goals. Meeting the increasing demand for adhesives in the booming e-commerce sector presents significant potential.
Additionally, expanding into emerging markets and offering tailored solutions for specialized packaging needs can be lucrative avenues for growth. The packaging adhesives market is poised for growth driven by consumer demand, sustainability trends, and technological advancements, but it must navigate challenges through innovation and strategic expansion into emerging markets.
Packaging Adhesives Market Scope
| | |
| --- | --- |
| Report Coverage | Details |
| Growth Rate from 2023 to 2032 | CAGR of 6.2% |
| Market Size in 2023 | USD 15.43 Billion |
| Market Size by 2032 | USD 26.52 Billion |
| Largest Market | North America |
| Base Year | 2022 |
| Forecast Period | 2023 to 2032 |
| Segments Covered | By Technology and By Application |
| Regions Covered | North America, Europe, Asia-Pacific, Latin America, and Middle East & Africa |

Packaging Adhesives Market Dynamics
Driver
Expanding packaging industry and E-commerce boom
As consumers' reliance on packaged goods continues to grow, the packaging industry is experiencing robust expansion. This heightened demand for packaging materials necessitates efficient and reliable adhesives to ensure product integrity. Packaging adhesives play a pivotal role in securely sealing various packaging materials, from cardboard and plastics to metals and glass, maintaining the integrity and protection of the packaged products.
As companies across diverse sectors increase their packaging activities, the demand for adhesives tailored to specific packaging needs is on the rise, thus driving market growth. Moreover, the surge in e-commerce, accelerated by changing consumer shopping habits and the COVID-19 pandemic, has transformed the retail landscape. This shift has created a significant need for packaging solutions that can withstand the challenges of shipping and handling. Packaging adhesives are essential in ensuring that packages remain secure and intact during transit, safeguarding the products within.
As e-commerce continues to thrive, the demand for adhesive solutions that can meet the unique requirements of online retail packaging has surged, further boosting the packaging adhesives market.
Restraints
Stringent regulations and raw material price volatility
Stringent regulations in the packaging industry often require adhesive manufacturers to comply with specific safety and environmental standards. Meeting these regulations can be costly and time-consuming, as it may involve extensive testing, documentation, and compliance measures. Additionally, regulatory changes can lead to the reformulation of adhesive products to remain compliant, which can be a resource-intensive process. This can limit the market demand for packaging adhesives, particularly for smaller manufacturers who may face greater challenges in meeting these requirements.
Moreover, the packaging adhesives market is highly sensitive to fluctuations in the prices of raw materials, such as petroleum-based chemicals and resins. These materials are essential components of adhesives, and price volatility can impact production costs significantly. Adhesive manufacturers often struggle to pass on these cost increases to customers due to competitive pressures, affecting profit margins. As a result, price volatility can hinder market growth by eroding profitability and creating uncertainty in the supply chain.
Opportunities
Sustainable packaging and digital printing
The growing global emphasis on environmental conservation and sustainability has ignited a surge in the desire for eco-friendly packaging materials. This surge, in turn, has elevated the demand for sustainable adhesives. These adhesives are integral in facilitating the creation of packaging that is recyclable, biodegradable, and compostable – characteristics that perfectly resonate with consumer preferences for environmentally responsible products.
As regulations pertaining to single-use plastics become more stringent, and consumer awareness continues to rise, brands are increasingly recognizing the significance of adopting sustainable packaging and adhesive solutions to minimize their environmental impact. Consequently, the demand for green adhesive options is on a notable upswing as businesses strive to align with eco-conscious consumer sentiments.
Moreover, digital printing technologies have revolutionized the packaging industry, offering brands unparalleled flexibility in design and customization. This trend necessitates adhesives capable of adhering to a wide range of substrates used in digital printing, including paper, plastic, and metal. The ability to create visually appealing, personalized packaging using digital printing enhances product differentiation and brand identity, spurring the need for adhesives that can perform reliably and efficiently in these applications.
In combination, these trends are fostering a significant surge in the packaging adhesives market as manufacturers seek adhesives that not only meet their technical requirements but also align with sustainability goals and support the creative potential of digital printing.
Impact of COVID-19
The COVID-19 pandemic has had a multifaceted impact on the packaging adhesive market. Initially, as lockdowns were enforced and supply chains disrupted, the market experienced uncertainties due to shortages of raw materials and transportation challenges. These disruptions led to delays in production and increased costs. As the COVID-19 pandemic persisted, the packaging adhesives market experienced resilience driven by unwavering demand, notably within the food and healthcare sectors. This enduring demand for packaging materials and adhesives was primarily fueled by the escalating reliance on e-commerce platforms.
The surge in online shopping necessitated packaging solutions that were not only secure but also highly efficient in safeguarding products during transit and delivery. Consequently, the packaging adhesives market found stability amidst the crisis, as it played a crucial role in supporting the packaging needs of industries critical to public health and well-being.
The pandemic also highlighted the importance of health and safety, leading to a heightened demand for tamper-evident and hygiene-focused packaging. Brands sought adhesives that would support these requirements. Long-term, the pandemic accelerated trends toward sustainability, as consumers became more conscious of the environmental impact of packaging. This drove the development and adoption of eco-friendly adhesives in response to changing consumer preferences and regulatory pressures.
Technology Insights
According to the technology, the water based segment has held 47% revenue share in 2022. Water-based packaging adhesives are formulations that use water as a carrier or solvent to disperse adhesive components. These adhesives are known for their eco-friendliness, low volatile organic compound (VOC) emissions, and safe application. In recent trends, the packaging industry is increasingly shifting toward water-based adhesives due to their sustainability benefits. Stricter environmental regulations and consumer demand for eco-friendly packaging solutions are driving this adoption. Additionally, advances in water-based adhesive technology have improved their performance characteristics, making them a preferred choice for various packaging applications.
The Solvent-based segment is anticipated to expand at a significantly CAGR of 7.8% during the projected period. Solvent-based packaging adhesives are formulations that use organic solvents as carriers to disperse adhesive components. These adhesives create strong and durable bonds, making them suitable for various packaging applications. In the packaging adhesives market, a trend is shifting toward more environmentally friendly options, such as water-based and solventless adhesives, due to increasing environmental concerns and regulatory pressures. However, solvent-based adhesives still find use in specific applications where their fast drying and high-performance characteristics are essential, although efforts are being made to reduce their volatile organic compound (VOC) content.
Application Insights
Flexible packaging refers to a type of packaging that utilizes materials like films, foils, and paper to create pouches, bags, or wraps. It is widely used in various industries for products like snacks, beverages, and personal care items due to its lightweight, cost-effective, and customizable nature.
In the packaging adhesives market, a notable trend for flexible packaging is the increasing demand for adhesives that ensure strong and secure bonds on a variety of flexible substrates. These adhesives need to withstand the rigors of transportation and storage while also aligning with sustainability goals by being eco-friendly and compliant with food safety regulations.
On the other hand, the labeling segment is projected to grow at the fastest rate over the projected period. In the packaging adhesives market, labeling is a critical application referring to the process of affixing informative and branding labels onto various packaging substrates. An essential trend in labeling involves the growing demand for sustainable adhesives that allow easy label removal during recycling, reducing environmental impact.
Additionally, digital printing technologies are enabling label customization and personalization, driving the need for adhesives compatible with diverse label materials. Enhanced adhesives that offer superior adhesion on challenging surfaces, such as glass or flexible plastics, are also trending to meet evolving labeling requirements.
Recent Developments
In 2022, Sun Chemical and DIC Corporation announced a partnership to jointly develop and commercialize sustainable packaging solutions, marking a significant collaborative effort in the pursuit of eco-friendly and innovative packaging solutions.
In 2022, Toyo Ink and ITOCHU joined forces to establish a plastic recycling scheme for multilayer packaging, demonstrating a commitment to addressing the environmental challenges posed by such packaging materials through collaborative efforts.
Packaging Adhesives Market Players
Henkel AG & Co. KGaA
H.B. Fuller Company
Arkema S.A.
3M Company
Bostik SA (an Arkema company)
Sika AG
Avery Dennison Corporation
Dow Inc.
Ashland Global Holdings Inc.
Jowat SE
Dymax Corporation
Sipchem
DOWA Thermotech Co., Ltd.
Mapei S.p.A.
Beardow Adams Group
Segments Covered in the Report
By Technology
Water-based
Solvent-based
Hot melt
Others
By Application
Flexible packaging
Folding cartons
Boxes & cases
Labeling
Others
By Geography
North America
Europe
Asia-Pacific
Latin America
Middle East and Africa