The global plastic injection molding market was valued at USD 175.02 billion in 2021 and is expected to reach over USD 266.1 billion by 2030, poised to grow at a compound annual growth rate (CAGR) of 4.8% from 2021 to 2030.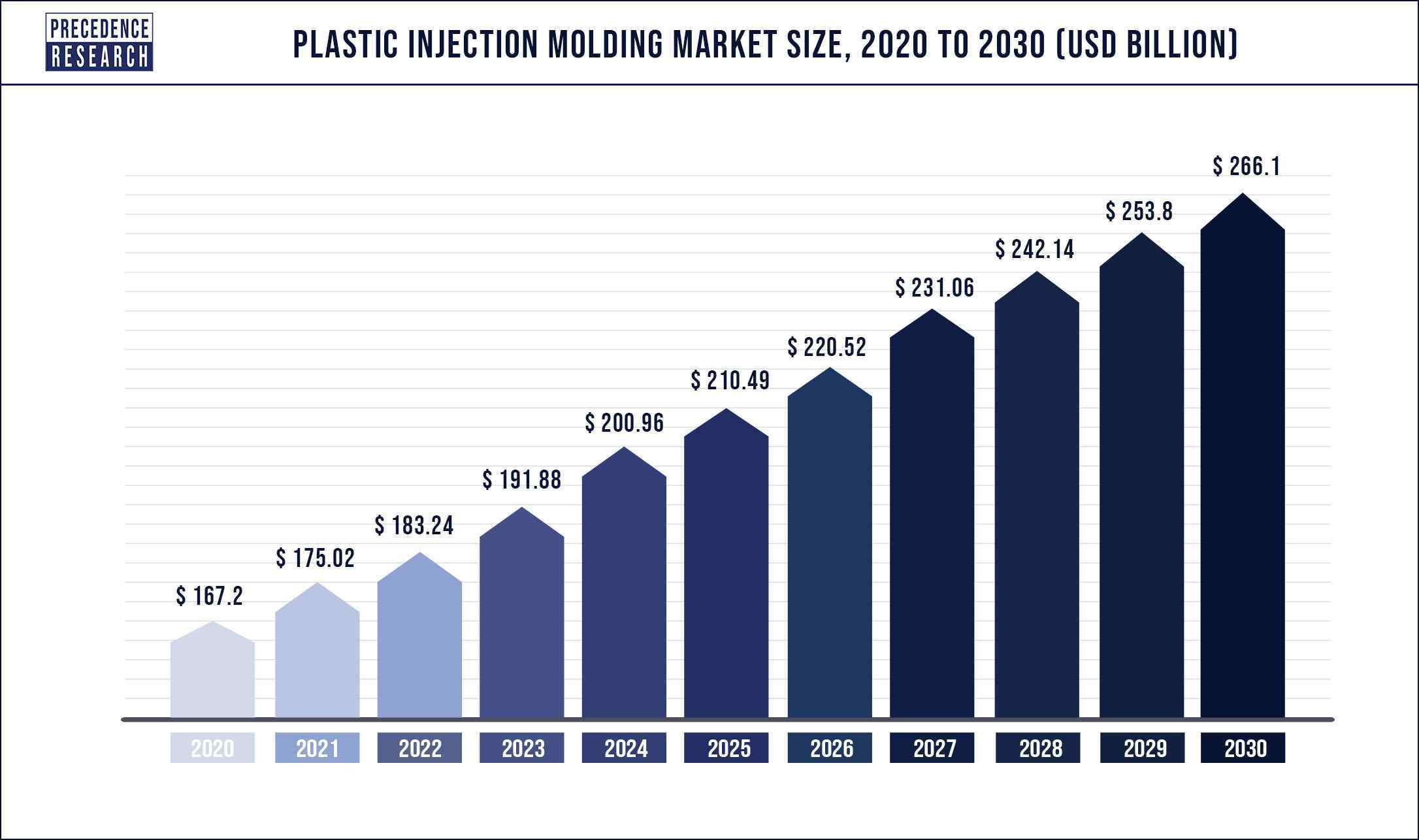 Growth Factors
The injection molding is a plastic product manufacturing technique that involves injecting molten material into a mold, where it is cooled, melted, and solidified as the final part or product. Injection molded plastics, both thermosetting and thermoplastic, are used in a variety of sectors to create diverse parts and components. Polypropylene, high-density polyethylene, polycarbonate, polyvinyl chloride, low density polyethylene, and polysulfide are some of the most common thermoplastic polymers used in injection molding. Some of the thermosetting polymers used for injection molding include melamine formaldehyde and polyester.
Consumer preferences for high performance materials, as well as the adoption of new manufacturing technologies and government rules promoting energy efficient structures and smart building technologies, will all contribute to the construction industry's growth.
The increased construction expenditure, particularly in developing countries, should help the plastic injection molding market by boosting public infrastructure and housing construction. In addition, rising industrialization, as well as stringent government requirements on energy efficient buildings and smart building technology, will drive industrial growth in Asia-Pacific region.
The injected molded plastics are used to replace a range of alloys and metals in the construction sector to improve weight, ultraviolet protection, insulation, cost-effectiveness, and waterproofness. The flooring, plumbing, walls, roofs, and insulation are the most common applications for plastics in the construction and building industry. The injection molded plastics' broad use in diverse sectors is expected to stimulate demand.
The use of injection molded plastics in conjunction with an automated process lowers manufacturing costs. In the manufacturing or production process, it also decreases waste creation. The injection molded plastics market expansion will be aided by lower production waste and a speedier manufacturing process. Furthermore, the technique may create plastic components using multiple types of plastics at the same time. Moreover, the technical advancements in the plastic injection molding process, where robots are employed to execute various activities, such as assembling and finishing injection molded parts, as well as loading components into the injection molding would help the plastic injection molding market to develop. The plastic injection molding market's expansion, however, may be hampered by high initial tooling costs and variable oil and gas prices.
For precision and little waste, injection molded plastics are utilized in the manufacturing of complicated and intricately shaped parts. The injection molded plastics are employed in the production of vehicle components, interior covering, and other miscellaneous assembly parts because of these benefits. It's also utilized in packaging to make packaging objects and components that improve the packaging's appearance and consumer appeal. Due to the durability, strength, and look of the injection molded plastics are frequently used in building and construction. The plastic components and parts are commonly used in insulation, piping systems, and roofing systems in the construction and building industry.
During the projected period, the plastic injection molding sector's fastest growing application segment will be the healthcare industry. Due to the lightweight, ease of serializability, and cost effectiveness of injection molded plastic, blood sample analysis pipettes, needle housings, pregnancy test devices, and pieces of medical devices are only a few of the chosen segments.
Scope of the Plastic Injection Molding Market
| | |
| --- | --- |
| Report Coverage | Details |
| Market Size in 2020 | USD 167.2 Billion |
| Growth Rate from 2021 to 2030 | 4.8% |
| Revenue Projection by 2030 | USD 266.1 Billion |
| Largest Market | Asia Pacific |
| Fastest Growing Market | Europe |
| Base Year | 2021 |
| Forecast Period | 2021 to 2030 |
| Companies Mentioned | Magna International Inc., Toshiba Corporation, DOW Inc., LyondellBasell, HTI Plastics, DuPont, Valder Kunststoffverarbeitungs GmbH, Huntsman Corporation, Coastal Plastic Molding Inc., BASF SE |
Raw Material Type Insights
Due to its expanding use in automotive components, packaging applications, and household products, the polypropylene segment dominated the plastic injection molding market, accounting for the highest market share during the forecast period. Over the projected period, increasing polypropylene finished product penetration in protective caps in electrical connections, food packaging, and battery housings is expected to boost the demand.
On the other hand, Acrylonitrile Butadiene Styrene is expected to be the opportunistic raw material for plastic injection molding in 2020. Over the projection period, the rising demand for Acrylonitrile Butadiene Styrene components in medical devices, automotive components, electronic housings, and consumer appliances manufacturing is likely to fuel demand.
Application Insights
Based on the application, the packaging segment dominated the global plastic injection molding market in 2020, in terms of revenue and is estimated to sustain its dominance during the forecast period. To comply with regulatory rules and end user needs, final packaging items go through several development stages. Increased life of food products and improved durability are just a few of the requirements that plastics must achieve for packaging applications.
On the other hand, the healthcare is estimated to be the most opportunistic segment during the forecast period. The injection molded plastics are projected to be in high demand in the healthcare business due to their optical clarity, cost-effective, and biocompatibility manufacturing methods.
Region Insights
Based on the region, the Asia-Pacific segment dominated the global plastic injection molding market in 2020, in terms of revenue and is estimated to sustain its dominance during the forecast period. The rapid industrialization and the expansion of various plastics end user sectors are the primary drivers of market growth. Furthermore, the factors such as easy access to raw materials and inexpensive labor costs are enticing other plastic manufacturers to set up a base in this region. Moreover, improved living standards and disposable income are expected to promote the market expansion over the projection period.
On the other hand, the Europe is estimated to be the most opportunistic segment during the forecast period. The Europe region's main economic driver is increased demand for automobile and consumer goods industries. People in this region have a lot of discretionary wealth, thus there's a lot of demand for high-end luxury products made of plastics.
Key Market Developments
In August 2019, American Injection Molding Linc. & American Extruded Plastics Inc. was acquired by Pexco LLC, a North American plastic extruder. Pexco LLC made this acquisition in order to provide integrated molded plastics solutions to its customers.
In June 2020, Pacific Plastics Injection Molding, a division of Diversified Plastics Inc., has expanded its California facility by 5,000 square feet of office and manufacturing space. This addition was made to increase productivity and ensure a safe working environment.
The Asia-Pacific region is home to the majority of plastic injection molding market players, resulting in a fragmented industry. The North American and European region producers are attempting to strengthen their market positions in the Asia-Pacific developing countries in order to propel their respective company's growth. As a result, the key market players have established strong regional presences, distribution networks, and product development.
Some of the prominent players in the global plastic injection molding market include:
Magna International Inc.
Toshiba Corporation
DOW Inc.
LyondellBasell
HTI Plastics
DuPont
Valder Kunststoffverarbeitungs GmbH
Huntsman Corporation
Coastal Plastic Molding Inc.
BASF SE
Segments Covered in the Report
By Raw Material
Polypropylene
AcrylonitrileButadieneStyrene
Polystyrene
High Density Polyethylene
Others
By Application
Automobile
Consumer Goods
Electronics
Packaging
Building & Construction
Healthcare
By Geography
North America
Europe
Asia-Pacific

China
India
Japan
South Korea

Rest of the World