The global polyolefin films market size was estimated at USD 99.85 billion in 2022 and is projected to hit around USD 164.19 billion by 2032, growing at a CAGR of 5.1% over the forecast period from 2023 to 2032.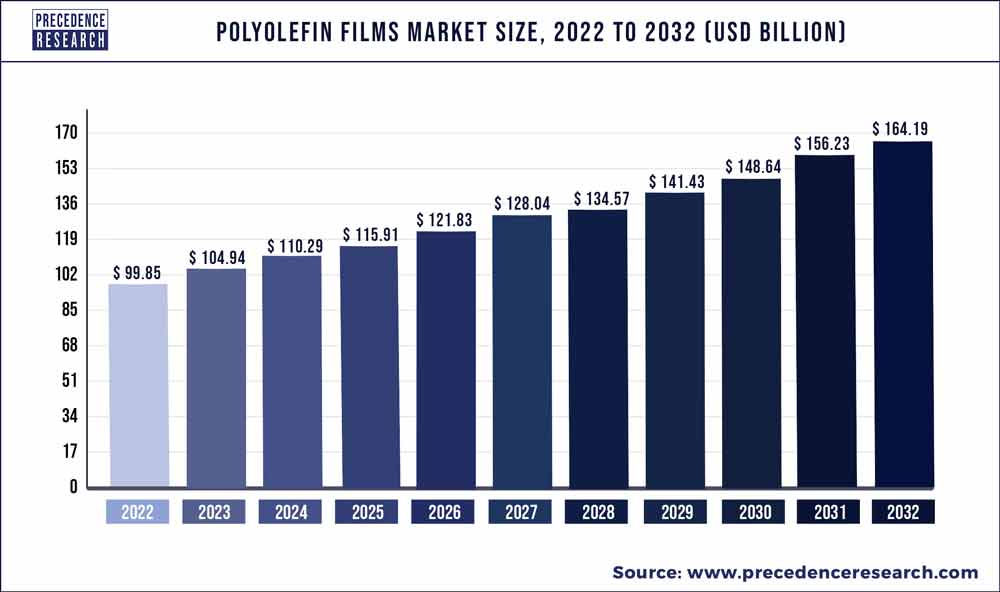 Access our Premium Real Time Data Intelligence Tool, Visit: Precedence Statistics
Key Takeaways:
Asia-Pacific has generated more than 40% of revenue share in 2022.
By material, the LLDPE segment is expected to expand at the fastest CAGR between 2023 and 2032.
By end-use, the packaging segment is predicted to grow at a remarkable CAGR between 2023 and 2032.
Market Overview:
Recent packaging trends indicate that consumers favor transparent packaging over nontransparent, flexible packaging over rigid packaging. Films made of polyolefin (POF) appear to be the greatest option for these current altering trends. These may be transparent, flexible, and light. Plastics and a family of polymers called polyolefin (POF) films are produced by the polymerization of monomers. Stretch films, shrink films, and other uses for POF films are common. Polyethylene (PE) is the POF most frequently used. Low-Density Polyethylene (LDPE) and Linear-Low Density Polyethylene (LLDPE) are the PEs that are most frequently utilised. These films are employed in a variety of industries, including food and beverage production, agriculture, cosmetics, and industrial packaging. The film might be as thick as thick sheets or as thin as a few microns.
Growth Factors:
Recent developments in the packaging sector demonstrate that polyolefin films perform and are of higher quality than PVC films. PVC has downsides despite being the third most produced plastic in the world. At cold temperatures, it becomes hardened and as temperature increases it becomes soften, therefore compromising the strength of plastic. Polyolefin films have desirable qualities such as high flexibility storage, greater seal strength, and reduced odor when sealed. Since they lack chlorine, they do not form hydrogen chloride gas. Due to the lack of plasticizers in polyolefin film, temperature is not a concern.
The key factor boosting the market for packaging polyolefin films is the expansion of the agricultural markets in China and India. Rising industrial automation, safety regulations, and worldwide industrial output all have a direct or indirect impact on the market for polyolefin films. Recent changes in logistics and e-commerce demonstrate a rise in the use of polyolefin films for bundling goods or packages.
Report Scope of the Polyolefin Films Market:
| | |
| --- | --- |
| Report Coverage | Details |
| Market Size in 2023 | USD 104.94 Billion |
| Market Size by 2032 | USD 164.19 Billion |
| Growth Rate from 2023 to 2032 | CAGR of 5.1% |
| Largest Market | Asia Pacific |
| Base Year | 2022 |
| Forecast Period | 2023 to 2032 |
| Segments Covered | By Material, By Application, By Film Type, and By End-Use |
| Regions Covered | North America, Europe, Asia-Pacific, Latin America and Middle East & Africa |

Market Dynamics:
Driver:
Highly adaptable due to polyolefins advanced properties
Due to its many beneficial characteristics, polyolefins are appropriate for a wide range of applications. It is exceedingly ductile and has good impact strength while having low strength and hardness; it will stretch rather than break. In comparison to other polymers, polyolefins are more durable and resistant to water, therefore they survive longer when exposed to the weather. Although polyolefins are excellent electrical insulators and give electric trembling resistance, they are susceptible to electrostatic charging. Antistatic substances will stop this.
It can range from being practically transparent to opaque, depending on the thickness of the polyolefins. Low-density polyolefins are useful for packaging applications because to their clarity. Recycling polyolefins like HDPE into other products is more economical than creating a new product from fresh plastic.
Restraints:
Stringent environmental regulations
In 2018, it is predicted that there will be 380 million tonnes of plastic produced worldwide. Around 6.3 billion tonnes of plastics have been produced globally between 1950 and 2018, of which 9% and 12% have been recycled or burned. Researchers have predicted that the weight of plastic in the oceans could surpass that of fish by the year 2050. Polyolefin-based plastics have a non-biodegradable nature, are produced using non-renewable resources, and can endure for a number of years in the environment. One of the main causes of the dangers to the environment and human health is the use of plastic made of polyolefin, such as HDPE, LLDPE, and LDPE bags. Plastic wastes have been demonstrated to be a significant environmental problem due to the widespread manufacture of plastics and the ensuing environmental degradation. Public concern over how plastic garbage affects humans, animals, and the environment as a whole necessitates saving the ecosystems and life inside them.
Thus, stricter laws are being enacted as a result of the increased environmental concern, which is impeding market expansion. Governments all across the world have taken steps to outlaw plastic, though. For instance, a "Plastic Ban" law was enacted in France in 2016. By 2025, the law wants to have reduced the nation's use of plastic bags by half.
Opportunities:
Rising demand for polyolefins across various industry verticals
Several industries, including automotive, electrical and electronics, food and beverage, and consumer goods, are seeing an increase in demand for polyolefins. Due to their high stiffness, strong moisture resistance, and chemical resistance, polyolefins are well-suited for industrial applications, particularly for the packaging of electrical and automotive replacement parts. While in the automotive sector, manufacturers are concentrating on improving vehicle economy by making them lighter.
Material made of polyolefins is popular because it is lightweight, easy to process, and has sealing and rigidity properties. The development of packaging materials for food and beverages is driving an increase in the consumption of polyethylene in the food and beverage sector. Due to its resilience to physical pressures, durability, flexibility in packaging, and ease of product moulding, polyethylene is increasingly used in fashion, toys, and sports.
Impact of COVID-19:
The demand for the downstream derivatives of polyolefins is currently weak. The ongoing wave of polyethylene capacity additions caused an excess and reduced profit margins, severely pressuring producers. The COVID-19 substantially extended lead times for freight delivery for manufacturers who were already dealing with supply chain delays brought on by the U.S. and China trade war. The advent of COVID-19, which the World Health Organisation has classified as a pandemic, is clearly having an effect on world economic expansion. The global GDP is predicted by the International Monetary Fund to decrease by 0.3% in 2020.
The World Trade Organisation (WTO) predicts that the economic effects of COVID-19 will cause a drop in world trade volumes of between 13% and 32% in 2020. As the majority of countries have given "stay at home guidance," i.e., a state of lockdown, the pandemic is having an impact on the operations of several industries, including the automobile, oil and gas, construction, aerospace, and others. And it's anticipated that the COVID-19 outbreak would occur throughout 2020 and for a few months in 2021. Since these industries employ a lot of polyolefin products, the growth of the polyolefin market is directly impacted by the operations of these industries.
Segments Insight:
Material Insights:
During the forecast period, the segment of the global polyolefins market with the highest CAGR is expected to be LLDPE. This increase is the result of the widespread usage of LLDPE in a variety of industries, including packaging, transportation, agriculture, medicine, and electronics. LLDPE is also incredibly resilient to chemicals, adaptable, and customizable. The several varieties of packaging, including rigid, flexible, and semi-flexible types, offer a wonderful alternative to suit the product and make it very versatile in addition to providing protection. It provides multiple thicknesses, clarities, and designer colors for a more personalized alternative.
Since polyolefins are nonpolar, odorless, and nonporous materials, they are employed as packaging materials in the food industry. In food packaging, polyolefins such linear low-density polyethylene (LLDPE), isotactic polypropylene (PP), high-density polyethylene (HDPE), low-density polyethylene (LDPE), and other polyethylene-based copolymers are frequently employed. Films made of polyolefin are reasonably cheap and have improved gas and moisture barriers. They also resist food leaks and tolerate heat. Additionally, they properly fit the food's form and contribute less weight to the package, requiring less room for storage and delivery. The food sector is growing in developing nations like India and China as the population influences and drives the market.
Applicational Insights:
The films and sheet are extensively used in the food and beverages sector, agricultural sector, cosmetics sector, and industrial packaging sector. The films and sheets are available in various ranges depending on the thickness. The films and sheets are commonly used in production of beverage bottles, for packing food items, and for making packages for cosmetic products. Moreover, new developments in the films and sheets include protection from UV rays of the sun, fluorescent films, and NIR-blocking films. Therefore, growing application along with product advancements is fueling the growth of the segment.
End User Insights:
The packaging sector is expected to grow at a strong CAGR over the course of the forecast period. This increase is linked to the packaging industry's increasing need for polyethylene films as a replacement for glass and metal, which also fuels the market's expansion. Additionally, a rise in the need for flexible and hygienic food packaging materials is anticipated to fuel market expansion. The National Centre for Biotechnology Information estimates that 23 million tonnes of plastic packaging are manufactured in Europe year, with a projected increase to 92 million tonnes by the year 2050.
Additionally, the industry is growing as a result of rising disposable incomes in developing nations like China and India and plastic package recycling in Europe. As an illustration, DoW Packaging and Specialty Plastics (P&SP) in India created a novel formulation of polyethylene (PE) resins in 2018 that resulted in a totally recyclable polyethylene packaging solution.
Regional Insights:
With a share above 40%, Asia-Pacific led the global market in 2022. The need for polyolefin shrink films is rising in the region as the packaging and healthcare sectors expand in nations including China, India, Japan, and South Korea. The packaging industry in China is the second-largest in the world. Due to the rise of customized packaging and the rising demand for packaged consumer goods, the nation is predicted to grow steadily during the projection period.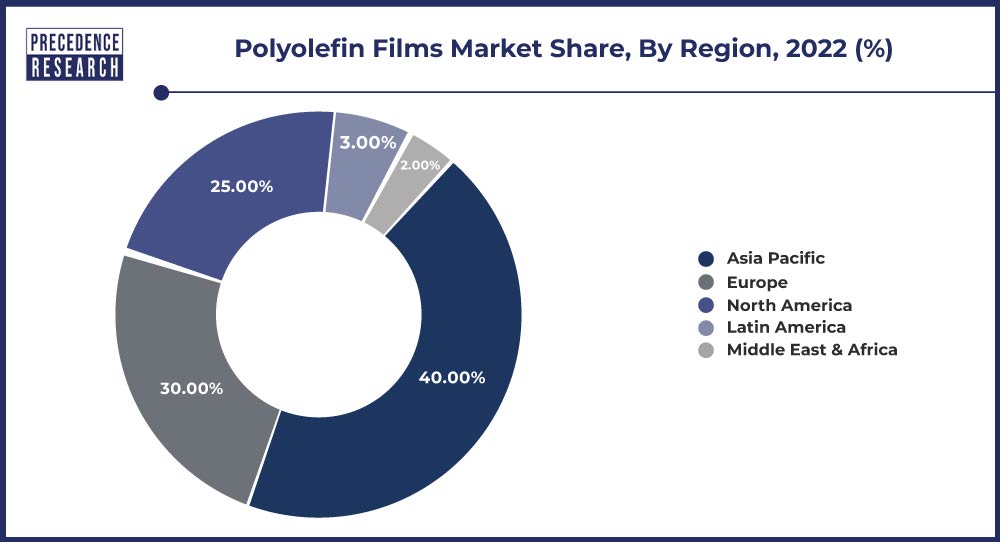 Additionally, the fast-moving consumer goods (FMCG) industry in the nation has recently experienced tremendous growth. The country's middle-class consumers' increased spending on higher-end and healthier goods was a big factor in the FMCG market's expansion. Additionally, India's packaging business is the fifth-largest in the world and is expanding quickly. The increased need for compact and portable products across industries is a primary driver of the nation's packaging sector. The market for polyolefin shrink films in the area is anticipated to increase steadily over the course of the forecast period as a result of all of these factors.
Recent Developments:
In Panjin, China, LyondellBasell Industries NV and Liaoning Bora Enterprise Group (Bora) entered into a joint venture in March 2020 to construct a 1.1 million tonnes per year ethylene cracker and related polyolefin derivatives complex.
The first parallel commercial-scale manufacturing of bio-based polypropylene and bio-based low-density polyethylene will begin in 2019, according to a joint announcement from Neste Corporation and LyondellBasell. The initiative was successful in producing several thousand tonnes of bio-based plastics, which are now being sold under the brand names Circulen and Circulen Plu and are authorised for use in the manufacture of food packaging.
The commissioning of LyondellBasell's new high-density polyethylene (HDPE) factory in La Porte, Texas, started in November 2019. The new facility generated 500,000 tonnes of HDPE annually using the unique Hyperzone technology of LyondellBasell.
Key Market Players:
Jindal Poly Films
Mitsui Chemicals Tocello
Toray
Berry Plastics C
Toyobo
Amcor Flexible
Innovia Films
Vibac Group
Garware Polyester Limited
Uflex Limited
Segments Covered in the Report:
(Note*: We offer report based on sub segments as well. Kindly, let us know if you are interested)
By Material
By Application
Film & Sheets
Blow Molding
Injection Molding
Fibers
Others
By Film Type
Shrink Film
Stretch Film
Others
By End-Use
Packaging
Construction
Agricultural
Others
By Geography
North America
Europe
Asia-Pacific
Latin America
Middle East and Africa