The global active electronic components market size was reached at USD 326.12 billion in 2022 and is expected to be worth around USD 747.59 billion by 2032, poised to grow CAGR of 8.7% during the forecast period 2023 to 2032.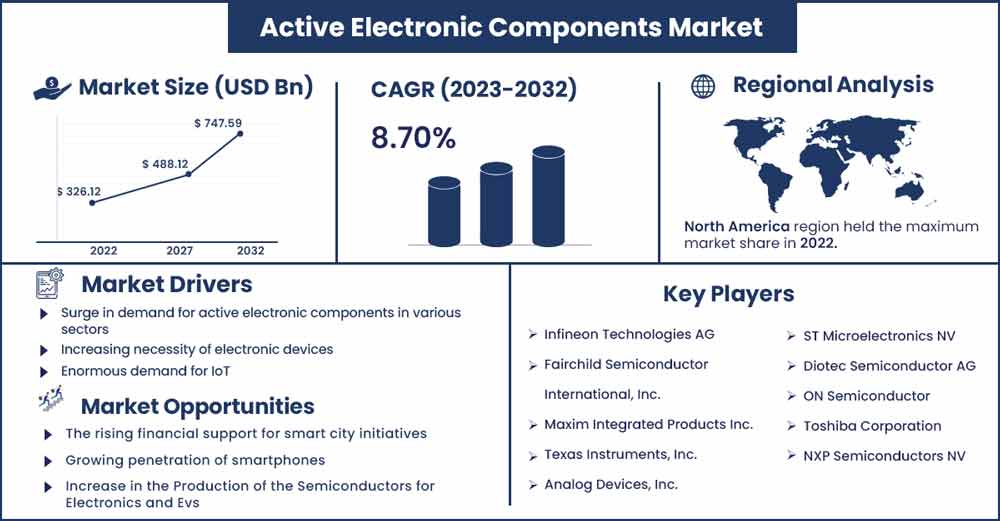 Market Overview:
The active electronic components market revolves around the segment of the electronics industry that deals with components capable of controlling the flow of electricity. Active electronic components play a crucial role in various electronic devices and systems, enabling functionalities such as amplification, signal processing, and power management.
Optoelectronics, diodes, MOSFETs, integrated circuits, optoelectronics, JFETs, oscillators, and transistors comprise active components. Sources of energy (voltage or current sources), generators, and semiconductor devices such as transistors, solar cells, SCRs, etc., are typical examples of active components. In a circuit, active electronic components act as a power source. In real-world applications, active electronic components are advantageous because they frequently allow a small amount of power to regulate a more significant amount. In other words, amplification is one of the critical advantages of active devices such as tunnel diodes, transistors, and vacuum tubes.
Regional Snapshot:
North America is expected to account for a significant portion of the market during the predicted period. The US government is funding the development of smart cities. Additionally, it is anticipated that the 5G network infrastructure development would increase the volume of newly installed installations of telecom and networking equipment, spurring regional market expansion.
The increased use of cutting-edge technology like smart buildings and homes and autonomous cars is the primary driver of growth in this sector. Several significant market participants, including Texas Instruments, Intel, and Qualcomm, are based in the area. With a considerable portion of the industry, the US is the biggest market in this region. The automotive, healthcare, aerospace, and defense industries all contribute to the need for active electronic components.
During the projected period, Asia Pacific is expected to witness the fastest rate of growth. The geographical trends and factors that will affect the market throughout the projection have been thoroughly discussed by Technavio's experts. Asia-Pacific is expected to see the highest growth in the market for active electronic components during the forecast period. Asia Pacific's biggest active electronic components market is China, contributing significantly to revenue. The region's market growth is mainly attributed to the rising active electronic components demand from end-user industries, including those in emerging countries like China and India and those in the automotive, aerospace, electronics, and electrical sectors. Additionally, a rise in disposable income is anticipated to enhance demand for vehicles, technology, and electrical equipment.
Active Electronic Components Market Report Scope:
| | |
| --- | --- |
| Report Coverage | Details |
| Market Revenue in 2023 | USD 352.87 Billion |
| Projected Forecast Revenue in 2032 | USD 747.59 Billion |
| Growth Rate from 2023 to 2032 | CAGR of 8.7% |
| Largest Market | North America |
| Base Year | 2022 |
| Base Year | 2023 To 2032 |
| Regions Covered | North America, Europe, Asia-Pacific, Latin America, and Middle East & Africa |

Report Highlights:
By product, the semiconductor segment now dominates the market and is predicted to grow quickly over the forecast period. The semiconductor device sub-segment known as ICs leads the entire market. The market's growth is attributed to the widespread usage of semiconductor devices in various products, including home appliances, mobile phones, personal computers, and network equipment.
By end-use, the segment with the highest revenue share was consumer electronics. It is anticipated to see the fastest CAGR growth. The growth is primarily attributable to increased demand for semiconductors in various consumer electronics, including set-top boxes (STB), wearable technology, mobile phones, digital cameras, and mobile gaming devices.
Market Dynamics:
Driver:
Enormous demand for IoT
An interconnected system of objects or things with software, electronics, network connectivity, and sensors is known as the Internet of Things (IoT). Owing to IoT technology, these actuators and sensors may be used by an Internet-connected gadget to collect data, record it, and send it instantly to other computer devices. Semiconductor integrated circuits (ICs) containing a microcontroller, memory, wireless connectivity, sensors, and a range of analog and digital components are a common feature of IoT devices. The need for active electronic components built for IoT devices will rise as there are more and more IoT applications. Thus, the element is expected to fuel the market's growth.
Restraint:
Susceptible to failure
High temperature, excessive current, ionizing radiation, mechanical trauma, and stress can all lead to the breakdown of active electronic components. These parts are also susceptible to flaws brought on by product packaging. Typical failure types are contact failures, MEMS failures, and defective printed circuit boards. The constant risk of such failures in the systems limits the adoption of active electronics components by acting as a restraining factor for the market.
Opportunity:
The rising financial support for smart city initiatives
In a smart city project, numerous information and communication technologies are integrated into the city's infrastructure. To effectively manage their resources and assets, nations worldwide focus on building smart cities. Smart city solutions, including intelligent lighting, intelligent traffic management, intelligent utilities, and intelligent water and waste management, rely heavily on the participation of the many market stakeholders, including the relevant governments at the local and regional levels, information and communication technology (ICT) smart device manufacturers, service providers. Investments in smart cities will speed up the network infrastructure construction required to allow machine-to-machine (M2M) communication. Furthermore, significant investments in smart city initiatives have been made by emerging nations, fueling the need for active electronic components.
Challenge:
Regulations and standards
Standards associated with active electronic components comprise factors such as product safety, intellectual property rights, and environmental impact control the sector. Failure to adhere to such standards could result in penalties, product recalls, and damage to the company's image. Various international product quality and reliability norms, including ISO 9001 and IEC 60068, also control the global market for active electronic components. Smaller businesses may find it difficult to enter the market because of the high expense of certification and testing needed to comply with these requirements. Due to the technological landscape's fast change and the increasing complexity of electronic systems, the sector also faces new hurdles. Throughout the projected period, this issue is anticipated to impede the market's expansion.
Recent Developments:
In April 2023, BJG Electronics Group ("BJG"), a top supplier of electromechanical and interconnect components for the defense, commercial aircraft, and space end-markets, was purchased by FDH Aero ("FDH"), an international supplier of logistics services for the aerospace and defense industries. BJG, based in Ronkonkoma, New York, was established in 1979 and offers aftermarket services to OEMs in the aerospace and defense sectors. The purchase of BJG will give both BJG and FDH Aero clients access to a broader array of goods and services, expanding and deepening FDH Aero's involvement in the aerospace and defense supply chains.
In February 2023, the DC-DC High-Reliability converter company of Infineon Technologies AG, a leading provider of semiconductors for power systems and the Internet of Things (IoT), has been acquired by Micross Components, Inc., a leading supplier of microelectronic high-reliability goods and service solutions for aerospace, defense, space, medical, and industrial applications.
Major Key Players:
Infineon Technologies AG
Fairchild Semiconductor International, Inc.
Maxim Integrated Products Inc.
Texas Instruments, Inc.
Analog Devices, Inc.
ST Microelectronics NV
Diotec Semiconductor AG
ON Semiconductor
Toshiba Corporation
NXP Semiconductors NV
Everlight Electronics Co., Ltd.
Vishay Intertechnology, Inc.
Renesas Electric Corporation
Panasonic Corporation
Market Segmentation:
By Product
Semiconductor Devices

Transistors
Diodes
Optoelectronic Components
Integrated Circuits

Display Devices

Cathode-ray Tubes
Microwave Tubes
X-ray Tubes
Triodes
Photoelectric Tubes

Optoelectronic
Vacuum Tubes
Others
By End User
Consumer electronics
Healthcare
Automotives
Aerospace and defense
Information Technology
Others
Buy this Research Report@ https://www.precedenceresearch.com/checkout/1017
You can place an order or ask any questions, please feel free to contact at sales@precedenceresearch.com | +1 9197 992 333