The global ambulatory EHR market size exhibited USD 6.13 billion in 2022 and is projected to increase USD 9.6 billion by 2030, poised to grow at a CAGR of 5.76 percent during the projection period from 2022 to 2030.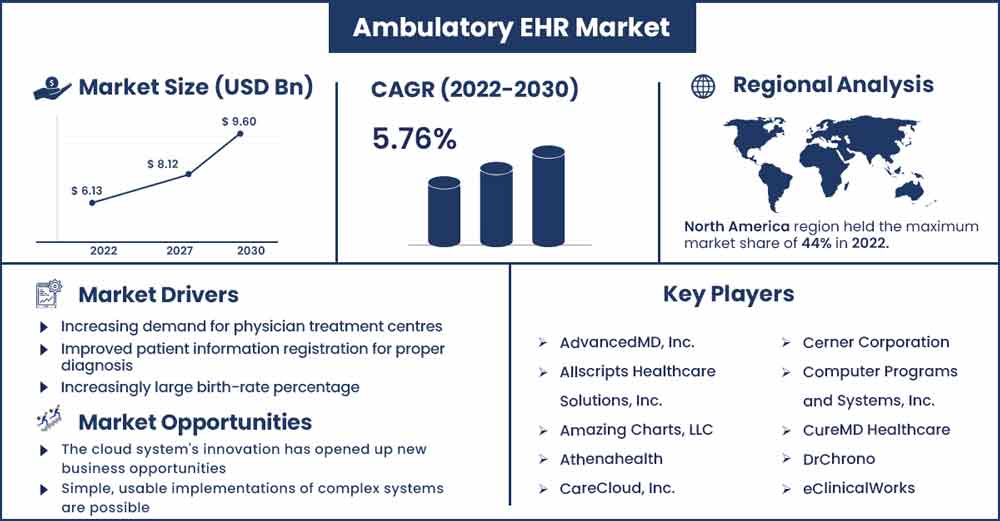 Ambulatory health information systems are primarily utilized in outpatient treatment settings and small procedures. This makes it easier for medical experts to consult the information system and evaluate the condition of the patient. During the anticipated time range, market growth is anticipated for the ambulatory electronic healthcare records industry. The industry for portable electronic medical records is being pushed by several significant factors, such as an increase in the adoption of EHR systems, an increase in the availability of free-flowing health information, and an increase in consumer awareness of healthcare options.
Additionally, a rise in initiatives for research and development technical advancements, and changes in care practice will create more chances in the industry for ambulatory digital health records. This vast database helps doctors gain a more thorough understanding of their patient's health, which makes subsequent diagnoses easier. The primary drivers of the global outpatient EHR market are the increasing preference for outpatient care over acute services among patients, higher government support for the adoption of EHR systems, and rising operating costs in the health sector.
Other factors that offer significant potential opportunities for market participants include the use of machine learning techniques, as well as the evolving technological landscape in developing nations. However, it is projected that limits in low-income countries' IT infrastructures, problems with information systems, high installation costs, and significant infrastructure spending will to some extent hinder the expansion of this industry.
Regional Snapshots:
Due to the existence of major competitors and a developed healthcare sector, the marketplace in North America held the greatest customer base in 2022 and also is anticipated to maintain its position during the forecast period. The market within the Asia-Pacific market is expected to expand at the quickest rate during the research period due to the area's strong expenditure in the construction of the healthcare system with a noticeable increase.
Due to considerable investments made in EHR systems by governments, non-profits, and the banking markets, Asia-Pacific is predicted to expand at the fastest rate. Development is mostly driven by the proportion of older people and the rise in the frequency of chronic diseases in countries like India and China. A better hospital network, and also a training program, have led to an increase in the number of physicians and ambulatory alternative treatments in the area.
Ambulatory EHR Market Report Scope:
| | |
| --- | --- |
| Report Coverage | Details |
| Market Revenue in 2023 | USD 6.49 Billion |
| Projected Forecast Revenue in 2030 | USD 9.6 Billion |
| Growth Rate from 2022 to 2030 | CAGR of 5.76% |
| Largest Market | North America |
| Base Year | 2022 |
| Forecast Period | 2022 To 2030 |
| Regions Covered | North America, Europe, Asia-Pacific, Latin America, and Middle East & Africa |

Report Highlights:
Over the upcoming years, it is anticipated that rising government support for the adoption of EHR systems and the desire to reduce medical costs would propel the demand for outpatient EHR. Additionally, the streamlined implementation of computerized entering data and payment monitoring is anticipated to increase demands in the upcoming years. Additionally, it is anticipated that factors like the low invoicing time required, the secure sharing of health information, and also the assistance of medical judgments will fuel the market growth during the forecast.
Market Dynamics:
Drivers:
The HCIT sector has one of the fastest-growing economies, largely because of regulatory constraints. EHRs are a crucial component of HCIT. A digitization process of portable medical files is a standalone EHR. There are many different types of data available, including demographic data, performance records, medicines, potential treatments, heart rhythm, immunization records, test findings, medical histories, and radiographic reports. Healthcare practitioners may exchange and communicate information more quickly because of standalone EHRs. The outpatient EHR market is predicted to be pushed by the rising use of electronic health records together with incentives and reimbursement revisions throughout the projected timeframe.
Restraints:
Medical spoofing accounts for approximately one-third of all information leakage in the healthcare sector and is primarily brought due to a lack of controls over health records, outdated policies, or a disregard for already in place ones. Creating a secure communications platform is a huge challenge for IT firms that service the healthcare industry. EHR system safety concerns in outpatient treatment institutions may make users uneasy and limit their use. This poses a big challenge for companies that make ambulatory Software packages.
Opportunities:
The creation of the software system has given health companies from all over the globe new commercial opportunities. Advantages of cloud-based systems for medical organizations include the improved patient exchange of information, lower capital costs, on-demand available resources, simple installation and also scaling, and quick deployment.
The broad adoption of cloud computing in the healthcare industry gives businesses the much-needed freedom they need to go global. The growth of interconnectivity is made possible by the network's ability to process data that is getting more and more complex. The internet will be utilized to handle massive amounts of data, simplifying mobile usage design and allowing the installation of complex systems in a user-friendly way. These advantages are predicted to offer significant opportunities for transportable EHR systems in the next years.
Challenges:
The escalating use of automatic EHR technology, the move towards healthcare integration, and the growth in the interchange of medical data have transformed the outlook of pharmaceutical privacy and safety. Because of its broad application, expanding the electronic exchange of patient records improves accessibility and efficacy while raising the risk & responsibility associated with data. Wide transmissions of patient information increase the risk of security lapses by introducing risks to privacy and security. Clinical spoofing accounts for approximately one-third of security breaches in the healthcare sector and is primarily brought due to a lack of controls over patient data, outdated policies, or a disregard already for in-place ones. Creating a secured communications platform is a huge challenge for IT firms that service the healthcare industry.
Recent Developments:
In April 2022, MEDITECH (US) and Fraser Healthcare (Canada) joined forces to improve health outcomes for the greater than 1.8 million people it serves throughout 20 different areas.
In March 2022, Cerner Corp (US) increased its cooperation with Nuance Correspondence, and integrated to integrate Nuance's Dragon Ambience directly into Millennium EHR.
In January 2022, the payer portal of the EHR provider was integrated by Essential Healthcare (US) and Epic Technologies Corporation (US) to streamline patient information sharing between physicians, reduce healthcare costs and improve the quality of care for members.
To promote its ONC Healthcare IT Accredited HER, iPatientCare, a pioneer in cloud-based transportable electronic health records visited HIMSS19 in February 2019.
In January 2019, eMDs, Inc. purchased Aprima Healthcare Software, a leading provider of Healthcare Information Technology systems, Document Management, and Revenue Cycle Administration products to ambulatory surgery companies.
In April 2018, eClinicalWorks and FIGmd Inc. forged a solid agreement to connect numerous specialty clinics for better data collection.
Major Key Players:
AdvancedMD, Inc.
Allscripts Healthcare Solutions, Inc.
Amazing Charts, LLC
Athenahealth
CareCloud, Inc.
Cerner Corporation
Computer Programs and Systems, Inc.
CureMD Healthcare
DrChrono
eClinicalWorks
eMDs, Inc.
Epic Systems Corporation
General Electric Company
Greenway Health, LLC
Healthland
Kareo
McKesson Corporation
Medical Information Technology, Inc.
Medical Transcription Billing Corporation
Modernizing Medicine, Inc.
Netsmart Technologies
Nextgen Healthcare Information Systems LLC
Practice Fusion Inc.
QSI Management, LLC
Market Segmentation:
By Deployment Mode
Cloud/Web-based
On-premise
By Type
By Practice Size
Large Practices
Small-to-medium-sized Practices
Solo Practices
By Application
Practice Management
Patient Portals
Computerized Physician Order Entry (CPOE)
Clinical Decision Support (CDS)
Population Health Management
Referral Management
Other Applications
By End User
Hospital-owned Ambulatory Centres
Independent Ambulatory Centres
Buy this Research Report@ https://www.precedenceresearch.com/checkout/2311
You can place an order or ask any questions, please feel free to contact at sales@precedenceresearch.com | +1 9197 992 333