The global animal feed antioxidants market size was evaluated at USD 257.37 million in 2022 and is expected to touch around USD 832.03 million by 2032, growing at a noteworthy CAGR of 12.5% from 2023 to 2032.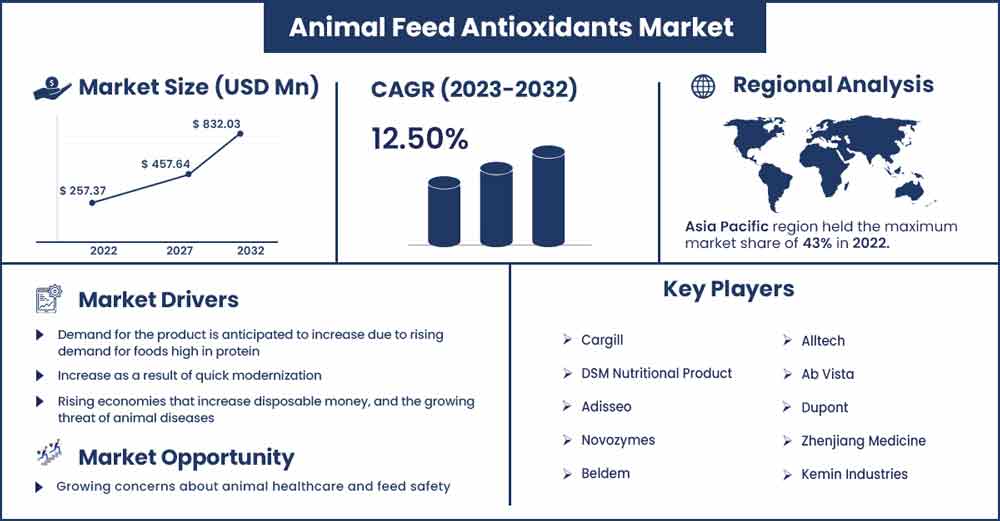 The size of the global animal feed antioxidants market was quite strong in 2022, and it is anticipated to post a consistent revenue CAGR during the forecast period. The rising need for high-quality feed improved feed production technology, and standardization of meat products are the main drivers of market revenue growth. One of the important elements contributing to an increase in demand for animal feed antioxidants is growing concern about animal healthcare and feed safety. Animal performance suffers and many health problems are brought on by nutrient-deficient oxidized diets. Antioxidants will be added to the feed to protect its nutritional quality and increase its shelf life. The intrinsic characteristics of animal feed are impacted by several chemical changes that take place during storage.
The feed's antioxidant content is utilized to extend the feed's shelf life by minimizing lipid oxidation-related degradation. Antioxidants in the feed prevent autoxidation or hydrolysis from causing an oxidative reaction. As livestock farmers try to reduce feed costs to cut costs and maintain profitability, antioxidants have grown to be quite significant. The majority of antioxidants are synthesized and extracted naturally.
Report Highlights
By Product type, based on the product type, the market for animal feed antioxidants can be further divided into two categories: natural (=botanical extracts, vitamins, and others) and artificial (=butylated hydroxyanisole, propyl gallate, and others).
By Form type, The majority of feed antioxidant manufacturers on the market offer feed in dry forms such as powders, pellets, and granules due to the increased demand from numerous end-use applications.
By Livestock type, Poultry, dairy cattle, aquaculture, swine, and others can be used to further segment the animal feed antioxidants market based on conveyance mode.
Animal Feed Antioxidants Market Report Scope:
| | |
| --- | --- |
| Report Coverage | Details |
| Market Revenue in 2023 | USD 288.25 million |
| Projected Forecast Revenue in 2032 | USD 832.03 million |
| Growth Rate from 2023 to 2032 | CAGR of 12.5% |
| Largest Market | Asia Pacific |
| Base Year | 2022 |
| Forecast Period | 2023 to 2032 |
| Regions Covered | North America, Europe, Asia-Pacific, Latin America, and Middle East & Africa |

Regional Snapshots:
It is possible to further divide the animal feed antioxidants market by geography into North America, Europe, Asia-Pacific, South America, and the Rest of the World. 41% of the global market in 2021's share was owned by Asia-Pacific. Due to the enormous population density on the Asian continent, there is a growing demand for dairy products and meat, which is one of the reasons this market is expanding. In 2022, there will be 4.6 billion people living on this continent, or more than 59.6% of the entire world's population.
In the world, China is where the majority of meat eaters reside. Pork, shellfish, and fowl from chicken and turkey make up the diet of the majority of Asian people. In China, Japan, and Indonesia, seafood including tuna, salmon, and shrimp are in practically every home. Therefore, to meet this enormous demand, meat producers are implementing modern techniques that use feed antioxidants to ensure the quality of the meat and prevent the development of disease. Over the projected period of 2022–2027, Asia–Pacific is also anticipated to present profitable growth prospects. This increase is the result of developing countries' booming economies, which have increased peoples' disposable income and, in turn, increased their desire for wholesome food.
Over the projected period, North America is anticipated to continue to be one of the top markets, with revenue exceeding USD 40 million in 2014. High demand for these chemicals is anticipated as a result of the U.S.'s strong meat manufacturing base, which mostly consists of JBF, Tyson, Cargill, and National Beef. Rising red meat consumption in Mexico is anticipated to have a positive effect due to the expansion of stores that deliver frozen meals. Over the next seven years, it is anticipated that the strong industrial bases for hog meat in European nations like Germany, France, and Russia will increase the supply of cattle. This would in turn spur industry expansion.
Market Dynamics:
Antioxidants are defined as chemical substances that play a crucial role in spotting and neutralizing unstable molecules (also known as free radicals). Free radicals can agglomerate inside cells and harm DNA and lipids. To ensure the general health of animals, antioxidants are often of two types: naturally occurring and man-made. For this reason, factors like ethoxyquin, carotenoids, BHT, and BHA are considered. Other than antioxidants, other bovine supplements are utilized as feed additions to increase reproduction efficiency by maintaining proper fetus growth in pregnant animals. These supplements include trace minerals, crushed limestone, and fat-soluble vitamins.
In addition, certain lambs that are bottle-fed must be given antioxidants in case their moms reject the lamb or the quality or quantity of the milk is not nutritious. The demand for nutrient-dense foods and premium meat is growing, which is good news for the animal feed antioxidants market. The industry for animal feed antioxidants is expected to develop due to factors such as rising avian influenza and bird flu cases, rising demand for animal health products, and animal pregnancy difficulties.
Key Developments:
In November 2021, the pharmaceutical firm Synergia Life Sciences in India was purchased by the Danish biotechnology business "Novozymes." Synergia is renowned for producing natural Vitamin K2-7 and probiotics. The acquisition is completed by Novozymes with a $150 million payment. The business of functional foods will be strengthened by the acquisition.
Two food firms agreed to buy the American firm "Sanderson farms" in August 2021. The first company, "Cargill, Inc.," is established in Minnesota, and the second, "Continental Grain Company," is headquartered in Belgium. To consummate the acquisition, both companies agreed to pay Sanderson a total of $4.53 billion, or $203 per share.
The successful acquisition of the feed additive company "FRAmelco Group" from the Netherlands was announced by China-based Bluestar Adisseo, also known as Adisseo, in November 2020. Adisseo made the acquisition primarily to fuel its ambition to control the animal additives market. The business operates three facilities, one each in Thailand, Spain, and the Netherlands. The company also brings in close to 30 million pounds annually.
Major Key Players:
Cargill
DSM Nutritional Product
Adisseo
Novozymes
Beldem
Alltech
Ab Vista
Dupont
Zhenjiang Medicine
Kemin Industries
Market Segmentation:
By Product
By Livestock
Swine
Cattle
Poultry
Aquaculture
By Form
Buy this Research Report@ https://www.precedenceresearch.com/checkout/2448
You can place an order or ask any questions, please feel free to contact at sales@precedenceresearch.com | +1 9197 992 333