The global bag on valve products market size was exhibited at USD 9.15 billion in 2022 and is projected to attain around USD 17.86 billion by 2032, growing at a CAGR of 6.92% during the forecast period 2023 to 2032.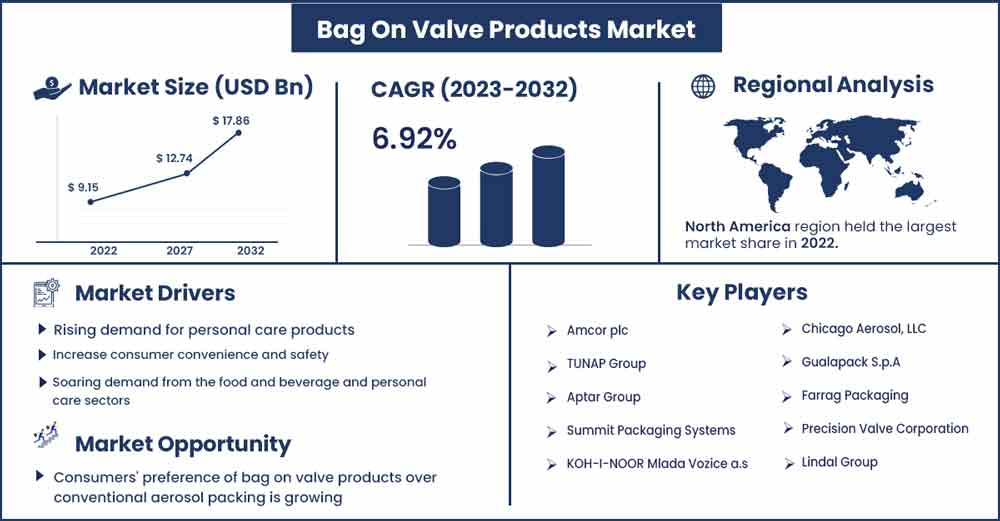 Market Overview:
A pressurized aerosol system, a type of packaging technology, is used in bag-on-valve products to dispense the product inside the bag. The product and propellant are separated. Aluminum serves as the core of the bag, separating the product from the propellant. It is intended to prolong product life and enhance customer satisfaction. Aluminum, tin plate, steel, and plastic are essential products using bag-on-valve technology. Other notable applications include cosmetics & personal care, food & beverages, pharmaceuticals, automotive & industrial, and home care. The market for bag-on-valve products is anticipated to expand significantly over the next few years due to rising demand from several sectors and geographical areas. The technology is a compelling alternative for firms looking for practical, straightforward packaging solutions. It can provide various benefits over conventional packaging methods, such as excellent product protection and longer shelf life.
Regional Insights:
The effect of the bag on the valve product market in different geographic areas might vary depending on several variables, including the industry, the degree of the bag on valve technology adoption, and regional legislation. Bag-on valve products are generally made to safely and effectively hold liquids, powders, and granular materials. As a result, they are perfect for usage in the food and beverage, pharmaceutical, chemical, and agricultural industries and other sectors. Since it offers various benefits over conventional packaging techniques, such as better product protection, lower environmental impact, and enhanced handling and transport, the adoption of the bag-on valve technology has grown in recent years.
Adopting bag-on-valve goods differs across different locations, with certain countries and industries embracing the technology more readily than others. For instance, North America and Europe employ bag-on-valve packing more frequently than Asia and Africa. Nonetheless, the bag-on-valve product market is predicted to increase significantly in the following years, driven by increasing demand for sustainable packaging solutions.
Regional markets and local laws and standards affect how bag-on-valve goods are received in regional markets. The adoption of bag-on-valve technology may be influenced by the use of specific types of packaging that are required by legislation in some areas for particular goods or industries. In addition, the availability and cost of raw materials and transportation and logistics infrastructure can also affect the usage of bags on valve goods in different areas. Globally, the market for bag-on-valve products is anticipated to expand as more regions and industries adopt the technology. However, the specific impact on regional markets will depend on various factors, including local rules, industry trends, and infrastructure.
Bag On Valve Products Market Report Scope:
| | |
| --- | --- |
| Report Coverage | Details |
| Market Revenue in 2023 | USD 9.78 Billion |
| Projected Forecast Revenue by 2032 | USD 17.86 Billion |
| Growth Rate from 2023 to 2032 | CAGR of 6.92% |
| Largest Market | North America |
| Base Year | 2022 |
| Forecast Period | 2023 to 2032 |
| Regions Covered | North America, Europe, Asia-Pacific, Latin America, and Middle East & Africa |

Report Highlights:
By Application: The biggest market for products with the bag on valves is the personal care and cosmetics sector, with skin care products being the most often used. Bag-on-valve products also have a sizable market in the pharmaceutical business, with uses that range from inhalers to wound care.
By Geography: Europe is the most significant market for bag-on-valve products, followed by North America and Asia Pacific. Yet throughout the projection period, the Asia Pacific region is anticipated to expand at the most significant CAGR because of rising demand from emerging economies like India and China.
Market Dynamics:
Drivers:
Convenient use of products
Bag-on-valve products are convenient and easy to use, they dispense easily, and the product within is shielded from contamination from the outside, making them perfect for various applications, including food, cosmetics, and pharmaceuticals. It can spray the product continuously, which is more even and reliable than conventional aerosols. They are, therefore, perfect for things like sunscreen or hair spray that must be applied uniformly.
Restraint:
Products with bags on valves are frequently offered in smaller sizes, which may only be ideal for some applications. Many advantages are provided, and they have an impact on the environment. Because the packaging is only sometimes recyclable, there could be increased waste and environmental harm. Due to its recentness, it is not generally accessible everywhere, which may prevent the bag-on-valve market from expanding in some regions.
Opportunities:
Across the sector, there is a growing desire for more environmentally friendly aerosol solutions. Nitrogen propellant is a far safer and more environmentally friendly option. The market is expanding quickly and is still very new. The market is constantly changing due to recent developments in technology and materials. Businesses that remain on top of these advancements might expand their market share and acquire a competitive advantage.
Challenges:
Some businesses may need help to justify the additional bag expense on valve packaging because it might be more expensive than conventional aerosol packing. However, bag-on-valve products have been utilized by several industries for many years. Despite their advantages, many people must know the benefits of bag-on-valve devices. Bag-on-valve products are still relatively new in several areas. Thus, education programs are needed to raise demand and awareness. They are subject to strict laws and regulations to safeguard customers and the environment, including safety and environmental requirements. It can be expensive and time-consuming to comply with these laws. Some customers prefer more straightforward packaging choices since they see them as more complicated than conventional aerosol packing techniques.
Recent Developments:
In March 2023, Salvalco collaborate with Respray Solutions as they launch refillable deodorant machine.
In December 2022, Lindal Group, a global aerosol dispensing expert, has acquired equity stake in B4Plastics, a Belgium-based biotechnology start-up developing novel biopolymeric materials.
In November 2022, Aptar Pharma partnered with TFF Pharmaceuticals to create and market novel therapeutic products based on the latter's unique Thin Film Freezing technology platform.
Major Key Players:
Amcor plc
TUNAP Group
Aptar Group
Summit Packaging Systems
KOH-I-NOOR Mlada Vozice a.s
Chicago Aerosol, LLC
Gualapack S.p.A
Farrag Packaging
Precision Valve Corporation
Lindal Group
Coster Technologie Speciali S.p.A
Wipf Doypak
Market Segmentation:
By Application
Personal Care

Liquid Soap & Shampoo
Hair Gels & Shaving Products
Cosmetic Products

Household Care

Household Cleaner
Insecticides
Air Fresheners
Others

Pharmaceutical

Nasal Sprays
Wound Cleaners
Others

Food & Beverage

Whipped Cream
Toppings & Dressings
Others

Automotive & Industrial

Waxes
Cleaning Products
Others
Buy this Research Report@ https://www.precedenceresearch.com/checkout/2724
You can place an order or ask any questions, please feel free to contact at sales@precedenceresearch.com | +1 9197 992 333