The global biomaterials market size is anticipated to reach around USD 431.49 billion by 2032 up from USD 135.87 billion in 2022 with a CAGR of 12.3% between 2023 and 2032.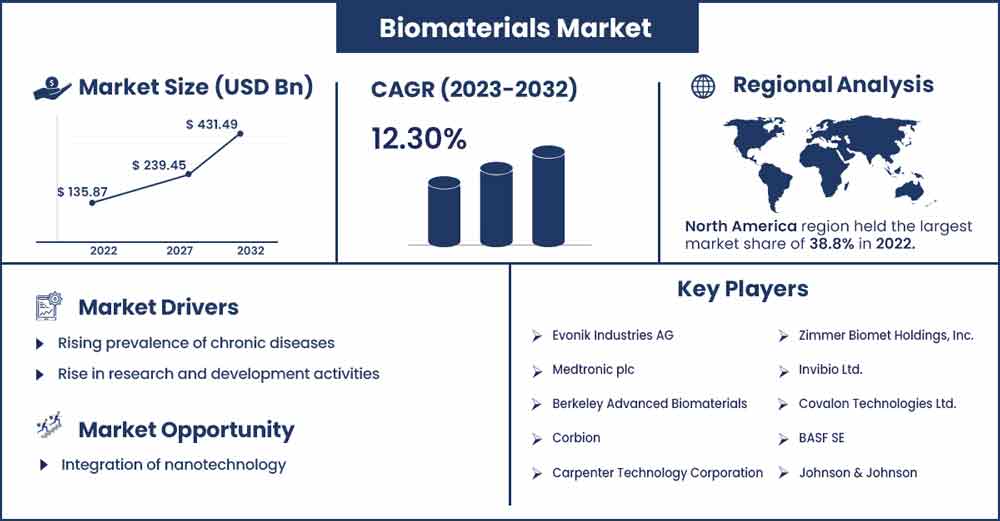 Market Overview
The industry that manufactures and provides materials used in healthcare and medical technology, particularly for applications inside the human body, is referred as the biomaterials market. These materials can be used for various purposes, such as medical devices, tissue engineering, drug delivery systems, and regenerative medicine. They are made to interact with biological systems. The aging of the world's population, the development of new medical technologies, and the increased emphasis on improving healthcare outcomes have all contributed to the steady growth of the biomaterials market in recent years.
A wide range of businesses, from major international conglomerates to smaller, niche businesses, operate the biomaterials sector. Innovation is essential to staying ahead in the cutthroat economy. This area's research and development aims to develop novel materials with enhanced functionality, more excellent biocompatibility, and a lower likelihood of adverse effects on the human body.
An increasingly aging population drives the growth of the biomaterial market, advances in regenerative medicine, technological advancement, rising incidence of chronic disease, growing orthopedic application, increased research and development, regulatory support, and biocompatibility and sustainability. Biomaterials are crucial in creating patient-specific medical solutions, and the idea of customized medicine is expanding, which is fostering market expansion. The assistance and expedited approval procedures for biomaterials used in healthcare provided by governments and regulatory authorities in numerous nations have aided market expansion.
In March 2023, a firm making biomaterials from seaweed called Loliware received $6 million in pre-series 'A' funding. The startup has received $15.4 million in total financing, making it the best-funded seaweed materials tech company. The most recent fundraising was revealed in February.
Regional Snapshot
North America holds the dominating share of the global biomaterials market. The market for biomaterials is sizable and expanding robustly in the region. Various medical and healthcare applications, including tissue engineering, medical implants, drug delivery systems, and regenerative medicine, involve biomaterials interacting with biological systems. Several variables, such as improvements in medical technology, aging population, and growing knowledge of the advantages of biomaterials, impact the industry in North America. Numerous top businesses and research centers in the region, especially in major contributors such as the United States and Canada are focused on the development of novel biomaterials in the area. These institutions greatly aid the development of the field.
Technology breakthroughs, healthcare trends, and regulatory rules are just a few of the variables that have an impact on the United States market for biomaterials. The United States carries a sizable biomaterials market, emphasizing polymers, ceramics, metals, and composites. Due to the rising demand for biomaterials in medical and healthcare applications, the market size has been gradually expanding. Biodegradable biomaterials, which the body may absorb over time, are gaining popularity. Both temporary scaffolds for tissue engineering and medication delivery systems frequently employ these materials.
Canada's healthcare and medical device industries are strongly related to the demand for biomaterials. The need for biomaterials in various applications, including orthopedics, dentistry, and tissue engineering, might be driven by improvements in medical technology and an aging population. Health Canada governs medical devices and biomaterials, and market changes may result from regulatory changes. Manufacturers are required to uphold strict safety and quality standards.
In October 2022, the first recombinant growth factor product for use in oral regenerative surgery, GEM 21S, was developed and is the exclusive supply source by Lynch Biologics, LLC, according to a recent announcement from Geistlich Pharma North America. The Geistlich regenerative product portfolio is much more robust thanks to this acquisition, which also offers great expansion potential.
North America has several key players in biomaterial material, including Johnson & Johnson, Medtronic, Baxter International, Boston Scientific, 3M Healthcare, Zimmer Biomet, Cook Medical, Edwards Lifesciences, Stryker, Alcon, AlloSource, Acera Surgical, and Integra Life Science.
In October 2023, according to its top executive, Johnson & Johnson Vision, headquartered in the United States and a global leader in eyecare and a division of Johnson & Johnson MedTech, is stepping up its efforts to advance its innovations and investments in China to provide more solutions for addressing patients' lifetime vision health across a spectrum, from developing and aging eyes to pediatric eyes.
In November 2022, the newest speech and AI-powered technology, the 3M M*Modal Fluency Direct, was introduced by 3M at the Riyadh-based 2022 HIMSS Middle East Health Conference & Exhibition from November 19 to 21, 2022. This technology is aimed to assist physicians in all care settings in capturing the complete and accurate patient story.
Biomaterials Market Report Scope:
| | |
| --- | --- |
| Report Coverage | Details |
| Market Revenue in 2023 | USD 151.9 Billion |
| Projected Forecast Revenue by 2032 | USD 431.49 Billion |
| Growth Rate from 2023 to 2032 | CAGR of 12.3% |
| Largest Market | North America |
| Base Year | 2022 |
| Forecast Period | 2023 to 2032 |
| Regions Covered | North America, Europe, Asia-Pacific, Latin America, and Middle East & Africa |

Market Dynamics
Drivers
Rising prevalence of chronic diseases
According to the report published by the Institute of Health Metrics and Evaluation, diabetes cases globally are expected to soar to 1.3 billion by 2050. Such rising prevalence of chronic diseases is observed to act as a major driver for the market. Chronic conditions like cancer, diabetes, and cardiovascular disease are becoming more common. Biomaterials are used in various medical devices, drug delivery methods, and tissue engineering techniques to treat and manage these disorders. Biocompatible coatings for medical devices are made using biomaterials, which can lower the risk of inflammation or rejection. This is particularly significant for equipment used to treat chronic illnesses. The creation of biosensors that can continually monitor physiological parameters uses biomaterials. These sensors are essential for controlling chronic conditions by giving patients and healthcare professionals access to real-time data.
Rise in research and development activities
The study of biomaterials is developing quickly. The market is growing due to the resources that academia, business, and research organizations are devoting to discovering new biomaterials and applications. The market for biomaterials is a sector with considerable economic potential that is expanding quickly. Increased R&D spending may result in the creation of novel goods and technology that will expand markets and offer opportunities to companies. As biomaterials are used in medical applications, there are strict regulatory requirements. Increased R&D can help develop materials that meet regulatory standards and are safe for patients.
Restraints
Regulatory hurdles
Regulatory approval from organizations like the FDA (U.S. Food and Drug Administration), which frequently uses biomaterials in medical applications, can be a drawn-out and complex process. Due to strict regulatory restrictions, new biomaterial products may need help entering the market. Regulatory organizations like the European Medicines Agency (EMA) and the U.S. Food and Drug Administration (FDA) demand rigorous preclinical and clinical research to prove the safety and efficacy of biomaterials and biomaterial-based products. Thorough testing, such as biocompatibility, toxicity, and long-term safety tests, may be required. Thereby, complicated regulatory hurdles are observed to restrain the expansion of the market.
Cost of production
High-quality biomaterial production can be expensive, and if this expense is passed on to end consumers, it may prevent further adoption. The price of the raw materials needed to make biomaterials can differ. The cost of high-quality, biocompatible materials may be higher. Biomaterials used in medical applications must maintain strict quality and purity standards. It may cost more to produce goods if more quality control procedures are needed to meet these criteria. Location-specific labor costs can have a significant impact on production costs.
Opportunities
Integration of nanotechnology
The incorporation of nanotechnology in biomaterials is expected to open opportunities for the market's expansion, attracting investment and research in the area of biomaterials. Nanotechnology allow for customization of biomaterials to match the unique needs of individual patients, improving treatment outcomes. Nanoscale devices can be used in minimally invasive surgeries and diagnostics, leading to faster recovery times and reduced patient discomfort. Nanostructured coatings on biomaterials can enhance biocompatibility, reduce inflammation and promote tissue integration. Such enhanced properties offered by nanotechnology make it an ideal application for tissue engineering, drug delivery and implants.
Global health initiatives
Biomaterials can be essential to address global health issues, such as the availability and affordability of healthcare in underdeveloped nations. Solutions utilizing versatile and affordable biomaterials can make a big difference. Rising emphasis on crucial worldwide health projects requires the creation of biodegradable biomaterials for controlled drug delivery systems. These materials allow drugs to be released gradually, decreasing the need for frequent dosing and increasing patient compliance. These programs attempt to improve treatment accessibility and efficacy, especially in places with limited resources. As the rate of health initiatives on global level rises, the market is expected to accelerate at a significant rate.
Recent Developments
In July 2023, IFF introduced its Designed Enzymatic Biomaterials (DEB) technology to facilitate the large-scale production of biobased materials. With performance that is on par with or better than that of materials derived from fossil fuels, DEB technology was created to satisfy the growing demand for high-performance, environmentally friendly biopolymers.
In September 2023, by declaring that it has created its first consumer brand application using its amorphous PHA (aPHA) technology in conjunction with PLA and direct competition with ABS, CJ Biomaterials concluded 2022. This is a fresh cosmetic case from CJ Olive Young, a market-leading health and beauty retail chain in Korea with a global network spanning 150 countries. It is sold under the private brand wake make.
Major Key Players
Evonik Industries AG
Medtronic plc
Berkeley Advanced Biomaterials
Corbion
Carpenter Technology Corporation
Zimmer Biomet Holdings, Inc.
Invibio Ltd.
Covalon Technologies Ltd.
BASF SE
Johnson & Johnson
Stryker Corporation
CoorsTek Inc.
DentsplySirona
Collagen Matrix, Inc.
Market Segmentation
By Product
Metallic
Ceramics
Natural
Polymers
By Application
Ophthalmology

Intraocular Lens
Synthetic Corneas
Ocular Tissue Replacement
Others

Cardiovascular

Stents
Sensors
Implantable Cardiac Defibrillators
Guidewires
Vascular Grafts
Pacemakers
Others

Dental

Dental Implants
Tissue Regeneration Materials
Bone Grafts & Substitutes
Others

Wound Healing

Adhesion Barrier
Surgical Hemostats
Fracture Healing Device
Internal Tissue Sealant
Skin Substitutes
Others

Orthopedic

Orthobiologics
Joint Replacement Biomaterials
Viscosupplementation
Spine Biomaterials
Bioresorbable Tissue Fixation Products
Others

Plastic Surgery

Soft Tissue Fillers
Facial Wrinkle Treatment
Bioengineered Skins
Craniofacial Surgery
Acellular Dermal Matrices
Peripheral Nerve Repair
Others

Tissue Engineering
Neurology

Shunting Systems
Neural Stem Cell Encapsulation
Cortical Neural Prosthetics
Hydrogel Scaffold For CNS Repair
Others

Others
Buy this Research Report@ https://www.precedenceresearch.com/checkout/1059
You can place an order or ask any questions, please feel free to contact at sales@precedenceresearch.com | +1 9197 992 333