The global biopreservation market size is anticipated to reach around USD 24.28 billion by 2032 up from USD 1.94 billion in 2022 with a CAGR of 28.8% between 2023 and 2032.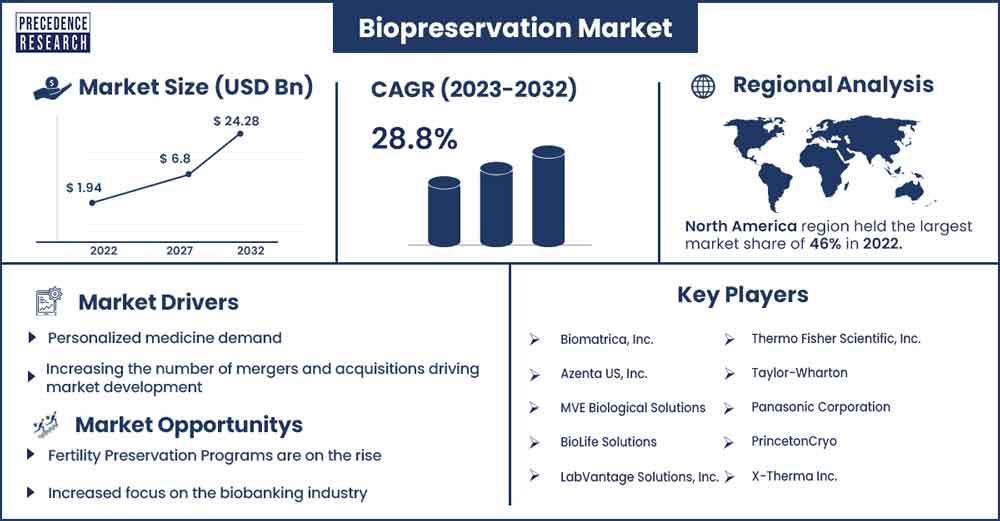 Market Overview
Biopreservation is preserving and storing cells, tissues, organs, and other biological materials to maintain their functionality and viability. Biopreservation is critical in regenerative medicine to preserve cells and tissues for eventual use in regenerative and transplantation therapies. Several companies are forming alliances and introducing services in the field. For example, Essent Biologics stated in January 2021 that it would supply 3D biology data and human-derived biological materials to its clinical partners and the regenerative medicine research community. The company can work as a biomanufacturing partner, providing many unique items.
Cells and tissues are stored, utilizing biopreservation processes for future application in regenerative medicine. This allows medical experts to have a supply of high-quality cells and tissues for use in regenerative treatments and transplants. Stem cells are critical components of regenerative medicine, so they are kept through biopreservation treatments for future use in regenerative therapies. As a result of technological advances in stem cell-based treatments, researchers' opinions on regenerative medicine have gone through a revolutionary shift. Developments in stem cell therapy have accelerated the progress of regenerative medicine.
Regional Snapshot
North America is expected to maintain its dominance during the forecast period. The increase in demand for blood preservation, solid specimens of tissue, including frozen or paraffin-embedded bio-specimens of tumors, and other tissues (such as bone marrow, peripheral blood cells, and cord blood derived from stem cells and its derivatives) across multiple pathological centers, research institutes, and hospitals are driving the North American market of biopreservation.
The increased government funding in drug discovery is expected to promote the biopreservation utility for ex-vivo tissues, cell preservation, and organs for storage, shipment, and transportation. For example, the Canadian government has recently committed USD 45 million to the Stem Cell Network over the next three years to stimulate regenerative medicine and stem cell research.
Furthermore, technological developments, increased product approvals, alliances, and acquisitions by major companies are assisting in market expansion. For example, OriGen Biomedical Inc., a global medical device provider of cell culture, cryopreservation, and respiratory devices, will debut the FLEX Freezing Bag from CryoStore in Europe and the United States February 2022. The CryoStore FLEX Bag is intended for blood component cryopreservation and provides multi-chamber flexibility for small-volume dosage solutions.
Asia Pacific is expected to see significant growth in the bio-preservation market in the coming years owing to the increasing prevalence of chronic disorders. Furthermore, growing government investments in research and development are expanding the potential for the acceptance of bio-storage, which will continue to drive the development of the bio-preservation market in the area in the coming years.
Biopreservation Market Report Scope
| | |
| --- | --- |
| Report Coverage | Details |
| Market Revenue in 2023 | USD 2.49 Billion |
| Projected Forecast Revenue by 2032 | USD 24.28 Billion |
| Growth Rate from 2023 to 2032 | CAGR of 28.8% |
| Largest Market | North America |
| Base Year | 2022 |
| Forecast Period | 2023 to 2032 |
| Regions Covered | North America, Europe, Asia-Pacific, Latin America, and Middle East & Africa |

Report Highlights
By product, due to rising demand for bio-banking for preserving stem cells, DNA, plasma, and tissue culture, the equipment and media sectors will likely develop at an impressive CAGR of 30.6% throughout 2022 to 2032.
By cell provider volume, tumor cells had the highest revenue share in 2021 due to increased cancer research, diagnosis, and treatment activities. iPSC segment is expected to grow significantly due to its potential to replicate indefinitely.
By application, Biobanking is driving growth due to increased knowledge of stem cell preservation, egg and sperm banking, and animal-assisted reproductive technologies.
Market Dynamics
Drivers
Personalized medicine demand
The rising need for personalized medicine is driving the development of the biopreservation industry. Personalized medicine is employed to treat multiple diseases. Personalized medicines are created with the assistance of biobanks, which use biopreservation to store human tissues and cells.
Personalized medicine is a rapidly growing industry that seeks to personalize medical care to individual patients based on their lifestyle, genetic makeup, and environmental circumstances. A rise in investment in biopreservation technology and services has resulted from the growing desire for personalised medicine. Pharmaceutical and Biotechnology companies are embracing biopreservation techniques more and more to create and commercialize personalized medicines, propelling the biopreservation industry forward.As a result, rising demand for personalized treatment will likely drive the biopreservation market growth in the coming years.
Increasing the number of mergers and acquisitions driving market development
The biopreservation market is expanding due to an increase in mergers and acquisitions. According to a January 2023 statement, Crown Bioscience, a JSR Life Sciences enterprise and a worldwide contract research organization (CRO), will purchase IndivuMed GmbH's IndivuServ business unit. Crown Bioscience's planned acquisition of Indivumed Services includes the carefully curated and characterized biobank with about one million samples and linked clinical data, as well as an extensive network of over sixty clinical divisions throughout the US, Europe, and Asia. Rising acquisition initiatives drive demand for biopreservation techniques and tools, propelling the market forward. Mergers and acquisitions are driving the market growth.
Restraint
Lack of skilled professionals
To properly handle biological tissues and samples during biopreservation, a high level of technical proficiency and specialized abilities are required. It comprises of complex procedures like sample gathering, processing, storing, and retrieval. Professionals with expertise in handling and preserving biological materials are needed for these procedures. The market is suffering from a lack of such professionals, which hinders the biopreservation market from growing.
Opportunities
Fertility Preservation Programs are on the rise
The increased awareness established by associations connected to fertility preservation procedures, such as human sperm and oocyte preservation, will increase the demand for biopreservation techniques. For example, a new fertility preservation initiative for ovarian tissue for cancer patients began in January 2022 at St. Thomas,' and Guy's in the United Kingdom.
The comprehensive program, one of the pioneering programs in the UK, provides patients access to every type of fertility preservation available, including standard embryo and egg freezing and ovarian tissue freezing. One of the world's largest and oldest fertility preservation firms has added ovarian tissue cryopreservation (OTC) to its offerings. It allows fertile women to bear children despite undergoing stem cell treatments or chemotherapy.
Increased focus on the biobanking industry
The growing emphasis on the biobanking segment of biopreservation increases demand for equipment, instruments, techniques, and services. For example, as part of its South African Research Infrastructure Roadmap, the South African Department of Science and Innovation (DSI) created Biobanks South Africa (BBSA) in October 2021. It was implemented in 2021 to formalize South Africa's system of biodiversity biobanks.
In addition, six biobanks will join the German Biobank Alliance (GBA) in June 2022. As a result, the increasing emphasis on biobanking growth methods and joint ventures will likely provide attractive prospects in the biopreservation industry.
Challenge
Lack of effective temperature control
The requirement to maintain and regulate room temperature storage is one of the significant obstacles to new storage methods development. For instance, immunizations save over 3 million lives annually in the US, but about $20 million worth of vaccines are lost or abandoned yearly due to inappropriate refrigeration and storage. Market revenue is hampered by the frequent cell or tissue damage caused by freezing and thawing. However, ongoing research into the longevity of goods like vaccines, genes, and other bio-conserved goods will be the primary driver of future market estimates.
Recent Developments
In October 2022, Azenta, Inc. purchased B Medical Systems S.á r.l. and its subsidiaries, a supplier of transportation services and temperature-controlled storage that enable the global distribution of life-saving medicines.
In July 2022, a Cryopreservation Bank, Cellutions BioStorage, will be launched in Chennai, India. Cellutions BioStorage is a full-service logistics provider and biomaterial storage that works with biopharmaceutical companies that want to outsource all parts of supply chain management throughout the life cycle of a product. The newly opened facility is 25,000 square feet and features first-rate infrastructure.
Major Key Players
Biomatrica, Inc.
Azenta US, Inc.
MVE Biological Solutions
BioLife Solutions
LabVantage Solutions, Inc.
Thermo Fisher Scientific, Inc.
Taylor-Wharton
Panasonic Corporation
PrincetonCryo
X-Therma Inc.
Stirling Ultracold
Market Segmentation
By Product
Equipment

Refrigerators
Freezers
Consumables

Straws
Vials
Microtiter Plates
Bags

Liquid Nitrogen

Media
Laboratory Information Management System (LIMS)
By Application
Regenerative Medicine

Gene Therapy
Cell Therapy
Others

Bio-banking

Human Sperms
Human Eggs
Veterinary IVF

Drug Discovery
By Cell Providers Volume
CD19+
CD34+
iPSC
MSC
Tumor Cells
hESC
Others
Buy this Research Report@ https://www.precedenceresearch.com/checkout/2860
You can place an order or ask any questions, please feel free to contact at sales@precedenceresearch.com | +1 9197 992 333