The global demister market from 2023 to 2032, provides a comprehensive overview of the industry, market segmentation based on a variety of criteria, and the current vendor landscape.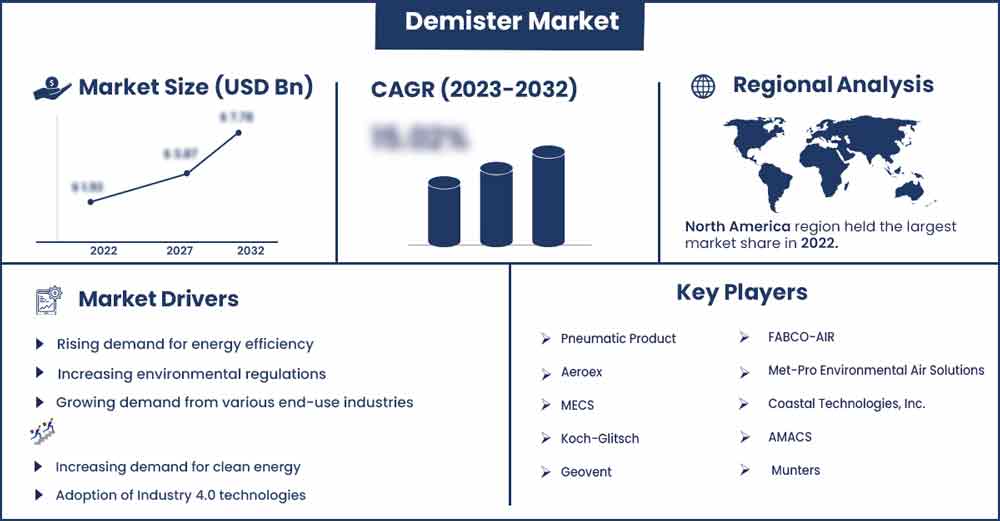 A demister is a tool used to remove liquid droplets from gas streams. It is sometimes referred to as a mist eliminator or an entrainment separator. The industry that manufactures and distributes demisters for use in various industrial applications is referred to as the demister market. Many sectors, including oil and gas, chemical processing, power generation, medicines, and food and beverage, utilize the product. Demister is used to remove the mist and fog from gas streams, thereby reducing the amount of pollutants emitted into the environment and increasing equipment efficiency.
A large variety of items, such as wire mesh demisters and vane type-demisters, are available on the market. Each form of demister has distinct benefits and drawbacks and is best suited for particular purposes. Due to rising demand for demisters in sectors like oil & gas, chemical processing, and power generation, the demister market is anticipated to expand in the upcoming years. The demister market is anticipated to expand as a result of factors like tightening environmental regulations, rising energy efficiency demand, and rising demister use in emerging nations.
Regional Snapshots:
Based on region the market is bifurcated into North America, Asia-Pacific, Europe, Latin America, and Middle East & Africa. North America accounted for the majority of the demister market. The widespread industrialization of the area and the ensuing increase in demand for energy sources like oil and gas are the main causes of this. Rising industrial activity and a growing population are expected to drive the growth of the global demister market during the course of the forecasted year. Due to the increasingly industrializing nature of nations like China and India, the Asia-Pacific area is anticipated to grow at the fastest rate. This will increase the potential for demister applications across the region. Due to this and rising demand from other end-use industries, such as power plants that are subject to stricter emission restrictions, demister use has increased in the Asia Pacific area over the preceding years.
Report Highlights:
On the basis of type the demister market is segmented into baffle type demisters, and wire-mesh demister. The baffle-type demister made up of a honeycomb-patterned metal sheet. The configuration creates ample space for water droplets to gather and drain out of mesh apertures that are placed in the front wall by dividing the flow into various channels.
On the basis of application, the demister market is segmented into chemical industry, power & gas processing industry, and petrochemical industry. The petrochemical industry dominated the demister market in 2022.
On the basis of geography, the demister market is further segmented into North America, Asia-Pacific, Europe, Latin America, and Middle East & Africa. North America accounted for the majority of the demister market.
Demister Market Report Scope:
| | |
| --- | --- |
| Report Coverage | Details |
| Fastest Growing Market | Asia Pacific |
| Largest Market | North America |
| Base Year | 2022 |
| Forecast Period | 2023 to 2032 |
| Regions Covered | North America, Europe, Asia-Pacific, Latin America, and Middle East & Africa |

Market Dynamics:
Drivers:
The need for demisters is rising significantly across a range of industries, including oil and gas, chemical processing, power generation, pharmaceuticals, and food and beverage. These industries are increasingly in need of increased efficiency, less emissions, and higher product quality, which is driving up demand for demister. Demisters increase equipment's efficiency by eliminating liquid droplets from gas streams. This can benefit turbines and heat exchangers, for example. Operating expenses and energy usage may be decreased as a result. By clearing fog and mist from gas streams, it aids in lowering emissions. This can assist enterprises in adhering to environmental norms and regulations. As a result, industries like pharmaceuticals and food and beverage produce products of higher quality.
Demand for demisters is rising as a result of tightening environmental regulations and standards. For instance, the Maximum Achievable Control Technology (MACT) criteria set by the United States Environmental Protection Agency (EPA) for hazardous air pollutants mandate that businesses adopt technologies like demisters to cut emissions. MACT regulations mandate that businesses adopt the best available control methods to lower the emissions of dangerous air pollutants. Demisters are a tried-and-true method for lowering emissions of some pollutants, including volatile organic compounds (VOCs) and particulate matter, which can be found in gas streams. Demisters can assist businesses in adhering to rules by cutting back on the pollution they discharge into the environment. Such benefits of demisters coupled with a rise in environmental regulations by the governments is expected to further propel the demister market demand.
Government attention on energy efficiency has led to an increase in demand for it. For instance, the European Union (EU) committed to a 20% decrease in energy use by the year 2020 compared to baseline predictions, as stated in the report of the Eurostat statistics. The binding goal is a reduction of at least 32.5% by 2030. Demister can increase energy efficiency in a number of ways, including by lowering pressure drops, enhancing heat transmission, and reducing fouling. The benefits of demisters in terms of energy efficiency are anticipated to increase demand for the demister market.
Opportunities:
Demand for demisters is anticipated to increase as people turn more and more to renewable energy sources like wind and solar electricity. By eliminating pollutants and particle matter from the flue gas produced by power plants and other industrial operations, demisters can aid in the generation of clean energy. This is crucial because flue gas frequently contains contaminants that can harm the environment and the general public's health, such as sulphur dioxide, nitrogen oxides, and particulate matter. The advantages of demister in supplying clean energy along with increased clean energy demand is anticipated to open up opportunities for market expansion.
Recent Developments
In February 2023, Range Rover Velar announced with enhanced interior & technologies. The sidebar can be set up by the user to provide quick access to in-car programmes including Pivi Pro's media and navigation apps, as well as the vehicle cameras and window defoggers.
Major Key Players:
Pneumatic Product
Aeroex
MECS
Koch-Glitsch
Geovent
FABCO-AIR
Met-Pro Environmental Air Solutions
Coastal Technologies, Inc.
AMACS
Munters
Boegger Industrial Limited
Ningbo T.C.I Co.,Ltd
Indsutrial Maid
Champion
Mikropor
Sulzer
Market Segmentation:
By Type
Wire-mesh Demister
Baffle-type Demister
By Application
Petrochemical
Chemicals
Power
Gas Processing
Buy this Research Report@ https://www.precedenceresearch.com/checkout/2745
You can place an order or ask any questions, please feel free to contact at sales@precedenceresearch.com | +1 9197 992 333