The global drug formulation market size surpassed USD 1.64 trillion in 2022 and it is expected to rake around USD 2.95 trillion by 2032, poised to grow at a CAGR of 6.05% during the forecast period 2023 to 2032.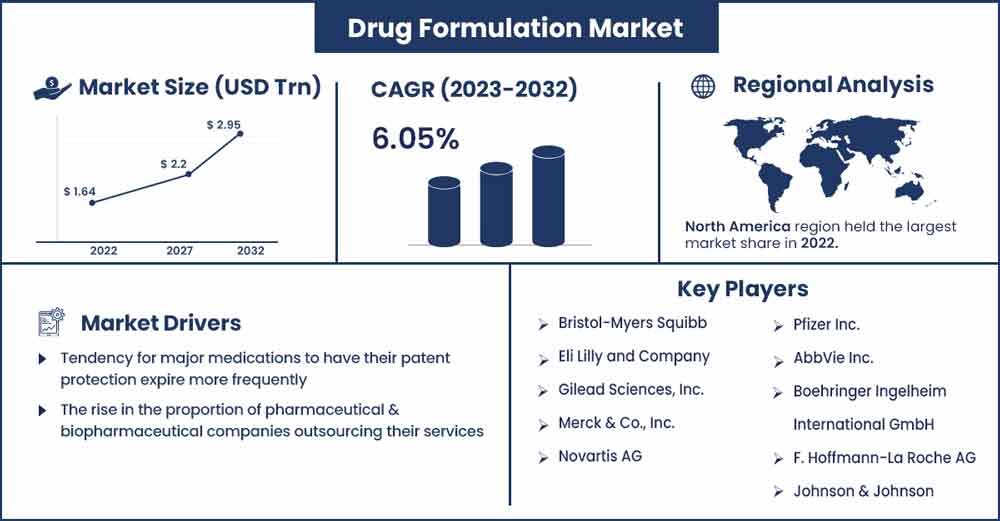 The prevalence of chronic diseases in the population is rising, and increasing investment flows are fueling this industry's expansion. The rising global population, which has recently aided the drug formulation industry's growth, has an impact on pharmaceutical consumption as well. As a result, between 2000 and 2015 in Organization for Economic Cooperation and Development (OECD) countries, the use of antidepressants doubled, the consumption of antihypertensive and antidiabetic drugs almost doubled, and the consumption of cholesterol-lowering pharmaceuticals nearly quadrupled. Putting more emphasis on non-communicable illnesses (NCDs), such as diabetes and hypertension, which are already prevalent in industrialized countries, while communicable diseases, like AIDS, malaria, and tuberculosis, which continue to exist and have an impact on many developing economies, are still around.
Market Growth:
For chronic disorders like cancer or other rare diseases, there were just a few relatively effective medicines and treatment choices accessible up until the 20th century, which did actually suggest limited therapy possibilities. The expansion of research initiatives and financial support for drug development has, nevertheless, been anticipated to have a favorable impact and present manufacturers with an opportunity to introduce new drugs to the market. As molecular biology makes more strides, there is more potential to create novel agents. Over the past few years, the number of mergers and acquisitions in the pharmaceutical sector has surged. In the extremely competitive environment, the majority of established businesses are merging to strengthen their market positions. The innovation capabilities of small- to mid-sized pharmaceutical enterprises are what attract buyers.
Regional Analysis:
In 2022, North America had a portion of the market and controlled it. This is due to a significant number of strategic pharmaceutical alliances, particularly among the region's well-established and early-stage businesses. Additionally, the United States held the top spot in the world for expenditure on prescription drugs per person. Additionally, the majority of clinical trials and drug efficacy studies conducted worldwide were in the U.S.
Due to its sizable consumer base, rising healthcare costs, increasing disease incidence, and the existence of supportive regulatory frameworks, Asia Pacific is anticipated to see the highest growth of any regional market throughout the forecast period. In Asia, the use of big data and artificial intelligence (AI) has been encouraged by a number of national-level programs. Guidelines were released by the Chinese State Council to encourage the growth of big data and AI in healthcare, with a focus on its use in that field.
Drug Formulation Market Report Scope:
| | |
| --- | --- |
| Report Coverage | Details |
| Market Revenue in 2023 | USD 1.74 Trillion |
| Projected Forecast Revenue in 2030 | USD 2.95 Trillion |
| Growth Rate from 2022 to 2030 | CAGR of 6.05% |
| Largest Market | North America |
| Base Year | 2022 |
| Forecast Period | 2022 To 2030 |
| Regions Covered | North America, Europe, Asia-Pacific, Latin America, and Middle East & Africa |

Market Dynamics:
Market Drivers:
The two main factors driving the market's growth are the tendency for major medications to have their patent protection expire more frequently and the rise in the proportion of pharmaceutical and biopharmaceutical companies outsourcing their services. The rising tendency of key pharmaceuticals' patent protection to expire is what is causing the market to grow. For instance, as part of ongoing efforts to enhance the quality of generics and ensure a viable and competitive generics market, the Korean Ministry of Food and Drug Safety (MFDS) recently announced that 158 pharmaceutical product patents were anticipated to expire in 2021, in accordance with a 2021 update by the Generics and Biosimilar Initiative.
Market Restraints:
Currently, pharmaceutical formulations are developed via trial-and-error techniques. This method requires a lot of work, costs a lot of money, and takes a long time. Additionally, it takes a great deal of work to produce and maintain. Repetition of the drug development process would have a substantial negative economic impact on the pharmaceutical industry, therefore the complexity of upholding regulatory standards would have an impact on the medicine development process.
Market Opportunities:
In light of the COVID-19 pandemic, a number of cooperative research initiatives are attempting to advance therapeutics and vaccines more quickly by working with organizations like the Coalition for Epidemic Preparedness Innovations and the Biomedical Advanced Research and Development Authority (BARDA) (CEPI). For example, in May 2020, the National Institute of Standards and Technology (NIST) of the United States Department of Commerce provided funding of about USD 8.9 million to the severely afflicted biopharmaceutical manufacturing projects in response to the outbreak that had just surfaced. As a result, these measures are causing formula development to be outsourced more frequently, which is helping the market to expand.
Segments Insight:
Formulation Insights:
In terms of revenue in 2022, tablets dominated the market and held a share. This is due to the wide variety of tablets that are available, including effervescent, film- and enteric-coated, and orally disintegrating ones. Another element influencing market expansion is the introduction of tablets made through 3D printing and tailored to specific needs. The injectables market is anticipated to grow at the second-fastest CAGR during the anticipated timeframe. An increase in the acceptance of prefilled syringes and auto-injectors is related to the market's growth.
Routes of Administration Insights:
The oral market segment dominated the overall market in 2022. Oral dose forms are affordable, easy to prepare, and patient-friendly. Due to advancements in drug delivery technologies including sustained-release dosage formulations and customized drug delivery, oral drugs are now more commonly available on the market. Due to significant growth in automated systems, barrier systems, including controlled access barrier systems, and isolators being utilized in parenteral manufacturing, the parenteral category is estimated to develop at the fastest CAGR over the projected period.
Therapy Area Insights:
The other ailments category dominated the market in 2022 and would keep that position throughout the anticipated years. The COVID-19 pandemic is anticipated to be the primary driver of R&D spending in this industry. Due to rising awareness of women's health, the development of medications to cure significant disorders in women, such as irregular menstruation, has received a lot of operational player interest. Studies show that the price of cancer treatment in the healthcare system has lately grown by 50%. Additionally, the industry is expanding as a result of the enormous volume of immuno-oncology clinical studies taking place globally.
End-User Insights:
The retail industry had the largest revenue share in 2022. Since medical expenses and health insurance rates have increased, more people are opting for self-medication as a means of treatment for minor health concerns. As a practical and economical alternative, over-the-counter drugs have also grown in popularity. Due to specialty pharmacies' phenomenal growth in recent years, which also adds to the segment's growth, specialty medications are now readily accessible at retail pharmacies.
Recent Development:
On June 20, 2022, A binding merger agreement between Bristol Myers Squibb and Turning Point Therapeutics was signed. This acquisition will broaden BMS's assortment of oncology drugs because Turning Point Therapeutics is a precision oncology company that is still in the clinical development phase.
On March 20, 2022, The Evusheld long-acting antibody combination was made available to the general public by AstraZeneca. For the pre-exposure prophylaxis (prevention) of COVID-19 in a sizable population, it has received authorization in Europe.
Major Key Players:
Bristol-Myers Squibb
Eli Lilly and Company
Gilead Sciences, Inc.
Merck & Co., Inc.
Novartis AG
Pfizer Inc.
AbbVie Inc.
Boehringer Ingelheim International GmbH
F. Hoffmann-La Roche AG
Johnson & Johnson
3M Company
Bayer AG
Teva Pharmaceuticals Industries Ltd.
Amgen, Inc.
Sanofi SA
GlaxoSmithKline plc
Boston
Market Segmentation:
By Formulation
Tablets
Capsules
Injectable
Sprays
Suspensions
Powders
Other Formulations
By Routes of Administration
Oral
Topical
Parenteral
Inhalations
Other Routes of Administration
By Therapy Area
Cardiovascular Diseases (CVDs)
Pain
Diabetes
Cancer
Respiratory Diseases
Other Diseases
By End-User
Buy this Research Report@ https://www.precedenceresearch.com/checkout/2561
You can place an order or ask any questions, please feel free to contact at sales@precedenceresearch.com | +1 9197 992 333